About Bow Wow
Bow Wow is an American rapper, actor, television presenter, as well as a broadcaster. He is best known for his debut album, "Beware of Dog" released on September 26, 2000 (when he was 13), and sold about two million copies. He released his second album, "Doggy Bag" in 2001. He is also best known for his subsequent releases "Wanted" (2005), "The Price of Fame" (2006), and "Face Off" (2007). He first appeared in a supporting role as Jalil in the musical film "Carmen: A Hip Hopera", which was released in 2001. He first appeared as himself in the episode titled 'No Free Samples' of The WB's sitcom "The Steve Harvey Show" that was aired in the year 2001. He dropped Lil' from his name with the release of his third album "Unleashed". He has acquired a place in the Guinness Book of World Records as the youngest rapper to have a #1 hit with his 2000 hit track "Bounce with Me". Born on 9th March 1987, his full name/real name is Shad Gregory Moss. His birthplace/hometown is in Columbus, Ohio, the USA. He grew in nearby Reynoldsburg. His biological father/dad; Alfonso Preston Moss, abandoned the ancestor and Shad never saw him since his birth. He was raised by his mother, Teresa Rena Caldwell, and stepfather, Rodney Caldwell, along with his stepsisters, Erica and Jasarah. His mother is a hairstylist and his stepfather is a practicing lawyer in Houston, Texas. He was American by nationality and he belongs to Afro-American ethnicity. His race is Black and his religion is Christian. His birth sign is Pisces. As per his education, he attended J. Ashton Middle School. After that, he went to Reynold High School. As of 2020, he celebrated his 33rd birthday. His family supported him through his choice of music as a career. He lives in Atlanta, Georgia, along with his mother. Scroll down to know about his full biography, family details, siblings, birthday, wiki, facts, age, net worth, girlfriend, kids, height, and more.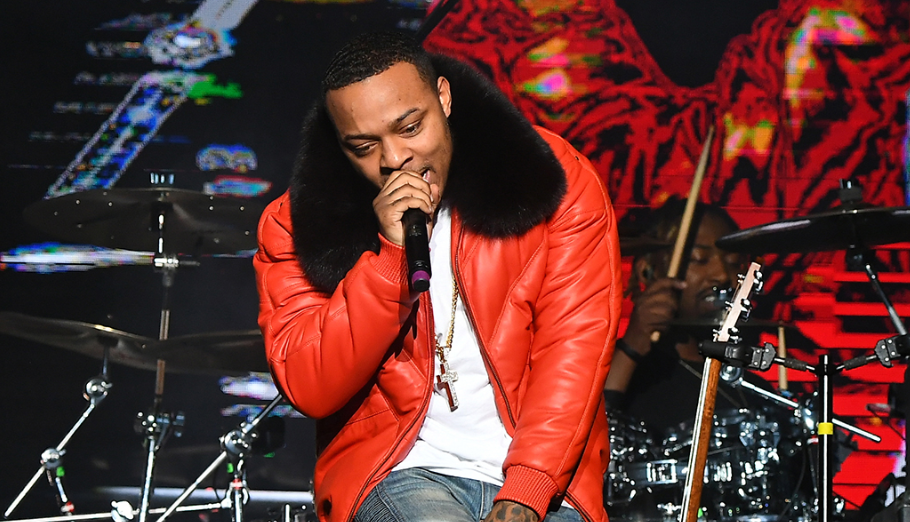 Source: @fedexforum.com
Career of Bow Wow
Singing Career
At the small age of three, he became interested in rap.
Under the moniker "Kid Gangsta", he began rapping recreationally at age six; he was also a fan of N.W.A.
He also performed at a concert in Los Angeles in the year 1993, and was noticed by rapper Snoop Dogg, who subsequently gave him a stage name, "Lil' Bow Wow".
After that, he appeared on the Doggystyle album on the track, "Gz and Hustlas", and on The Arsenio Hall Show in late 1993.
Furthermore, he was supposed to appear on the Murder Was the Case soundtrack with the song, "After 3", featuring Kurupt, Jewell, and CPO Boss Hogg but it remained in the vault until the early 2010s.
At the age of eleven, he met record producer Jermaine Dupri, who helped shape his career in 1998.
The soundtrack to the movie "Wild Wild West" featured his song "The Stick Up" with his mentor Jermaine Dupri in 1999.
He released his debut album titled 'Beware of Dog' in the year 2000 when he was only 13. His debut album became a massive hit with record sales of more than 3 million copies till 2009.
The album included hit songs like 'Bounce With Me' featuring R&B group Xscape, 'Ghetto Girls', and 'Puppy Love' with Jagged Edge.
The song in collaboration with Snoop Dogg titled 'Bow Wow (That's My Name)' entered Billboard Hot 100 chart and received double-platinum certifications from the RIAA.
The album reached the top 10th position on Billboards 200 charts.
He released his second album titled 'Doggy Bag' in the year 2002 with So So Deff label.
This album has sold 1.1 million copies in the US to date and also received Platinum certifications from RIAA while reaching 11th position on Billboard 200 and 2ndposition in Top R&B/ Hip Hop Album charts.
The album included hit songs like 'Thank You' and 'Take Ya Home' including his 'Basketball' song that featured in the soundtrack of his film 'Like Mike'.
His next album entitled 'Unleashed' was released in the year 2003 which reached to top 3 in Billboard 200 and achieved Gold certification.
The single of the album 'Let's Get Down' featuring Birdman peaked at 14th position on Billboard Hot 100 and 6th on Hot Rap Tracks.
His fourth album 'Wanted' released in 2005 with Sony Urban Music/Columbia label and received Platinum certification.
The songs titled 'Let Me Hold You' in collaboration with Omarion and 'Like You' featuring his then-girlfriend Ciara secured top positions on Billboard Hot Rap Tracks and Billboard 200 proving his potential as a rapper and sold nearly 1 million copies in the US.
He released his fifth album titled 'The Prince of Fame' in late 2006 which included songs like 'Shortie Like Mine', 'Outta My System' and 'I'm a Flirt'. The album received Gold certification, charted at 6th position on US Billboard 200, and sold over 262 thousand copies in the first week.
Bow Wow in collaboration with singer Omarion next released an album titled 'Face Off' in the year 2007 which received a gold certification and sold over 107 thousand copies in the first week.
His recent album 'New Jack City II' was released in the year 2009 and it secured 16th position in the US Billboard 200.
It featured stars like Nelly, Soulja Boy, T.I, T-Pain, Trey Songz, and was given a parental advisory label for its adult content.
Between 2009 to 2016, he released several mixtapes like 'Greenlight'3, 4 and 5, 'I'm Better Than You', and latest 'Ignorant Shit'.
He also released a compilation album titled 'The Very Best of Bow Wow' in the year 2010.
He confirmed on social media that NYLTH will be his last album as he intends to retire from rap-music by the age of 30. As of November 2019, it has not come out.
This album is being executively produced by himself and Snoop Dogg and will be followed by a movie.
Prior to his final album release, he and Soulja Boy released a joint retail mixtape titled Ignorant Shit on 25th October 2016.
In the year 2020, he competed on the third season of The Masked Singer as the "Frog" where he finished in third place.
Acting Career

He has made guest appearances on Brandy's TV sitcom, "Moesha", as well as "The Steve Harvey Show" and "Brothers Garcia".
He made his acting debut in the film "Like Mike" which was released on 3rd July 2002, in which he starred as a young orphan who gets a shot at playing in the NBA.
Before Like Mike he made cameos in All About The Benjamins and "Carmen: A Hip Hopera".
He also co-starred with Cedric the Entertainer, Vanessa L. Williams, and Solange Knowles in Johnson Family Vacation.
Since the success of Like Mike, he has starred in several Hollywood films, including Roll Bounce, The Fast and the Furious: Tokyo Drift and Hurricane Season.
He has also made guest appearances on Smallville and Ugly Betty.
He was part of the cast of the fifth season of HBO's "Entourage", playing Charlie an up-and-coming comedian, and Eric Murphy's newest client.
He starred in a 2010 comedy film, "Lottery Ticket", with Ice Cube.
He is currently working on a documentary on his life titled "Who Is Shad Moss?"; Bow Wow stated that the documentary goes all the way back to when he was on Death Row Records, and it was released in 2011.
He also starred in the film version of "Madea's Big Happy Family", released in April 2011.
In August 2014, he announced that he would star in a CSI spinoff titled CSI: Cyber.
Bow Wow's Awards and Achievements
BET Awards
2001, Viewer's Choice "Bow Wow (That's My Name)" (Won)

2006, Best Collaboration "Like You" (with Ciara) (Nominated)
2007, Viewer's Choice "Shortie Like Mine" (with Chris Brown) (Nominated)
Billboard Music Awards

2001, Rap Single of the Year "Bow Wow (That's My Name)" (Won)

Billboard R&B/Hip-Hop Awards

2004, Top R&B/Hip-Hop Singles - Sales "Let's Get Down" (with Baby) (Nominated)

2006, Hot Rap Track "Like You" (with Ciara) (Nominated)
Black Reel Awards
2003, Best Breakthrough Performance - Viewer's Choice: Like Mike (Nominated)
MTV Video Music Awards Japan
2006, Best Collaboration "Let Me Hold You" (with Omarion) (Nominated)

NAACP Image Awards

2008, Outstanding Duo or Group (with Omarion) (Nominated)
Nickelodeon Kids' Choice Awards
2001, Favorite Male Singer (Won)

2006, Favorite Male Singer (Nominated)
2008, Favorite Male Singer (Nominated)
Soul Train Music Awards

2001, Best R&B/Soul or Rap New Artist "Bounce with Me" (with Xscape) (Nominated)

Teen Choice Awards

2007, Choice Music: Male Artist (Nominated)

2008, Choice Music: R&B Track "Hey Baby (Jump Off)" (with Omarion) (Nominated)
2009, Choice Music: Rap Artist (Nominated)
Bow Wow Has A DAUGHTER With Joie Chavis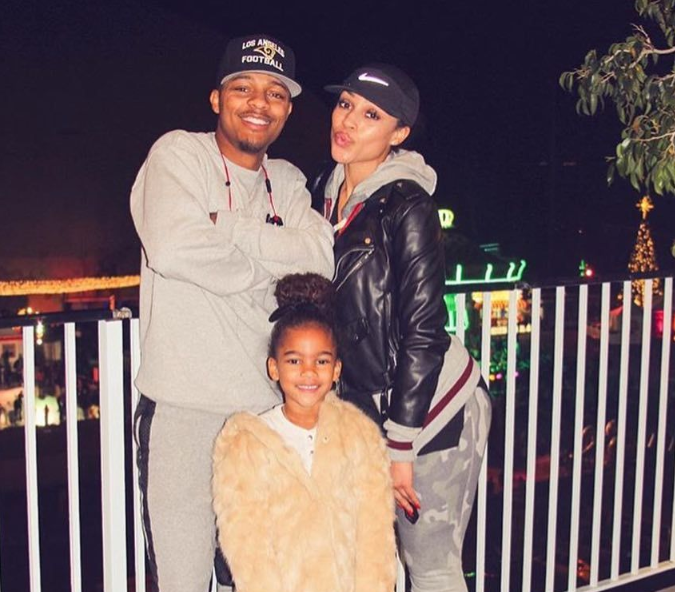 Source: @pinterest.com
Bow Wow is not married yet and he is still to get married. But he was engaged once with Erica Mena. As of now, he is living a single life without any disturbances. He does not have a wife. He seems to be focusing on his career rather than being in a relationship. His sexual orientation is straight and he is not gay.
Previously, his name has been linked with Ciara, Ayisha Diaz, and Kat Stacks. He was also rumored to be having affairs with Melody Thorton and Teairra Mari. He also has a daughter, Shai Moss, from his ex-girlfriend, Joie Chavis, who had leftover a domestic matter. Joie Chavis is a model as well as a fitness trainer. The pair met during a photoshoot in March 2010 and split in February 2011. Their daughter was born on 27th April 2011 and she is being raised by her mother.
Bow Wow's Net Worth 2020
Bow Wow is an American rapper, actor, television presenter, and broadcaster. He became interested in rap music when he was just three years old, and by the time he turned 6, he was already recreationally rapping. With his career, he has achieved great fame and money. His major source of earning is from singing careers such as record sales, concerts, tours, and more. His other source of wealth is from endorsements deals and acting career. As of 2020, the net worth of Bow Wow is estimated to have $1.5 Million. He has appeared in a TV Commercial for the chocolate brand "Twix". He also appeared in Campbell's Soup commercial in 2003. He has also appeared in the "Hot Pocket" commercial with Kate Upton and Snoop Dogg. The commercial songs for "Candy Crush Soda Saga" and "Joyful Heart Foundation TV Commercial" are also sung by Bow Wow. He also has two luxury cars that increase his net worth.