Carey Price Biography
Considered to be one of the best goaltenders in the world, Carey Price is a professional ice hockey player who is playing for the current team, Montreal Canadiens of the National Hockey League (NHL). He is regarded as one of the greatest goalies in the history of the Montreal Canadiens by several members of the news media. Starting the ice hockey career journey with the Tri-City Americans in the Western Hockey League in 2002, he was drafted fifth overall by the Montreal Canadiens in the 2005 NHL Entry Draft following his second season with the Tri-City Americans. He won both the Del Wilson Trophy as the top goaltender in the Western Hockey League (WHL) and CHL Goaltender of the Year in his final season of major junior in 2007. In the year 2015, he was the winner of the Ted Lindsay, Jennings, Vezina, and Hart trophies, becoming the first goaltender in NHL history to win all four individual awards in the same season. About his international career, he represented Canada at various tournaments at junior levels, winning silver medals at the World U-17 Hockey Challenge in 2004 and the IIHF World U18 Championship in 2005. In 2014, Price was named to the Canadian Olympic Hockey Team and won a gold medal at the Winter Olympics in Sochi. His jersey number is 31. Scroll down to know more about his Full Biography, Facts, Personal Life, Untold Story, & more.
Carey Price is famous for being a professional ice hockey goaltender. He is best known for being the player for the Montreal Canadiens of the National Hockey League (NHL).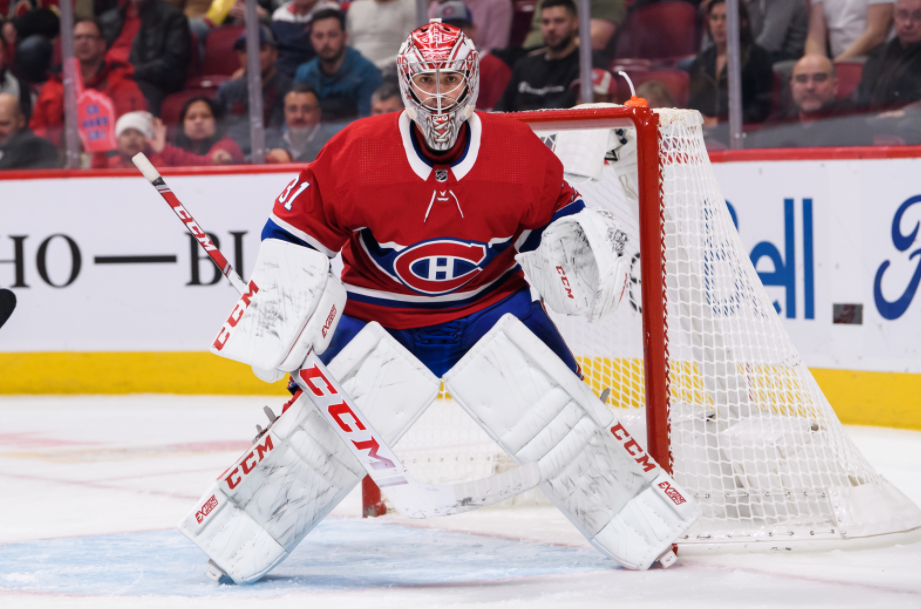 Source: @awinninghabit
Carey Price was born on 16th August 1987, in Vancouver, British Columbia, Canada. He holds Canadian nationality and his ethnic background is Canadian-White. His race is White. As of 2020, he celebrated his 33rd birthday. Leo is his Zodiac sign and his religion is Christian. Talking about his family, he was born to his parents; Jerry Price (father) and Lynda (mother), as their eldest child among two children. His father, Jerry, was a goaltender who played in different leagues for four seasons but didn't play in the NHL. His father also served as goaltending coach of the Tri-City Americans for some time. Whereas his mother served as chief of the Ulkatcho First Nation. His hometown is in Anahim Lake in northern British Columbia where his family relocated when he was three years old. He also has a sibling; a sister, Kayla. His father initially taught him to play as a goaltender on a frozen creek during winters. He would travel around 320 kilometers by car to Williams Lake city to play organized hockey. His father later bought a plane so that Carey's traveling time (about ten-hours) could be saved.
Handsome and Charming ice hockey player, Carey Price stands tall at the height of 6 ft 3 in or 191 cm with the balanced weight of 215 lb or 98 Kg or 15 st 5 lb. His hair color is black and his eye color is dark brown. His other body measurements such as chest size, waist size, biceps size, and more is still to get unfold yet. His body build is athletic. Overall, he has got a healthy body with a cool style and attitude.
Carey Price Career
Carey Price's career began by appearing in the Western Hockey League (WHL) for the Tri-City Americans during the 2002-2003 season.
For the team, he appeared in 28 games posting a 2.38 Goals against average (GAA) and a .915 save percentage.
In his another season, he played in a league-high 63 games with a 2.34 GAA and .920 save percentage and eight shutouts, both in the league top ten.
He was ranked as the best North American goaltender by NHL Central Scouting and later, he was drafted fifth overall by the Montreal Canadiens.
He then ended the 2005-2006 season with a 2.87 GAA and a .906 save percentage while starting 55 games.
For the 2006-2007 season, he posted an excellent 2.45 GAA and .917 save percentage while winning both the Del Wilson Trophy as the top WHL goaltender and the CHL Goaltender of the Year award. However, the Americans were eliminated in 6 games during the 2007 playoffs.
After being eliminated, he joined the Montreal Canadiens farm team, the Hamilton Bulldogs.
For a couple of seasons, he allowed only three goals and won one game. He helped the team won their first Calder Cup. He became the only third teenage goaltender to win the Jack A. Butterfield Trophy as AHL playoff MVP, posting a 2.06 GAA and .936 save percentage.
On 10th October 2007, he made his debut game for the Montreal Canadiens against the Pittsburgh Penguins. He recorded 26 saves in a 3-2 win. The team, Canadiens finished first overall in the Eastern Conference and earned their first division title since 1991-1992.
He earned a second Molson Cup in November in the early 2008-2009 season. On 30th December 2008, he injured his ankle and made his return on 20th January 2009.
He surrendered four goals in the final game at the Bell Centre in Montreal. The 2009-2010 season was the struggling season for him.
Later, in the summer of 2010, both Price and Halak became restricted free agents and a goaltending debate emerged in Montreal over who would remain with the team. Then, the Canadiens chose Price, trading Halak to the St. Louis Blues and re-signing Price to a two-year, $5.5 million contract to return to his role as starting goaltender.
He played in 72 games recording new career highs including 38 wins, eight shutouts a 2.35 GAA and a .923 save percentage during his 2010-2011 season with the team.
Furthermore, he was selected to play in the 2011 NHL All-Star Game. He earned his 100th win in his NHL career in his 214th game on 26th October 2011.
Due to a concussion, he missed the last 4 games of the 2011-2012 season.
He then re-signed with the Canadiens on a six-year contract worth US$39 million on 2nd July 2012.
He began the 2012-2013 season winning 18 of his first 28 starts.
The Canadiens went into the playoffs against the seventh-seeded Ottawa Senators. In-game 4, he suffered a groin injury and was replaced by Peter Budaj. He ended the playoffs with a sub-par 3.26 GAA and a .894 save percentage.
In the 2013-2014 season, he recorded 34 wins to go along with a career-best 2.32 GAA and .927 save percentage.
The season 2014-2015 was the best season of his career as he finished the season as the leader of the three leading categories for goaltenders: GAA (1.96), save percentage (.933), and wins (44), all career highs as he would help the Canadiens win the Atlantic Division.
He then suffered a knee injury in the 2015-2016 season. Later, it was announced that he would not return for the rest of the season.
At the starting of the 2016-2017 season, he became the first NHL goalie to win his first 10 games of the season.
Later, it was announced that he signed an eight-year contract extension with an annual cap hit of US$10.5 million totaling US$84 million for the entire contract on 2nd July 2017. Thus, his new contract will run through the 2025-2026 season which makes him the highest-paid goaltender in the 2018-2019 NHL season, surpassing goaltender Henrik Lundqvist.
He was ruled out indefinitely after sustaining a concussion in a game against the Philadelphia Flyers on 22nd February 2018.
He was named to the 2019 National Hockey League All-Star Game, his sixth All-Star nomination, but he chose to defer due to a lower-body injury.
He also surpassed Jacques Plante for first place in Montreal Canadiens franchise career wins with his 315th career victory on 12th March 2019 against Detroit Red Wings after a 3-1 victory.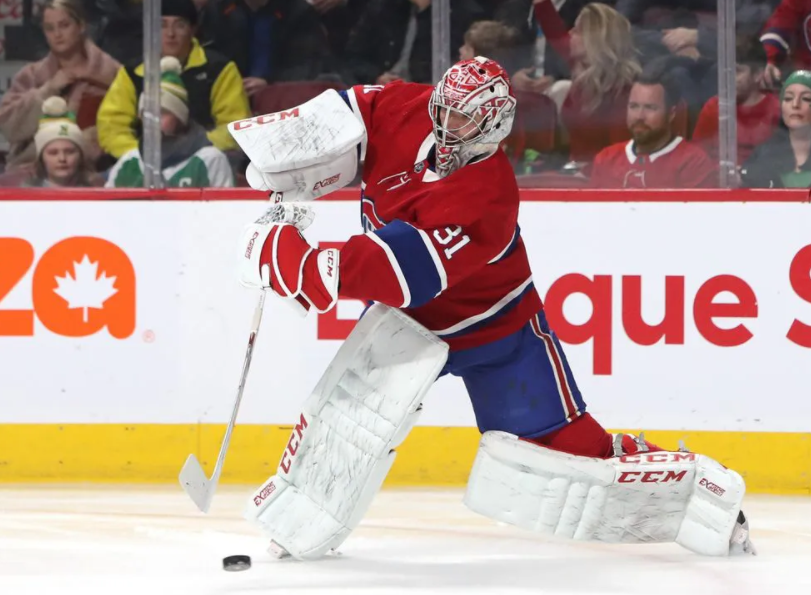 Source: @montrealgazette
Carey Price International Career
Moving towards the international career of Carey Price, he made his international debut for Canada at the 2005 IIHF World U18 Championships in the Czech Republic.
In 2007, he was named to Team Canada for the 2007 World Junior Championships in Sweden.
Similarly, he led Team Canada to a third consecutive gold medal and was named Tournament MVP and Top Goaltender after going 6-0 with two shutouts, a 1.14 GAA and .961 save percentage.
He led the 2005 IIHF World U18 Championships in save percentage and wins.
He was named to the 2014 Canadian Olympic Hockey Team on 7th January 2014.
What's more, he became the first Montreal Canadiens player to be selected for Team Canada since Mark Recchi in the 1998 Nagano Olympics.
He backstopped Canada over Latvia 2-1 in Canada's quarter-final game.
He played a pivotal role in a 1-0 victory against Team USA on 21st February 2014.
He made 24 saves in a 3-0 victory and won his first gold medal as an Olympian in his second consecutive shutout of the Olympics.
He then ended the tournament undefeated in five games with a 0.59 GAA and .971 save percentage and was named the tournament's best goaltender by the International Ice Hockey Federation (IIHF).
Carey Price Awards and Achievements
Multiple honors
Molson Cup for Montreal Canadiens: 2009, 2011, 2012, 2013, 2014, 2015, 2017, 2019
NHL All-Star Game: 2009, 2011, 2012, 2015, 2017, 2018, 2019
2007

IIHF World U20 Championship Gold Medal (2007 World Junior Ice Hockey Championships)
Tournament MVP (2007 World Junior Ice Hockey Championships)
WHL West First All-Star Team for 2006-07 WHL season
Del Wilson Trophy (WHL Top Goaltender)
CHL Goaltender of the Year Award
Calder Cup with the Hamilton Bulldogs
Jack A. Butterfield Trophy (Calder Cup MVP)
2008

NHL Rookie of the Month, March 2008
NHL All-Rookie Team for 2007-08 NHL season
2009

NHL YoungStars Game at 2009 NHL All-Star Game
2014

Olympic gold medal in Men's Hockey at 2014 Sochi Olympics
Best Goaltender at 2014 Sochi Olympics (voted by IIHF)
2015

William M. Jennings Trophy (fewest goals allowed), (shared with Corey Crawford of the Chicago Blackhawks)
Vezina Trophy (best goaltender)
Ted Lindsay Award (most valuable player, voted by NHL Players Association)
Hart Memorial Trophy (most valuable player, voted by Professional Hockey Writer's Association)
NHL First All-Star Team (voted by Professional Hockey Writer's Association)
Lou Marsh Trophy (Canada's Top Athlete voted by a panel of journalists)
Lionel Conacher Award (selected by sportswriters of the Canadian Press)
2016

Indspire Award (Sports)
2016 World Cup of Hockey Gold medal
Carey Price Wife, Angela Price
Carey Price is a married man. He married his beautiful wife, Angela (nee Webber) on 24th August 2013 in Benton City, Washington, near Angela's hometown of Kennewick. Carey met Angela while playing with the Tri-City Americans. During an interview, Angela said that the couple was set up on a blind date by her friend, who was dating Carey's roommate at the time. In the year 2016, she gave birth to their first daughter, Liv and in December 2018, she gave birth to their second daughter, Millie. On 26th October 2020, she announced the birth of their third kid, a son named Lincoln. The couple resides in Kelowna, British Columbia, during the off-season. Currently, the couple is living a happy life without any disturbances. His sexual orientation is straight and he is not gay.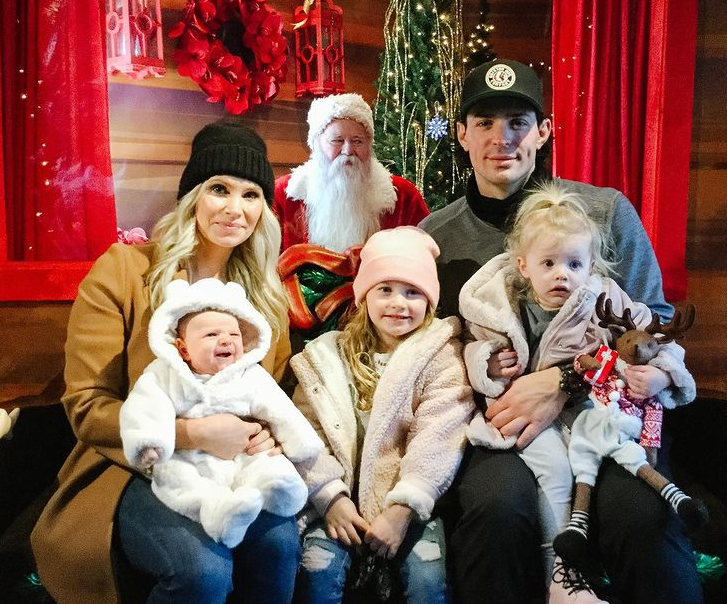 Source: @instagram.com/cp0031
Carey Price Salary & Net Worth
Carey Price is a professional ice hockey goaltender who is considered one of the best goaltenders in the world. As of 2021, the net worth of Carey Price is estimated to have $13 Million. He reportedly signed a 8 year / $84,000,000 contract, including a $70,000,000 signing bonus, $84,000,000 guaranteed with Montreal Canadiens in 2017. He reportedly earns around $10,500,000 as his yearly salary from Montreal Canadiens. Till now, he has made earnings of more than $62,000,000 from his entire NHL career. His major source of wealth comes from his ice hockey career and he is living a luxurious lifestyle from his career earnings.