About Flor Silvestre
A Mexican singer, actress, and equestrienne, Guillermina Jimenez Chabolla was professionally known as Flor Silvestre. She was renowned as one of the most famous actresses from the golden age of Mexican cinema. She began her career as a singer and has released dozens of successful albums and followed as an actor with almost forty years of successful films. She made her singing debut at the age of 13 in Mexico City to a standing ovation whereas she made her acting debut in the film "Primero soy mexicano" (1950). She has appeared in more than seventy films between 1950 and 1990. Beautiful and statuesque, she became one of the leading stars of the "golden age" of the Mexican film industry. Shortly after she was invited to sing at a local radio station. By the late 1940s, she'd won singing contests and earned the attention of showmen and record producers. In the 1970s, her name and likeness were used as the persona for the comic book "La Llanera Vengadora" though in 2015 the Guadalajara International Film Festival premiered her documentary titled "Flor Silvestre: Su destino fue querer". But sadly, we lost such a versatile singer as well as an actress on 25th November 2020 at the age of 90.
Death of Flor Silvestre

Flor Silvestre, one of Mexico's most popular singers who also starred in scores of films, died at 90 on 25th November 2020. Televisa's Espectaculos said she died surrounded by her family - including her son, singer and actor Pepe Aguilar - at Rancho el Soyate, the Zacatecas ranch she once shared with her late husband, the singer and actor Antonio Aguilar. According to an official press release, she died of natural causes the morning of Nov. 25. "The Aguilar family was thankful for those who always showed affection toward Flor," the statement reads. Remembering her wonderful and gentle soul will forever remain in our hearts. May she rest in peace! A good heart has stopped beating, a good soul ascended to heaven.
Famous For

Being a Mexican singer, actress, and equestrienne.
For being one of the most prominent and successful performers of Mexican and Latin American music.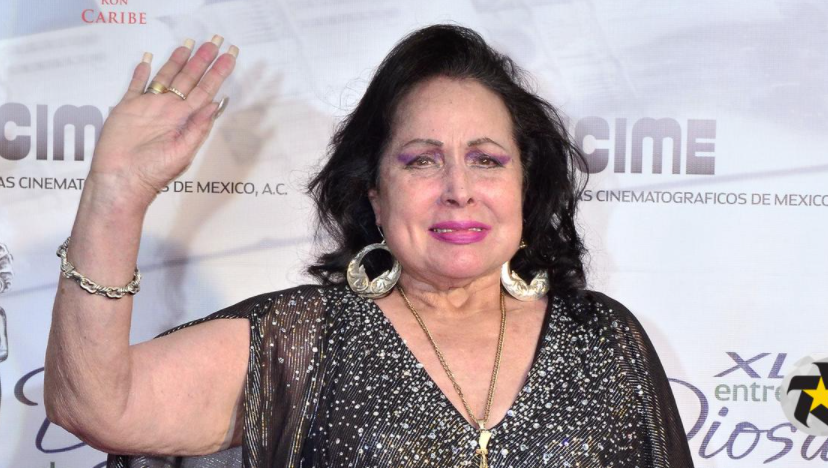 Source: @mmradio
Early Life of Flor Silvestre

On 16th August 1930, Flor Silvestre took birth with the real name or full name of Guillermina Jimenez Chabolla in Salamanca, Guanajuato, Mexico. She held a Mexican nationality and Mexican-white ethnicity. Analogously, she was from Christianity religion and her race was white. She used to happily celebrate her birthday on 16th August of every year and she had celebrated her 90th birthday as of now, though as her birthdate her star sign was Leo. She was the third child and second daughter of Jesus Jimenez Cervantes (father), a butcher, and Maria de Jesus Chabolla Pena (mother). Her older siblings are Francisco "Pancho" and Raquel, and her younger siblings are Enriqueta "La Prieta Linda", Jose Luis, Maria de la Luz "Mary", and Arturo. Guillermina completed primary school in Salamanca before reuniting with her family in Mexico City. In Mexico City, her parents enrolled her in the Escuela Bancaria Comercial Milton on Madero Avenue, where she took secretarial classes.
Career of Flor Silvestre

Flor Silvestre commenced her singing career at the age of 13 in 1943 by performing at the Teatro del Pueblo, a theater located in the Abelardo L. Rodriguez Market in central Mexico City with her father though she sang three popular songs, "La cancion mexicana", "Yo tambien soy mexicana", and "El herradero" with the help of the stage director, Carlos Lopez Santillan which was a great success and she received an ovation from the audience.
Then, she was in the play "La soldadera", directed by Lopez Santillan, in which she played a girl who comes out of a railway wagon and sings "La soldadera" which was also broadcast by Mexico's national radio station, XEFO, and "La soldadera" became the first song she performed on radio.
Though the title of the song, which is Spanish for "the female soldier", also became her first stage name until it was claimed by another singer and won first place in an amateur contest sponsored by Mexico's most popular radio station, XEW through which she earned her a contract to sing in revues at the Teatro Colonial, located on San Juan de Letran Avenue (now Eje Central).
Then, Azcarraga, the owner of XEW, Mexico's top station, gave her her first radio program, "Increible pero cierto", which she also hosted as well as Walerstein, a leading film producer known as "the Tsar of Mexican films", signed her to a five-film contract whereas she made her first records in 1950 for Columbia Records' Mexican branch where she recorded at least twelve songs for the label, one on each side of six 78 rpm singles such as "Imposible olvidarte", "Que Dios te perdone", "Pobre corazon", "Viejo nopal", "Guadalajara" and many others.
Silvestre had made her film debut in 1949 singing in "Te besare en la boca" which was launched in 1950, whereas she was given her first leading role in the Walerstein production "Primero soy mexicano" (1950) as well as reunited with her "Primero soy mexicano" co-stars Luis Aguilar and Francisco Avitia in the film "El tigre enmascarado", which premiered in 1951.
She then appeared as the leading lady of actor Dagoberto Rodriguez in a film trilogy, "El lobo solitario", "La justicia del lobo", and "Vuelve el lobo" (all released in 1952).
Later, she appeared in her first color film, "La doncella de piedra" in 1955 and had one of the starring roles in the stage play "La hacienda de Carrillo".
Her first film co-starring Antonio Aguilar, her future husband, was "La huella del chacal" though RCA Victor released her first recording of "Cielo rojo", which would become one of her signature songs in 1957.
After then, she made her television debut with a successful performance in the television play "Secreto de familia", with Sara Garcia and Miguel Arenas on Mother's Day 1957.
She received top billing for the first time in "Pueblo en armas" (1959) whereas "Flor Silvestre", her first Musart album, was released around 1958.
She starred opposite the popular comedy duo Viruta and Capulina in "Dos locos en escena" in 1960 also in the Oscar-nominated, Golden Globe-winning drama film "Animas Trujano" (1962).
Then, she released her third Musart album, "Flor Silvestre con el Mariachi Mexico, vol. 2" in the early of 1964 as Cashbox ranked her among the top ten Mexican folk singers of the year in December 1964.
Analogously, she has launched her several albums like "La acariciante voz de Flor Silvestre", "Celosa con Flor Silvestre y otros exitos" (1966), "Boleros rancheros con la acariciante voz de Flor Silvestre", "Flor Silvestre, vol. 6", "Flor Silvestre, vol. 7" and "Flor Silvestre, vol. 8.", "Amor, siempre amor", "Una gran interprete y dos grandes compositores", "Con todo mi amor a mi lindo Puerto Rico", "Ahora si va en serio", "Me regalo contigo" and many others.
As well, she recorded her first bolero album, "Y las canciones de sus trios favoritos" in the early of 1970s which was later rereleased as "Sus canciones favoritas con... Flor Silvestre" (LP reissue) and "Mis boleros favoritos" (CD reissue).
Later, she made her final film, "Triste recuerd", in 1990, also recorded her first banda album, "Flor Silvestre con tambora" in 1991.
She released her second banda album, "Flor Silvestre con tambora" in 2001 and launched her most recent album, "Soledad: canto a mi amado y a su recuerdo" on 21st December 2010.
Besides, her documentary "Flor Silvestre: su destino fue querer" premiered at Zapopan's Plaza de las Americas as part of the Guadalajara International Film Festival on 9th March 2015 though she was featured on "Para morir iguales", a track of her son Antonio's most recent album, "Caballo viejo" in 2016.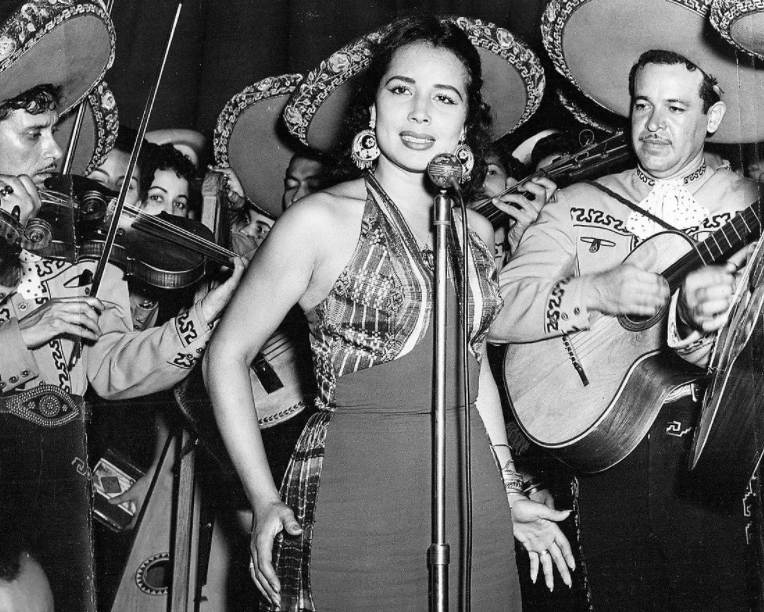 Source: @commons.wikimedia.org
Awards and Achievements of Flor Silvestre

The Golden Clover (known as Trebol de Oro in Spanish) for being one of the label's best-selling artists in 1965.
Record World Award for Best Mexican Actress-Singer
Eduardo Arozamena Medal for her 50-year career
Special Silver Goddess for her career
Personal Life of Flor Silvestre

Reflecting on Flor Silvestre's personal life, she was a married woman. She was first married to Andres Nieto, in the 1940s with whom she gave birth to her first child, singer and dancer Dalia Ines Nieto, when she was 16 years old. Then, she got married to radio announcer and bullfighting chronicler Francisco Rubiales Calvo "Paco Malgesto" in around 1953. They had two children, translator Francisco Rubiales and singer and actress Marcela Rubiales. But their relationship was also not exceptional, they separated and began divorce proceedings in 1958. Silvestre's third and last husband was singer and actor Antonio Aguilar, who died in 2007. The couple was married in 1958 and had two sons who also became singers and actors, Antonio "Tono" Aguilar and Jose "Pepe" Aguilar. He was the love of her life. They first met in 1950 when he was invited to sing on her program Increible pero cierto at the Verde y Oro studio of radio station XEW in Mexico City. Furthermore, talking about her sexual orientation, she was straight.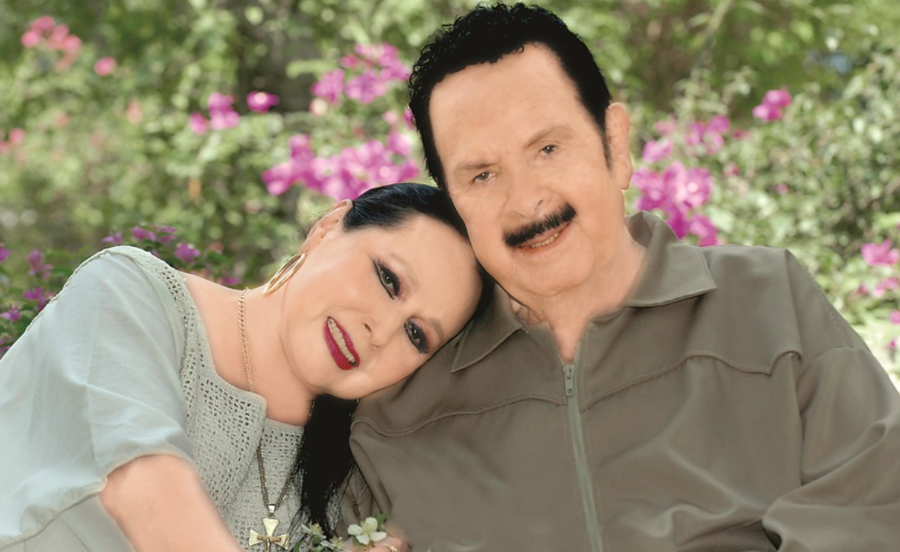 Source: @inspiredtraveler/ca
Net Worth of Flor Silvestre

Moving towards Flor Silvestre's net worth, her worth was around $10 million as of 2020 whereas she had also a handsome amount of salary too which was also in millions of dollars per year. She was a great and versatile woman who had achieved a huge success and victorious career. In addition, her major source of income was from singing and acting career though she had earned a fine amount of money from her career and she was happy and satisfied with it.
Body Measurement of Flor Silvestre

Flor Silvestre was one of the beautiful and functional actresses as well as singers who stood at a perfect height and a balanced weight. She definitely had a pretty face and a magnetic personality which had cast a spell over her viewers over the years. Her sensible thoughts with a good sense of humor greatly attracted her spectators to their TV screen. Her usual exercise schedule had also guided her to be in marvelous body posture with appropriate body measurement though her body build type was average. She was a graceful woman with light brown hair and dark brown eyes color. Additionally, Silvestre underwent surgery to extirpate the cancer-stricken half of her right lung on 28th February 2012, happily, she responded well to the surgery.