About Eddie Izzard
An English stand-up comedian, actor, writer, and political activist, Eddie Izzard is well recognized for her outstanding role in numerous TV series and films. She performed her first individual show at the Banana Cabaret in London, after working as a street performer. She got her big break in 1991 when she performed at the Fry and Laurie-produced AIDS benefit Hysteria 3. Her comedic style takes the form of rambling whimsical monologues and self-referential pantomime. Izzard is genderfluid and uses she/her pronouns. She had a starring role in the television series "The Riches" as Wayne Malloy and has appeared in "Ocean's Twelve", "Ocean's Thirteen", "Mystery Men", and many others. She also has won numerous awards including a Primetime Emmy Award for Individual Performance in a Variety or Music Program for her comedy special "Dress to Kill", in 2000. Recently, she has revealed that she'll be using the pronouns 'She' and 'Her' going forward.
Famous For

Being an English stand-up comedian, actor, writer, and political activist.
For her appearances in "Ocean's Twelve", "Ocean's Thirteen", "Mystery Men", and many others.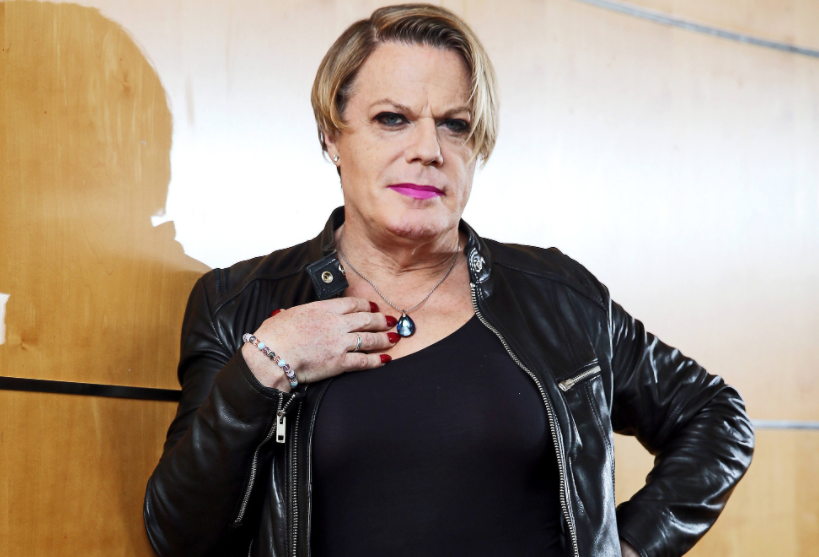 Source: @people.com
Early Life of Eddie Izzard
Eddie Izzard took birth on 7th February 1962 with the real name or full name of Edward John Izzard in Aden, Aden Colony (now Aden, Yemen). However, her current residence is in Victoria, London. She holds British nationality and British-white ethnicity. Analogously, she is an atheist and her race is white. She happily celebrates her birthday on 7th February of every year and she has celebrated her 58th birthday as of 2020 though as her birthdate, her star sign is Aquarius. She is the child of English parents Dorothy Ella Izzard (mother) (1927-1968) and Harold John Michael Izzard (father) (1928-2018). Her family is of French Huguenot origin. Her mother was a midwife and nurse; her father was an accountant who was working in Aden with British Petroleum at the time of Izzard's birth. Izzard's mother died of cancer when Izzard was six and her brother, Mark, was eight whereas, after her mother's death, she attended St John's School in Porthcawl, Mid Glamorgan, St Bede's Prep School, and Eastbourne College.
Career of Eddie Izzard

Eddie Izzard kicks off her career with comedy at the University of Sheffield with student friend Rob Ballard though she worked as a street performer in Europe and the United States in the early 1980s.
Then, she moved her act to the stand-up comedy venues of Britain as her first gig was at the Banana Cabaret in Balham, London as well as made her first stage appearance was at the Comedy Store in London in 1987.
Her big break came in 1991 when she performed her "Raised by Wolves" sketch on the televised "Hysteria 3" AIDS benefit.
After that, she made her West End drama debut as the lead in the world premiere of David Mamet's "The Cryptogram" in 1994 which led to her second starring role, in David Beaird's black comedy "900 Oneonta" and also portrayed the title character in Christopher Marlowe's "Edward II" in 1955.
She then starred in "The American Film Institute's Tribute to Monty Python" (also referred to as "Monty Python Live at Aspen") in 1988 and starred as the special guest in their "Blackmail" with Monty Python during their live show "Monty Python Live (Mostly)" in July 2014.
In addition, she has also appeared in a number of episodes of BBC "One's Have I Got News For You" as she portrayed comedian Lenny Bruce in the 1999 production of Julian Barry's 1971 play "Lenny".
In 2001, she replaced Clive Owen in Peter Nichols' 1967 play "A Day in the Death of Joe Egg" at the Comedy Theatre though she also replaced James Spader in the role of Jack Lawson in David Mamet's play "Race" on Broadway in June 2010.
Similarly, she has starred in numerous films and series like "The Secret Agent", "Shadow of the Vampire", "Valkyrie", "Across the Universe", "Revengers Tragedy", "The Chronicles of Narnia: The Voyage of the Dawn Treader", and many others.
She appeared in the 2009 BBC science fiction miniseries "The Day of the Triffids" as well as presented the medals to the athletes who had won the 800m T54 race at the London 2012 Paralympic Games.
She then starred in the Showtime series "United States of Tara" as Dr. Hatteras though she also appeared in six episodes of the 2013-2015 American psychological horror television series "Hannibal" as Dr. Abel Gideon.
She played the part of Robert Watson-Watt, in the BBC drama film "Castles in the Sky" in 2014, as well as read excerpts from her autobiography, "Believe Me" for BBC Radio 4's "Book of the Week" in June 2017. She appeared as a guest on "The Daily Show" in May 2019.
Beside this, she has also produced a sitcom called "Cows" in the year 1997 for Channel 4. What's more, she cited Monty Python as her biggest influence, and Python's John Cleese once referred to her as "the lost Python".
Additionally, she has recently revealed that she'll be using the pronouns 'She' and 'Her' going forward.
"I try to do things that I think are interesting," she reportedly said, when asked about taking part in the show, which features contestants drawing celebrities like Izzard. "This is the first program I've asked if I can be 'she' and 'her.' This is a little transition period." Says the comedian, "Well, it feels great because people assume that … they just know me from before, but I'm gender fluid. I just want to be based in girl mode from now on."
She also told NPR that summer her general "pigheadedness" stems from bucking societal expectations about gender. "It was locked in from coming out in 1985, coming out 32 years ago as transgender," she explained. "Or, I was 'TV' when I came out. The language has changed over the years, transvestite/TV, transsexual/TS, we are now at trans and transgender. So, I came out in 1985, and it was very difficult to go out and forge a way out, and lock it into your life."
Moreover, she can be seen in drama films "Six Minutes to Midnight" and in "The High Note" in 2020.
Political Views and Activism

Izzard claimed to be working in four languages: Spanish, German, French, and English on the "Overtime" segment of HBO political talk show "Real Time with Bill Maher" on 16th June 2017 as she received an honorary Doctorate of Letters from the University of East Anglia, Norwich in July 2003.
As well, she was named on a list of the biggest private financial donors to the Labour Party in 1998 whereas she also announced her intention to stand for the National Executive Committee of the Labour Party on 25th February 2016 which was announced on 9thg August 2016 that Izzard had failed to be elected to the NEC.
In September 2011, she declared her ambition to stand for the party as an MP, MEP, or Mayor of London, announcing her intention to stand for the London mayoral election in 2020.
Izzard declared her intention to become a Labour politician after endorsing Labour Party leader Jeremy Corbyn in the 2017 UK general election in May 2017 but it was announced that Izzard had failed in her second bid to be elected to the NEC in January 2018.
Christine Shawcroft resigned from the Labour Party's NEC though Izzard replaced her and served until the next NEC election, held in summer 2018. She came ninth in that election, and so was not re-elected to the NEC.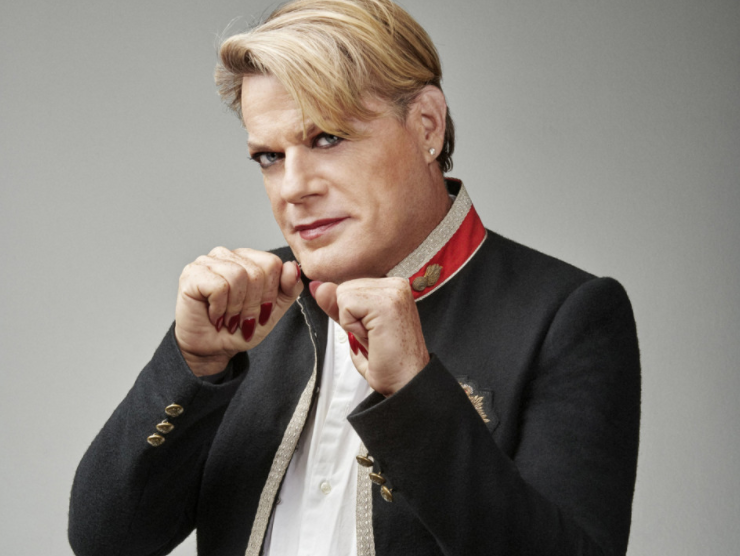 Source: @quatsch-comedy-club.de
Books of Eddie Izzard

"Believe Me: A Memoir of Love, Death and Jazz Chickens" (2017)
Awards, Honours, and Achievements of Eddie Izzard

Eddie Izzard received an honorary doctorate of letters from the University of East Anglia (UEA) in 2003 and also received an honorary doctorate from the University of Sunderland in 2012.
She received the 6th Annual Outstanding Lifetime Achievement Award in Cultural Humanism on 20th February 2013.
In 2015, Izzard was chosen, by readers of The Guardian as their 2014 public language champion, and the award was announced at the Guardian and British Academy 2014 Schools Language Awards as part of the annual Language Festival.
She was also awarded an honorary Doctorate of Letters by York St John University on 20th November 2018.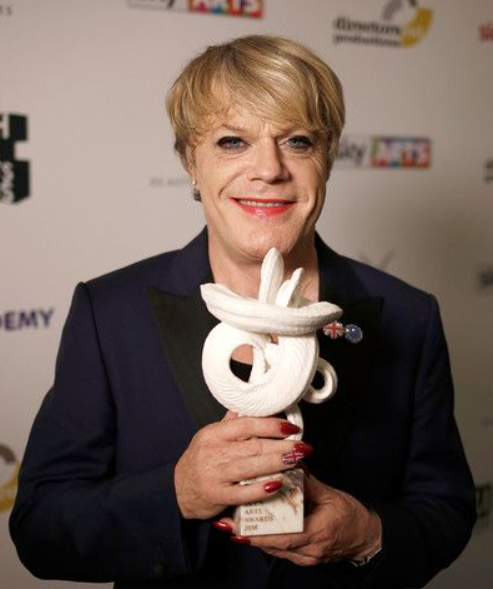 Source: @pinterest
Personal Life of Eddie Izzard

Reflecting on Eddie Izzard's personal life, she is an unmarried lady though talking about her sexual orientation, she is transgender. She keeps her romantic life private, citing the wishes of her companions not wanting to become content for her show. She dated Sarah Townsend, who later directed the documentary "Believe: The Eddie Izzard Story", and whom she first met while she was running a Fringe venue at the Edinburgh Festival in 1989. She is genderfluid and calls herself "somewhat boyish and somewhat girl-ish". She uses transgender as an umbrella term. When asked what pronouns she prefers, Izzard said "either 'he' or 'she.'" In December 2020, Izzard stated a preference for "she" and "her" exclusively. Previously, she identified as a transvestite, and she has also called herself "a lesbian trapped in a man's body" and "a complete boy plus half girl". Izzard started to publicly identify as transvestite in venues such as the Edinburgh Festival as early as 1992. Her stance is that the way she dresses is neither part of her performance nor a sexual fetish. She said "I don't call it drag; I don't even call it cross-dressing. It's just wearing a dress. ... It's not about artifice. It's about me just expressing myself." She remarks in her show Unrepeatable that "women wear what they want and so do I". She has expressed a personal conviction that being transgender is caused by genetics and that someday this will be scientifically proven, having gone so far as to have her own genome sequenced.
Net Worth of Eddie Izzard

Moving towards Eddie Izzard's net worth, she has a worth of around$20 million dollars, as of 2020 though she has also a handsome amount of salary too which is also in millions of dollars per year. She has earned a fine amount of money from her career as her major source of income is from her acting as well as from her political career. She is sincere in her work. But, she is doing all the hard works in order to build a secure financial status for herself and her family.
Body Measurement of Eddie Izzard

Eddie Izzard is a beautiful and versatile actress who stands at a perfect height of 1.7 m with a balanced weight. She had the perfect body combined with good looks. She could carry off any look with great simplicity as well as has an astonishing personality. She can just come across amazing in anything she'll ever wear. Graceful lady Izzard has light brown hair and eyes color as her body build type is average.