About Ellen DeGeneres
Ellen DeGeneres is a famous comedian, television host, actress, writer, and producer from the USA. Ellen DeGeneres is famous for hosting the TV talk show "The Ellen DeGeneres Show" which is airing since 2003. Previously, she had been known for her role in the popular sitcom "Ellen" (1994-1998). She firstly appeared in a short film in 1990 known as "Arduous Moon" as herself and her first role on the big screen was as a coach in the science fiction comedy film "Coneheads" (1993). She first appeared on the small screen in 1989 when she appeared in two episodes of "Open House" (Irish Series) as Margo Van Meter. The series is the spin-off of the Fox series called "Duet" (1987-1989). Her stand-up career began in the early 1980s and included a 1986 appearance on "The Tonight Show Starring Johnny Carson". As a film actress, she has starred in Mr. Wrong (1996), EDtv (1999), and The Love Letter (1999), and provided the voice of Dory in the Pixar animated films Finding Nemo (2003) and Finding Dory (2016); for Nemo, she was awarded the Saturn Award for Best Supporting Actress, the first time an actress won a Saturn Award for a voice performance. She is best known for her dancing and singing with the audience at the beginning of the show and during commercial breaks. She often gives away free prizes and trips to be in her show's studio audience with the help of her sponsors. During the fourth season of Ellen in 1997, she came out as a lesbian in an appearance on "The Oprah Winfrey Show". Her character, Ellen Morgan, also came out to a therapist played by Winfrey, and the series went on to explore various LGBT issues, including the coming-out process. In 2008, she married her longtime girlfriend Portia de Rossi. In the year 2018, she appeared in a new stand up special, "Relatable", for Netflix after 15 years not performing stand-up comedy. As a writer, she has written two books, "My Point… And I Do Have One", and "The Funny Thing Is…," both of which has been tagged as New York Times bestseller. On 5th January 2020, she won the Golden Globes Carol Burnett Lifetime Achievement Award. In summer 2020, she faced considerable controversy after it came out that her show was being investigated for being a hostile workplace. Katy Perry is publicly expressing her support for Ellen DeGeneres. The singer took to social media on Tuesday in the wake of reports of a toxic work environment on DeGeneres' longtime talk show to say that she's only ever had "positive takeaways" with the television host. She went on to confirm that an internal investigation had been launched by the show's distributor, Warner Bros. Television, which is owned by CNN's parent company, WarnerMedia. Ellen DeGeneres was born on 26th January 1958, in Metairie, Louisiana, the USA as Ellen Lee DeGeneres. Her nationality is American and her ethnicity is American-White. She is French, English, German, and Irish descent. Her race is White. As of 2020, she celebrated her 62nd birthday. She was born to her parents; Betty DeGeneres (mother) and Elliott Everett DeGeneres (father). Her father was an insurance agent while her mother is a speech therapist. When she was only fifteen, her parents split. Since then, she lived with her mom. Her mother later got married to a salesman, Roy Grussendorf. Regarding her siblings, she also has a sibling brother Vance Degeneres, who is a musician and a producer. Her zodiac sign is Aquarius and her religion is non-religious. As per her education, she attended "Atlanta High School" and graduated in May 1976, after she completed her first years of high school at "Grace King High School" in Metairie, Louisiana. She moved back to New Orleans to attend the "University of New Orleans", where she majored in communication studies. Her early jobs included working at J. C. Penney, and being a waitress at TGI Fridays and another restaurant, a house painter, a hostess, and a bartender.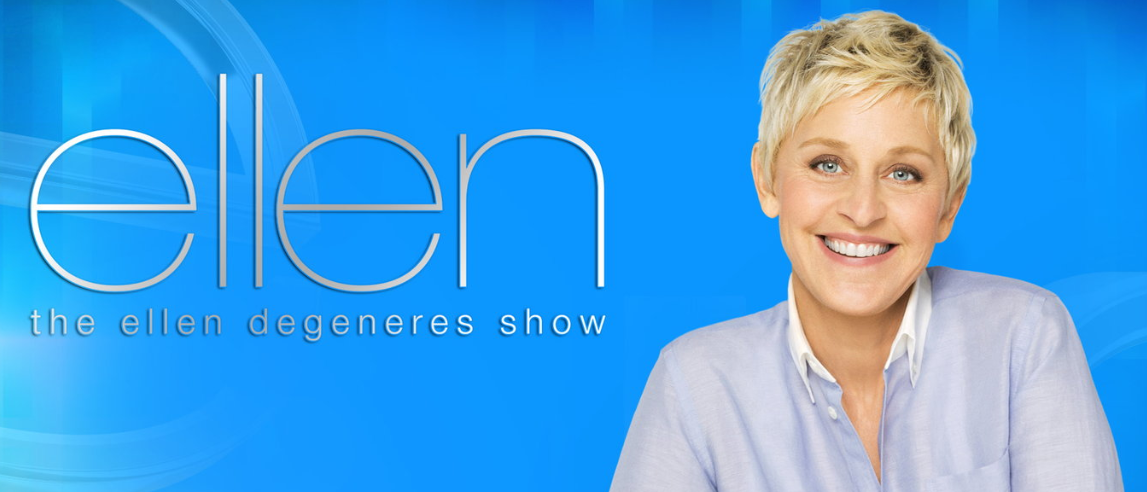 Source: @naibuzz
Ellen DeGeneres's Career Timeline
Struggling at J. C. Penney, and being a waitress at TGI Fridays and another restaurant, a house painter, a hostess, and a bartender; Ellen DeGeneres has successfully reached the great peak in the field of acting and comedian.
No one has even become successful by just one try. Ellen began her career as a stand-up comedian from small clubs and coffee houses.
She became the "Emcee" at the 'Clyde's Comedy Club' in Orleans in 1981.
She was also named the "Funniest Person in America" by the American television network "Showtime".
After that, she appeared in the 1990s film "Coneheads", and in a show named "Ellen's Energy Adventure" till 13th August 2017.
Her first regular TV role was in a short-lived Fox sitcom called "Open House" where she played the role of Margo Van Meter.
Her next appearance was in the 1992 sitcom "Laurie Hill".
Her comedy career became the basis of the sitcom "Ellen", named "These Friends of Mine" during its first season which became popular in its first few seasons due in part to DeGeneres' style of observational humor; it was often referred to as a "female Seinfeld."
Moreover, "Ellen" reached its height of popularity in April 1997, when DeGeneres came out as a lesbian on "The Oprah Winfrey Show".
She then launched a daytime television talk show, "The Ellen DeGeneres Show" in September 2003.
She lent her voice to the role of Dory, a friendly fish with short-term memory loss, in the 2003 animated Disney/Pixar film "Finding Nemo".
She also provided the voice of the dog in the prologue of the Eddie Murphy feature film "Dr. Dolittle".
On 9th September 2009, it was confirmed that she would replace Paula Abdul as a judge of the ninth season of "American Idol".
She then made her American Idol debut on 9th February 2010.
But, on 29th July 2010, DeGeneres and Fox executives announced that the comedian would be leaving American Idol after one season. In a statement, she said that the series "didn't feel like the right fit for me".
She reprised the role of Dory from Finding Nemo in the 2016 sequel, "Finding Dory".
In the 2017-2018 television season, she began hosting the game show "Ellen's Game of Games" on NBC which is based and expands on games played on her talk show. The series had a preview episode on 18th December 2017 with regular episodes beginning the following January.
In the year 2018, she appeared in a new stand up special, "Relatable", for Netflix after 15 years not performing stand-up comedy.
Ellen DeGeneres's Awards and Achievements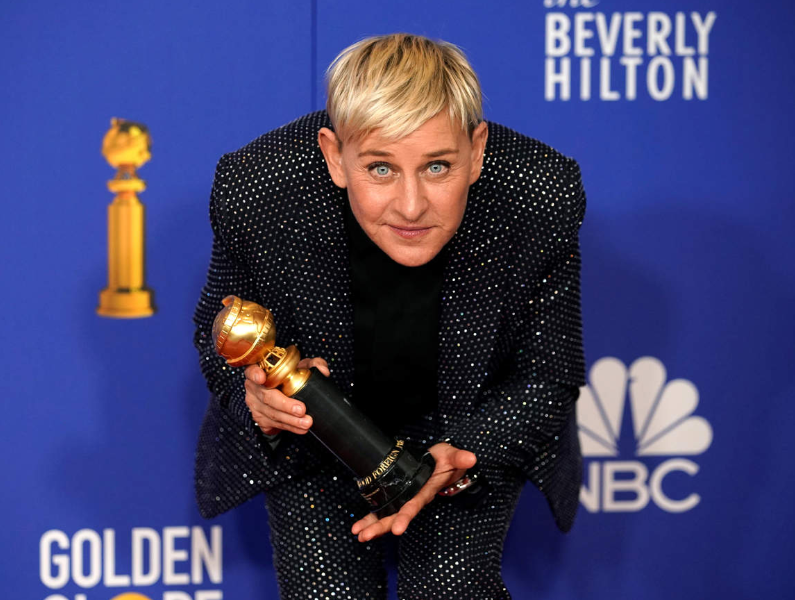 Source: @economictimes.indiatimes.com
Ellen DeGeneres is an award-winning comedian as well as an actress. For the show "The Ellen DeGeneres Show", it was nominated for 11 Daytime Emmy Awards in its first season, winning four, including Best Talk Show. The show has won 25 Emmy Awards for its first three seasons on the air. She received wide exposure on 4th November 2001, when she hosted the televised broadcast of the Emmy Awards. In August 2005, she hosted the 2005 Primetime Emmy Awards ceremony held on 18th September 2005, and later, she hosted the Grammy Awards in 1996 and in 1997. She was selected to host the 79th Academy Awards ceremony on 7th September 2006, which took place on 25th February 2007. During the Awards show, DeGeneres said, "What a wonderful night, such diversity in the room, in a year when there have been so many negative things said about people's race, religion, and sexual orientation. And I want to put this out there: If there weren't blacks, Jews and gays, there would be no Oscars, or anyone named Oscar, when you think about that." She was nominated for an Emmy Award as host of the Academy Awards broadcast. On 2nd August 2013, it was announced that she would host the Academy Awards on 2nd March 2014, for the second time. Her voice-over for the film "Finding Nemo" earned her the Saturn Award from the Academy of Science Fiction, Fantasy & Horror Films for Best Supporting Actress. She also won the Nickelodeon Kids Choice Award and Annie Award for the same project. During the period 2004-2014, she has won twenty-five 'Emmy Awards'. She has also been the recipient of the 'Producers Guild of America Awards' as well. She has won 30 Emmys, 20 People's Choice Awards (more than any other person), and numerous other awards for her work and charitable efforts. In 2016, she received the Presidential Medal of Freedom. On 5th January 2020, she won the Golden Globes Carol Burnett Lifetime Achievement Award.
Ellen DeGeneres MARRIED to Portia de Rossi (Lesbian)
Ellen DeGeneres is a married woman. She is openly lesbian. She came out as a lesbian (sexual orientation) in 1997. The disclosure of her sexual orientation sparked intense interest in American tabloids. She started a romantic relationship with actress Anne Heche in 1997 that lasted until August 2000. She also maintained a close affair with photographer Alexandra Hedison from the year 2000 to 2004. The duo appeared on the cover of The Advocate after their separation had already been announced to the media. After that, she has had a relationship with Portia de Rossi since 2004. Later, Ellen married Portia de Rossi who is an actress and philanthropist by profession. After the same-sex marriage ban was overturned, the duo got engaged and married in August 2008. Rossi filed a petition to legally change her name to Portia Lee James DeGeneres. The petition was granted on 23rd September 2010. As of today, the couple is living happily in Beverly Hills with their four dogs and three cats.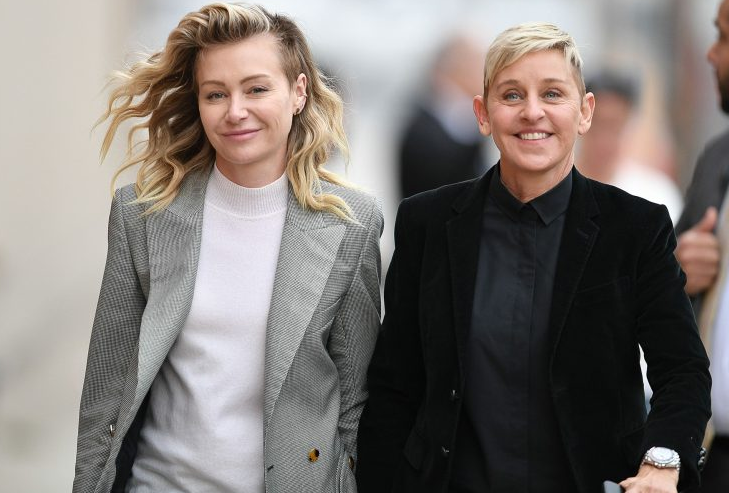 Source: @gizmoposts24
Owing to her humanitarian work, the Secretary of State, Hillary Clinton named her a special envoy for the cause of Global AIDS awareness in November 2011.
Ellen DeGeneres's Net Worth 2020
Ellen DeGeneres is an American comedian, television host, actress, writer, and producer. With her multi-career, she has accumulated a huge amount of money. As of July 2020, the net worth of Ellen is estimated to have $330 Million as per sources. Forbes estimated DeGeneres' 2018 earnings at US$87.5 million, making her the 15th highest-paid entertainer in the world. In the year 2015, she was named the 50th most powerful woman in the world by Forbes and came second on the World Pride Power list. Her major source of earning is from the comedian profession and through her show. Her other career such as acting, producing, writing career also boosts up her income. She also receives a handsome salary of $75 million annually. Her salary from the show "The Ellen DeGeneres Show" is $50 Million per year. At present, Ellen is living a luxurious lifestyle from her earnings. She is satisfied with her money as of today. She has appeared in a number of commercials over the years during her career in Hollywood. She first appeared in the TV commercial of US West Communications (now Qwest) in 1987. Later, she was featured in TV commercials and voiceover for American Express credit card (2004), both TV and radio commercials for XM satellite radio (2005), TV commercial for Popeye's chicken, American Express' Members Project (2007), Covergirl's Simply Ageless makeup (2009) and "6 AM Sale" and "Coupons in the Old West" for JC Penney (2012). She has appeared in print ads for American Greetings' "Cards By Ellen" line of greeting cards (2007), Wyeth's Advil and Advil PM pain relievers and their Life List contest (2008), Olay's Simply Ageless makeup (2009-2012), Glaceau Vitamin Water Zero (2010) and Covergirl + Olay's Tone Rehab 2-in-1 Foundation (2012). She is the advertising spokesperson for JC Penney as well. DeGeneres represents her own line of products on QVC, a home shopping network.