Glenn Beck Biography
Glenn Lee Beck, an American conservative political commentator, conspiracy theorist, radio host, and television producer is better known as Glenn Beck who is the CEO, founder, and owner of Mercury Radio Arts, the parent company of his television and radio network TheBlaze. He previously worked at Utah and Washington D.C. radio stations. He is also a political commentator who had a show on FOX and had a best-selling author. Beck made his first TV show appearance as a customer in the "Severe Crane Damage" episode of the comedy-drama series, "Cheers" in 1990. However, he was uncredited for his role. He then made his film debut as Commentator 5 in the comedy movie "Atlas Shrugged: Who Is John Galt?" in 2014. He garnered a lot of fame and popularity as a presenter for his popular radio show airing via Premiere Radio Networks and the "Glenn Beck", "Glenn Beck Radio Program". Moreover, he is currently the host of the afternoon program, "The Glenn Beck Program", broadcasting on TheBlaze. Glenn recently paid tribute to the death of Rush Limbaugh who passed away on Wednesday at the age of 70. Scroll down to read Beck's Full Biography, Interesting Facts, Personal Life, Net Worth, Family, Wiki, Age, & Job.
Famous For

Being an American conservative political commentator, conspiracy theorist, radio host, and television producer.
For being the CEO, founder, and owner of Mercury Radio Arts, the parent company of his television and radio network TheBlaze.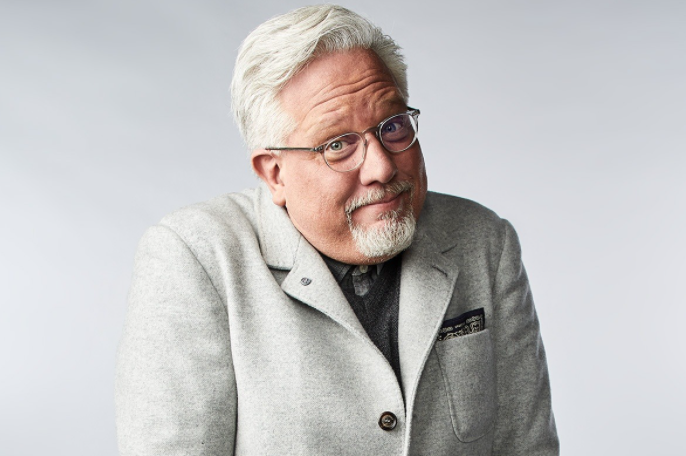 Source: @gofundme
Glenn Beck Early Life

On 10th February 1964, Glenn Beck took birth as Glenn Lee Beck in Everett, Washington, U.S. to Mary Clara (mother) and William Beck (father), who lived in Mountlake Terrace, Washington, at the time of their son's birth. The family later moved to Mount Vernon, Washington. Beck is of American nationality and mixed ethnicity as he is of purely German descent on his maternal side and has a mix of German and English/British Isles ancestry on his paternal side. He was raised as a Roman Catholic religion whereas his race is white. He celebrates his every birthday on the 10th February of every year and he has celebrated his 57th birthday as of 2021. Aquarius is his horoscope. Additionally, he has one sibling an older sister with whom he moved with their mother to Sumner, Washington, attending a Jesuit school in Puyallup. But, Beck and his older sister moved to their father's home in Bellingham, Washington, where Beck graduated from Sehome High School in June 1982 after their mother passed away. He attended Immaculate Conception Catholic School in Mount Vernon.
Glenn Beck Career

Glenn Beck commenced his career creating the media platform Mercury Radio Arts as the umbrella over various broadcast, publishing, Internet, and live show entities in 2002 whereas he founded "Mercury Radio Arts" in 2002, naming it after the Orson Welles seminal Mercury Theatre, which produced live theatrical broadcasts during the 1930s.
Radio
Glenn worked at radio station KZFM in 1983 and was hired away from KZFM to be the lead DJ for the morning-drive radio broadcast by WRKA in Louisville, Kentucky as well as was hired by Phoenix Top-40 station KOY-FM.
He then moved on to Baltimore, Maryland, and the city's leading Top-40 station, WBSB, known as B104. He was arrested and jailed for speeding in his DeLorean during his tenure at B104.
When Gray, then Beck were fired, the two men spent six months in Baltimore, planning their next move and they both moved to WKCI-FM (KC101), a Top-40 radio station in New Haven, Connecticut in early 1992.
The "Glenn Beck Program" first aired in 2000 on WFLA (AM) in Tampa, and took their afternoon time slot from eighteenth to first place within a year whereas the show then moved to Philadelphia, Pennsylvania, broadcasting from new flagship station WPHT.
Television
CNN's "Headline News" announced in January 2006 that Glenn would host a nightly news-commentary show in their new prime-time block Headline Prime but it was announced in October 2008 that he would join the Fox News Channel, leaving CNN Headline News.
His Fox News one-hour show ended on 30th June 2011, and a new two-hour show began his television network which started as a subscription-based internet TV network, TheBlaze TV, originally called GBTV, on 12th September 2011.
Books

Glenn Beck founded Mercury Ink which is a co-publishing deal with Simon & Schuster which started in 2011 and publishes adult and young adult novels and non-fiction titles.
Beck, authors signed to Mercury Ink include New York Times best-seller Richard Paul Evans and he has reached No. 1 on The New York Times Bestseller List in four separate categories as of 2010: Hardcover Non-Fiction, Paperback Non-Fiction, Hardcover Fiction, and Children's Picture Books.
Stage shows and speeches

Beck produced a one-night special film titled "The Christmas Sweater: A Return to Redemption" in December 2009 and he also produced and hosted a one-night stage event called "Man in the Moon" in July 2013, held at the USANA Amphitheatre in West Valley City, Utah.
Philanthropy

Gleen has founded the non-profit organization Mercury One, which is designed to sustain itself through its entrepreneurship without the need for grants or donations in 2011 as he began work toward developing a clothing line to be sold to benefit the charity and October 2011 in early 2011.
Projects and rallies

Glenn created a group "9-12 Project" which was launched on 13th March 2009 as well as the "Restoring Honor rally" which was promoted/hosted by Beck and held at the Lincoln Memorial in Washington, D.C. on 28th August 2010.
He held a rally at AT&T Stadium in Irving, Texas in August 2012 however Beck and Mercury Radio Arts also organized a rally that saw a little over 20,000 people march through the streets of Birmingham in August 2015, Alabama in a statement of unity and support for the persecuted Christians in Iraq, a cause that Beck's Mercury One charity organization focuses on, and as a call for unity among the American people.
Political views

Beck officially announced on 18th March 2015 that he had left the Republican Party, saying that the GOP had failed to effectively stand against the president on Obamacare and immigration reform, and because of the GOP establishment's opposition to insurgent lawmakers such as Mike Lee and Ted Cruz.
As well, he predicted Donald Trump would win the 2020 United States presidential election in a "landslide" on his radio on 18th May 2018, saying "Here's why I'm predicting a 2020 win. When I saw yesterday how the press was all reporting the same damn story - that Donald Trump was calling MS-13 gang members, they left that out of the story, 'animals' they were spinning it as if he was saying that about all immigrants. I had enough. I've had enough ... Gladly, I'll vote for President Trump in 2020, and not really even on his record, which we'll talk about here in a second, is pretty damn amazing."
In 2020, he argued that the election of Democratic presidential candidate Bernie Sanders could lead to "another Holocaust."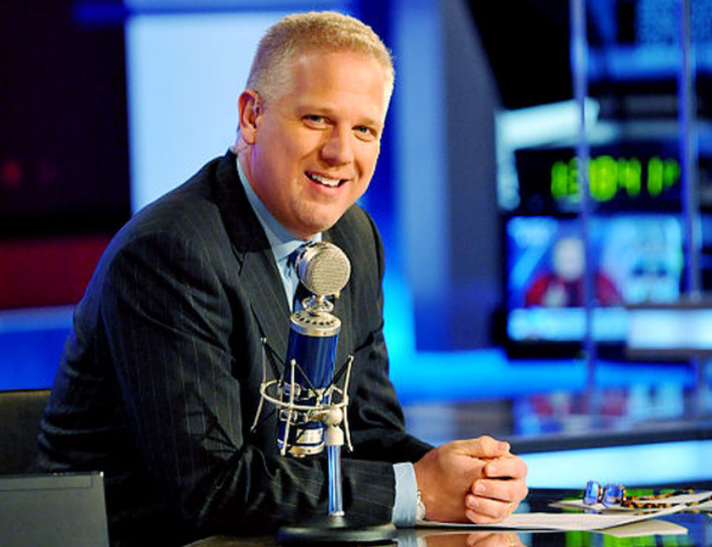 Source: @nydailynews
Barack Obama and the Obama administration

Glenn promoted numerous conspiracy theories and falsehoods about President Barack Obama and the Obama administration whereas he said of his commentary on Obama in a 2016 interview with "The New Yorker": "I did a lot of freaking out about Barack Obama." But added, "Obama made me a better man." Beck said that he regrets calling Obama a racist and is a supporter of Black Lives Matter. He said, "There are things unique to the African-American experience that I cannot relate to. I had to listen to them."
ACORN

Beck and other conservative commentators were critical of the Association of Community Organizations for Reform Now (ACORN) for various reasons, including claims of voter registration fraud in the 2008 presidential election in 2009 and, according to a 2010 study in the journal "Perspectives on Politics", Glenn played a prominent role in media attacks on ACORN.
George Soros conspiracy theories

Glenn is a prominent proponent of conspiracy theories about George Soros, a Jewish philanthropist. During a discussion on his radio show about the controversy surrounding his earlier comments about Soros on 22nd February 2011, he said "Reform Rabbis are generally political in nature. It's almost like radicalized Islam in a way where it's less about religion than it is about politics."
Beck, a friend of actor and director Mel Gibson claimed he and Gibson shared a conversation in which Gibson claimed Jewish people had stolen a copy of The Passion of the Christ before its official theatrical release in 2016, and that Jewish people were assaulting him in the streets.
2011 Norway attacks

Beck condemned the 2011 Norway attacks but was condemned for his comparison of murdered and surviving members of the Norwegian Workers' Youth League to the Hitler Youth. He said, "There was a shooting at a political camp which sounds a little like, you know, the Hitler Youth or whatever, you know what I mean. Who does a camp for kids that's all about politics? Disturbing."
Commentators pointed out that groups affiliated with the Tea Party movement and the Beck-founded 9-2 Project also sponsor politically oriented camp programs for children.
Trump comments and 2016 SIRIUS XM Suspension

Beck's opposition to Trump did not sit well with many Trump supporters and hurt his businesses and viewership. He stated on his radio program on 18th May 2018 that he intended to vote for Trump in the 2020 presidential election, calling Trump's record "pretty damn amazing". Beck said Trump's defeat in the 2020 election would be "the end of the country as we know it."
Critical biographies

In June 2010, investigative reporter Alexander Zaitchik released a critical biography titled Common Nonsense: Glenn Beck and the Triumph of Ignorance, with a title mocking Beck's work, "Common Sense".
In October 2010 a polemical biography by Dana Milbank has released: "Tears of a Clown: Glenn Beck and the Tea Bagging of America".
Defamation lawsuit and settlement

Abdulrahman Alharbi filed suit for defamation in the U.S. District Court for the District of Massachusetts against Beck and his business entities, The Blaze and Mercury Radio Arts, along with his distributor Premiere Radio Networks in March 2014.
Alharbi's defamation claim arose from Beck's repeated broadcasts "identifying Alharbi as an active participant" in the Boston Marathon bombing, even after federal authorities cleared Alharbi, who was injured in the attack, of any wrongdoing and confirmed that he was an innocent victim. In December 2014, the judge rejected Beck's attempt to have the case dismissed and the suit was settled on confidential terms in September 2016.
Glenn Beck Awards and Achievements

Gene Burns Memorial Award for Freedom of Speech 2013 (Talkers Magazine)
Tribeca Disruptive Innovation Award, 2013
Marconi Award Personality of the Year 2008
Defender of Israel Award, Zionist Organization of America 2011
Glenn Beck Personal Life

Glenn Beck is a married guy. He dated Claire While he was working at WPGC. After dating long enough, they married in 1983. Eventually, they were blessed with two daughters, Mary and Hannah. Despite having a perfect family anyone would dream of, they divorced in 1994 after 1 long year of marriage. Afterward, he dated Tania and later married in 1999. Fortunately, they were blessed with one daughter, Cheyenne, and were generous enough to adopt Raphe later on. During his lifetime, he suffered from health problems time and again. However, his strong mentality and proper treatment have led to some relief. Glen's sexual orientation is straight. Besides, by 1994, Beck was suicidal, and he imagined shooting himself to the music of Kurt Cobain. He credits Alcoholics Anonymous (AA) with helping him achieve sobriety. He said he stopped drinking alcohol and smoking cannabis in November 1994, the same month he attended his first AA meeting. Beck later said that he had gotten high every day for the previous 15 years, since the age of 16.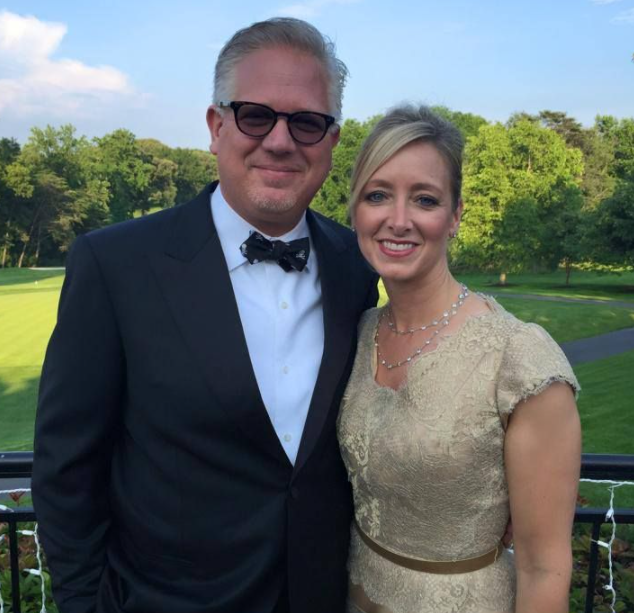 Source: @pinterest
Additionally, Glenn recently paid tribute to the death of Rush Limbaugh who passed away on Wednesday at the age of 70. "I don't know any man, anyone person -- not a movement, not a collection of people -- any one person that changed the culture as much as Rush Limbaugh did that added to the culture," Beck told host Tucker Carlson. "Maybe Johnny Carson."
Glenn Beck Net Worth and Salary

Glenn Beck has earned a decent sum of money through his profession. He has been living a lavish lifestyle through his good source of income and been able to handle his family on his own. However, he has not disclosed officially his annual salary. But his net worth is around US$250 million as of 2021. He has done endorsement work for several brands such as Patriot Mobile, Liberty Safe, Goldline, SimpliSafe, American Financing, and many others. He founded a non-profit organization "Mercury One" in 2011, with the intent to help various causes close to his heart, such as relocating Christian refugees from Iraq and Syria. In addition, his major source of income is from his political commentator, conspiracy theorist, radio host, and television producer career.
Glenn Beck Body Measurement

Glenn Beck is a handsome political commentator, conspiracy theorist, radio host, as well as television producer, who stands at a tall height of 6 ft 2 in or 188 cm with a bodyweight of around 90 kg or 198.5 lbs. He has light brown hair and blue eyes but due to advancing age, his hair color has turned white. His body measurement like chest size, waist size, biceps are unknown, however, his body build type is average. Beck is also a successful guy to keep his body maintained at this age too which so much awesome.