About Hafþór Júlíus Björnsson
Hafþór Júlíus Björnsson is an Icelandic former professional strongman and actor who became the first person to have won the Arnold Strongman Classic, Europe's Strongest Man and World's Strongest Man in the same calendar year. He also is a former professional basketball player who began his basketball career in 2004 with Division I team Breiðablik, moving to FSu in 2005. After his ankle injury, he left the basketball career and began his strongman career. He won the Strongest Man in Iceland event in 2010, Iceland's Strongest Man in 2011, Europe's Strongest Man in 2014, a feat he repeated in 2015, 2017, 2018, and 2019, won gold at the Arnold Strongman Classic in 2018, 2019 and 2020. In January 2015, he became the first competitor to carry a 10 m (33 ft.) long log that weighed 650 kg (1,430 lbs.) for five steps. This helped him break the 1000-years-old Viking record. Apart from the broadcast of his strongman competitions, his first TV show appearance came in the iconic HBO TV series, "Game of Thrones" in the year 2014. He made his first theatrical film appearance playing the lead role in the action thriller movie, "Operation Ragnarök" in 2017. Besides this, he is also active in social media with more than 3.3 million followers in his Instagram account under the name of @thorbjornsson. Similarly, he can also be found on Twitter with more than 86K followers under the account name of @thorbjornsson_. On 2nd May 2020, he again made history by deadlifting 501 Kg (1,105 lbs) under strongman rules at his gym in Iceland, surpassing Eddie Hall's strongman deadlift record of 500 Kg (1,100 lbs) set in 2016.
Hafþór Júlíus Björnsson is famous for being one of the most popular professional strongman competitors. He s best-known for playing the role of Ser Gregor "The Mountain" Clegane in the popular fantasy action TV series, "Game of Thrones".
Hafþór Júlíus Björnsson was born on 26th November 1988, in Reykjavik, Iceland and as of today, he is residing in Kopavogur, Iceland. His nationality is Icelandic and he belongs to British-Iceland ethnicity. His Zodiac sign is Sagittarius. He was born to his parents; Björn Thor Reynisson (father) and Ragnheiður Margret Juliusdottir (mother). His father stands at 203 cm (6 ft 8 in) and his mother is also of very tall stature. His grandfather, Reynir, is also very tall with a height of 6ft 9 1⁄2 in(207 cm). He worked on the family farm as a child even though he wasn't tall at the time but was always big. He also has a sibling, a sister named Hafdís Lind Björnsdóttir with whom he raised up. Information about his education details is still to get unfold yet.
Source: @reddit
Hafþór Júlíus Björnsson is a cool person with a large and imposing body build. He stands tall at the height of 6 ft 9 in or 2.06 m with a heavy bodyweight of 193 Kg or 400 lbs. His chest size is 60 in or 152.5 cm, arms size is 22 in or 56 cm, and his waist size is 48 in or 122 cm. He has a pair of green eye color and his hair color is light brown. He is also fond of tattoos and he has inked a lot of tattoos on his body. He has inked a tattoo of Jon Pall Sigmarsson on his calf. He also has tattoos of those in relation to Norse deities and the Viking culture. Overall, he is a very handsome person and he workouts regularly to keep himself fit and fine.
Hafþór Júlíus Björnsson's Career
Basketball Career
Hafþór began his basketball career by playing as a center for Division I club, Breiðablik in the year 2004.
After a year, he joined Division I club, FSu Selfoss, also in the Icelandic Division I.
In the game, he broke his ankle for which he underwent surgery.
In the year 2006, he moved to the club, KR, but he again underwent the surgery of his broken ankle during the 2006-2007 season.
He moved back to play for FSu Selfoss for the 2007-2008 season where he averaged 6.7 points per game.
Because of his troublesome ankle, he had to retire from basketball at the age of 20. Altogether, he played 32 games for the Icelandic junior national basketball teams and 8 games with Iceland's U-18 national team.
Strongman Career
After his basketball career, he met an Icelandic strongman, 'Magnús Ver Magnússon' at a gym in the year 200 and he said that Hafþór seemed a good prospect as a strongman.
After the duration of two years of training, he won several strongman contests in Iceland in 2010 including Strongest Man in Iceland, Iceland's Strongest Viking, Westfjords Viking, and five of six events at the OK Badur Strongman Championships.
He also finished in second place at the Jón Páll Sigmarsson Classic in November 2010.
On 4th June 2011, he won the 2011 "Strongest Man in Iceland" contest, following on 18th June, he won the 2011 Iceland's Strongest Man contest.
He placed fourth in the Giants Live Poland 2011 event on 6 August 2011.
He carried a 10-meter-long (33 ft), 650-kilogram (1,430 lb) log for five steps in January 2015, at the World's Strongest Viking competition held in Norway.
He deadlifted an unofficial world record on the elephant bar with 480 kilograms (1,058 lbs) on 15th February 2020.
Again, he deadlifted 501 kg (1,105 lb) under strongman rules in an event that was broadcast on ESPN on 2nd May 2020.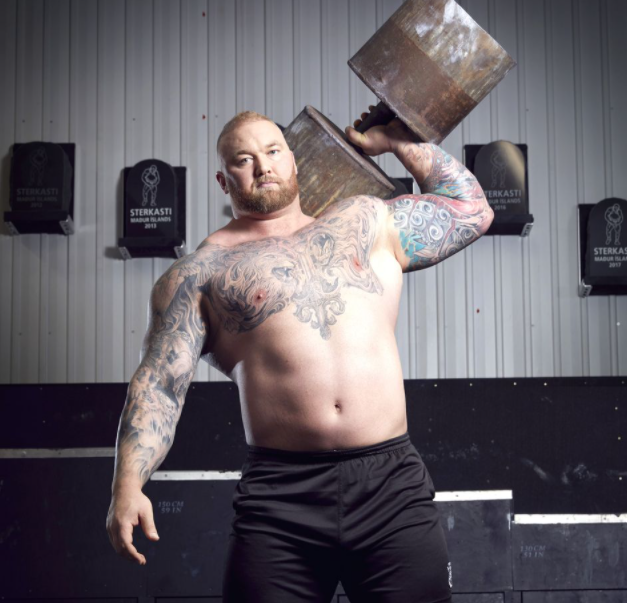 Source: @menshealth
Additionally,
He took part in the "World's Strongest Man" contest in 2011 where he finished in 6th position.
He placed third in 2012, 2013, and 2015, runner-up in 2014, 2016, and 2017 event.
He then won the 2018 World's Strongest Man, thus becoming the first Icelander to win the title since Magnús Ver Magnússon in 1996.
In May 2020, he stated that he would never return to a Giants Live event or a World's Strongest Man competition, thus statedly ending Hafþór's participation in World's Strongest Man.
He became successful to break several records starting with the Elephant Bar deadlift world record on 3rd March 2018, and also he became the champion of the Arnold Strongman Classic 2018.
He defended his title at the Arnold Strongman Classic 2019; he finished on 45 points, 4.5 points ahead of runner-up Martins Licis. After successfully defending his crown, he became only the second person to win 3 Arnold Strongman Classics in a row (2018, 2019, and 2020) after Zydrunas Savickas.
Acting Career
Regarding his acting career, Hafþór firstly cast as Ser Gregor "The Mountain" Clegane in the fourth season of the HBO series, "Game of Thrones" in August 2013 till the eight seasons.
In the year 2015, he played the lead role in the debut season of "Philadelphia Renaissance Faire".
Moreover, he was cast as Mongkut in the film, "Kickboxer: Retaliation" in the year 2017.
Not only this but also he appeared as "King Thor", the leader of a Viking raiding party intent on capturing the city of Amman.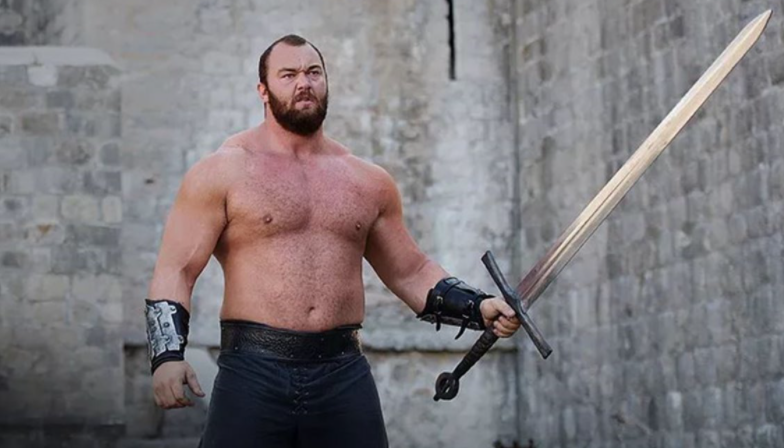 Source: @indianexpress
Records of Hafþór Júlíus Björnsson
Strongman
Deadlift - 474 kg (1,045 lb) Elephant bar, strongman raw with wrist straps (Arnold Strongman Classic 2019, World Record)
Log press - 213 kg (470 lb) (Europe's Strongest Man 2018)
Tire deadlift - 460 kg (1,014 lb) raw with wrist straps (Arnold Strongman Classic 2014)
Log carry - [5 steps] 650 kg (1,433 lb) (World's Strongest Viking 2015)
Keg toss - 7.15 m (23 ft) (World's Strongest Man 2016)
Keg toss - 8 kegs in 16.35 seconds (World's Strongest Man 2014). Strongman record.
Deadlift - 501 kg (1,105 lb) Strongman rules World Record.
Deadlift - 480 kg (1,058 lb) Replica Elephant bar, raw with wrist straps
Powerlifting
Squat (with wraps) - 440 kg (970 lb) (Thor's Powerlifting Challenge 2018)
Bench press - 250 kg (551 lb) (Thor's Powerlifting Challenge 2018)
Deadlift - 410 kg (904 lb) (Thor's Powerlifting Challenge 2018)
Total - 1,100 kg (2,425 lb) (Thor's Powerlifting Challenge 2018)
Squat - 445 kg (981 lb) raw
Bench press - 245 kg (540 lb) raw
Deadlift - 501 kg (1,104.5 lb)
Hafþór Júlíus Björnsson's Wife, Kelsey Henson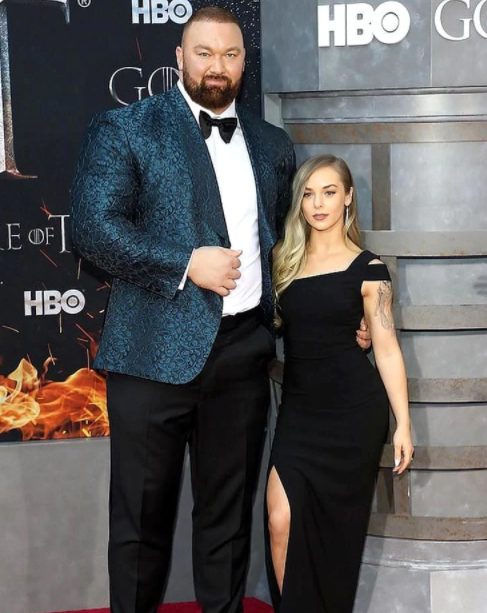 Source: @legit.ng
Hafþór Júlíus Björnsson is a married man. He is married to his beautiful Canadian waitress, Kelsey Henson. The duo met for the first time in September 2017, when he was in Alberta, Canada for a strongman competition and visited the bar where Henson worked. They soon started dating and got married in 2018 which was confirmed on 21st October 2018. The married couple looks different than other couples as the duo even garnered attention for the difference in their respective heights, as Henson is just 5 ft. 2 in. or 157 cm while Hafþór is a giant man with his height of 6 ft. 9 in. On 11th April 2020, he announced that he was expecting their first child together with his wife, Kelsey Henson. He is straight by sexual orientation. And the duo is enjoying their life a lot without any disturbances. He is enjoying his life a lot with his wife. Recently, Hafþór Júlíus Björnsson and his wife, Kelsey Henson welcomed their first child together, a baby boy, on Saturday (26th September 2020), the couple announced on Instagram. "Our beautiful baby boy made his grand entrance into the world at 11:19 AM on September 26th, 2020 after a short and intense six hours. 3530 grams and 52 cm. The birth was the most powerful, life-changing, empowering thing I've ever done in my entire life. We are all doing well and settling in at home as three!" the new mom shared on Sunday. The actor also shared the story of their son's birth. "After an extremely hard 2 hours and 19 mins of pushing our healthy, strong, beautiful boy arrived weighing 3530 grams, 52 cm long," he said. "To finish the most beautiful, awe-inspiring labor was the most wonderful phone call to my daughter to introduce her to her new little brother." He announced Henson's pregnancy in April, alongside photos from their "gender reveal" party. The actor, 31, and his wife learned the sex of their baby by popping a large black balloon, from which burst blue confetti.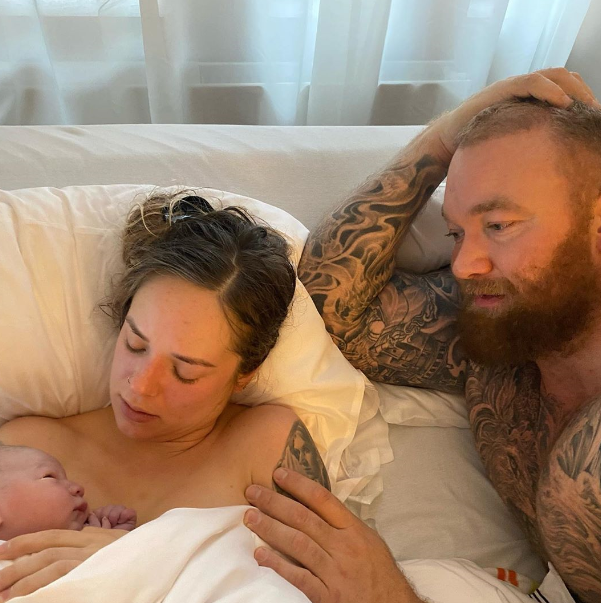 Source: @instagram.com/thorbjornsson/
Talking about his past affairs, he was pictured out on a shopping trip with an unidentified woman in Beverly Hills in 2016. Later, he was seen with Thelma Björk Steinmann with whom he has his first daughter, named Theresa Lif. He also dated Andrea Sif Jónsdóttir in 2017 whom he met at a gym. They lived together in Reykjavik. In an online video interview by Mulligan Brothers published 21 December 2019, Hafþór lamented not having seen his daughter in three years.
Moving in-depth about his personal life, he and his former girlfriend Andrea have spoken about his occasional sleep troubles after a heavy meal due to his body weight. He was even diagnosed with Bell's palsy in the year 2017.
Hafþór Júlíus Björnsson's Net Worth 2020
Hafþór Júlíus Björnsson is a former professional strongman and actor who has achieved a huge success and has reached a great height in his career. As of 2020, the net worth of Hafþór Júlíus Björnsson is estimated to have $2 Million. Whereas the details about his salary is still to get revealed yet. He gets most of his income from his well paying Strongman career and also earns hefty amounts from being a television actor. He is hardworking career personnel who has realized most of his potential from hard work and dedication. Additionally, he also makes money from endorsement deals as he is also a brand ambassador for SodaStream. He has appeared in advertisements of the brand promoting environmental awareness and collaborated in one with fellow Game of Thrones actor Hannah Waddingham (who played Septa Unella). He is also the co-founder of the spirits brand, "Icelandic Mountain Vodka" which he co-founded in the year 2016. As of today, he is making a good amount of money from his career and he is satisfied with his earnings.