About Hilary Swank
Hilary Swank is an award-winning actress as well as a film producer from the USA. In the year 1992, Hilary made her film debut in the action/comedy horror film "Buffy the Vampire Slayer" for her role as Kimberly Hannah. In the year 1990, she played the role of Danielle in ABC's family-friendly prime-time television programming block TGIF which was her first TV Show. She rose to fame after her portrayal as Brandon Teena, a trans man in the biographical drama film, "Boys Don't Cry"(1999) for which she received her first Academy Award for Best Actress and the Golden Globe Award for Best Actress in a Motion Picture-Drama. She is better-known for her role as Maggie Fitzgerald in Clint Eastwood's sports drama film, "Million Dollar Baby"(2004). Besides this, she has also starred in other films, including The Gift (2000), Insomnia (2002), The Core (2003), Iron Jawed Angels (2004), Red Dust (2004), The Reaping (2007), P.S. I Love You (2007), Freedom Writers (2007), Amelia (2009), Conviction (2010), New Year's Eve (2011), The Homesman (2014), You're Not You (2014), and Logan Lucky (2017). In 2018, she portrayed Gail Getty on the FX television series Trust. She was formerly a vegetarian. She runs a charity and has a production company. She is also active in social media sites with more than 1 million followers on her Instagram account.
Hilary Swank leads a mission to Mars in Netflix space drama "Away". She launches into space as the leader of the first international crew to Mars. But as capable as she is at the controls of the three-year mission, the decision to leave her husband (Josh Charles) and daughter behind on Earth leads to immediate personal doubt over whether she should've put her career first. She plays Emma Green, America's top astronaut, controversially picked to be commander on the first manned flight to Mars. Alongside her are Misha Popov from Russia (resentful), Lu Wang of China (suspicious), Ram Arya of India (enthusiastic), and Kwesi Weisberg-Adebayo, a complete duffer from Great Britain. The mission's psychological consultant, Putney, has seemingly done a terrible job in vetting them, as even before take-off they are gelling about as well as the gravel in a trifle. Emma is the best astronaut in the world (although Misha has clocked up more space hours) but she has a decidedly cinematic view of leadership. This American science fiction drama web television series, starring Hilary Swank was created by Andrew Hinderaker. It is set to premiere on Netflix on September 4, 2020.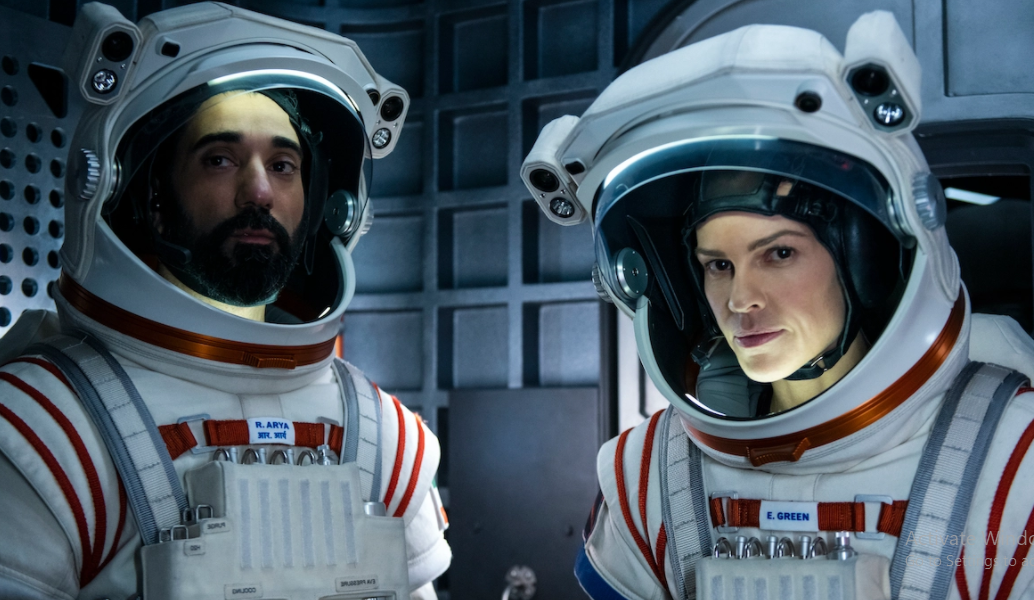 Source: @collider
Hilary Swank is famous for being an American actress and film producer. She is best-known for playing Brandon Teena in the independent romantic drama film Boys Don't Cry (1999), as Jeanne St. Rémy de Valois in The Affair of the Necklace (2001), and as Maggie Fitzgerald in sports drama film Million Dollar Baby (2004).
Hilary Swank was born on 30th July 1974, in Lincoln, Nebraska, the USA with the birth name of Hilary Ann Swank. She is American by nationality and she belongs to mixed ethnicity. She is of German, other English, Scottish, Swiss-German, English, Dutch, Scots-Irish, Welsh, Mexican (Spanish and Native American) ancestry. Her zodiac sign is Leo. As of 2020, she celebrated her 46th birthday. She was born to her parents; Stephen Michael Swank (father) and Judy Kay (mother). She was born as the youngest child to her parents. Her father, Stephen was a Chief Master Sergeant in the Oregon Air National Guard, and her mother, Judy was a secretary cum dancer. She also has siblings; a brother named Daniel Swank who is eight years senior to her. When she was just 6, her family moved into a home near Lake Samish in Bellingham, Washington. Her parents separated when she was 15 years old. After that, she was raised by her mother. Most of Swank's family members are from Ringgold County, Iowa. Her maternal grandmother, Frances Martha Clough was of Mexican descent while her paternal grandmother was born in England. Concerning her education, she attended Happy Valley Elementary School, Fairhaven Middle School, and then Sehome High School in Bellingham. After that, she enrolled herself in South Pasadena High School in Los Angeles. She attended the school but dropped out later. She described her time at South Pasadena High School, "I felt like such an outsider. I didn't feel like I fit in. I didn't belong in any way. I didn't even feel like the teachers wanted me there. I just felt like I wasn't seen or understood." She also competed in the Junior Olympics and the Washington state championships in swimming, ranking 5th in all-around gymnastics, and has also made her first appearance on stage when she was 9 years old, starring in "The Jungle Book". She has called her mother the inspiration for her acting career and her life. She explained that she became an actor because she felt like an outsider, "As a kid, I felt that I belonged only when I read a book or saw a movie, and could get involved with a character. It was natural that I became an actor because I longed so much to be those other people, or at least to play them".
Hilary Swank is a beautiful actress who has got a charming smile and glowing face attracting a lot of people towards her. She works out regularly for her different roles in the films. She has an athletic body build. She has got a tall height of 5 ft 6in or 1.68 m. And her body weight consists of 55 kg or 121 lbs. She actually gained 19 pounds of muscle for the film 'Million Dollar Baby'. Additionally, her body measurement is 34-24-35 inch and her bra size is 32B. Whereas her shoe size is 9 US. Her hair color is brown and her eye color is dark brown. She has high cheekbones.
Hilary Swank's Acting Career
In the year 1992, Hilary Swank made her film debut by appearing in the action/comedy horror film "Buffy the Vampire Slayer" for her role as Kimberly Hannah.
After that, she acted in the direct-to-video drama, "Quiet Days in Hollywood" with her ex-husband Chad Lowe.
After then, she got her first lead role as Julie Pierce in the fourth installment of the Karate Kid series, "The Next Karate Kid" in the year 1994.
In the same year, she starred as Patty Yaklich in the television drama, "Cries Unheard: The Donna Yaklich Story".
Following the year, she appeared in "Kounterfeit" with the British actor, Bruce Payne.
In the year 1996, she appeared as Michelle Porter in a horror film, "Sometimes They Come Back... Again" and played the role of Deena Marten in a television film, "Terror in the Family".
In 1997, she played the main role of a single mother as Carly Reynolds in teen drama series, "Beverly Hills, 90210" for 16 episodes.
She rose to fame after her portrayal of the role of a trans man, Brandon Teena in the biographical drama film, "Boys Don't Cry" in the year 1999.
She then appeared as a female boxer in Clint Eastwood's 2004 film "Million Dollar Baby".
After that, she has made her role in "Freedom Writers" (2007), "The Reaping" (2007), "P.S. I Love You" (2007), "Amelia" (2009), You're Not You (2014).
Her audiobook recording of Caroline Knapp's "Pack of Two: The Intricate Bond Between People and Dogs" was released at Audible.com in 2012.
In the year 2013, she starred in the television film, "Mary and Martha" alongside Brenda Blethyn.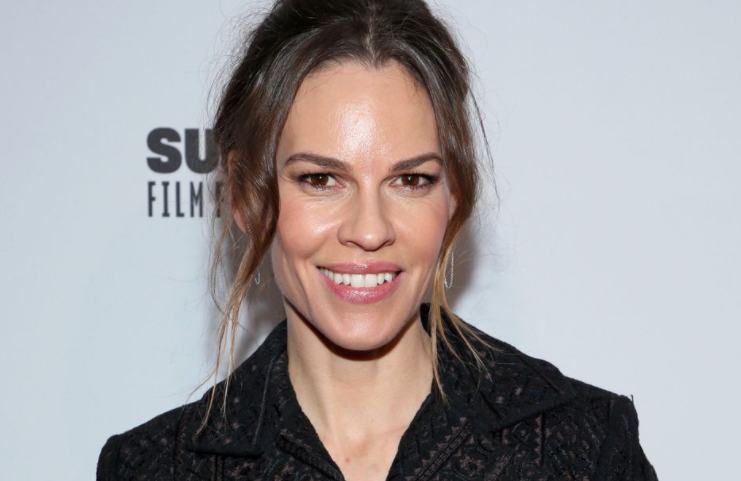 Source: @vulture
She next appeared in Steven Soderbergh's heist comedy, "Logan Lucky" as Special Agent Sarah Grayson in 2017. She portrayed lawyer Colette Hughes in Bille August's drama film, "55 Steps" in the same year.
She also starred in and executive produced the Alzheimer's disease drama film, "What They Had" in the year 2018.
Recently, in 2020, she appeared as Athena Stine in the horror film, "The Hunt".
She will next be appearing in the sci-fi drama series, "Away" as Emma Green. It is set to premiere on Netflix on September 4, 2020.
Ніlаrу Ѕwаnk's Awards and Achievements
Ніlаrу Ѕwаnk is an award-winning actress. Shе hаѕ rесеіvеd huge rесоgnіtіоn аnd аwаrdеd ѕеvеrаl hоnоrѕ. Her аwаrdѕ іnсludе 2 Асаdеmу аwаrd,1 Воѕtоn Сrіtісѕ Аwаrd, 2 Сhісаgо Сrіtісѕ аwаrd, 1 Fоrt Wоrth fіlm аwаrd, 1 Flоrіdа Сrіtісѕ аwаrd аnd оthеrѕ. She received her first Academy Award for Best Actress and the Golden Globe Award for Best Actress in a Motion Picture-Drama for the movie "Boys Don't Cry", & second Academy Award and Golden Globe Award for Best Actress for the movie "Million Dollar Baby".
Ніlаrу Ѕwаnk's Husband, Philip Schneider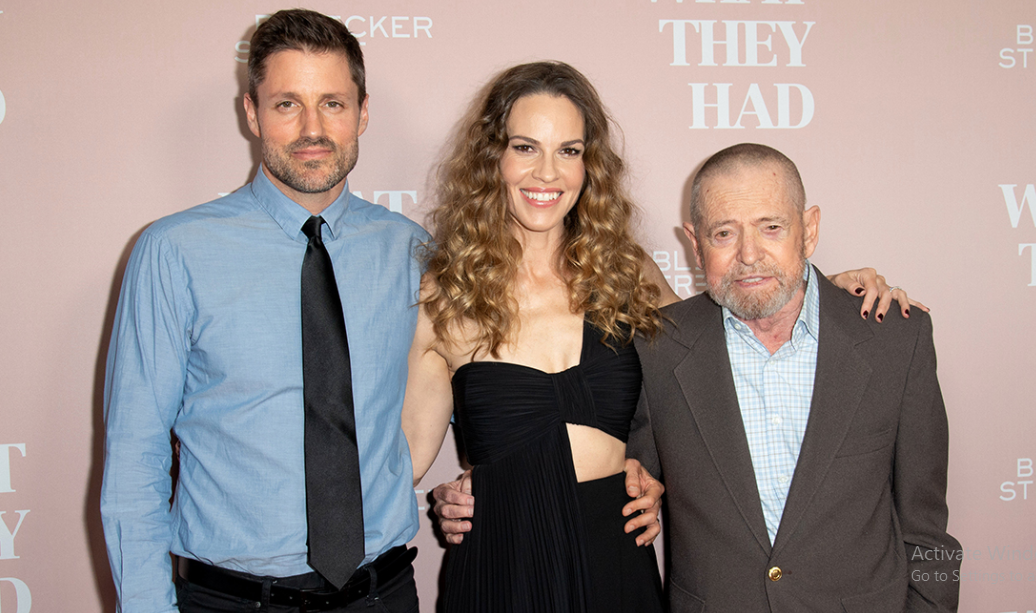 Source: @aarp.org
Hilary Swank is a married woman and she has been married twice till now. She is currently married to her Philip Schneider, who is an entrepreneur by profession. She met entrepreneur Philip Schneider on a blind date in 2016. They soon started dating. She got married to him on 18th August 2018, after dating for 2 years. The wedding ceremony happened at the 20,000-acre conserve which had 800 years old trees around. Swank doesn't have any kids at this time, but she's a huge advocate for pet adoption, rescuing several dogs that would become her pets over the years. To her, they are her children. Her sexual orientation is straight. The duo is enjoying their married life happily without any disturbances.
Previously, she dated an actor, Chad Lowe after meeting at the Athletic club. He saw her across the room and according to him, the time stood still. After dating for 5 years, the couple married on 28th September 1997. Later, the couple split on 9th January 2006 after eight years of their together. Their divorce was finalized on 1st November 2007. After that, he began dating her agent, John Campisi. They dated for more than five years before separating in July 2012. She even dated French real estate broker, Laurent Fleury for three years and called it quits in the summer of 2015. She then met Ruben Torres, a financial advisor with UBS and former professional tennis player, and began dating since May 2015. They even announced their engagement on 22nd March 2016, but in June, their relationship ended.
Ніlаrу Ѕwаnk's Net Worth 2020
One of the talented and successful actress in the world, Hilary Swank has a net worth of $40 Million as of 2020. She has not mentioned anything regarding her salary. Without a doubt, her salary will be surely in millions. Her primary source of wealth comes from her acting career through films, shows, series, and short films. She has involved herself in supplies films which have made the famous and accumulation of her wealth. While filming "Boys Don't Cry", Swank earned only $75 per day for her work on the film, culminating in a total of $3,000. She has appeared in advertisements for "Insolence" eau de toilette by Guerlain in 2006, Estée Lauder in 2004, Calvin Klein underwear in 2004, and Independent Film Channel in 2000. At present, she is living a luxurious lifestyle.