About Ian Hecox
Ian Hecox is a multi-talented American personality known for his diverse roles as a YouTuber, comedian, internet personality, writer, director, producer, and actor. He gained immense popularity as the co-founder of the renowned YouTube channel "Smosh". Alongside his childhood friend Anthony Padilla, Hecox established Smosh as an online comedy enterprise on November 19, 2005. Together, they create, write, direct, and star in a variety of hilarious sketches. Smosh started sharing their videos in November 2015, and since then, their channel has amassed over 10 billion views and has attracted more than 25.3 million subscribers as of June 2023. In addition to his contributions to Smosh's YouTube videos, Hecox showcased his acting skills in the 2015 film "Smosh: The Movie" and took on roles in popular productions like "The Angry Birds Movie" and "Ghostmates" released in 2016.
Ian Hecox Early Life & Family
Ian Hecox was born on November 30, 1987, which means he is 35 years old as of 2022. His birth name is Ian Andrew Hecox. He hails from Sacramento, California, in the United States. Ian has American nationality and a mixed ethnic background, encompassing Portuguese, Scottish, German, Dutch, and English ancestry. As a Sagittarius, he embodies the characteristics associated with this zodiac sign and follows the Christian faith. Ian is the son of Stephan Andrew Hecox and Sharon Hecox, and he also has an elder sister named Melissa Hecox as well as a brother namely Adrian Hendrix, with whom he shared his early childhood experiences. His brother died in a motorcycle accident. From an early age, Ian has possessed a natural inclination for captivating audiences. He maintained a robust physical state during his childhood, finding great joy in the act of running. Furthermore, as he grew older, this aspiring YouTuber harbored a strong aspiration to partake in a marathon. Unfortunately, owing to his tender age, Ian Andrew Hecox's parents exercised caution and did not grant him permission to pursue this endeavor.
In terms of education, Ian and Anthony Padilla both attended Del Campo High School and after finishing school, went on to study at American River College. During their first year of college, an opportunity arose for him and Anthony to collaborate with YouTube, prompting them to abandon their academic pursuits and fully dedicate themselves to their YouTube career.
Ian Hecox Career
Hecox embarked on his YouTube journey alongside his childhood friend, Anthony Padilla, forming the renowned group known as Smosh on November 19, 2005.
While Padilla eventually departed in 2017 to pursue his individual channel, Hecox took charge of Smosh, continuing to create captivating content that never failed to satisfy their loyal fanbase.
Presently, the channel boasts an impressive subscriber count of over 25.3 million. Building on this success, Hecox ventured into creating sub-channels like Smosh France, Smosh Pit, Smosh Games, and Elmos, delighting fans with scheduled uploads and eagerly anticipated content.
Making his mark in the acting world, Hecox made his debut in the film Smosh: The Movie, directed by Alex Winter and released on July 26, 2015. Sharing the screen with fellow actors and actresses such as Anthony Padilla, Jillian Nelson, Brittany Ross, Michael Ian Black, Steve Austin, Jenna Marbles, Harley Morenstein, Grace Helbig, Mark Fischbach, Peter Breitmayer, Kristen O'Meara, Kevin Will, Kimmy Gatewood, Juliocesar Chavez, and others, Hecox showcased his versatility as a performer.
Alongside his cinematic endeavors, Hecox has dedicated his talents to co-producing, directing, and acting in various series featured on their channel. Notably, he lent his voice to the character of Bubbles in The Angry Birds Movie, further expanding his repertoire within the entertainment industry.
In the year 2016, he appeared in another movie named Ghostmates as Ed. It was released on December 14, 2016, and got 4.1 ratings on IMDb. Further, it was written by Ryan Finnerty and directed by Jack Henry Robbins.
With his talent and hard work, Ian has become the owner of many awards like the Webby Awards (2006), Social Star Award (2013), Shorty Award, and Steamy Award (2014).
In a notable appearance, he and Anthony made guest appearances as Insurrection soldiers in episodes 3 and 15 of Rooster Teeth Production's Red vs. Blue: Season 9. They reprised their roles in Season 10, appearing as Insurrection soldiers in Episode 2.
Everything To Know About Anthony Padilla
Additionally, as part of Smosh, he contributed to the release of the albums "Sexy Album" in 2010 and "If Music Were Real" in 2011.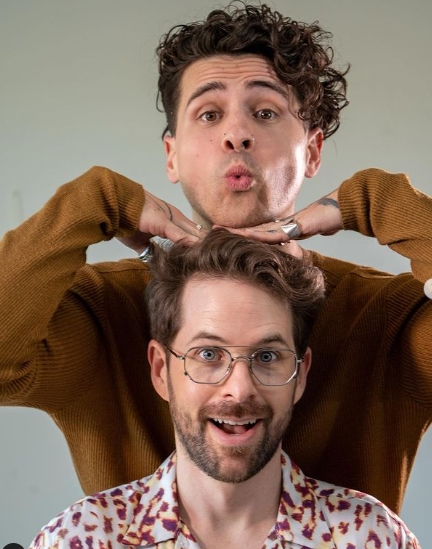 Ian Hecox Dating & Girlfriend
As of now, Ian Hecox is unmarried and currently not dating anyone, as he is fully focused on his career and enjoying his present life. Prioritizing his professional endeavors, he has chosen to devote his time and energy to his work rather than pursuing a romantic relationship. When it comes to his sexual orientation, he is straight.
In the past, Ian was in a relationship with Melanie Moat, whom he met in 2007 during a visit to a friend in Sacramento. They developed a strong connection and embarked on a long-distance relationship. In 2012, Melanie decided to move in with Ian, but unfortunately, their relationship came to an end in September 2014. Melanie publicly announced their breakup on Twitter. Subsequently, Ian crossed paths with YouTuber and former Playboy model Pamela at a Playboy party. Love struck, and the couple began dating, with Ian frequently sharing pictures of their relationship on his Instagram. However, their romantic journey ended in 2018, marking the end of their time together.
Ian Hecox Net Worth
Ian Hecox has gained significant popularity through his YouTube channel and comedic content. With a net worth of $3 million, according to Celebrity Net Worth, he has achieved financial success through his career as an actor and content creator. His primary sources of income stem from his involvement in the entertainment industry and his thriving social media career. Ian earns a substantial annual salary, which contributes to his comfortable lifestyle. As a well-known figure, he actively engages in brand promotions on his social media platforms. Overall, Ian is content with his earnings and enjoys a relaxed lifestyle resulting from his successful career.
Ian Hecox Height & Weight
Ian Hecox is a popular YouTuber known for his cool demeanor and entertaining content. With a slim build and a height of 5 ft 8 in (173 cm), he maintains a weight of 67 kg (148 lbs). Ian has light brown hair, captivating blue eyes, and distinctive features including a captivating smile and a chiseled face that adds to his appeal. However, despite his confident persona, Ian harbors a fear of bees known as apiphobia. According to the sources, Ian sometimes suffers from a small case of ADHD (Attention Deficit Hyperactivity Disorder). Apart from this, he is also an asthmatic patient.