About Ice Cube
An American rapper, actor, and filmmaker, O'Shea Jackson is professionally known as Ice Cube. He is well known for being one of the founding stars of the gangsta rap and for playing the lead role in the comedy film series, "Barbershop". Previously, he performed at parties hosted by Dr. Dre while in high school and worked with World Class Wreckin' Cru. Ice launched his first individual studio album, "AmeriKKKa's Most Wanted" in May 1990 under the Priority Records, which reached #19 on Billboard 200. Whereas, his third solo album, "1992's The Predator", debuted at number one on both the pop and R&B charts. Similarly, he first appeared in the 1991 teen-hood drama film "Boyz n the Hood" as the role of Darrin Baker as well as the guest appeared in an episode of the Fox sitcom "The Sinbad Show" in 1994 which was his first TV show. In recent news, Cube responds to backlash over his collaboration with President Trump. Additionally, he has gained many awards such as Blockbuster Entertainment Award, MECCA Movie Award, BET Hip-Hop Awards, and many others.
Famous For

Being an American rapper, actor, and filmmaker.
For being one of the founding stars of the gangsta rap and for playing the lead role in the comedy film series, "Barbershop".
Source: @brooklynvegan
Early Life of Ice Cube

On 15th June 1969, Ice Cube took birth with the real name or full name of O'Shea Jackson in Baldwin Hills, South Central Los Angeles, to Doris, a hospital clerk, and custodian, and to Hosea Jackson, machinist and UCLA groundskeeper. He holds an American nationality and African-American ethnicity. Analogously, he is from Islam religion. Gemini is his star sign and black is his race. He celebrates his birthday on 15th June of every year and he had celebrated his 51st birthday as of 2020. He has also an elder brother, and they had a half-sister who was murdered when Cube was 12. Furthermore, he went to the George Washington Preparatory High School and the William Howard Taft High School in Los Angeles. And, after graduating from high school, he got admission to the Phoenix Institute of Technology in the 1987 fall semester where he earned his diploma in architectural drafting in just 1 year.
Career of Ice Cube

Ice Cube commenced his singing career by rapping in the trio C.I.A at the age of 16 in 1986 as well as joining the newly formed rap group N.W.A where he was a lead rapper and main ghostwriter on its official debut album, 1988's "Straight Outta Compton" but left by the start of 1990 due to financial dispute.
In the year of 1990, his debut solo album, "AmeriKKKa's Most Wanted", found him also leading a featured rap group, Da Lench Mob, and then focused on films and producing albums of other rappers after fourth solo album, "Lethal Injection" in 1993.
After that, he joined Mack 10 and WC in a side trio in 1996 and released in October 2009 a tribute song, "Raider Nation" as a fan of the NFL football team the Raiders and launched his second Raiders anthem, "Come and Get It" in September 2012.
Ice Cube formed the rap group "C.I.A" with his friend Sir Jinx and launched the Dr. Dre-produced single "My Posse" in 1987.
Furthermore, he sold his first song to Eric Wright at the age of 16 which soon dubbed Eazy-E, who was forming Ruthless Records and the musical team N.W.A, based in Compton, California as well as he wrote some of Dre's and nearly all of Eazy's lyrics on N.W.A's official debut album, "Straight Outta Compton" which was released in August 1988.
As well, he had also written much of Eazy-E's debut album, "Eazy-Duz-It". Though he left the group and whereas he sued Heller, and the lawsuit was later settled out of court.
He was also attacked by N.W.A members on the 1990 EP "100 Miles and Runnin' ", and on N.W.A's next and final album, "Niggaz4Life", in 1991.
He recorded his debut solo album, "AmeriKKKa's Most Wanted" in 1990 for which he appointed Yo-Yo, a female rapper and guest on the album, to the head his record label, and helped produce her debut album, Make Way for the Motherlode.
Similarly, in 1991, his second album "Death Certificate" was released whereas his third album, "The Predator", arrived in November 1992 which was the first album ever to debut at No. 1 on both the R&B/hip-hop and pop charts.
Analogously he launched his fourth album, "Lethal Injection", which came out in late 1993.
Cube borrows from the G-Funk sound then led by Dr. Dre's album "The Chronic", itself released in December 1992.
He has launched many solo albums in his career such as "War & Peace Vol. 1 (The War Disc)", "Volume 2", "Laugh Now, Cry Later", "Raw Footage", "I Am the West", "Everythang's Corrupt", and many others.
He has also formed with rappers Mack 10 and WC a trio in 1996 whereas their first album, "Bow Down" was certified Platinum by year's end.
Cube teamed with one-time N.W.A groupmate Dr. Dre in 1994, who was then leading rap's G-funk subgenre as well as signed up-and-coming recording artist named 7Tre The Ghost in 2010.
He is also found on British DJ Paul Oakenfold's solo debut album, "Bunkka", the track "Get Em Up" and recorded a verse for a remix of the Insane Clown Posse song "Chris Benoit", from ICP's "The Mighty Death Pop!" album, appearing on the album "Mike E. Clark's Extra Pop Emporium".
In addition, he had acted in nearly 40 films by 2018 some of them are 1992 thriller "Trespass" and the 1999 war comedy "Three Kings", highlight action though most are comedies, including a few adult-oriented ones, like the "Friday" franchise, whereas most of these are family-friendly, like the "Barbershop" franchise.
John Singleton's seminal film "Boyz n the Hood", released in July 1991, debuted the actor Ice Cube, playing Doughboy.
He starred in Walter Hill's 1992 thriller film "Trespass", and in Charles Burnett's 1995 film "The Glass Shield".
He was also seen in Singleton's 1995 film "Higher Learning" as the university student Fudge as well as co-wrote the screenplay for the 1995 comedy "Friday" which with $3.5 million, Friday drew $28 million worldwide.
Likewise, he has starred in many other films and series like "Dangerous Ground", "Anaconda", "XXX", "Are We There Yet?", "Ride Along", "Barbershop 2".
He also starred with Charlie Day in the comedy Fist Fight" in 2017."
Besides, he and R. J. Cutler co-created the six-part documentary series "Black. White" in late 2005 and the ESPN also aired his directed documentary "Straight Outta L.A" on 11th May 2010.
In front of the television cameras, rather, he starred with Elmo as a 2014 guest on the PBS children's show "Sesame Street".
He has also starred in the comedy-drama film, "The High Note" in 2020.
Furthermore, as a piece of fresh news, Cube responds to backlash over his collaboration with President Trump. "I didn't run to go to work with any campaign. Both campaigns contacted me," Cube said. "Both campaigns wanted to talk to me about the Contract with Black America. One campaign said, 'We love what you have, but let's really dig into after the election.' And one campaign said 'We love what you have, do you mind talking to us about it?' And that's what I did, so I didn't run to nobody."
"I'm not playing no more of these political games, we're not part of a team ... so I'm going to whoever's in power and I'm going to speak to them about our problems, specifically," Cube said, explaining that "our" is referring to Black Americans. "I'm not going in there talking about minorities, I'm not going in there talking about people of color or diversity or none of that stuff. I'm going there for Black Americans, the ones who are descendants of slaves."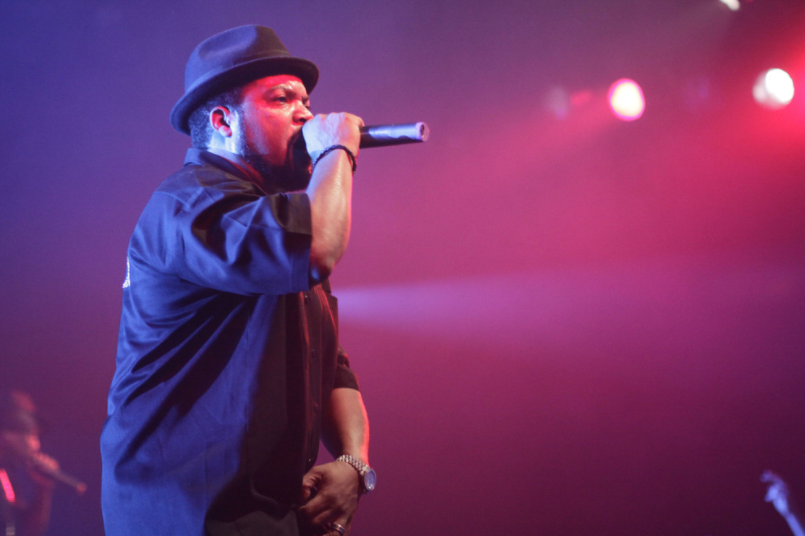 Source: @zimbio
Awards and Achievements of Ice Cubes

Blockbuster Entertainment Award: Favorite Action Team (for Three Kings)
MECCA Movie Award: Acting Award
VH1 Hip Hop Honors
BET Hip-Hop Awards
BET Honore
Hollywood Walk of Fame star
Personal Life of Ice Cubes

Reflecting on Ice Cube's personal life, he is a married guy. He was married to Kimberly Woodruff on 26th April 1992. The couple was dating each other for a very long time. They are having a blissful life sharing lots of love with each other and they are very less likely to get a divorce. He is basically is leading a blissful family life and therefore it's far less likely for him to divorce his partner for any reason. He's strictly kept his personal and professional life separate. They also have four children together. In the 2015 biopic "Straight Outta Compton", his own son, O'Shea Jr., portrayed him. Furthermore, talking about his sexual orientation, he is straight.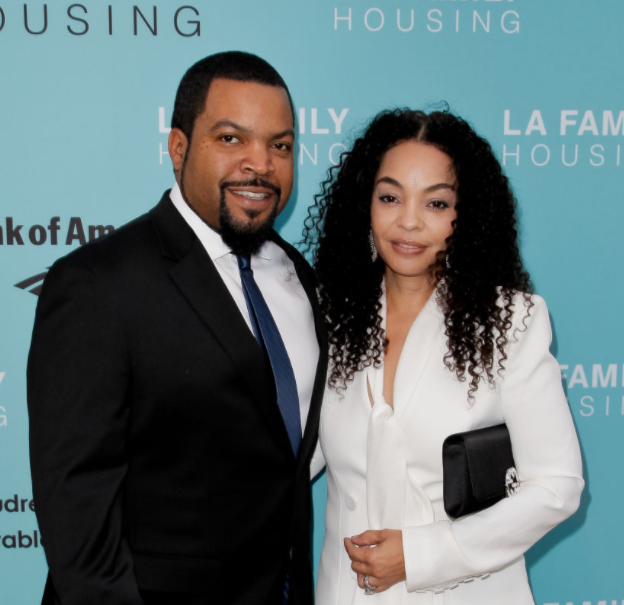 Source: @cheatsheet
Net Worth of Ice Cubes

Moving towards Ice Cubes's net worth, his worth is around $160 Million as of 2020 though he has also a handsome amount of salary too which is also around $20,000,000 per year. In his short professional time also, he has established himself as an identity already. Like many young adults of today's, he's also superbly ambitious and continues to work even harder to reach his set objectives. In addition, his major source of income is from music and acting career and he is doing great both in music and acting career. Additionally, Cube has endorsed Coors Light beer and St. Ides malt liquor and licensed a clothing line, Solo by Cube. And in 2017, he launched Big3, a 3-on-3 basketball league starring former NBA players.
Body Measurement of Ice Cubes

Ice Cubes has unarguably accomplished a decent height career-wise. He's got an unconventional good look and raw appeal about him. Reasons for his amazing personality could be his roots. He has got a standard height of 5 ft 8 in or 173 cm and a convincing appearance. Though his body weight is around 84 kg or 185 lbs and his body build type is average. Handsome rapper and an actor, Ice has black eyes and dark brown hair color. His usual exercise schedule has guided him to be in a marvelous body posture with an appropriate body measurement of 42-13.5-37 inches. He has maintained his shape over the years with regular exercise, it seems. Blessed with great height and physique, he still carries the aura to rock the shirtless avatar.