Ivan Rakitic is a Croatian professional football player. He plays as a midfielder. He currently plays for the Spanish club, Barcelona. He started his professional football career from the Swiss club, FC Basel in 2005. He later played for Schalke 04 and Sevilla before joining Barcelona in 2014. As a Barcelona player, he has won 4 La Liga titles, 4 Copa del Rey titles, 1 UEFA Champions League title, 1 UEFA Super Cup, and 1 FIFA World Cup.
Born to Croatian parents in Switzerland, he was eligible to represent both teams at the senior international level. He chose Croatia. He was a key player in the Croatian football team that finished runner-up in the 2018 FIFA World Cup.
Ivan Rakitic was born on 10 March 1988. His birth place is in Rheinfelden in Switzerland. He was born to Croatian parents in Switzerland. Thus, he holds both citizenships. He was born to a father, Luka, and a mother, Kata. He has a brother named Dejan. His father originally hailed from Sikirevci, whereas his mother's family (Bosnian Croats) came from Zepce. His zodiac sign is Pisces. He belongs to white ethnicity. His religion is Catholic. He spent most of his childhood and early career in Switzerland.

Ivan Rakitic stands at a height of 1.84 m i.e. 6 feet tall. He has a body weight of 172 lbs i.e. 78 kg. He has an athletic body build. His eye color is green and his hair color is blonde. He has a tattoo "Dejan" on his right arm for his brother, Dejan.

He has over 17.5 million followers on his Instagram @ivanrakitic, 1.8 million followers on his Twitter handle @ivanrakitic, and 3.9 million followers on Facebook.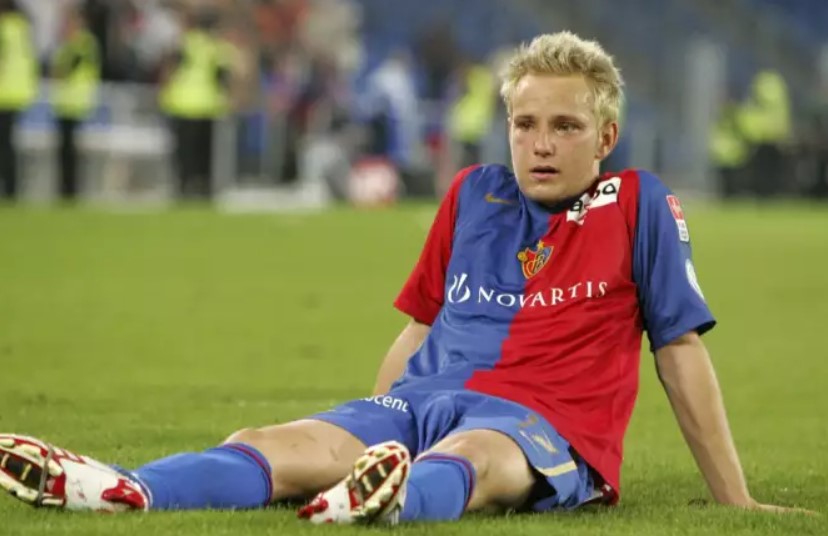 Source: @nau
Ivan Rakitic Career Timeline
Ivan Rakitic was only 4 years old when he joined the Mohlin-Riburg academy in 1992.
In 1995, he joined the FC Basel academy.
Rakitic started his football career from the Swiss club, FC Basel.
He was promoted to the club's first team in 2005.
He made his professional debut on 29 September 2005 against Siroki Brijeg during the UEFA Cup.
He made his Swiss Super League debut on 15 April 2006 against Neuchatel Xamax.
During his second season for the club, he scored 11 goals in 33 league appearances.
He established himself as a key player for the club.
He was part of Basel that won the 2006-07 Swiss Cup.
He won the best young player award for the 2006-07 Super League. He was also awarded the Swiss Goal of the Year award for his goal against St. Gallen on 22 October 2006.
He spent 2 seasons at the club.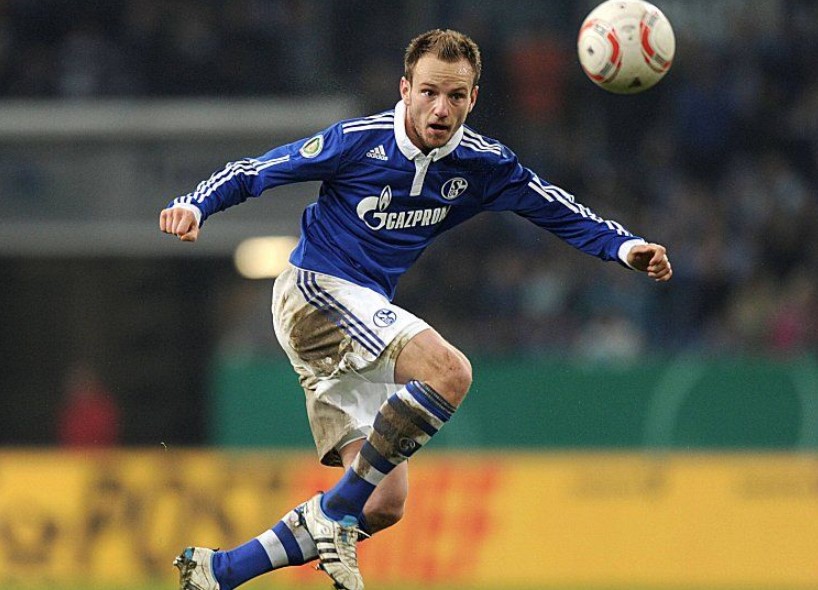 Source: @pinterest
Rakitic was already pursued by top European clubs in his early career. This time, German club Schalke 04 succeeded to sign him for 5 million Euro on 22 June 2007.
Rakitic made Premiere Ligapokal debut on 21 July 2007 against Karlsruher SC.
In his first season for the club, Schalke finished the league as runners-up.
He scored his debut goal for the club on 5 August 2007 in their 0-9 victory over Eintracht Trier in the first round of the DFB-Pokal.
He scored his debut Bundesliga goal on 10 August 2007 against VfB Stuttgart.
Rakitic made his UEFA Champions League debut in the 0-1 defeat to Valencia.
Rakitic and former teammate Mladen Krstajic were temporarily cut from the squad the night before the club's fixture against Rosenborg. They were cut from the team due to being caught skipping training and taking part in a late-night partying.
He suffered an ankle injury during training that sidelined him for a month and missed the UEFA Champions League fixture against Chelsea. Rakitic had helped Schalke to reach the Champions League quarter-finals for the first time.
Rakitic scored 3 league goals and 10 league assists in 29 league appearances in his debut season for the club. The club finished third in his debut season.
He spent 3 and a half seasons at the club and scored 16 goals in 135 appearances in all competitions.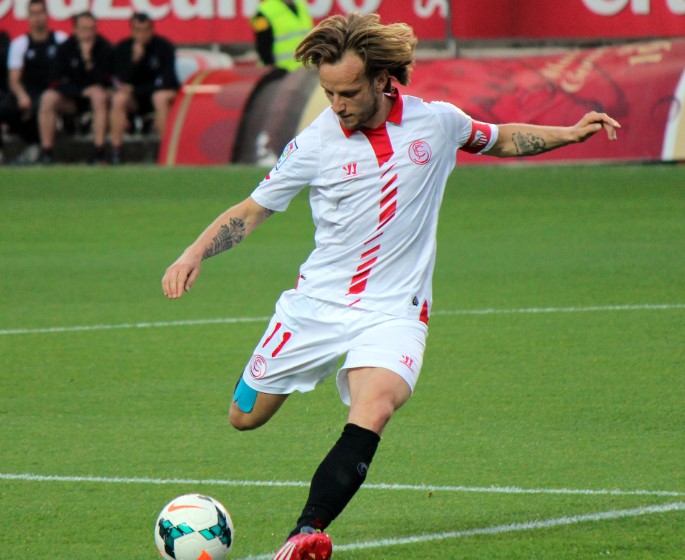 Source: @wikipedia
He then moved to Spain, where he joined the Spanish club, Sevilla.
He signed a 4-and-a-half year contract for 2.5 million Euro with Sevilla on 28 January 2011.
He made his club debut on 6 February 2011 against Malaga.
He scored his debut Sevilla goal against Hercules in February 2011. He had scored an own-goal against Racing de Santander.
He finished his debut half-season at the club with 5 goals. He missed the last four La Liga fixtures due to foot injury.
He was assigned a defensive midfielder role for the 2011-12 season. Thus, he did not manage to score any goal throughout the season. He scored his only goal for the season in the 2011-12 Copa del Rey.
For the 2012-13 season, he scored 12 goals in 42 appearances in all competitions. He had provided 10 league assists for the season.
He was named Sevilla captain at the start of the 2013-14 season.
He was named the man of the match on the 2013-14 Europa League final, where Sevilla defeated Benfica to win the title.
In his last season at the club, he scored 15 goals in 52 appearances in all competitions, 12 in La Liga. He also recorded 17 assists during the season.
He won the LFP Fair Play Award and was also nominated for the Best Midfielder award.
He scored 34 goals in 149 appearances in all competitions during his 3-and-a-half year stint at Sevilla.
Barcelona caught the eye of Croatian midfielder from Sevilla and signed him.
He signed a 5-year deal with Rakitic on 16 June 2014.
He was assigned shirt number 4.
He made his Barcelona debut in the 2014-15 pre-season.
He made his competitive debut for Barcelona against Elche on 24 August.
He scored his debut goal for Barcelona on 21 September 2014 in a 5-0 win against Levante.
He scored his debut Champions League goal on 18 March 2015 against Manchester City in the round of 16-second leg.
He was named Croatian Sportsman of the Year in 2015.
He won the treble (La Liga, Copa del Rey, and Champions League) in his debut season with Barcelona.
In his second season at Barcelona, he helped the club to win La Liga (2015-16), Copa del Rey (2015-16), UEFA Super Cup (2015), and FIFA Club World Cup (2015).
He helped the club to win Copa del Rey (2016-17) and Supercopa de Espana (2016).
In 2018, he helped the club to win La Liga (2017-18), Copa del Rey (2017-18), and Supercopa de Espana (2018).
Barcelona only managed to won 2018-19 La Liga for the season.
He played his 300th official game for Barcelona against Mallorca on 13 June 2020.
Club Honors
Basel
Sevilla

UEFA Europa League: 2013–14
Barcelona

La Liga: 2014–15, 2015–16, 2017–18, 2018–19
Copa del Rey: 2014–15, 2015–16, 2016–17, 2017–18
Supercopa de España: 2016, 2018
UEFA Champions League: 2014–15
UEFA Super Cup: 2015
FIFA Club World Cup: 2015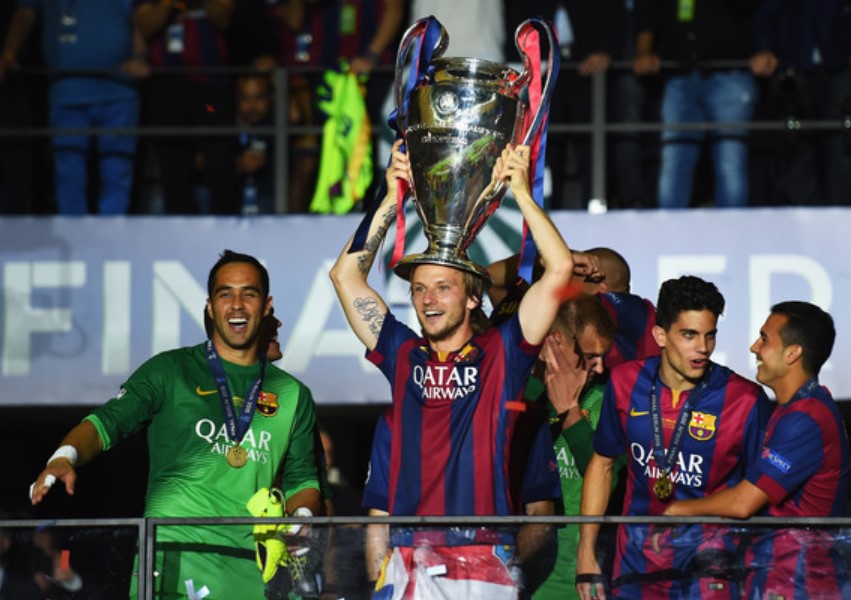 Source: @zimbio
Ivan Rakitic International Career
Ivan Rakitic was born in Switzerland to Croatian parents. Thus, he was eligible to represent both countries on the senior level.
He had represented the Switzerland U17, U19, and U21 teams.
He later chose to represent his parents' country, Croatia. He represented Croatia U21 team.
He made his senior international debut on 8 September 2007 in their UEFA Euro 2008 qualifier against Estonia. He made his international debut as a substitute.
He scored his debut international goal on 12 September 2007 against Andorra.
He represented Croatia at Euro 2008 as the second-youngest player in the tournament. He missed the penalty shootout leading towards Croatia's loss to Turkey in the quarter-finals.
Despite his improved performance in the 2010 FIFA World Cup qualifier, the country failed to qualify for the finals.
He represented Croatia in the Euro 2012. In their final group stage fixture against Spain, Rakitic missed a golden chance to score a goal. Spain ultimately defeated Croatia to send Croatia home.
Rakitic represented Croatia at the 2014 World Cup qualifiers and the finals too. In the World Cup finals, they could not progress through the group stage. They were drawn with Brazil, Mexico, and Cameroon.
He was part of the Croatian team that qualified and competed for Euro 2016. The eventual winner Portugal defeated Croatia in the Round of 16.
Rakitic became a key player for the Croatian team and helped the team to reach the 2018 FIFA World Cup final, where they faced France. France defeated Croatia 4-2 in the final.
He represented Croatia at the 2018-19 UEFA Nations League. Croatia's poor performance ended their campaign at the bottom of the group.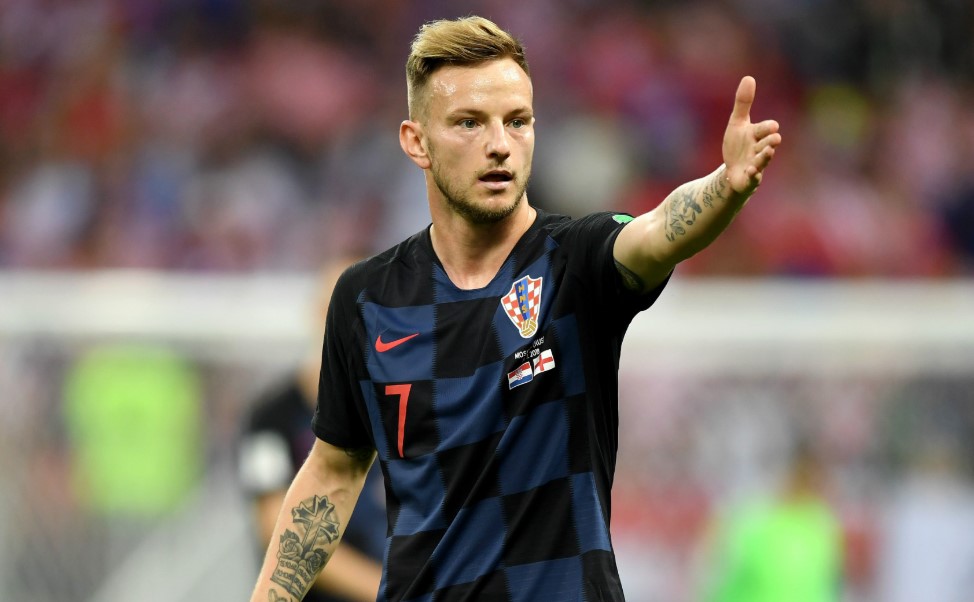 Source: @goal
Individual Honors
Swiss Super League Young Player of the Year: 2006–07
Swiss Super League Goal of the Season: 2006–07
BBVA Fair Play award: 2013–14
La Liga Player of the Month: January 2014
UEFA Europa League Final Man of the Match: 2014
La Liga Team of the Season: 2013–14, 2014–15
UEFA La Liga Team of The Season: 2018-19
UEFA Europa League Team of the Season: 2013–14
UEFA Champions League Team of the Season: 2014–15
Croatian Footballer of the Year: 2015
Croatian Sportsman of the Year: 2015
FIFA FIFPro World11 3rd team: 2018
FIFA FIFPro World11 4th team: 2016
FIFA FIFPro World11 5th team: 2015
FIFA FIFPro World11 nominee: 2019 (10th midfielder)
Order of Duke Branimir with Ribbon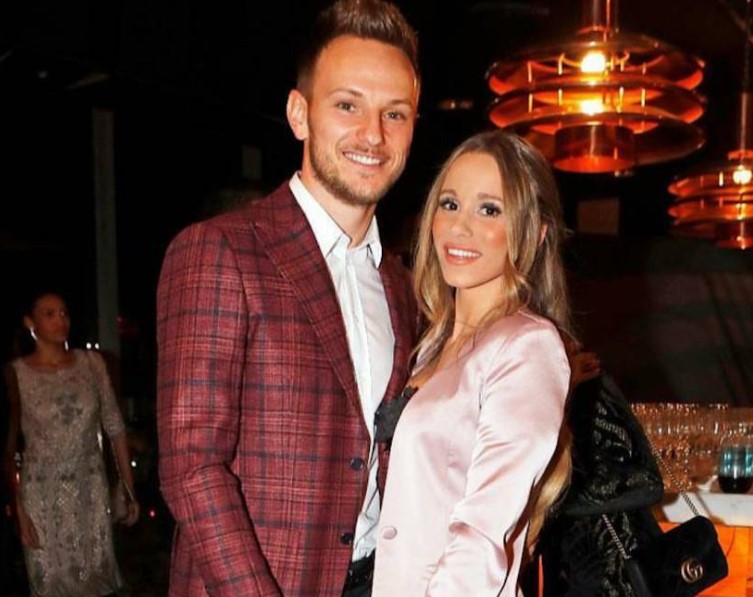 Source: @en.as
Ivan Rakitic Married to Raquel Mauri
Ivan Rakitic is a married man. He is married to Raquel Mauri. The couple started dating in 2011 and later tied a knot to each other in April 2013 in Seville. The couple shares two daughters, Althea (2013), and Adara (2016). His sexual orientation is straight.
He reportedly dated Croatian model Tatjana Batinic in the past. They were reportedly engaged as well.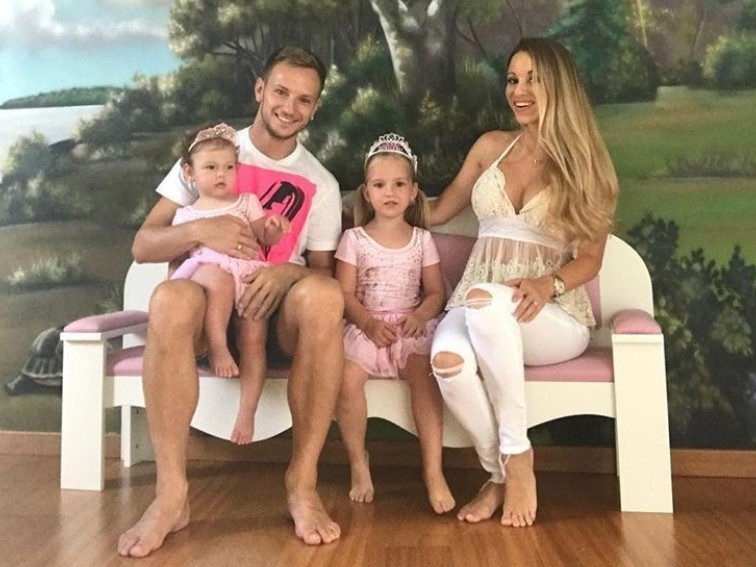 Source: @sportsgalleries.net
Ivan Rakitic Salary
Ivan Rakitic earns from his professional career as a football player. His income comes from contracts, salaries, bonuses, and endorsements. He had joined Schalke 04 from FC Basel for 5 million Euro in 2007 and later joined Sevilla in 2011 for only 2.5 million Euro. He had joined Barcelona reportedly for 20 million Euros in 2014. He had signed a contract extension with the club until 2021. At present, his annual salary is reported at 8 million Euros. Combining his income throughout his career, he has accumulated a massive income to his fortune. His net worth is estimated at $30 million.