Jeffrey Bruce Atkins professionally named as Ja Rule is a famous American rapper, singer, songwriter, record producer, record executive, as well as an actor. He debuted in 1999 with "Venni Vetti Vecci". He is represented by Richard De La Font Agency, Inc. In the 2000s, he was signed to Murder Inc. Records which was formerly known as The Inc. Record. He is regarded as one of the most successful rappers of all-time in the United States of America. He has earned four Grammy nominations and has earned six top-ten albums. As of 2018, he has sold 11.4 million units in the US and has sold over 30 million records worldwide. In the year 2019, he joined the main cast of WeTV's Growing Up Hip Hop: New York.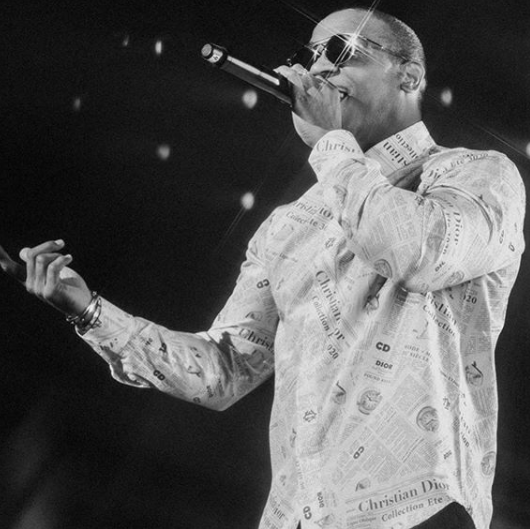 Source: @jarule
Famous For
For having collaborated with leading singers such as Jennifer Lopez and Christiana Milian.
For his highly publicized fights with the famous rappers Eminem and 50 Cent.
Early Life of Ja Rule
Ja Rule was born on 29th February 1976 as Jeffrey Bruce Atkins in Hollis, Queens, New York, the USA. He was born to Debra Atkins who was a healthcare worker and William Atkins, his parents. He had a sister who died in his mother's womb. He was enrolled at the Public School. Then her mother got him transferred to Middle School. In February 2012, he passed his General Educational Development (GED) certification exams while he was in prison. He became a Christian in 2013. At the age of 12, he started to sell drugs in Hollis. Recently, he celebrated his 44th birthday. His nationality is American and his ethnicity is Mixed. He is Christian by religion.
Career of Ja Rule
Firstly, Ja formed the classic hip hop group Cash Money Click with two friends in the year 1993.
The group released some singles in the year 1995.
Their music attracted some attention but the group could not make a big impact as one of the partners was imprisoned.
The year 1999 was his breakthrough year.
He released his debut album called 'Venni Vetti Vecci' which debuted at No. 3 on the Billboard 200 in 1999 which became a smash hit and was certified Platinum in the U.S. by the end of the year.
In 2000, he brought out 'Rule 3:36' which did even better and debuted at No. 1 on the Billboard 200 and the album went Multi-Platinum.
In the year 2000, he made his film debut with the hip hop drama 'Turn it Up'.
After that, he did minor roles in 'Fast and the Furious' and 'Half Past Dead'.
More accolades came his way in the year 2001.
His third studio album, 'Pain is Love' featured three top ten hit singles and became his most commercially successful album so far which also topped the Billboard 200.
On 19th November 2002, his fourth album titled 'The Last Temptation' was released which was certified Platinum by RIAA.
On 4th November 2003, his fifth studio album titled 'Blood In My Eye' was released.
In November 2004, his sixth studio album titled 'R.U.L.E' was released which was certified gold by RIAA.
In the year 2004, he teamed up with Irv Gotti launching an urban clothing line called 'ErvinGeoffrey'.
On 6th December 2005, his album 'Exodus' was released which was his last album in contract with The Inc.
In the year 2006, he launched a liquor company called 'The Mojito'.
In the year 2009, he founded his own independent label 'Mpire Music Group' and recruited new artists.
On 28th February 2012, 'Pain Is Love 2' was released.
In the year 2013, he starred in 'I'm in Love with a Church Girl'.
In the year 2014, he had released a memoir titled 'Unruly: The Highs and Lows of Becoming a Man'.
In August 2015, he collaborated with footwear businessman Steve Madden on a new line of Men's sneakers called 'Maven x Madden'.
In December 2016, he appeared on The Hamilton Mixtape, rapping Hamilton's verse in Ashanti's performance of "Helpless".
In the year 2016, he co-founded 'Fyre Media, Inc.'.
On 26th June 2018, it was confirmed by Ashanti that both she and Ja Rule are working on a collaborative album.
On June 26, 2018, Ashanti confirmed that she and Ja Rule are working on a collaborative album.
Regarding his acting career, he has appeared in Turn It Up, Back in the Day, Half Past Dead, The Cookout, I'm in Love With a Church Girl and many more.
Awards of Ja Rule
Ja Rule has won 'Source Hip-Hop Music Award', 'Single of the Year' award, 'MTV Video Music Awards', 'Best Hip-Hop Video' award, 'World Music Awards', 'World's Best-Selling Rap Artist' award, 'BET Awards', 'Best Male Hip-Hop Artist' award, 'GQ Men of the Year Award', 'Musician of the Year' award, 'Teen Choice Awards', 'Male Artist of the Year' award, 'NAACP Image Awards', 'Best Rap/Hip-Hop Artist', 'Source Award' he received 'R&B/Rap Collaboration of the Year' award, 'Source Award' he received 'Phat Tape Song of the Year' award and many more.
Personal Life of Ja Rule
Ja Rule is a married person. He was married to Aisha Murray in April 2001. The duo started their dating history at high school. She lost virginity at a young age to him. In the year 1995, she gave birth to a daughter named Brittany. And in 2000, she gave birth to the son named Jeffrey Jr. in the year 2005, she again gave birth to another son named Jordan. They had to suffer a lot in their relationship. As of now, the duo is living a happy life without any disturbances.
Net Worth of Ja Rule
Ja Rule is a famous rapper with a net worth of $8 million as of 2020 which he made through his singing career. In addition to this, he also earns a lot of money from his TV and Movie career. He is satisfied with his earnings as of now. His exact salary is under review but it will be updated soon.
Body Measurement of Ja Rule
Ja Rule is a very handsome and stylish rapper with an average height of 1.73 m. His balanced weight consists of 72 kg. His eyes color is dark brown and the hair color is black. He has many tattoos in his body. His body type is athletic. Overall, he has a balanced and healthy body. His other body measurements will be added once we get information about it.