About Jason Bateman
An American actor, director, and producer, Jason Bateman is well recognized for playing the role of Michael Bluth in the sitcom "Arrested Development". He also won a Golden Globe Award and a Satellite Award for the same. He landed his first audition at age 10 for an educational film after following a friend to the audition. He first gained fame as a teen actor in the sitcoms "Silver Spoons" and "The Hogan Family". He played the main role in the sequel to the popular 1980s film "Teen Wolf". Jason made his television show debut on the family drama "Little House on the Prairie" as James Cooper Ingalls from 1981 to 1982 in a total of 23 episodes. He made his directorial debut with the black comedy "Bad Words" (2013), in which he also starred though he has directed and had a recurring role in the HBO miniseries "The Outsider" in 2020. Recently, he revealed in his 'SNL' monologue that he was 'attacked' by a chimpanzee when he hosted the show in 2005.
Famous For

Being an American actor, director, and producer.
For playing the role of Michael Bluth in the sitcom "Arrested Development".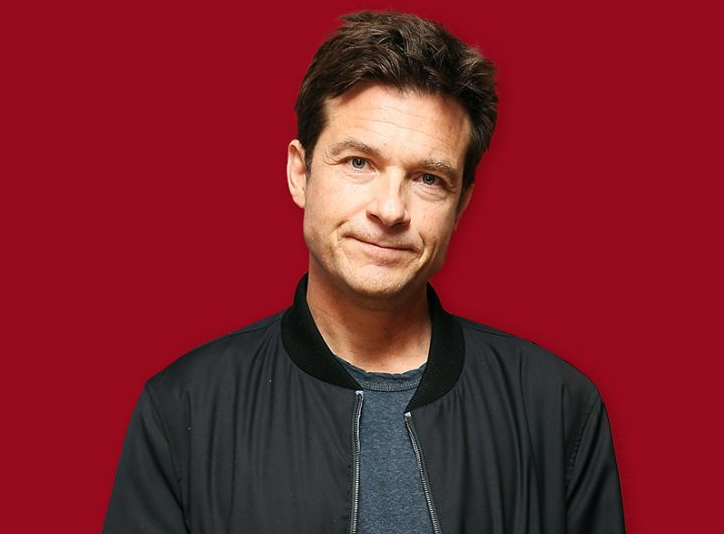 Source: @flare
Early Life of Jason Bateman

On 14th January 1969, Jason Bateman took birth with the real name or full name of Jason Kent Bateman in Rye, New York, the U.S. however, his family moved to Salt Lake City, Utah, and later to California when he was 4 years old. He holds an American nationality and mixed ethnicity. Jason has English, Scottish, Maltese, Swiss-German, Swedish, and Danish ancestry. Analogously, he is from Christianity religion and his race is white. He happily celebrates his birthday on 14th January of every year and he has celebrated his 51st birthday as of 2020 though as his birthdate, his star sign is Capricorn. His mother, Victoria Elizabeth, was a flight attendant for Pan Am who was originally from Shrewsbury, England whereas his father, Kent Bateman, is an American actor, writer, and director of film and television, and the founder of a repertory stage in Hollywood. He also has four siblings; an older sister named Justine Bateman, an actress, and three half-brothers. Bateman never finished high school. In an interview with "Wired Magazine", he admitted that he never received his diploma due to not finishing his finals while filming "Teen Wolf Too".
Where was Jason Bateman born?
Jason Bateman was born in Rye, New York, the USA.
Who is Jason Bateman's sister?
Jason Bateman sister's name is Justine Bateman.
What is the age of Jason Bateman?
As of 2020, his age is 51.
Career of Jason Bateman

Jason Bateman kicks off his acting career by starring in the role of James Cooper on "Little House on the Prairie" in 1980 as he was a supporting character on the television show "Silver Spoons" as Ricky Schroder.
He then starred in the "Knight Rider" third-season episode "Lost Knight" in 1984 and as Matthew Burton on the NBC sitcom "It's Your Move", from September 1984 to February 1985 though he also appeared on the men's team in the inaugural week of the game show "Win, Lose or Draw".
He gained the status of a teen idol in the mid-1980s for his television work, most notably as David Hogan on "The Hogan Family" and also became the Directors Guild of America's youngest-ever director when, aged 18, he helmed three episodes of "The Hogan Family".
He earned international recognition in the motion picture sequel "Teen Wolf Too", as he directed an episode of "Two of a Kind" in 1999.
Analogously, he can be seen in several series such as "Simon", "Chicago Sons", "George & Leo", "This Can't Be Love", "Arrested Development", and many others.
Bateman became a regular voice actor for the short-lived Fox comedy series "Sit Down", "Shut Up" in 2009 and returned to television as both actor and director in the Netflix drama "Ozark" in 2017.
Besides the series, he starred in the film "Dodgeball: A True Underdog Story" as ESPN 8 ("The Ocho") commentator Pepper Brooks, and in "Starsky & Hutch" as Kevin in 2004 whereas he reunited with Vaughn in 2006's "The Break-Up".
Then, he was seen in "The Kingdom", "Mr. Magorium's Wonder Emporium", and "Juno" in 2007 and also co-starred with Will Smith and Charlize Theron in the superhero film "Hancock" in 2008.
Similarly, he has starred in numerous films like "Extract", "Couples Retreat", "The Switch", "Paul", "Horrible Bosses" and "The Change-Up".
His first executive producer credit with Will Arnett "Mansome", was announced as a Spotlight selection for the Tribeca Film Festival in March 2012.
As well, he made a dramatic turn in 2012 with the thriller film "Disconnect", and starred in the 2013 comedy film "Identity Thief" and the 2014 comedies "This Is Where I Leave You" and "Horrible Bosses 2".
He then narrated the 2014 documentary "Pump" and headlined Joel Edgerton's thriller film "The Gift" in 2015.
Additionally, he made his feature film directorial debut with "Bad Words", in which he also starred in 2013 as well as also directed and starred in an adaptation of "The Family Fang".
He has also voiced Nick Wilde, the con artist fox in "Zootopia" as he starred in and produced the action comedy film "Game Night" in 2018.
He has directed and had a recurring role in the HBO miniseries "The Outsider" in 2020.
Furthermore, as a piece of recent news, he has revealed in his 'SNL' monologue that he was 'attacked' by a chimpanzee when he hosted the show in 2005.
"If that show did that sketch today, they would use a puppet or a kid in a fuzzy suit for safety, but back then, they used a real male adult chimpanzee. This was 2005 things were loose," Bateman said. "Things were so loose that at the end of the show, the monkey was allowed to take a bow with us up here. We're all hugging, we're saying good night, the credits are rolling, and then the monkey tried to kill me." "I'm a nice fella but not the chimp," Bateman continued. "The chimp unhinges his jaw, he flashes the teeth, and he tries to bite my entire nose off."
"I am smiling but inside, I'm thinking, a monkey just attacked me and nobody cares. They just keep hugging," Bateman recalled of the 2005 "SNL" scene. "Anyway, I survived. And after the show, I was told by the animal handlers that Mikey, the monkey, wanted to apologize."
Awards and Achievements of Jason Bateman

Golden Globe Awards for Best Actor in a Television Series
Satellite Awards for Best Actor in a Musical or Comedy
Screen Actors Guild Awards for Outstanding Performance by an Ensemble in a Comedy Series
Annie Awards for Outstanding Achievement, Voice Acting in an Animated Feature Production
Kids' Choice Awards for Favorite Frenemies
Primetime Emmy Awards for Outstanding Directing for a Drama Series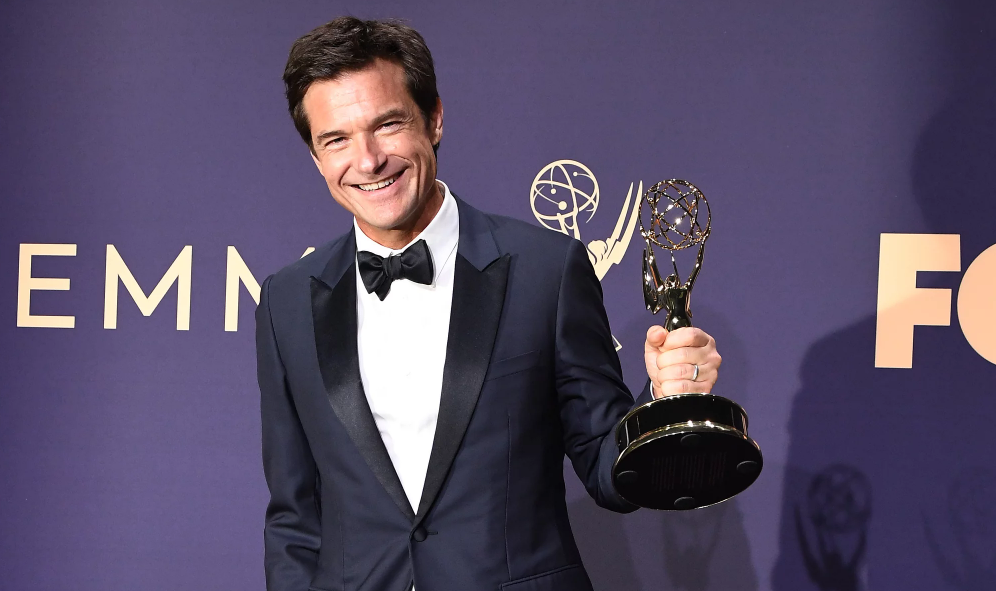 Source: @popsugar
Personal Life of Jason Bateman

Reflecting on Jason Bateman's personal life, he is a married guy. He tied a knot with Amanda Anka, daughter of singer Paul Anka, on 3rd July 2001. The couple has two daughters. The actor has remained loyal to his wife and we are unaware of his previous as well as his ex relationships. Their relationship is outstanding till now and is having a blissful life sharing lots of love with each other and they are very less likely to get a divorce. Furthermore, talking about his sexual orientation, he is straight.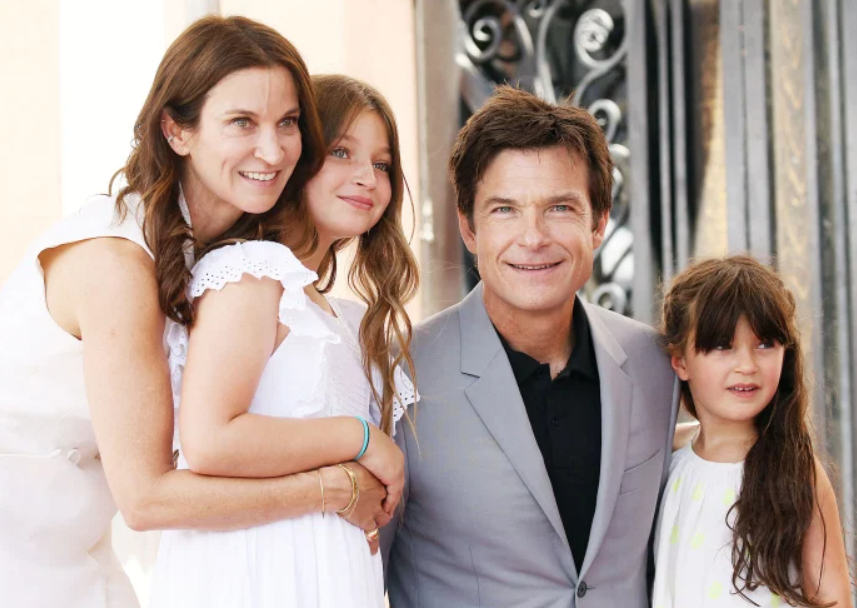 Source: @usmagazine
Jason Bateman Net Worth

Moving towards Jason Bateman's net worth, his worth is around $30 million as of 2020 though he also earns a fine amount of salary too which is around $7 million. Bateman endorsed Senator Bernie Sanders in the 2016 presidential election. He has also done endorsement work for The Flamingo (2003), Maxwell House (1986), XFINITY (2016), Infiniti QX60 (2015), Golden Grahams cereal (1980), and many others from where he earns a handsome amount of money. His major source of income is from acting as well as directing career. He took $125,000 per episode of Netflix series and is one of the highest-paid actors in the series.
How tall is Jason Bateman?

The height of handsome and versatile actor, Jason Bateman is around 5 ft 11 in or 180 cm though his body weight is around 76 kg or 167.5 lbs. Fitness always ran in Jason's family as his father was a yogi and made him practice yoga when he was young, with Yoga guru Bikram Choudhury. He also enjoys running. Jason has blue eyes and dark brown hair color as his body build type is average and his body measurement is 42-34-15 inches. He also believes in eating right and maintaining his sleep schedules.