Joseph Allen Maldonado-Passage shortly named Joe Exotic is a former Oklahoma Wildlife Park Owner as well as a big cat dealer who is serving a 22-year prison sentence for trying to hire two different people to kill Carole Baskin and for more than a dozen wildlife violations, including the killing of five tigers. He owned and ran the Greater Wynnewood Exotic Animal Park in Oklahoma and claimed to be the most prolific breeder of tigers in the United States. He is also famous by his nickname Tiger King. In 2020 on 20th March a series named "Tiger King: Murder, Mayhem and Madness" got released which is basically focussed on the life of the Tiger King (Joe Exotic). In 2019, he was convicted on 17 federal charges of animal abuse (eight violations of the Lacey Act and nine of the Endangered Species Act) and two counts of murder for hire, for a plot to kill Big Cat Rescue CEO, Carole Baskin. Scroll down to know more about his biography, facts, wiki, real name, brother, husband, net worth and more.
Joe Exotic transferred from coronavirus isolation to the prison medical center
Joe Exotic has been transferred from coronavirus isolation to a prison medical center. Inmate records show Thursday that Joseph "Exotic" Maldonado-Passage, is currently located at the Federal Bureau of Prisons-operated Federal Medical Center Forth Worth in Texas. Exotic's fourth husband, 24-year-old bartender Dillon Passage, told Andy Cohen that Exotic had previously been isolated at the Grady County Jail in Chickasha, Oklahoma, over coronavirus concerns. The facility is an hour's drive from Exotic's former zoo, the Greater Wynnewood Exotic Animal Park. The facility "put him on COVID-19 isolation," due to the fact that "the previous jail he was at, there were cases," Passage said on Cohen's SiriusXM series "Andy Cohen Live." He did not state whether Exotic had tested positive for the coronavirus.
Famous For
Being the former Oklahoma Wildlife Park Owner.
For the series named "Tiger King: Murder, Mayhem and Madness" which focuses his life.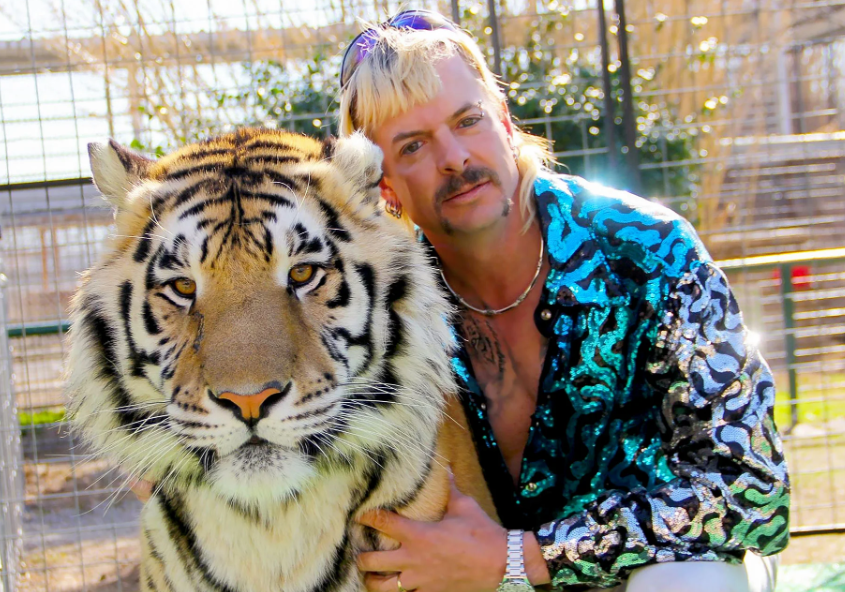 Source: @vanityfair.com
Early Life of Joe Exotic
Joe Exotic's date of birth is 5th March 1963. His birthplace is in Garden City, Kansas, the USA. His birth name is Joseph Maldonado-Passage. He is a son of rich farmers. In his youth, his parents moved to Texas where Joe pursued a career in law enforcement and in 1993 he was named Sheriff of Eastvale, Texas. He later moved to Florida, after attempting suicide by driving his police cruiser into a concrete barrier, and began working in a pet store. That is where he discovered his love for exotic animals. He had a brother named G.W. who died in an accident and Exotic named his zoo G.W. to pay tribute to his brother. There is no information available about Joe's father whereas his mother's name was Shirley. When he was five years old, he was raped by an older boy. His nationality is American and his ethnicity is White. His religion is Christian.
He celebrated his 57th birthday as of 2020.
Everything To Know About Bhagavan Antle
Career of Joe Exotic
After graduating he got a job as a sheriff in local police.
After that, he opened a zoo on a 16-acre land in 1997 where he kept deer and a mountain lion at first. At present, their count is in thousands.
He received his first two tigers in 2000 which he named Tess and Tickles and began to breed.
There are more than 187 tigers in his zoo.
As his fame increased organizations and individuals spoke out against his business practices.
He also made a show in which he showcased his life and this made a huge contribution to his popularity.
The authorities investigated him after a video of employees striking a tiger with a rifle surfaced, no action was taken.
Visitors could buy his branded condoms and lotion in the gift shop.
There is a wildlife activist named Carole Baskin, she doubted that Joe does some suspicious activities and even raised questions about this.
She blamed him for selling tiger cubs, killing tigers and for other offenses against endangered animals.
In the year 2018 Tiger King hired a hitman and paid him $3000, to murder Carole but in reality, Hitman was a secret FBI agent.
In April 2019, he was convicted on two counts of murder-for-hire, eight counts of violating the Lacey Act for falsifying wildlife records and nine counts of violating the Endangered Species Act.
The prosecutor said that he shot and killed five tigers to make room for other big cats in the cages, as well as sold tiger cubs.
He was also accused of falsifying records relating to lions, a baby lemur, and tigers which had been purportedly transported or donated for exhibition but had been sold.
In January 2020, he was sentenced to 22 years in prison for his role in various crimes of animal abuse and attempted murder for hire.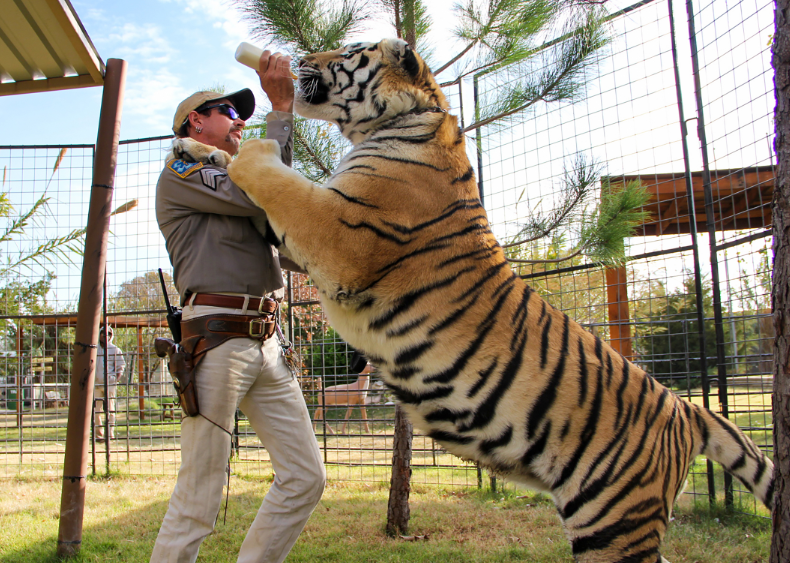 Source: @nbcnews.com
Music Career
He was an aspiring country singer and he had several albums recorded and then made music videos to make it seem as if he was playing and singing.
He did not write any of the songs and he did not sing lead on any of the songs.
He released a video for the song "Here Kitty Kitty" in 2015.
The song was designed to harass his enemy Carole Baskin.
He also has been involved in politics and he was an independent candidate for president in 2016, attained ballot access in Colorado, and received 962 votes (including recorded write-ins) nationwide.
He also ran for Governor of Oklahoma. He received 664 votes, finishing third out of the three candidates in the Libertarian primary in 2018.
He had previously appeared in the Louis Theroux documentary America's Most Dangerous Pets.
Arrest
He was indicted for attempting to hire someone to murder Big Cat Rescue CEO Carole Baskin in September 2018.
On 7th September 2018, he was arrested in Gulf Breeze, Florida, and held at the Santa Rosa County Jail until September 19 when he was transferred to federal detention.
He was later transferred to Grady County Jail in Chickasha, Oklahoma.
He was convicted on April 2, 2019.
He was convicted of two counts of murder for hire, eight violations of the Lacey Act, and nine violations of the Endangered Species Act.
On 22nd January 2020, he was sentenced to 22 years in federal prison.
As of March 2020, he is incarcerated at FMC Fort Worth.
Lawsuit
He filed a lawsuit against the United States federal government at the Grady County Jail on 17th March 2020.
He asks for $94 million from the United States Fish and Wildlife Service (USFWS).
He is also seeking a presidential pardon from Donald Trump and plans to represent himself in the lawsuit.
The lawsuit specifies damages by the USFWS of $79 million for the loss of his tigers.
In addition to this, he also demands $15 million for false imprisonment and a litany of other charges including the death of his mother, Shirley.
The lawsuit also accuses his former business partner, Jeff Lowe, of switching his medicine with illegal drugs and ruining his property.
Everything You Need To Know About Carole Baskin
Frequently Asked Question:
How tall is Joe Exotic?
His height is five feet eleven inches ( 5 ft 11 in).
When is Joe Exotic Birthday?
He celebrated his birthday every year on 5th March. Whereas his birth year is 1963.
What is the Nationality and Ethnicity of Joe Exotic?
His nationality is American and his ethnicity is White.
What is the Net Worth of Joe Exotic?
His net worth is belied to have between $1 Million to $10 Million as of 2020.
Who are the parents of Joe Exotic?
His parent's name are under review.
Personal Life of Joe Exotic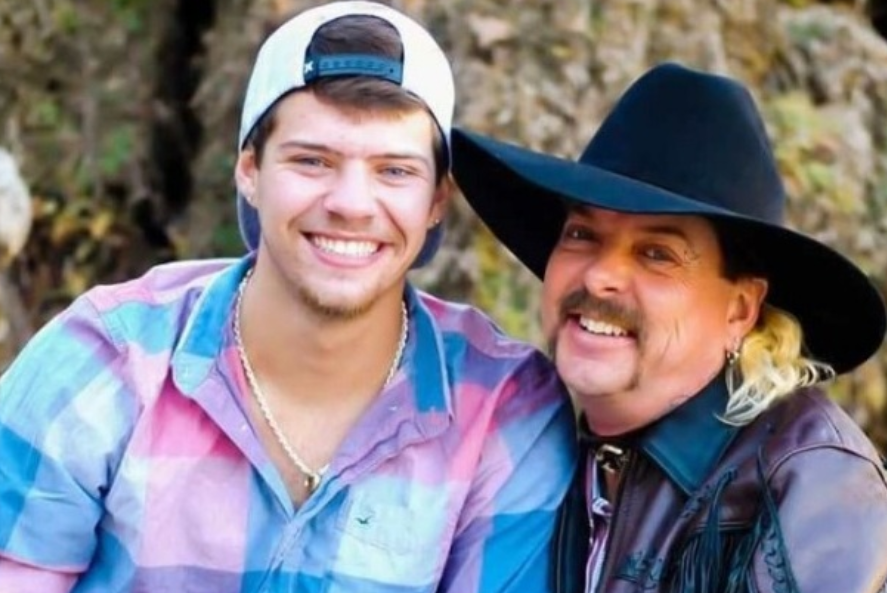 Source: @wikicelebs.com
Joe is a married person and his sexual orientation is gay. His first husband was Brian Rhyne, who died of complications from HIV in 2001. He has had three other husbands: John Finlay, Travis Maldonado, and Dillon Passage. Maldonado died in an accident involving a firearm on October 6, 2017, which occurred in front of an employee at Exotic's zoo. He then married Passage on 11th December 2017. He was married to his husband Travis Maldonado in the year 2014 in a zoo-themed ceremony. The couple had first met in December 2013 where Travis, who had struggled with meth addiction, arrived at his zoo. His employees suggested that he take him in thinking that working around animals would help him recover. In October 2017, Travis was found dead with a gunshot wound to his head at the Greater Wynnewood Exotic Animal Park. According to witnesses, it is alleged that he took the magazine out of a gun and held the barrel to his head. He knew there was a bullet in the chamber, but he said it would not fire without the magazine. He then squeezed the trigger and the gun fired. He is dating Dillon Passage since 2017. There he used to post his videos in which he can be seen playing with tiger and feeding crocodiles. In the Netflix show "Tiger King: Murder, Mayhem, and Madness" we can see and know about his personal life closely.
Net Worth of Joe Exotic
Joe Exotic is a former Oklahoma Wildlife Park Owner and big cat dealer. He has accumulated a huge amount of money from his business. His exact net worth is still being calculated but as per sources, his net worth is estimated to have between $1 to $10 million as of 2020. Whereas, his salary is still to get revealed. As of now, he is satisfied with his earnings.
Body Measurements of Joe Exotic
The 57 years old, Joe Exotic maintains his body a lot. He still looks very handsome with a charming personality attracting a lot of people towards him. He stands at the tall height of 5 feet 11 inches and he weighs around 78 Kg. His eye color is grey and his hair color is blonde. His shoe size is 10 (UK). Overall, he has got a healthy body.