Liam Hemsworth is an Australian actor. He played the roles of Josh Taylor in the soap opera Neighbours and Marcus in the children's television series The Elephant Princess. In American films, Hemsworth starred as Will Blakelee in The Last Song (2010), as Gale Hawthorne in The Hunger Games film series (2012–2015), and as Jake Morrison in Independence Day: Resurgence (2016).
Miley Cyrus and Liam Hemsworth separate
"Liam and Miley have agreed to separate at this time," a rep for Cyrus told the publication in a statement. "Ever-evolving, changing as partners and individuals, they have decided this is what's best while they both focus on themselves and careers. They still remain dedicated parents to all of their animals they share while lovingly taking this time apart. Please respect their process and privacy."
CNN has reached out to representatives for the couple. On Saturday, Miley posted photos of herself on Instagram in which she was not wearing her wedding ring. "Mute me if you don't want SPAMMED," she captioned one post.
Famous for
His roles of Josh Taylor in the soap opera Neighbours and Marcus in the children's television series The Elephant Princess.
Early life of Liam Hemsworth
Liam Hemsworth was born on 13 January 1990 in Melbourne, Victoria, Australis. He holds Australian nationality and his birth sign is Capricorn. He was raised by his father, Craig Hemsworth who is an English teacher and mother Leonie Hemsworth who is a social services counseller along with his two brothers Chris Hemsworth and Luke Hemsworth who are also Actors. He and his family relocated to Phillip Island, a small Australian island southeast of Melbourne when he was 8 years old. Hemsworth had prior to becoming an actor from an early age and began to seriously consider following his elder brothers' footsteps in high school by participating in school plays. He attended his first audition at the age of sixteen and began his career in 2007 with guest appearances on the shows Home and Away and McLeod's Daughters. Regarding his education, it will be updated soon.
Body Measurements of Liam Hemsworth
Actor Liam Hemsworth has an amazing body physique with a height of 6ft 3in tall and a weight of 75kg. Additionally, His charming face with his blue eyes and brown hair makes him look more attractive.
Career of Liam Hemsworth
Hemsworth began his career in 2007 with guest appearances on the shows Home and Away and McLeod's Daughters.
On 8 July 2007, Hemsworth began filming episodes for Neighbours.
Hemsworth's character, Josh Taylor, was a recurring character from 2007 to 2008. In the show, Josh was an athletic paraplegic who supported and began a relationship with character Bridget Parker after she was paralyzed down one side of her body in a car crash.
Hemsworth later had roles in the television series Satisfaction and starred in the British film Triangle.
He came to highlight more when he played the roles of Marcus in the children's television series The Elephant Princess in 2008-2009.

In 2009, Hemsworth was selected to act opposite Sylvester Stallone in Stallone's 2010 film, The Expendables, but his character was written out of the script and later co-starred in The Expendables 2.
Hemsworth was called for the lead role in the 2011 film Thor by director Kenneth Branagh but Hemsworth moved to the States in March 2009 for screen tests and lost the role to his brother Chris Hemsworth.
Hemsworth next appeared in the music video for Cyrus' "When I Look at You" which was recorded on 16 August 2009.
In March 2010, Details magazine selected Hemsworth as one of their predictions for "The Next Generation of Hollywood's Leading Men".
On 4 April 2011, Lionsgate announced Hemsworth to be one of the leads, Gale Hawthorne, in The Hunger Games, which was released in 2012.
In June 2011, he appeared to war drama Love and Honor which also stars Aimee Teegarden and Teresa Palmer.
In 2013, Hemsworth appeared in Empire State, with Emma Roberts, and Paranoia, co-starring Harrison Ford, Gary Oldman, and Amber Heard. He reprised his role, Gale Hawthorne, in three sequels to The Hunger Games, The Hunger Games: Catching Fire, released on November 2013, The Hunger Games: Mockingjay – Part 1, released on November 2014, and The Hunger Games: Mockingjay – Part 2, released in November 2015.
In 2015, Hemsworth portrayed the love interest of Kate Winslet's character in the Australian literary adaptation The Dressmaker, which was filmed in Victoria in the summer of 2014.
Hemsworth starred in director Roland Emmerich's 2016 film Independence Day: Resurgence.
In 2019, he played a fantasy version of a romantic comedy leading man in the film Isn't It Romantic.
Additionally,
In 2010, Hemsworth won Young Hollywood Breakthrough of the Year and Nickelodeon Australian Kids' Choice Awards Favorite Kiss for The Last Song.
In 2012, Hemsworth won People's Choice Awards Chemistry (shared with Jennifer Lawrence and Josh Hutcherson) for The Hunger Games.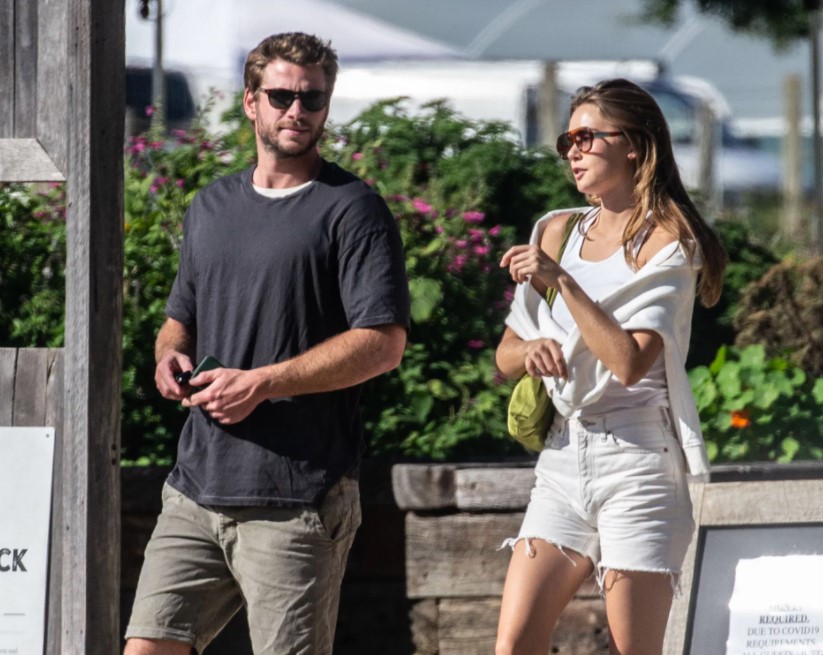 Source: @etcanada
Everything To Know About Gabriella Brooks
Personal life of Liam Hemsworth
Is Liam Hemsworth married?
Liam Hemsworth was married to his girlfriend Miley Cyrus on 23 December 2018 at their home in Nashville, Tennessee but they separated recently on August 10, 2019. The couple met while filming The Last Song in June 2009, Hemsworth began a relationship with his co-star Miley Cyrus. After a three-year on-again, off-again relationship, the couple announced their engagement in June 2012 but ended their engagement in September 2013. Later, Miley Cyrus confirmed in an interview on The Ellen DeGeneres Show in October 2016, they were once again engaged and got married on 23 December 2018.
Birthday of Liam Hemsworth

Australian Actor Liam Hemsworth celebrates his birthday on the 13th of January with his friends and family. Currently, he is 29 years old.
Net Worth of Liam Hemsworth
Liam Hemsworth is earning a good amount of money from his career though his salary is not revealed. As of 2019, His Net worth is estimated to be around $26 Million.