Liz Cheney Biography
Liz Cheney is an American attorney as well as a well-recognized politician who is better known for being the eldest daughter of Dick Cheney who served as the 46th vice president of the United States from 2001 to 2009. Liz Cheney has been serving as the U.S. Representative for Wyoming's at-large congressional since 2017. She is also the third woman elected to the Chair of the House Republican Conference. She previously served in several positions during the George W. Bush administration and was one of the candidates for the US Senate election in 2014. She has been politically active on behalf of the Republican Party and is a co-founder of Keep America Safe, a nonprofit organization concerned with national security issues. She was critical of the foreign policy of the Trump administration and supported the second impeachment of Trump. She faced a vote initiated by pro-Trump members of the House Republican Conference to remove her from her leadership position as of February 2021 but she proved stronger by gaining the vote of 145 against 61. Her political party is the Republican party. Scroll more to know about her Full Biography, Untold Story, Wiki, Age, Facts, Career, Polls, Votes, Birthday, Personal Life, & Family Life.
Recently in the news, Liz Cheney becomes the latest House Republican to be censured by the state party for her vote to impeach Trump. She voted Saturday to formally censure Rep. Liz Cheney, the No. 3 Republican in the House, for her vote to impeach former President Donald Trump in the latest example of a state GOP punishing lawmakers who have bucked the former President. "My vote to impeach was compelled by the oath I swore to the Constitution. Wyoming citizens know that this oath does not bend or yield to politics or partisanship," Cheney said in a statement Saturday. "I will always fight for Wyoming values and stand up for our Western way of life. We have great challenges ahead of us as we move forward and combat the disastrous policies of the Biden Administration. I look forward to continuing to work with officials and citizens across Wyoming to be the most effective voice and advocate in defense of our families, industries, and communities," she added. She has faced intense backlash from Trump loyalists in her party for her vote last month to impeach Trump for "incitement of insurrection," following the January 6 attack on the Capitol. In a statement before she cast her vote, Cheney said Trump "summoned this mob, assembled the mob, and lit the flame of this attack." "There has never been a greater betrayal by a President of the United States of his office and his oath to the Constitution," she said at the time. House Republicans on Wednesday voted 145 to 61 in favor of keeping Cheney on as conference chair after she defended her support for impeachment during a contentious closed-door conference meeting.
Liz Cheney is famous for being an attorney as well as a politician. She is best known for serving U.S. Representatives for Wyoming's at-large congressional district since 2017. She is well-known for being the daughter of the former Vice President, Dick Cheney. She is regarded as a leading ideological conservative in the Bush-Cheney-era tradition and a representative of the Republican establishment, she is known for her focus on national security, support for the U.S. military and hawkish and neoconservative foreign policy views, and for being fiscally and socially conservative.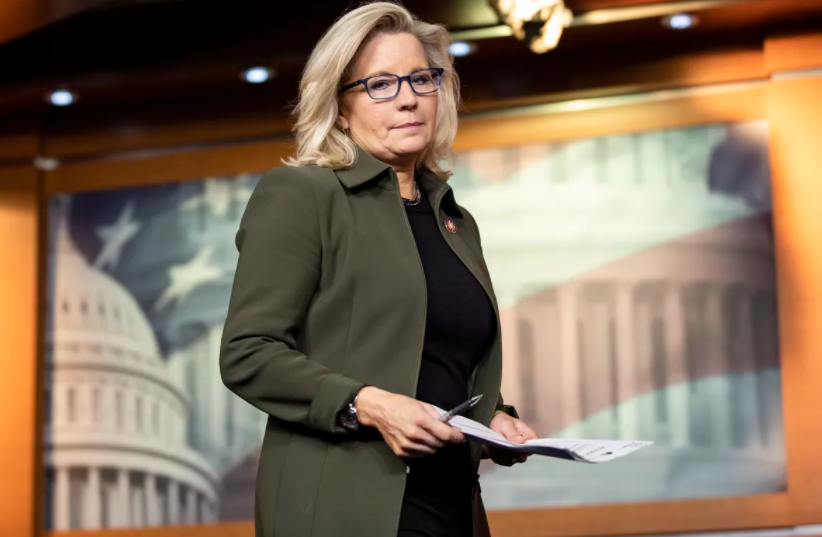 Source: @vox.com
Born with the birth name of Elizabeth Lynne Cheney, Liz Cheney's date of birth is 28th July 1966. She took birth in Madison, Wisconsin, the USA (birthplace/hometown). Thus, she holds an American nationality and her ethnicity/ethnic background is American-White. Her race is White. She was born to her parents; Dick Cheney (father), and Lynne Vincent (mother). At the time of her birth, her parents were studying at the University of Wisconsin-Madison. Talking about her siblings; she has a younger sister named Mary Cheney. Her relationship with her younger sister Mary publicly suffered after Liz stated in her 2014 Senate campaign that she does not support same-sex marriage. By religion, she is Christianity and her zodiac sign is Leo. Back on 28th July 2020, she celebrated her 54th birthday and she will next be celebrating her 55th birthday as of 2021 on 28th July. About her educational background, she attended McLean High School. After then, she graduated from high school in 1984, she enrolled at Colorado College. She graduated with a Bachelor of Arts degree from Colorado College in 1988. She earned her J.D. degree from the University of Chicago Law School in 1996. She also took courses in Middle Eastern history at the Oriental Institute.
Very beautiful Liz Cheney stands tall at the height of 5 ft 3 in or 160 cm. Her balanced bodyweight consists of 56 KG or124 lbs. She has a pair of black eye colors and her hair color is blonde. She also wears a spectacle which suits her well. She has an average body build. Her other body measurements/body size such as dress size, shoe size, and more has not been publicized yet. She maintains her body a lot to keep herself fit and fine. Overall, she has got a healthy body with leadership qualities.
Liz Cheney Career
Cheney began working for the State Department for five years and the US Agency for International Development between 1989 and 1993.
She then worked at the consulting firm, Armitage Associates LLP; the firm was founded by Richard Armitage.
After her graduation from law school, she practiced law at the law firm of White & Cas, and also she worked as an international law attorney and consultant at the International Finance Corporation, a member of the World Bank Group.
She served as Special Assistant to the Deputy Secretary of State for Assistance to the former Soviet Union and also served as a USAID officer in US embassies in Budapest and Warsaw.
In the year 2002, she was appointed Deputy Assistant Secretary of State for Near Eastern Affairs. In that position, she was given control of the Middle East Partnership Initiative, designed to "foster increased democracy and economic progress in a troubled region".
Then, she left her position in the year 2003 to serve in her father's 2004 Vice-Presidential reelection campaign where she participated in the campaign's "W Stands for Women" initiative to target female voters.
She then returned to the State Department on 14th February 2005 and was appointed Principal Deputy Assistant Secretary of State For Near Eastern Affairs and Coordinator of Broader Middle East and North Africa Initiatives. In that position, she oversaw the launch of two semi-independent foundations, the Fund of the Future (to provide capital for small businesses) and the Foundation of the Future (to promote the press and democracy).
She then headed the Iran Syria Policy and Operations Group (ISOG), a unit within the State Department's Bureau of Near Eastern Affairs, established in 2006.
After her tenure in the State Department, she signed on as one of three national co-chairs of Fred Thompson's 2008 presidential campaign but Thompson dropped out of the race.
She then announced on 27th January 2008, that she would work for Mitt Romney's presidential campaign as a senior foreign policy advisor.
Later, she was hired as a contributor for Fox News in January 2012, and also she guest-hosted programs such as Hannity and Fox News Sunday. The network then terminated her contract in July 2013 after she announced her intention to run for US Senate in Wyoming in 2014.
She started receiving criticism from her championing of hawkish foreign policy positions to a public spat with her sister Mary over her vocal opposition to same-sex marriage. She then withdrew from the race citing family health issues on 6th January 2014.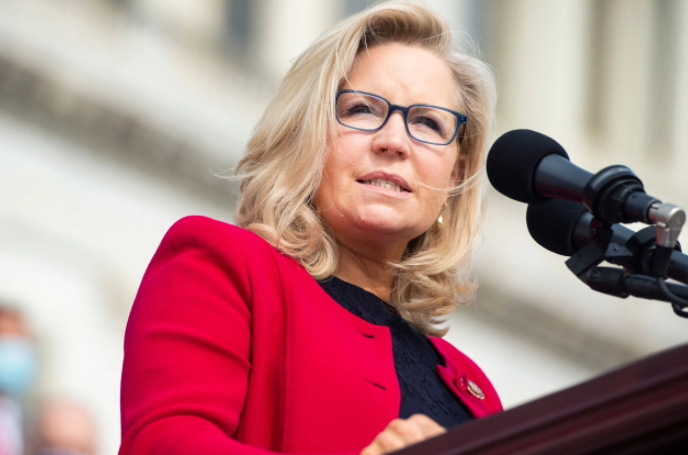 Source: @newyorker
After her retirement, she next announced her candidacy for Wyoming's lone seat in the US House of Representatives in February 2016. Cynthia Lummis had announced her retirement from the seat. She won the general election with over 60% of the total votes.
She was sworn into office in January 2017.
She was elected by the Republican membership as the Chair of the House Republican Conference for the 116th Congress.
In the November 6 general election, she was re-elected to the House with 127,951 votes, defeating Democrat Greg Hunter (59,898 votes), Libertarian Richard Brubaker (6,918), and Constitution Party candidate Daniel Clyde Cummings (6,069).
She is also the highest-ranking Republican woman in Congress.
She defeated Blake Stanley in the Republican primary with 73% of the vote, and Democrat Lynnette Grey Bull in the general election with 69% of the vote.
She was sworn into office on 3rd January 2017. She also joined 22 Republican representatives in opposing HR183 which condemned "anti-Semitism as hateful expressions of intolerance" and "anti-Muslim discrimination and bigotry" on 7th March 2019.
At a House Republican Conference in July 2020, some Republicans, such as Jim Jordan of Ohio and Andy Biggs of Arizona, criticized Cheney for defending Dr. Fauci amid the COVID-19 pandemic, and for previously endorsing Kentucky Congressman Thomas Massie's primary opponent.
She signed a letter demanding Swalwell's removal from the House Intelligence Committee and she said "the extent to which [the Chinese Communist Party] caused [COVID-19] to be spread around the world has really shone a spotlight on the nature of that regime, and has really focused the attention of not just people in the United States but our allies around the world on the threat that they pose and how important it is we protect ourselves by moving supply chains, by ending our dependence on the Chinese government".
On January 12, 2021, following the storming of the United States Capitol during the certification process for President-elect Joe Biden, she announced she would vote to impeach Trump for his role in inciting the storming. Due to this, the supporter of Trump was angered and on 3rd February 2021, the House Republican Conference held a closed-door, secret-ballot vote on whether to remove her from her position in the Republican House leadership. She held her position by a 145–61 vote, with one member voting present. After the vote, Cheney said, "we're not going to be divided and that we're not going to be in a situation where people can pick off any member of leadership".
Then, she responded, "My vote to impeach was compelled by the oath I swore to the Constitution. Wyoming citizens know that this oath does not bend or yield to politics or partisanship. I will always fight for Wyoming values and stand up for our Western way of life."
She even rejected the Wyoming party's demands that she step down. She noted the censure was incorrect in its assertion that the January 6, 2021 storming of the United States Capitol was instigated by "Antifa" and "Black Lives Matter."
She also published a book with her father Dick Cheney "In My Time: A Personal and Political Memoir" in the year 2011 and "Exceptional: Why the World Needs a Powerful America" in the year 2015.
Liz Cheney Personal Life and Affairs
Liz Cheney is a married woman and she got married to her handsome husband; Philip Perry who is a partner at the law firm, Latham & Watkins in Washington, D.C., the USA. The couple tied a knot in the year 1993 in Wyoming. The couple is also blessed with five children/kids named Grace Perry, Kate Perry, Philip Richard Perry, Elizabeth Perry, and Richard Perry. The married duo is enjoying their present life happily without any disturbances. Her sexual orientation is straight. Thus, she is not gay.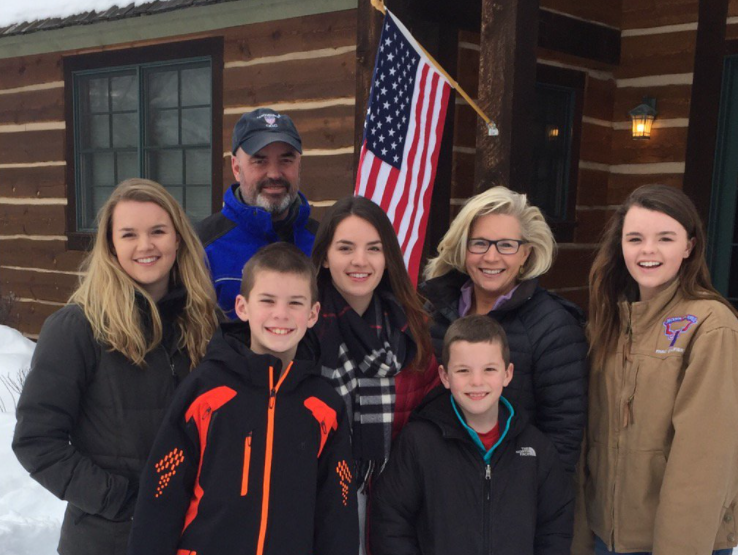 Source: @twitter
Liz Cheney Net Worth & Salary
Liz Cheney is a successful politician who has made huge amount of money from her political career. She has been serving as the U.S. Representative for Wyoming's at-large congressional district since 2017. Also, she is the House Republican Conference Chair, the third-highest position in the House Republican leadership. About her salary and career earnings, she is earning a considerable amount of salary of $1 Million annually. As of 2021, the net worth of Liz Cheney is estimated to have between $5 Million - $10 Million whereas her net worth was estimated to have $1 Million - $5 Million as of 2020. Her major source of wealth comes from her political career and she is satisfied with her earnings. She is living a cool lifestyle from her earnings. She also endorsed a draft of a new Iraqi constitution.