Hary Kane is an English professional footballer who plays as a striker for Premier League club Tottenham Hotspur and captains the England national team. He was the highest scorer of the 2018 FIFA World Cup with six goals winning the Golden Boot. He is currently the world's most valuable player ahead of the footballers' likes of Neymar, Messi, and Ronaldo. He is a world-class striker who has won 2 Premier League Golden Boots and 1 at the 2018 World Cup in Russia for having scored the most goals at the tournament. He is the husband of Katie Goodland who is a fitness instructor and a sports science graduate. His Jersey number is 10 for Tottenham Hotspurs football club and 9 for England national football team. Kane was appointed a Member of the Order of the British Empire (MBE) in the 2019 New Year Honours for services to football.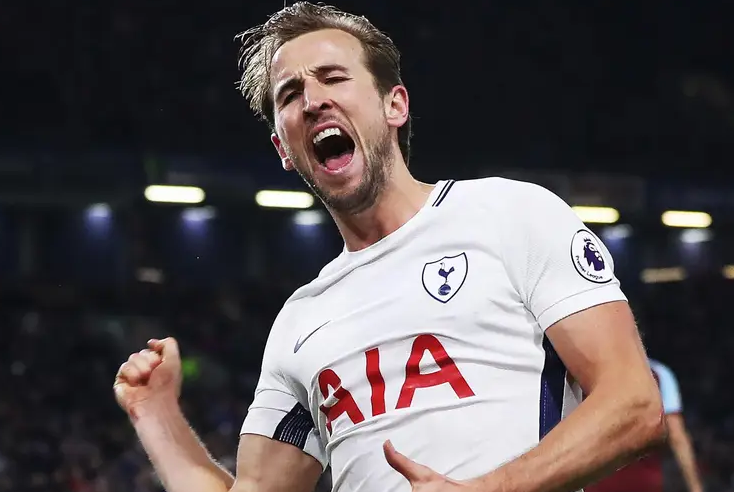 Source: @independent.co.uk
Famous For
Harry Kane is a world Famous Footballer well known for his elite finishing skills and the ability to score against any team in the premier league.
He has scored 130 goals in 187 appearances for Spurs. He is a goal machine for Tottenham Hotspurs. Right now he ranks fourth on the goalscoring charts of all time as a Striker of Tottenham Hotspur legends. In terms of skills, Kane is excellent at using either of his feet or his head.
He is also excellent at positioning, first touch, and one-touch finishing. Last season he scored 35 goals for Spurs in the English Premier League.
Early Life of Hary Kane
Harry Edward Kane born and raised in the London district of Walthamstow. He was born in Walthamstow, London on 28 July 1993 to Kim and Patrick Kane and has one older brother, Charlie. He has Irish ancestry through his father who is from Galway. The family moved to Chingford where he attended Larkswood Primary Academy until 2004, followed by Chingford Foundation School. He played football from a young age, joining a local club, Ridgeway Rovers when he was six in 1999. His whole family was a fan of the Tottenham Football club so he also became a fan of Spurs from his childhood and also determined to play from Tottenham Hotspurs in the future. His mother used to support him to build up his career as Footballer However his dad didn't like him much to build up his career as a footballer. His childhood sporting influences were David Beckham, Jermain Defoe, and Brazilian Footballer Ronaldo.
Early Career of Hary Kane
He started his early career by playing for a local club, Ridgeway Rovers, and joined the Arsenal youth academy when he was eight years old.
He was released after one season because of his poor performance. He also had a trial at Tottenham Hotspur but was not initially successful, and he returned to his old club Ridgeway Rovers. In 2004, at the age of eleven, he joined Watford academy for a four to six-week trial and was then given another chance at Tottenham after he impressed playing for Watford against Tottenham. He first played at Tottenham as a midfielder initially in a holding position, then as an attacking midfielder. In the 2009–10 season, Kane played 22 times for Tottenham's under-18s, scoring 18 goals.
He then signed his first professional contract with the club in July 2010.
Professional Career of Hary Kane
His professional career in Football begins by playing in a senior team of Tottenham Hotspurs. He moved to Leyton Orient on loan from 7 January 2011 until the end of the 2010–11 season. On 25 August 2011, Kane made his first appearance for Tottenham, starting in the second leg of their UEFA Europa League qualification round against Hearts, with Tottenham making changes after winning the first leg 5–0. On 29 December 2011, He joins Championship club Millwall on loan from 1 January 2012 until the end of the season.
On 18 August, he made his Premier League debut, against Newcastle United. On 31 August 2012, he joined Premier League team Norwich City on a season-long loan.
Twenty days after he was recalled to Tottenham, Kane joined Leicester City for the remainder of the season to aid in the club's push for automatic promotion from the Championship.scored his first Tottenham goal of the 2013–14 season at White Hart Lane in a League Cup tie against Hull City,
scoring the equalizer in extra time, the match finished 2–2. He started Tottenham's first game of the 2019–20 season, scoring twice in a 3–1 home win against Aston Villa. Kane's first goal of the game was his first at the Tottenham Hotspur Stadium. On 1 January 2020, in the away match against Southampton that ended in a 1–0 defeat, Kane suffered a hamstring injury. The damage to his hamstring required an operation that would see him out of action until April. Not only for the club but he has also given importance to international football career by playing for his home country England. In June 2018 he signed a new contract with Tottenham Hotspur worth up to 62.4 Million Pound expanding his contract till 2025.
Awards of Hary Kane
PFA Young Player of the Year:2014-2015
England Player of the Year Award: 2017, 2018
Tottenham Hotspur Player of the Year: 2014–15
Premier League Golden Boot: 2015–16, 2016–17
FIFA World Cup Golden Boot: 2018
Records of Hary Kane
Kane was the highest scorer of the 2018 FIFA World Cup with six goals winning the Golden boot.He recorded a career-high 41 goals in 48 appearances during the team's 2017-18 season.
On 23 December, Kane equaled Alan Shearer's record of 36 Premier League goals in a calendar year, having scored a hat-trick in a 0–3 away win to Burnley.
He surpassed Shearer's record the following game with another hat-trick in the 5–2 home win against Southampton, ending the year with 39 Premier League goals.
Kane is England's sixth-highest scorer in history with 32 international goal for England at the relatively young age of 26 years. He became the fastest player to score 20 goals in the European competition i.e. Champion league of 2019/20 season as Spurs came from behind to beat the Greek football club Olympiakos 4-2 on Tuesday night.
Ranking of Hary Kane
Harry Kane currently ranks the world's most valuable player. The Daily Mirror reports that a study has voted Tottenham striker, Harry Kane, as the most valuable player in world football, ahead of the likes of Neymar, Messi, and Ronaldo. Kane, after another prolific season in front of goal, has risen from third to top spot, with an estimated value of €201.2m (£176.25m), ahead of Neymar who is valued at €195.7m (£171.74m), and his PSG teammate KylianMbappe.In Football World Ranking he currently ranks at number 28 by points and 75 by goals. He was at number 1 spot on February 19, 2018. He ranks at number 17 spot in the new 'FIFA 19' video game. Currently, He ranks at number 10 spot in "The Best FIFA Men's Player" which was announced on 23 September 2019. He Currently ranks no 1 spot in the Best Striker of England National Team.
Trade and Transfer of Hary Kane
As per our latest Data Collection of 2020, there is no transfer news and rumors about Harykane to other clubs. He has rather agreed to stay at Tottenham Hotspur for the next 5 years. n June 2018 he signed a new contract with Tottenham Hotspur worth up to 62.4 Million Pound expanding his contract till 2025.
Personal Life of Hary Kane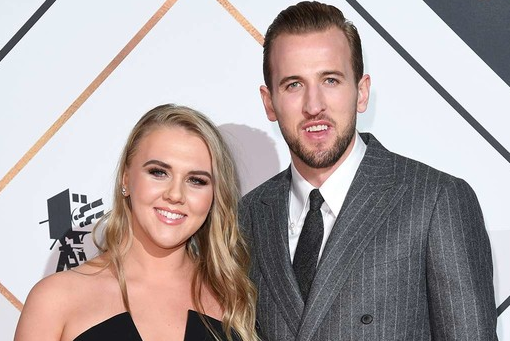 Source: @hellomagazine.com
Harry Kane is a married man. His wife's name is Katie Goodland who was his childhood sweetheart. His wife has seen his whole career from childhood up to now. They first met during their schooling at Chingford Foundation School in Chingford in the London Borough of Waltham Forest. In an interview given in February 2015, He said that he was in a relationship with Katie Goodland. The couples get engaged On 1 July 2017 on a holiday in the Bahamas. They tied the knot in June 2019. They are now blessed with their first child Daughter, Ivy Jane Kane who was born on 8 January 2017 and their second daughter, Vivienne Jane Kane, who was born on 8 August 2018. have two Labrador retrievers, Brady and Wilson, named after Tom Brady and Russell Wilson, quarterbacks of the NFL's New England Patriots and Seattle Seahawks, respectively. He has also starred in the Documentary film "The Brady 6" as an inspiration for his development. In 2019 Kane expressed an interest in becoming a kicker in the NFL in 10 to 12 years.
Relationship Timeline of Hary Kane and Katie Goodland
First time to meet:-2004
First date:- 2005
First kiss:- will be updated
Officially together:- February 2015
First Anniversary:-June 2020
First Travel:- 1 July 2017
First Fight:-will be updated
First Reconcile:-will be updated
First Purpose:- February 2015
Engagement:- 1 July 2017
Wedding:-June 2019
Body Measurement of Hary Kane
Harry Kane is a handsome hunk with an athletic body build. He has got a healthy body with a charming personality attracting a lot of people towards him. He has got a tall height of six feet two inches. His balanced weight consist of 86 KG. His chest size is 40 in, waist size is 30 in, and biceps size is 13.5 in. His eye color is blues and his hair color is light brown.
Quick Body Facts
Height:- 6 Feet 2 inch
Weight:- 86 kg
Body Size:- Chest: 40 inches - Waist: 30 inches - Biceps: 13.5 inches
Shoe size:- Unknown (He wears Nike Phantom VNM soccer cleats in 2019-2020.)
Eye Color:-Blue
Hair Color:- Light Brown
What is the Net worth of Hary Kane?
Kane's current estimated net worth is around 75 Million dollars and has a market value of around 18 million Euro and ranks among Top Striker in Barclays Premier League. His annual income is estimated to be around $18 million.
Net worth in 2020:- $75 million
Salary as of 2020:-$18 million per annum
Profession:-Football
Income source:-Tottenham Hotspur, England, and Endorsement. Kane is involved in sponsorship deals with Nike, Beats By Dre, Lucozade Sport, BT Sport. In March 2018, the talisman was roped in as the brand ambassador of Hugo Boss Parfums perfume brand.)
Wealth (House and Car) of Harry Kane
He bought an amazing 3.0 Million Pound mansion in 2018. It has a golf simulator, home cinema, outdoor pool, private garden and a six feet high-security fence where he along with his wife and two Daughter reside there. He has his own number of Expensive cars. Some of his car models are Range Rover Autobiography, Jaguar F-Pace, and 2018 Bentley Continental Supersports. As per the data collection of 2020, his net worth is 75 million dollars that means he is a millionaire and one of the richest football players in the world.
Is Harry Kane Death or Alive?
As per our latest data collection of 2020, he is still alive according to his birth date 28 July 1993. He is 26 years old now.