Nancy Pelosi Biography
An American politician Nancy Pelosi is serving as Speaker of the United States House of Representatives since 2019, and previously from 2007 to 2011. She is the 60th Speaker of the United States House of Representatives, the first woman to hold that position. She became the House Minority Leader in 2011. She was in attendance during John F. Kennedy's inauguration and graduated from Trinity College in Washington, D.C., in 1962 with a B.A. in political science. She is also the highest-ranking female politician in American history. A long-serving member of the Democratic Party, she has been the "Leader of the House Democratic Caucus" since 3rd January 2003, and a member of the U.S. House of Representatives from California since 2nd June 1987. She was a major opponent of the Iraq War as well as the Bush administration's 2005 attempt to partially privatize Social Security. Pelosi was re-elected to a fourth term as Speaker of the House on 3rd January 2021, which is expected to be her last. As recent news, an ominous note was left for House Speaker Nancy Pelosi in her office Wednesday after rioters in support of President Donald Trump stormed the US Capitol building as lawmakers were discussing the certification of the 2020 election results. Scroll down to know much about Nancy Pelosi's Full Biography, Untold Story, Career Timeline, Personal Life & Affairs.
Famous For
Being an American politician.
For serving as Speaker of the United States House of Representatives.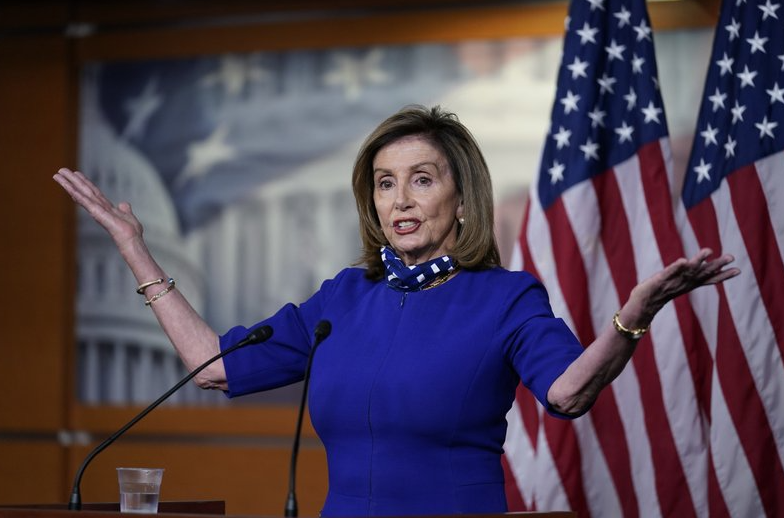 Source: @apnews
Early Life of Nancy Pelosi

Nancy Pelosi opened her eyes for the first time on 26th March 1940 with the real name or full name of Nancy Patricia D'Alesandro in Baltimore, Maryland, U.S. (hometown). However, she currently resides in the Pacific Heights neighborhood of San Francisco. She holds an American nationality and Caucasian ethnicity. She is of Italian descent. Similarly, she is from a Christianity religion and her race is white. She happily celebrates her birthday on 26th March of every year and she has celebrated her 80th birthday as of 2020 though as her birthdate, her star sign is Aries. She was the only girl and the youngest of seven children of Annunciata M. "Nancy" D'Alesandro (mother)and Thomas D'Alesandro Jr. (father), who both had Italian roots. Nancy was born, her father was a Democratic congressman from Maryland (and he became Mayor of Baltimore seven years later). Pelosi's mother was also active in politics, organizing Democratic women, and teaching her daughter the value of social networking. Her siblings are Thomas Ludwig John D'Alesandro III (Older Brother), Nicholas M. D'Alesandro (Older Brother), Franklin Delano Roosevelt D'Alesandro (Older Brother), Hector Joseph D'Alesandro (Older Brother), Joseph Thomas D'Alesandro (Older Brother). Additionally, Pelosi graduated from the Institute of Notre Dame, an all-girls Catholic high school in Baltimore in 1958 as she graduated from Trinity College in Washington, D.C., with a Bachelor of Arts in political science in 1962. She also interned for Senator Daniel Brewster (D-Maryland) in the 1960s.
Career of Nancy Pelosi

Nancy Pelosi commenced her political career being elected as a Democratic National Committee member from California after working Phillip Burton's way up in Democratic politics whereas she was elected as party chair for Northern California in January 1977, and four years later was selected to head the California Democratic Party, which she led until 1983.
She then served as the San Francisco Democratic National Convention Host Committee chairwoman in 1984, and then as Democratic Senatorial Campaign Committee finance chair from 1985 to 1986.
As Phillip Burton died in 1983 Pelosi won the special election to succeed her, narrowly defeating San Francisco Supervisor Harry Britt on 7th April 1987, then easily defeating Republican candidate Harriet Ross on 2nd June 1987; Pelosi took office a week later however, she has won reelection in the regular election in 1988 and has been reelected another 16 times with no substantive opposition, winning with an average of 80 percent of the vote.
The strongest challenge Pelosi has faced was in 2020 when fellow Democrat Shahid Buttar won 22.4% of the vote, and Pelosi won 77.6%. as she served on the Appropriations and Intelligence Committees as well as she s a member of the House Baltic Caucus.
She was elected the House minority whip, second-in-command to Minority Leader Dick Gephardt of Missouri in 2001 by being the first woman in U.S. history to hold that post and also become the first woman to lead a major party in the House.
Pelosi defeated Republican John Boehner of Ohio with 233 votes compared to his 202 votes in the election for speaker of the House on 3rd January and became the first woman, the first Californian, and the first Italian-American to hold the speakership.
She announced a plan prior to the U.S. 2006 midterm elections for action: If elected, she and the newly empowered Democratic caucus would push through most of its program during the first hundred hours of the 110th Congress's term.
As well, she was named Permanent Chair of the 2008 Democratic National Convention in Denver, Colorado as she has been credited for spearheading President Obama's health-care law when it seemed it would go down in defeat.
Democrats lost 63 seats and ceded control of the House of Representatives to the Republicans as Pelosi was re-elected by a comfortable margin in the 2010 midterm elections and was elected minority leader for the 112th Congress.
Then, she defeated Ryan by a vote of 134-63 on 30th November after she agreed to give more leadership opportunities to junior members.
After that, she sent a letter to Speaker Paul Ryan about the proposed public release of a memo prepared by Republican staff at the direction of House Intelligence Committee Chairman Devin Nunes in February 2018 though the memo attacked the Federal Bureau of Investigation for its investigation of Russian interference in the 2016 United States elections.
Also, she broke the record for the longest speech in the House of Representatives when she spent more than eight hours recounting stories from DREAMers in the following year.
Pelosi called for the resignation of Duncan D. Hunter after his indictment on charges of misusing at least $250,000 in campaign funds in August 2018, saying the charges were "evidence of the rampant culture of corruption among Republicans in Washington today" although House Democrats nominated her to once again serve as speaker of the House on 28th November of the following year.
She was formally re-elected to the speakership at the start of the 116th Congress on 3rd January 2019 as she tore up her official copy of his speech at the conclusion of President Trump's State of the Union on 4th February 2020.
In addition, she aided with the passage of the CARES Act as she attracted controversy when footage emerged in early September 2020 of her visiting a hair salon in San Francisco.
Furthermore, Nancy was a founding member of the Congressional Progressive Caucus but left in 2003 after being elected House minority leader however the American Civil Liberties Union's Congressional Scorecard has given Pelosi a lifetime rating of 92% for her voting record on civil liberties.
The LGBT advocacy group Human Rights Campaign gave Pelosi a 100% rating in 2006 for her voting record in the 107th through 109th congresses (2001-2006)
She was briefed on the ongoing use of "enhanced interrogation techniques", while Pelosi was the ranking member of the House Intelligence Committee in 2002.
She also spearheaded the Fair Minimum Wage Act of 2007 as part of the 100-Hour Plan as speaker of the house as she was instrumental in passing the Patient Protection and Affordable Care Act of 2010.
Also, she was rebuked by Archbishop Donald Wuerl of Washington, D.C. in 2008 though she was given a 0% rating by Gun Owners of America and a 7% rating from the National Rifle Association for her stances on gun control in 2012.
Pelosi and Charles E. Schumer met with Trump and Pence in December 2018 to discuss changes to be made when the new Democratic representatives take office in 2019 as she supported President Trump in his decision to back the leader of the opposition Juan Guaido during Venezuelan protests and constitutional crisis in January 2019.
Trump and Pelosi exchanged mutual snubs before Trump's 4th February 2020 State of the Union Address, the day before the Senate impeachment vote.
Pelosi announced on 8th October 2020 that legislation was being introduced in the House of Representatives to advance the creation of a commission to allow the use of the 25th Amendment to the Constitution to intervene and remove Trump from executive duties.
Moreover, Nancy Pelosi defeated San Francisco Supervisor Harry Britt in the Democratic primary with 36 percent of the vote to his 32 percent, then-Republican Harriet Ross by more than 2-to-1.
Since then, Pelosi has enjoyed overwhelming support in her political career, collecting 76 and 77 percent of the vote in California's 5th congressional district 1988 and 1990.
As a piece of fresh news, an ominous note was left for House Speaker Nancy Pelosi in her office Wednesday after rioters in support of President Donald Trump stormed the US Capitol building as lawmakers were discussing the certification of the 2020 election results.
Awards, Honors, and Achievements of Nancy Pelosi

In 2006, she was named Barbara Walters' Most Fascinating Person of the year.
Pelosi was inducted into the National Women's Hall of Fame in 2013.
She has been listed numerous times on the "Forbes" list of the world's 100 most powerful women, including being ranked 11th in 2010, 26th in 2014, and 3rd in 2019.
She received the Foremother Award from National Center for Health Research in 2016.
She was granted an honorary Doctorate of Law degree by Mount Holyoke College on 20th May 2018.
She was an honoree at the 2019 VH1 Trailblazer Honors.
In 2007, she received the NIAF Special Achievement Award for Public Advocacy and remains involved in the foundation.
Personal Life of Nancy Pelosi
Reflecting on Nancy Pelosi's personal life, she is a married woman. She tied a knot with Paul Francis Pelosi in Baltimore at the Cathedral of Mary Our Queen on 7th September 1963. The pair met one another while attending college. They moved to New York after they wed, then moved to San Francisco in 1969, where Paul's brother Ronald Pelosi was a member of the City and County of San Francisco's Board of Supervisors. The couple has given birth to five children: Nancy Corinne, Christine, Jacqueline, Paul, and Alexandra; and nine grandchildren. Nancy's and Paul's relationship is exceptional as of now and they are living a blissful life together. Furthermore, talking about her sexual orientation, she is straight.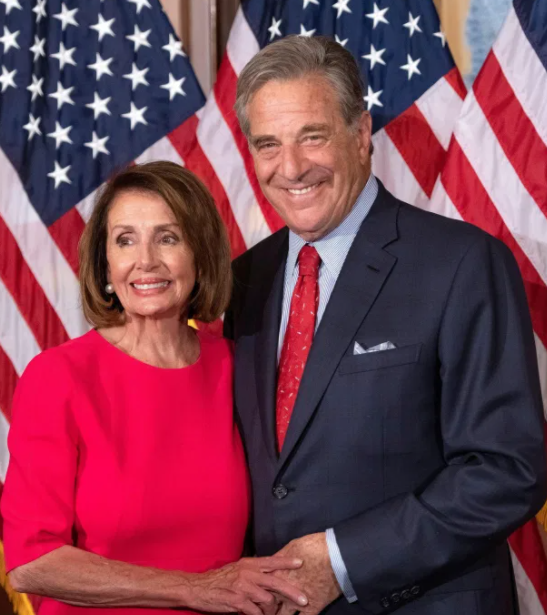 Source: @thescottishsun.co.uk
Net Worth of Nancy Pelosi

Moving towards Nancy Pelosi's net worth, she has a worth of around $196,299,990 as of 2020 whereas she has also a handsome amount of salary too which is also in millions of dollars per year. The nonpartisan Center for Responsive Politics (CRP) estimated in 2009 that Pelosi's average net worth was US$58,436,537, ranking her 13th among 25 wealthiest members of Congress. Her 2016 financial disclosure report lists among her assets a combined home and vineyard in St. Helena, California, two commercial buildings in San Francisco, and a townhouse in Loomis, California. "Roll Call," said Pelosi's earnings are connected to her husband's heavy investments in stocks that include Apple, Disney, Comcast, and Facebook. "Roll Call" also reported that Pelosi has $13.46 million in liabilities including mortgages on seven properties. According to "Roll Call", Pelosi and her husband hold properties "worth at least $14.65 million, including a St. Helena vineyard in Napa Valley worth at least $5 million, and commercial real estate in San Francisco". In addition, her major source of income is from her political career.
Body Measurement of Nancy Pelosi

Adaptable politician, Nancy Pelosi stands at a perfect height of 5 ft 5 in or 165 cm with a balanced weight of 62 kg or 136.5 lbs. Her mildly stocky frame, neck-length, side-parted hair, an affable smile has attracted a lot of people towards her. She has kept her body maintained at this age too which co outstanding. Graceful woman Pelosi has light brown hair and eyes color as her body build type is average.