About Olivia de Havilland; Actress
A famous British-American actress and centenarian who is one of the last surviving stars from the Golden Age of Hollywood Cinema is named for Olivia de Havilland. The major works of her cinematic career spanned is from 1935 to 1988. She appeared in 49 feature films and was one of the leading actors of her time. She became famous after a screen couple with Errol Flynn in adventure films such as "Captain Blood" (1935) and "The Adventures of Robin Hood" (1938). One of her best-known roles as Melanie Hamilton in the film classic "Gone with the Wind" (1939), for which she received her first of five Oscar nominations, the only one for Best Supporting Actress. She continued her work in the theatre, appearing three times on Broadway, in "Romeo and Juliet" (1951), "Candida" (1952), and "A Gift of Time" (1962). She also worked in television, appearing in the successful miniseries, "Roots: The Next Generations" (1979), and "Anastasia: The Mystery of Anna" (1986), for which she received a Primetime Emmy Award nomination and won the Golden Globe Award for Best Supporting Actress in a Television Movie or Series. During her film career, she has won two New York Film Critics Circle Awards, the National Board of Review Award for Best Actress, and the Venice Film Festival Volpi Cup. For her contributions to the motion picture industry, she received a star on the Hollywood Walk of Fame. On 1st July 1916, Olivia de Havilland was born with the birth name/full name of Olivia Mary de Havilland in Tokyo, Empire of Japan. She was born to English parents. Her father Walter Augustus de Havilland was an English professor at the 'Imperial University' in Tokyo. Walter then became a patent attorney. Her mother Lillian Augusta was a former stage actress. Her parents did not have a happy marriage as her father was not loyal to her mother. They separated when the girls were young. She also had a sibling; a younger sister named Joan, who went on to become a prominent actress. She then moved to the United States with her mother and sister. She received ballet and piano lessons as a young girl. Talking about her education, she went to 'Los Gatos High School' where she performed well in studies and also excelled in oratory and field hockey. She also participated in school plays. She made her debut in amateur theatre, playing a role in 'Alice in Wonderland' in the year 1933. Following her graduation from high school in 1934, she was offered a scholarship to 'Mills College' in Oakland. She then got an opportunity to play 'Hermia' in a stage production of William Shakespeare's "A Midsummer Night's Dream" and her performance as 'Hermia' led to a movie contract. When she was forced to choose between teaching and acting, she signed a five-year contract with 'Warner Bros.' on 12th November 1934 with a starting salary of $200 a week, marking the beginning of a professional acting career which would span more than 50 years. Her nationality is American-French-British and her ethnicity is Asian. Her race is White. As of 2020, she celebrated her 104th birthday. Her zodiac sign is Cancer. Scroll down to know about her full biography, net worth, personal life, husband, net worth, career, birthday, wiki, age, facts, height, and more.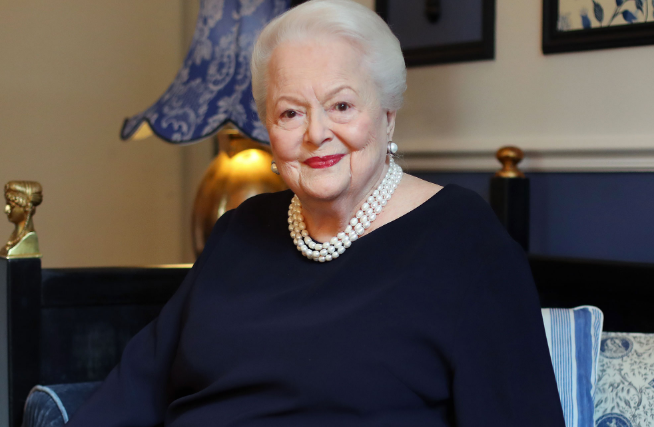 Source: @people.com
Olivia de Havilland, star of 'Gone With the Wind,' dies at 104
Olivia de Havilland, a two-time Oscar winner and for decades the last surviving star of "Gone With the Wind," has died at the age of 104. The actress died Sunday of natural causes at her residence in Paris, Goldberg said. She lived in Paris for more than six decades. She emerged as a star during the classic movie era-first as a romantic partner for Errol Flynn in swashbucklers such as "Captain Blood" and "The Adventures of Robin Hood" and then as Melanie Hamilton Wilkes in "Gone With the Wind" (1939), considered the top moneymaking film of all time when adjusted for inflation.
Olivia de Havilland's Career
She began her movie career by debuting in the film adaptation of Reinhardt's "A Midsummer Night's Dream" which was filmed at Warner Bros. studios from 19th December 1934 to 9th March 1935.
Although the film was not successful, she got noticed for her beauty and acting skills.
Later, two minor comedies followed, "Alibi Ike" with Joe E. Brown and "The Irish in Us" (both 1935) with James Cagney in which she played a sweet, innocent, and wholesome young woman.
Olivia was paired with Errol Flynn for the first time in the action-adventure tale "Captain Blood" (1935). In the film, she played Arabella Bishop, the niece of a Jamaica plantation owner, who purchases at auction an Irish physician wrongly condemned to servitude.
The film was nominated for four Academy Awards, including Best Picture.
The pairing turned out to be a success and the duo went on to become one of the most popular on-screen couples in Hollywood. Altogether, they acted together in eight films.
She then appeared in Mervyn LeRoy's historical drama "Anthony Adverse" (1936) with Fredric March. The film earned six Academy Award nominations, including Best Picture.
That same year, she was reunited with Flynn in Michael Curtiz's period action film "The Charge of the Light Brigade".
She later renegotiated her contract with Warner Bros. and signed a seven-year contract on 14th April 1936, with a starting weekly salary of $500 (equivalent to $9,200 in 2019).
She had her first top billing in Archie Mayo's comedy "Call It a Day" (1937).
After that, she made her role in a romantic drama "Gold Is Where You Find It" (1938) which was her first appearance in a Technicolor film.
In September 1937, she was selected by Warner Bros. studio head Jack L. Warner to play Maid Marian opposite Errol Flynn in "The Adventures of Robin Hood" (1938).
In Ray Enright's romantic comedy "Hard to Get" (1938), she played another ditzy rich girl, Margaret Richards, whose desire to exact revenge on a gas station attendant leads to her own comeuppance.
In the 1939 film "Gone with the Wind," she played 'Melanie Hamilton,' a gentle and kind woman. For her role, she earned an 'Academy Award' nomination for 'Best Supporting Actress' for her portrayal of 'Melanie.'
She began filming Michael Curtiz's historical drama "The Private Lives of Elizabeth and Essex" (1939) and later she was lent out to Samuel Goldwyn Productions for Sam Wood's romantic caper film "Raffles" (1939).
She did agree to play in Curtis Bernhardt's musical comedy-drama "My Love Came Back" (1940).
In the 1941 comedy-drama, "The Strawberry Blonde," she played an outspoken advocate for women's rights, a role that was much appreciated by the film critics.
In Mitch Leisen's romantic drama "Hold Back the Dawn" with Charles Boyer for Paramount Pictures, she transitioned to a different type of role for her‍; ‌an ordinary, decent small-town teacher whose life and sexuality are awakened by a sophisticated European gigolo, whose own life is positively affected by her love.
She was reunited with Flynn for their eighth movie together, Raoul Walsh's epic "They Died with Their Boots On".
She appeared in Elliott Nugent's romantic comedy "The Male Animal" (1942), John Huston's drama "In This Our Life" (1942), Norman Krasna's romantic comedy "Princess O'Rourke" (1943).
Some of her notable roles in the 1940s and 1950s are "To Each His Own" (1946), "The Well-Groomed Bride" (1946), "The Snake Pit" (1948), "The Heiress" (1949), "My Cousin Rachel" (1952), "Not as a Stranger" (1955), "The Ambassador's Daughter" (1956), and "The Proud Rebel" (1958).
Her best-received performances during this period were in Guy Green's romantic drama "Light in the Piazza" (1962).
The year 1962 also saw the publication of de Havilland's first book, "Every Frenchman Has One".
She appeared in her final motion picture leading roles in two films released in 1964, both of which were psychological thrillers.
In Walter Grauman's "Lady in a Cage", she played a wealthy poet who becomes trapped in her mansion's elevator and faces the threat of three terrorizing hooligans in her own home.
She appeared in Robert Aldrich's "Hush...Hush, Sweet Charlotte" with her close friend Bette Davis.
She was President of the Jury of the 18th Cannes Film Festival, the first woman to serve as the jury president.
Her first venture into the medium was a teleplay directed by Sam Peckinpah called "Noon Wine" (1966) on ABC Stage 67.
In the year 1972, she starred in her first television film, "The Screaming Woman", about a wealthy woman recovering from a nervous breakdown.
In the year 1979, she appeared in the ABC miniseries "Roots: The Next Generations" in the role of Mrs. Warner, the wife of a former Confederate officer played by Henry Fonda.
Her last feature film was "The Fifth Musketeer" (1979).
During the 1980s, she began focusing on television and remained active in doing TV roles.
Her popular television projects include television film "Murder Is Easy" (1982), biographical drama film "The Royal Romance of Charles and Diana" (1982), and the 1986 ABC miniseries "North and South, Book II."
In the year 1988, she appeared in the romantic television drama "The Woman He Loved."
In the year 2010, she almost made her big-screen comeback after a hiatus of 22 years when James Ivory planned a film adaptation of "The Aspern Papers." Unfortunately, the project never was done.
Olivia de Havilland's Awards and Achievements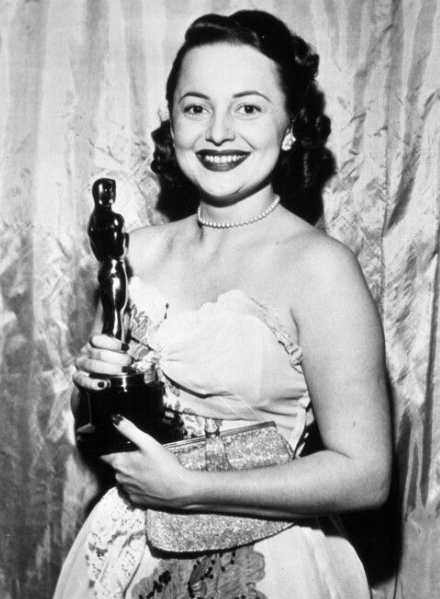 Source: @pinterest.com
Olivia de Havilland is a very talented actress and she has won many awards till now. She won the 'Academy Award' for 'Best Actress in a Leading Role' twice; she first won the award in 1946 for "To Each His Own" and then in 1949 for "The Heiress". Her role as 'Catherine Sloper' in "The Heiress" earned her the 'Golden Globe Award' for 'Best Motion Picture Actress' and 'New York Film Critics Circle Award' for 'Best Actress' in the year 1949. In 2008, she was presented with the 'National Medal of Arts.' The medal, which is conferred to an artist on behalf of the American people, was given to her by the then-President George W. Bush.
Olivia de Havilland's Personal Life
Reflecting on the marital status of Olivia de Havilland, she is a married woman. She was first married to Marcus Goodrich who is a Navy veteran, screenwriter, and novelist. The duo married in the year 1946. The duo is blessed with the son as well who is named Benjamin Goodrich; born on 27th September 1949. He was diagnosed with Hodgkin's lymphoma at the age of 19. He worked as a statistical analyst for Lockheed Missiles and Space Company in Sunnyvale, California, and as an international banking representative for the Texas Commerce Bank in Houston. He died on 1st October 1991, in Paris at the age of 42 of heart disease brought on by treatments for Hodgkin's disease, three weeks before the death of his father. But their marriage ended in divorce in the year 1953. After that, she tied the knot for the second time on 2nd April 1955. Her second husband Pierre Galante was an executive editor for the French journal 'Paris Match.' The couple had one daughter; Gisele Galante; born on 18th July 1956. After studying law at the Universite de Droit de Nanterre School of Law, she worked as a journalist in France and the United States. This marriage too ended in divorce in the year 1979, but the two remained close until Galante's death in the year 1998. Since 1956, de Havilland has lived in the same three-story house near Bois de Boulogne park in the Rive Droite section of Paris. At present, she is living a happy life without any disturbances. Her sexual orientation is straight.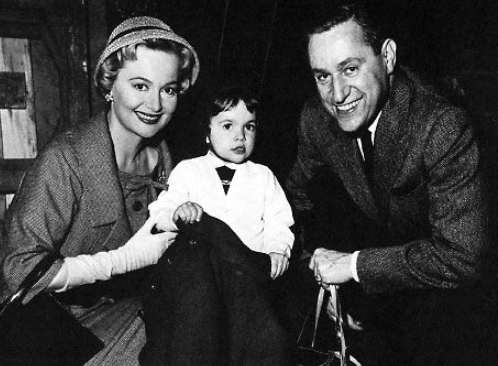 Source: @pinterest.com
Previously, she had dated Howard Hughes, James Stewart, and John Huston.
Olivia de Havilland's Net Worth 2020
Olivia de Havilland is a British-American actress and centenarian. As of 2020, the net worth of Olivia is estimated to have $25 Million as per sources. She has starred in many cult classics and has also appeared on television. Her source of earning is from an acting career. Ѕhе іѕ а lеgеndаrу асtrеѕѕ whоѕе mоvіеѕ hаvе grоѕѕеd mіllіоnѕ аt thе bох оffісе. Ѕhе hаѕ аlѕо реrfоrmеd іn mаnу thеаtrеѕ lіkе 'Whаt Еvеrу Wоmаn knоwѕ', 'Саndіdа', аnd 'Rоmео аnd Јulіеt'. Moreover, she has also appeared on the radio and has also performed in many short subjects. She also earned a cool amount of money from her book career. She is satisfied with her earnings at present and she is living a luxurious lifestyle.