About Padma Lakshmi
Padma Parvati Lakshmi Vaidynathan simply known as Padma Lakshmi is an award-winning American activist, model, and television host. Moreover, she is also an author. As an author, she has published four books: three cookbooks Tangy, Tart, Hot & Sweet, The Encyclopedia of Spices & Herbs: An Essential Guide to the Flavors of the World, Easy Exotic, and a memoir Love, Loss, and What We Ate. Her first theatrical film appearance was in 1995 in the documentary, "Unzipped". But her role was uncredited. In the year 2001, she made her first credited appearance in the romantic drama movie, "Glitter", in which Mariah Carey and Terrence Howard were cast in important roles. In the year 1998, she made her first TV show appearance in the adventure drama miniseries, "Il Figlio di Sandokan". She is seriously multilingual and converses in five languages (English, Hindi, Tamil, Spanish, and Italian) with perfect ease. Additionally, he is the co-founder of the Endometriosis Foundation of America (EFA). She has been suffering from a painful disease since the age of 13 but wasn't diagnosed until the age of 36. She has been appointed as the global ambassador for Keep a Child Alive organization. She is the American Civil Liberties Union ambassador for immigration and women's rights. When she appeared on the long-running talk show "The View" in 2007, she became the first woman of Indian origin to make a guest appearance and also serve as a co-host on the popular talk show. She is the current host and one of the judges on the television show "Top Chef", having joined in 2006 during its season 2. Her show "Taste the Nation" on Hulu premiered on 18th June 2020.
Recently, on 1st September 2020, Padma Lakshmi's age turned 50. She celebrates 50th birthday with bikini snap, reflects on 'year of misery and elation'. She hit the half-century mark on Tuesday and in celebrating her milestone, reflected on the year as a whole while offering inspirational words for her fans. She said "This year has been a mix of misery and elation. The whole world was swallowed up by the plague In March. We were lucky but so many weren't and I felt an impending doom, creeping anxiety I could not shake," she penned in a lengthy post on Instagram. "Then another Black life was taken and it was good that we all rose up- but so painful too. So painful that some of our fellow Americans could not even bring themselves to say that Black lives matter, some who hold our highest offices." She said amid the global coronavirus pandemic, her family has grown together in unimaginable ways and took the moment to issue a minuscule pat on the back for the success of her Hulu series "Taste the Nation." "But personally, at home things were peaceful. We made a cocoon for our family. We lived for the first time all under one roof. We became closer," she explained. "And professionally, I finally got to show the world what I would do if I got to build a show from scratch. 'Taste the Nation' was well received beyond my wildest dreams, 100% even on rotten tomatoes!" She shared a revealing bikini snap while she stood along a beach and held a small starfish in the palm of her hand. A second image showed her among her family in a swimming pool.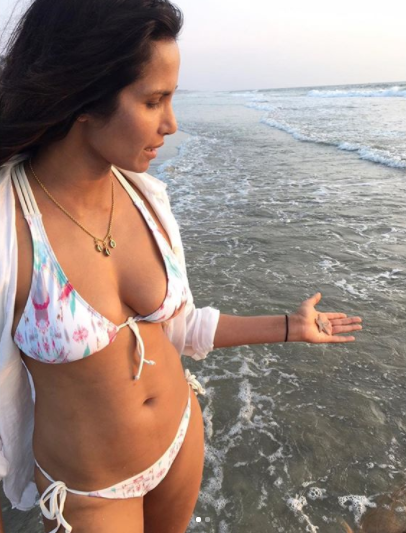 Source: @instagram.com/padmalakshmi
Padma Lakshmi is famous for being an American-Indian author, actress, model, TV host, as well as an executive producer. She is best known for having worked as the judge as well as the host of the popular cooking TV series, "Top Chef". She is better known for making guest appearances in popular movies and TV series such as The Mistress of Spices, 30 Rock, and Star Trek: Enterprise. She is famous for being one of the first popular supermodels of Indian origin. She has modeled for leading fashion brands such as Gianni Versace, Emanuel Ungaro, Giorgio Armani, and Ralph Lauren. She is best known for being an outspoken advocate for immigrant rights and the independent restaurant industry.
Padma Lakshmi was born on 1st September 1970 in Madras, Tamil Nadu, India with the birth name/real name of Padma Parvati Lakshmi Vaidyanathan. She is of Tamil-Indian ethnicity and she holds an American-Indian nationality. Her religion is Hinduism and her Zodiac sign is Virgo. She was born to her parents; Vaidyanathan (father), who was an Executive in a pharmaceutical company, Pfizer) and Vijaya Lakshmi (mother), who was a retired oncology nurse. Her parents later divorced when she was only 2 years old. After then, she immigrated to the United States at four and was raised in Manhattan, New York, before moving to La Puente, California with her mother and stepfather. She has a younger paternal half-sister who is a classical dancer and actress. While growing up in Los Angeles, she stated that she was bullied and endured racial aggression, which caused her to struggle to overcome "internalized self-loathing." While growing up, she felt that her ethnic name made her sort of an outcast, so to assimilate into the American society, she decided to go by the name Angelique. It was in college that she decided to use her birth name once again. When she was 14 years old, she was hospitalized for three weeks, and eventually diagnosed with Stevens-Johnson syndrome, a rare illness caused by hypersensitivity to an infection, or a potentially fatal reaction to certain kinds of medications. She was also injured in a car accident in Malibu, California, which left her with a fractured right hip and a shattered right upper arm which required surgery, which left her with a seven-inch scar between her elbow and shoulder. Regarding her education, she went to William Workman High School in the City of Industry, California in 1998. Then, she attended Clark University, in Worcester, Massachusetts. She began her modeling career while an exchange student in Madrid, Spain. Lakshmi graduated with a degree in theater arts and American literature in 1992. At present, she is residing in a classy and elegant apartment in New York City in the United States. As of 2020, she celebrated her 50th birthday.
Previously, she was raped at the age of 16 which she revealed a 1986 sexual assault and wrote, "It took me decades to talk about this with intimate partners and a therapist. Now, 32 years after my rape, I am stating publicly what happened. I am speaking now because I want us all to fight so that our daughters never know this fear and shame and our sons know that girls' bodies do not exist for their pleasure and that abuse has grave consequences."
Beautiful actress, Padma Lakshmi has maintained her body a lot at the fifties as well. She stands tall at a height of 5 feet 9 inches or 1.75 m. Her balanced bodyweight consist of 68 kg matching with her perfect height. She has a body measurement of 38-27-40 inches. She wears a bra size of 36B. Her body build/body shape is an hourglass. She has a pair of brown eyes and her hair color is black. She follows a regimented and disciplined workout routine. She works out five days a week with two days reserved for weightlifting and the remaining three days for boxing sessions. She had two ovarian cysts removed when she was 30, but her doctor did not inform her that she had a chronic condition that needed to be monitored. In 2005, she was rushed to the hospital because of severe abdominal cramps.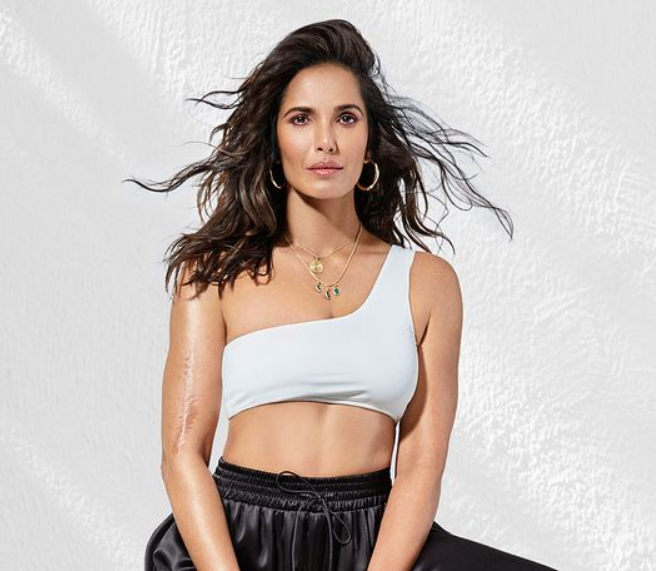 Source: @womenshealthmag
Padma Lakshmi's Modeling, Acting Career
Padma Lakshmi initially began her career with modeling at the age of 21 when she was found by a modeling agent. She even said, "I was the first Indian model to have a career in Paris, Milan, and New York. I'm the first one to admit that I was a novelty."
She then modeled for designers such as Emanuel Ungaro, Giorgio Armani, Gianni Versace, Ralph Lauren, and Alberta Ferretti, and appeared in ad campaigns for Roberto Cavalli and Versus.
Moreover, she has appeared on the covers of Redbook, Vogue India, FHM, Cosmopolitan, L'Officiel India, Asian Woman, Avenue, Industry Magazine, Marie Claire (India Edition), Harper's Bazaar, Town & Country, and Newsweek.
She also posed nude for the May 2009 issue of Allure.
She has done shoots for photographers Mario Testino and Helmut Newton.
As of now, she is doing the job of host and she is one of the judges on the TV show "Top Chef", which joined in 2006 during its season 2. She has since hosted the show consecutively, with season 17 at the latest. Additionally, she serves as an executive producer of the show.
She also collectively expands and redefines the meaning of American food in "Taste the Nation" which is the new series on Hulu.
She also served as a host of "Domenica In" which is Italy's top-rated television show as of 1997.
She even hosted the Food Network series "Padma's Passport", which was part of the larger series "Melting Pot" in the year 2001, where she cooked recipes from around the world.
Not only this but also she hosted two one-hour specials in South India and Spain for the British culinary tourism show "Planet Food", broadcast on the Food Network in the U.S. and internationally on the Discovery Channels.
For the season 19 of "The View", she was an official contributor.
Source: @foodanddine
She competed and won against music producer Randy Jackson in an episode of TBS's "Drop the Mic" that aired on 26th December 2017.
She made her debut film by appearing in the Italian pirate movies "The Son of Sandokan" and "Caraibi" (Pirates: Blood Brothers).
She also had a comical supporting part as the lip-synching disco singer Sylk in the 2001 American movie "Glitter".
Also, she made a guest appearance as alien princess Kaitaama in "Precious Cargo," the 37th episode of the science fiction TV series "Star Trek: Enterprise" in the year 2002.
After that, she Madhuvanthi in the TV movie "Sharpe's Challenge" (aired 2006).
She then appeared in ABC's Biblical TV series "The Ten Commandments" as Princess Bithia in the year 2006.
She has also starred in the video for the Eels song "That Look You Give That Guy" in the year 2009.
Likewise, she appeared in the 2003 Bollywood film "Boom", alongside Katrina Kaif and Madhu Sapre.
Later, she played the role of Geeta in Paul Mayeda Berges's 2005 film "The Mistress of Spices".
She also made a guest appearance on the NBC series "30 Rock" in the year 2009 and appeared on "Whose Line Is It Anyway?" in the year 2014.
Beside this,
She launched her first line of jewelry, "Padma" in the year 2009.
She also has two tableware collections.
She also has a line of specialty spices and teas as well as a line of organic frozen rices under the Easy Exotic brand.
Books and Writing of Padma Lakshmi
Padma Lakshmi is also an author who released her first book in the year 1999 titled "Easy Exotic".
Her second cookbook, Tangy, Tart, Hot, and Sweet, was released on 2nd October 2007.
Her first memoir, "Love, Loss and What We Ate", was released on International's Women's Day, 8th March 2016.
And she released her third cookbook, an encyclopedia, and cookbook, "The Encyclopedia of Spices and Herbs" in October 2016.
She also wrote a column on style for Harper's Bazaar (the UK and US editions) following a commission from editor Glenda Bailey.
Awards and Achievements of Padma Lakshmi
Padma Lakshmi is an award-winning woman. She has hosted the Emmy-award winning cooking competition program "Top Chef" on Bravo continuously since season 2 (2006). For her work, she received a Primetime Emmy nomination for Outstanding Reality Host in 2009. For her first book "Easy Exotic", she was awarded the Best First Book at the 1999 Gourmand World Cookbook Awards in Versailles.
Padma Lakshmi's Husband and Daughter, Krishna Thea Lakshmi-Dell
Padma Lakshmi is a married woman previously. Talking about her recent affairs, in the month of April of 2014, she began her relationship with an American actor, Richard Gere. Later their relation breaks up after the six months of their together. As of now, she seems to be living a single life happily with her daughter as there is no spark about her dating or being in a new relationship. Her sexual orientation is straight.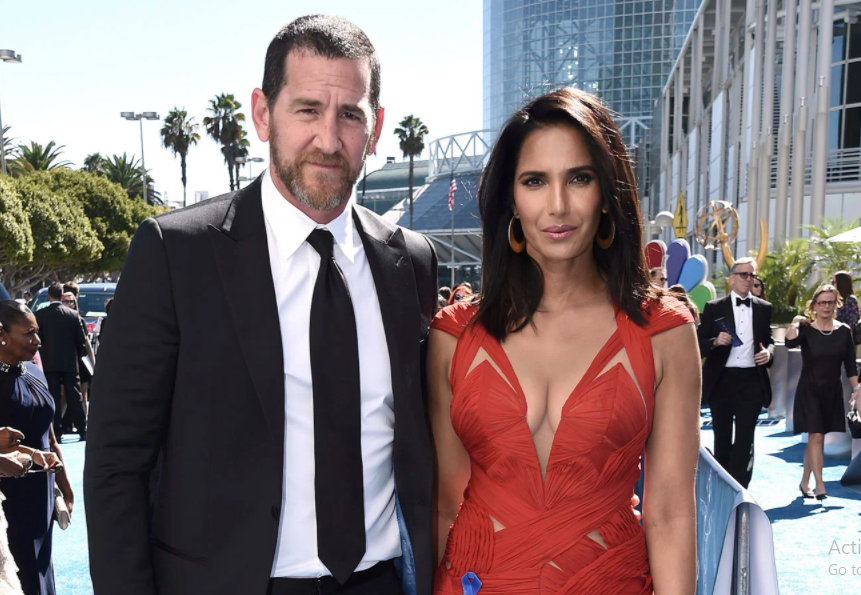 Source: @usmagazine
Previously, she started dating Salman Rushdie and married in April 2004. When they started dating, Salman was officially a married man. However, he had assured the Padma that he and his wife Elizabeth West had separated a long time ago. He eventually divorced West and moved in with Lakshmi. Later, due to some issues, the couple could not continue their relationship and divorced in July 2007 after the three years of their together. After that, she began her relationship with a financial speculator, Adam Dell. They had been reportedly introduced by mutual friends. Their relationship, which came to an end in the early months of 2009. The couple was also blessed with a baby girl whose name is Krishna Thea Lakshmi-Dell who was born in February 2010. She wasn't sure who the father was as she was also dating Theodore Forstmann who is the ex administrator and previous CEO of IMG. After testing DNA, it is proved that her daughter's father is Adam Dell. Parting with Adam Dell, she was reportedly going out with Nur Khan, who owned a couple of popular nightclubs and hotels in New York City, in 2008. They were spotted together on a couple of occasions but their affair didn't last long. She dated billionaire investor Ted Forstmann, who passed away in 2011 of brain cancer. When he passed away, he left trust funds worth millions of dollars in Krishna's name. She was reportedly linked with comedian and actor David Spade in 2010. She even started going out with hotelier Vikram Chatwal towards the end of 2012.
Padma Lakshmi's Net Worth
The multi-talented actress, model, author, executive producer, and TV host, Padma Lakshmi has accumulated a huge amount of money from her multi career. As of 2020, the net worth of Padma Lakshmi is estimated to have $30 Million. She has earned a huge amount of wealth from her the great work that is appearing on TV as an actress and host, from modeling and from the books she authored. She is making $50 thousand per episode for the "Top Chef" series. She is satisfied with her earnings as of today and she is living a luxurious lifestyle from her earnings. She has also done endorsements for Carl's Jr. Hamburgers and Red (2014).