About Paris Jackson; Daughter of Late Michael Jackson, the King of Pop
The only daughter of the late king of pop, Michael Jackson; Paris Jackson is an American model and actress. She is the second child of legendary singer, Michael Jackson and Debbie Rowe. She rose to fame after her father's death and became the topic of discussion every time when she was caught in camera. Jackson made her TV appearance in 2003 from the documentary, Living with Michael Jackson. In 2017, she appeared on the cover of Rolling Stone. In the same year, she signed a modeling contract with IMG Models. As of 2018, she appeared in the movie Gringo as Nelly. She is very active on Twitter and she has over 1 million followers on Twitter. Recently, Michael Jackson's daughter Paris says she's grateful he made her wear masks as a child. She said wearing the masks allowed her and her brothers Prince, 23, and Blanket, 18, to grow up normal. Speaking on her Facebook Watch series Unfiltered: Paris Jackson & Gabriel Glenn, Paris said that Jackson wasn't able to enjoy a normal childhood thanks to his music career and wanted different for his own kids. Paris Jackson was born with the birth name of Paris-Michael Katherine Jackson on 3rd April 1998 in Beverly Hills, California. She was born to her parents; legendary singer; Michael Jackson (Father) and Debbie Rowe (Mother). Jackson is American by nationality and belongs to Mixed ethnicity (African-American and White). Her parents named her after the French city where she was conceived. She also has two siblings, Michael Joseph Jackson Jr., and Prince Michael Jackson II. After her parents divorced in 1999, her father raised her in Neverland Ranch. Her mom is dating Marc Schaffel as of now. Her father, Michael Jackson unexpectedly died on 25th June 2009, leaving her and her siblings in the custody of their grandmother. Elizabeth Taylor and Macaulay Culkin are her godparents. Her father died when she was eleven years old and made her first public appearance at her father's funeral, where she thanked him for being a great father. To hide their faces she along with her siblings used to wear masks during public outings. Her sun sign is Aries and her religion is Christian. About her education, she began attending a private school with her brother Prince Michael when she was in 7th grade. She was rushed to the hospital for an alleged suicide attempt in June 2015. She received permission from her grandmother and guardian, Katherine Jackson, to begin making public appearances and to take the first steps towards becoming an actress. As of 2020, she celebrated her 22nd birthday. Scroll down to know more about her career details, boyfriend, dating, height, tattoos, family details, age, wiki, facts, birthday, and more.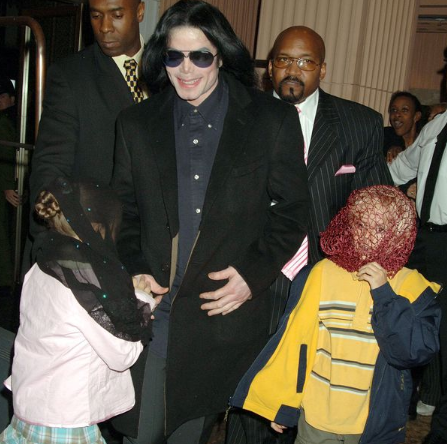 Source: @mirror.co.uk
Paris Jackson's Career
There is no exact information about how Paris Jackson began her career.
She came into the limelight after her father's death and became the topic of discussion every time when she was caught in camera.
She accepted her father's posthumous Lifetime Achievement Award at the 2010 Grammy Awards.
She has also made an appearance on Living with Michael Jackson: A Tonight Special in 2003.
She made her first TV appearance in 2003 in ''Living with Michael Jackson''.
In 2009, she attended the function of Michael Jackson Memorial, a tribute to her father.
Her appearance at the 52nd Annual Grammy Awards in 2010 was notable.
She made her acting debut in 2011 from the children's fantasy film, Lundon's Bridge and the Three Keys. Ultimately, the film was not produced.
Jackson, her two siblings and her grandmother Katherine made plans to put together a documentary film entitled "Remembering Michael" in remembrance of her deceased father.
People magazine included Paris Jackson in their "Most Beautiful List".
She was featured on the cover of Rolling Stone in the year 2017.
She also signed a modeling contract with IMG Models and also appeared as a guest star in the musical drama TV series, Star created by Lee Daniels and Tom Donaghy in 2017.
She was awarded Emerging Talent Awards in 2017.
She worked in the crime comedy film, "Gringo" with Charlize Theron, Joel Edgerton, David Oyelowo, and Amanda Seyfried in the year 2018.
Besides her acting career, she and musician/singer Gabriel Glenn formed a musical duo named The Soundflowers in 2018.
They also performed their first gig at Canyon Sessions on 23rd June 2018, with original songs "Daisy" and "In the Blue". Jackson sings and plays the ukulele while Glenn also sings and plays acoustic guitar.
The Soundflowers released their first self-titled EP on 24th June 2020.
Paris Jackson's Net Worth 2020
Paris Jackson is a very famous actress as well as a model whose net worth is believed to be $100 million as of today. Her late father, Michael Jackson has a net worth of $500 million and he was also known as the highest-paid dead celebrity. Moreover, she is also an IMG Model since 2017. In August 2018, she became the international ambassador of the fashion brand Penshoppe. A very big portion of Paris' millions comes from the 2016 sale of her father's 50% stake in the Sony music publishing company. This was a very lucrative investment as he owned the rights to a variety of iconic songs, even some from the Beatles. Despite the fact that she's worth $100, she lives fairly modestly. She also has a Jeep Wrangler, price starts from $23,999. She also has a cross-breed dog Koa and a Labrador named, Kenya worth $800-$1200. Her exact salary has not revealed yet. Her major source of earning is from her acting and modeling career. She is living a luxurious lifestyle from her earnings without a doubt. She along with her siblings gets $8 million allowances every year. In the year 2014, they spent the money on the things mentioned below:
Vacations = $350k
Walking Around Money = $1500-$2000
Jewelry = $50k
Cars = $40k
School Tuition = $30k
Paris Jackson is DATING Gabriel Glenn
Paris Jackson is not married yet. But she is not single at present. The famous model is currently in a relationship with Gabriel Glenn. Regarding the profession of Gabriel Glenn, he is a singer and musician. The duo started dating since 2018. With Gabriel, she has started a band named "The Soundflowers". At present, the duo is enjoying life a lot without any disturbances. They are often spotted in public places as well. Her sexual orientation is bisexual. On 13th July 2018, in response to a question on her Instagram profile about whether she is bisexual, she wrote: "That's what you guys call it so I (sic) guess but who needs labels." She later added to Twitter: "Everyone has known for years I came out when I was 14, WTF." and "How many times have I publicly referred to the community as 'my fellow LGBTQ+'? Like, even on stage. I've been a part of the community for years. I even mentioned having crushes on girls when I was eight in a magazine before. I've been caught kissing girls in public." She also added to her Instagram page: "And I'm not bisexual, I just love people for people." recently, in July 2020, she discussed her sexuality in her docuseries, "Unfiltered: Paris Jackson & Gabriel Glenn", in which Jackson stated "Never thought I'd end up with a dude; thought I'd end up marrying a chick or..." She also stated that she has "dated more women than men" but that she "wouldn't consider myself bisexual because I've dated more than just men and women; I've dated a man that had a vagina."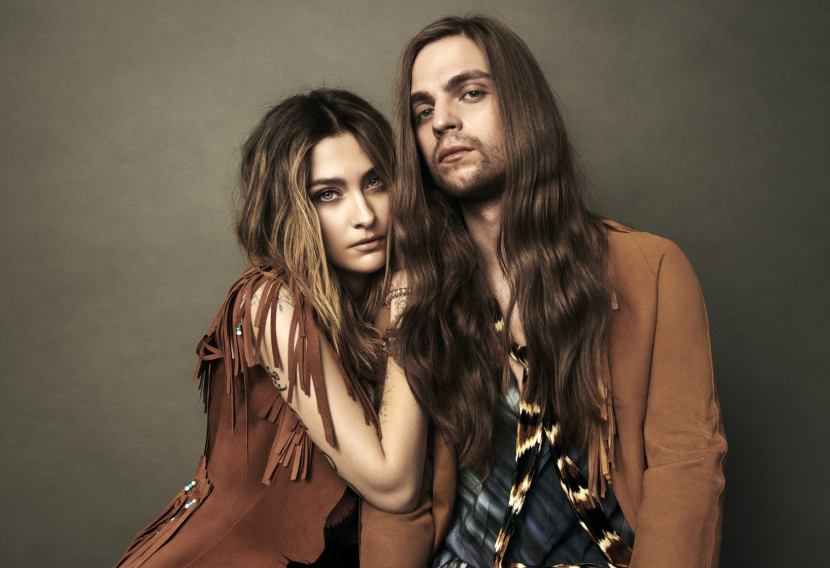 Source: @xsnoize.com
Previously, she was in a relationship with soccer player Chester Castellaw in 2015. The couple was spotted for the first time at a gas station in Malibu in October 2015. The relationship between the couple did not last long and broke up in 2017 for some undisclosed reasons. After that, she started going out with drummer Michael Snoddy after having met at the Alcohol Anonymous group meeting. They were hot and heavy for each other right from the start and indulged in generous PDA on social media. Their relationship took a hit in February 2017 but she decided to focus on her budding modeling career and put her relationship on the back burner. But, it is reported that the break up might be a temporary thing. In the year 2018, Paris was spotted kissing model, Cara Dlevingne outside the Carlotps Gardel steakhouse in LA. They were also spotted being cozy in several places. They were rumored to be dating. Later, in February 2018, the ladies were seen close during London Fashion Week. They had reportedly first met during MTV Movie and TV Awards in May 2017 in Los Angeles. They reportedly broke up in April 2018. In December 2017, Paris's dating rumors with reality star Tom Kilbey surfaced on the internet. But, Paris called Tom as her 'big brother'.
In March 2019, TMZ posted an article stating Jackson had attempted suicide by cutting her wrists earlier in the month and was placed on a psychiatric hold. The story was picked up by a number of other media outlets. She denied the suicide attempt, writing to TMZ on Twitter "fuck you you fucking liars" and "lies lies lies omg and more lies." Paris arrived at her LA apartment after attempting suicide. She was wearing a jacket that said, "Puppies And I'm Fine." Paris Jackson was hospitalized Saturday after she attempted suicide and family sources tell us it's due in large to the fallout from "Leaving Neverland." It was told to our sources that she slit her wrists and she was transported to a hospital and placed on 5150 holds. She's currently in stable condition. The fallout from "Leaving Neverland" has been severe. Michael's music and TV appearances have been getting muted since HBO aired the project. Previously, she has had a hard time since her dad's death in 2009. She attempted suicide back in 2013 as well and has been open about her struggles with depression in the past. Paris Jackson is "doing fine" after slamming a report that she attempted suicide on Saturday.
Paris Jackson's Tattoos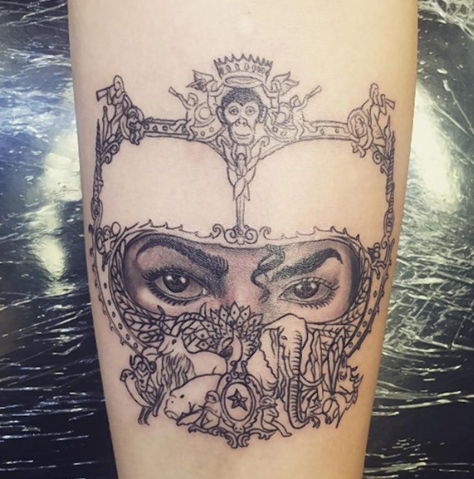 Source: @nydailynews.com
Paris Jackson loves tattoos a lot. She has spent a lot of money on a tattoo. She has over fifty tattoos on her face. Additionally, she has also inked over a dozen tattoos on her body. She inked on her left ankle with the Standing Rock Tatto, a design by Stephanie Big Eagle, a descendant of the Oceti Sakowin and No DAPL movement participant. As of August 2018, she has inked on her body of:
Voodoo Veve on her upper arm
Sunflower on her forearm
feather behind her ear
Bird, writing on her side
Cross, Skull on her ankle
Eagle, Geometric design on her ankle
Portrait, writing on her elbow
Wolf on her forearm
Bird, Elephant, Eye, Goat, Monkey, Peacock on her forearm
Cactus, name on her ankle
Spaceship on her ankle
"Snoddy" on her ankle (covered-up)
Rabbit, writing on her forearm
Dagger, Snake, wings on her bicep
Writing on her lip
Arrow, Deer, Heart on her forearm
Paris Jackson's Height, Weight, Body Measurements
Paris Jackson is a very hot and sexy model with a slim body build. He has a tall height of 5 ft 9 in and has a balanced weight of 56 Kg. Her eye color is blue and her hair color is Light brown. Her body measurement is 34-24-35 in or 76-61-89 cm. Her dress size is 2 (US) or 34 (EU) or 6 (UK). Her bra size is 32B. Her shoe size is 8 US.
Paris Jackson's Personal Likes
Her favorite movie is Captain Fantastic (2016) and her favorite actress is Emma Waston. Her favorite band is Gun N' Roses. Her favorite book is A Thousand Splendid Suns and The Secret.