About Pat Robertson
Pat Robertson was a prominent figure in American media, renowned as a media mogul, religious broadcaster, political commentator, and Southern Baptist minister. With a strong emphasis on conservative Christian values, he played an active role in Republican Party politics and became associated with the Charismatic movement within Protestant evangelicalism. Throughout his illustrious career spanning over five decades, he founded numerous organizations, including the Christian Broadcasting Network (CBN), Regent University, Operation Blessing International Relief and Development Corporation, and the American Center for Law & Justice (ACLJ), among others. His influence extended to his best-selling books and as the host of The 700 Club, a renowned Christian news and TV program that reached audiences across the United States and worldwide. As the son of U.S. Senator A. Willis Robertson, he came from a prominent political background. While being an ordained minister within the Southern Baptist denomination, he embraced a charismatic theology that differed from the traditional Southern Baptist beliefs. He ventured into the political arena in 1988 as a candidate for the Republican presidential nomination but was unsuccessful in his bid. Following his political aspirations, he did not hold any official roles within a church again. Robertson's conservative stances on various social issues, including LGBT rights, feminism, and abortion, made him a controversial figure, garnering both support and criticism for his outspoken views. In October 2021, on the sixtieth anniversary of the first telecast of The 700 Club, Robertson announced his retirement from the show at the age of 91, marking the end of an era in his remarkable career. Sadly, Pat Robertson dies on 8th June 2023 at his home in Virginia Beach, Virginia, at the age of 93.
Pat Robertson Early Life & Family
Born on March 22, 1930, in Lexington, Virginia, USA, Pat Robertson entered the world as the younger son of a notable political family. His father, Absalom Willis Robertson, served as a conservative Democratic Senator, while his mother, Gladys Churchill, excelled as both a housewife and musician. Throughout his childhood, his older brother, Willis, affectionately bestowed the nickname "Pat" upon him, leading Robertson to embrace it as his preferred first name. He held American nationality while his ethnicity was American-White. For the last time, Pat celebrated his 93rd birthday. His zodiac sign was Aries as per his birthdate.
In his formative years, he attended prestigious educational institutions, starting with the preparatory McDonogh School near Baltimore, Maryland, and later enrolling in The McCallie School in Chattanooga, Tennessee, where he graduated with honors. Fueling his academic pursuits, he pursued a Bachelor of Arts degree in History at Washington and Lee University, where he not only excelled but also became a member of Phi Beta Kappa, the esteemed academic honor society. Additionally, Robertson joined the Sigma Alpha Epsilon fraternity, cherishing his college experiences and acknowledging his affinity for the lovely young ladies attending nearby girls' schools. After completing his undergraduate studies, Robertson earned his bachelor's degree from Washington and Lee University, marking a significant milestone in his educational journey.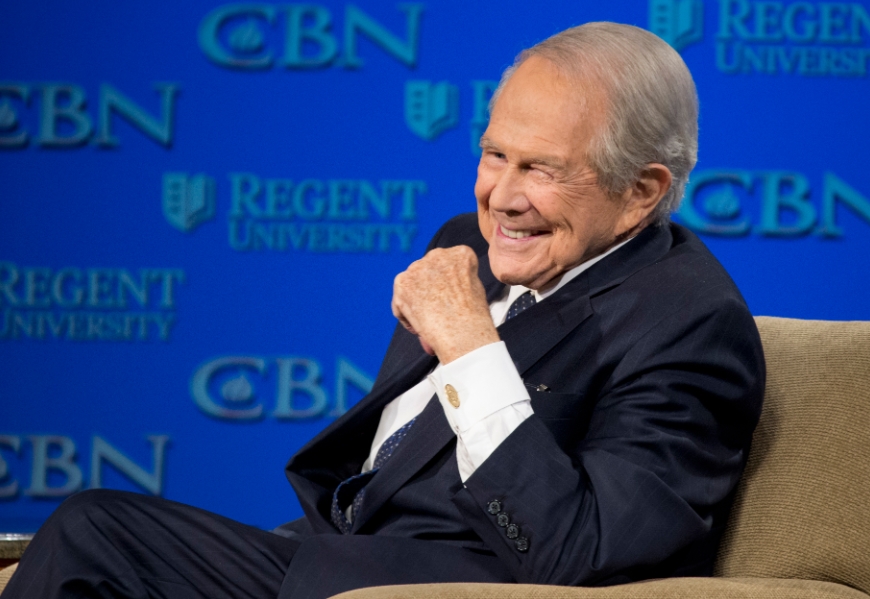 Pat Robertson Career
In 1948, Pat Robertson faced the choice between joining the U.S. Marine Corps or being drafted into the U.S. Army, and he chose to enlist in the Marine Corps.
He described his military experience as involving challenging marches, firearms training, and bayonet combat.
He later transferred to Korea, where he served in the headquarters command of the First Marine Division during the Korean War.
For his service, Robertson received three Battle Stars.
In 1986, a former congressman challenged Robertson's military record, leading to a libel suit that Robertson eventually dropped in 1988 to focus on his presidential campaign.
After his military service, Robertson earned a law degree from Yale Law School, though he did not pass the New York bar exam.
Instead of pursuing law, he had a religious conversion and obtained a Master of Divinity degree from The Biblical Seminary in New York.
This conversion led him to leave the corporate world and enter the ministry.
In a life-changing encounter in 1956, he crossed paths with Cornelius Vanderbreggen, a Dutch missionary whose lifestyle and message left a deep impression on him.
Vanderbreggen shared a verse from Proverbs that resonated with Robertson: "Trust in the Lord with all thine heart; and lean not unto thine own understanding. In all thy ways acknowledge Him, and He shall direct thy paths." This scripture became the guiding principle for Robertson's life.
In 1961, he was ordained as a minister of the Southern Baptist Convention.
The following year, he embarked on a new venture by purchasing the license of a defunct UHF station in Portsmouth, Virginia, which he transformed into the Christian Broadcasting Network (CBN).
On October 1, 1961, the station, WYAH-TV, commenced its first broadcast. In a groundbreaking move, CBN launched the CBN Satellite Service on April 29, 1977, becoming the first religious cable network in America.
Eventually evolving into The Family Channel, it connected with cable systems nationwide. The venture's success prompted Robertson to spin off The Family Channel as a commercial entity, which he sold to News Corporation for a staggering $1.9 billion in 1997.
Additionally, in 1994, Robertson endorsed the document "Evangelicals and Catholics Together", solidifying his stance on ecumenical cooperation.
In 1977, he established CBN University, a private Christian institution located on CBN's campus in Virginia Beach.
Over the years, the university, now known as Regent University since 1990, has grown significantly, offering a diverse range of academic programs through its eight schools.
With a curriculum spanning over 150 areas of study, Regent University grants associate, bachelor's, master's, and doctoral degrees. The university's mission is exemplified by its name, as a "regent" represents Christ in all areas of service.
Regent University has garnered acclaim, consistently being recognized as the top-ranked online bachelor's program in Virginia for ten consecutive years by U.S. News & World Report.
Furthermore, the university's graduate schools, including law, social sciences, and humanities doctoral programs in psychology, public affairs, and education, have received commendations in the 2023 rankings.
Robertson held the esteemed position of chancellor and CEO at the university. In addition to his involvement in higher education, Robertson founded the American Center for Law & Justice, a prominent law firm dedicated to safeguarding constitutional freedoms and upholding conservative Christian principles.
Headquartered in Washington, D.C., and affiliated with Regent University School of Law in Virginia Beach, this organization has faced criticism from some who perceive Robertson as an advocate of dominionism.
Robertson's Operation Blessing offered vital medical assistance to underprivileged communities in developing nations, ensuring access to healthcare for those in need.
Following the Rwandan genocide in 1994, Robertson appealed for donations to provide medical supplies to refugees in neighboring Zaire, where he had diamond mining operations.
However, allegations arose that Operation Blessing's planes were used to transport diamond-mining equipment to Robertson's mines, a claim he vehemently denied.
In Forbes' 2021 ranking of the "100 Largest Charities," Operation Blessing/CBN secured the #44 spot, with an impressive efficiency rating exceeding 90%.
His influence extended across various domains as he founded and chaired multiple organizations and broadcast entities, including The Christian Broadcasting Network (CBN) Inc., International Family Entertainment Inc., Regent University, Operation Blessing International Relief and Development Corporation, American Center for Law and Justice, and The Flying Hospital, Inc., among others.
In 1990, he formed International Family Entertainment Inc. (IFE), which produced and distributed family-oriented programming worldwide. Notably, IFE's flagship network, The Family Channel, garnered 63 million subscribers and was later sold to Fox Kids Worldwide, Inc. for a staggering $1.9 billion in 1997, subsequently undergoing name changes.
Robertson's entrepreneurial ventures extended to Asia, the United Kingdom, and Africa, and he even collaborated with General Nutrition Center to develop and market a weight-loss shake.
In 1999, a joint venture with the Bank of Scotland for financial services in the United States fell through due to protests over Robertson's biblical views. While estimates of his wealth varied, Robertson discredited these figures as unsubstantiated.
Controversy emerged regarding alleged business dealings with Liberian President Charles Taylor, although Robertson denied such claims. Robertson also ventured into the realm of horse racing, competing under the name Tega Farm, with notable successes like Tappat winning prestigious races.
Despite a nomination, his horse Mr. Pat did not participate in the 2000 Kentucky Derby.
Robertson's involvement in politics and advocacy spanned various roles and positions. He served as the president of the Council for National Policy and was part of the Victims of Crime Task Force for President Reagan.
In Virginia, he contributed to the state's economic development initiatives and served on the Governor's Council of Economic Advisors. Robertson founded the Christian Coalition, a prominent Christian right organization that campaigned for conservative candidates.
His endorsement of Rudy Giuliani for the Republican nomination in the 2008 Presidential election drew criticism from some social conservatives due to Giuliani's stance on abortion and gay rights.
Despite his political affiliations, Robertson endorsed environmental causes and appeared in a commercial alongside Al Sharpton to raise awareness about global warming.
Robertson expressed opposition to the division of Jerusalem and predicted a future battle over the city.
He also held evolving views on the legalization of cannabis, initially supporting it as a regulated substance but later opposing its legalization.
In a surprising move, he announced his bid for the Republican presidential nomination in 1986, setting a unique condition for his candidacy: he required three million volunteers to sign up by September 1987.
Surpassing expectations, the response was overwhelming, and with millions of dollars in campaign funds raised, Robertson officially declared his candidacy.
Temporarily stepping down from his ministerial role, he handed leadership of CBN to his son, Tim.
Running on a conservative platform aligned with Ronald Reagan's policies, including lower taxes, a balanced budget, and a strong defense, Robertson gained significant support and achieved a notable second-place finish in the Iowa caucuses, surpassing George H.W. Bush. However, his momentum dwindled after a weak performance in the New Hampshire primary, leading to his withdrawal from the race before the completion of all primaries.
At the 1988 Republican National Convention, Robertson urged his remaining supporters to vote for Bush, who ultimately secured the nomination and presidency.
Robertson returned to his role as a religious broadcaster at CBN, continuing his influential work in that domain.
Robertson's controversial book, "The New World Order", achieved significant success, becoming a bestseller on The New York Times list. However, it garnered criticism for propagating theories of a worldwide Jewish conspiracy, as highlighted by Ephraim Radner and other reviewers who pointed out Robertson's reliance on anti-Semitic works.
In another instance, Robertson expressed his critical views on the State Department in an interview with Joel Mowbray, stating that changing American diplomacy required reducing the size of the department.
Throughout his career, Robertson authored numerous books, including autobiographies, spiritual guides, and works on topics ranging from miracles to financial advice, such as "The Secret Kingdom", "Turning Tide", "Right on the Money", "The Power of the Holy Spirit in You: Understanding the Miraculous Power of God", "I Have Walked With the Living God", "Right on the Money: Financial Advice for Tough Times", and more.
Pat Robertson Death Cause
On June 8, 2023, Pat Robertson passed away at the age of 93 at his home in Virginia Beach, leaving a void in the world of faith and conservative activism. Reactions to his death varied, with former President Donald Trump offering condolences and praising Robertson's impact on faith and freedom, despite their previous disagreements. Others, such as progressive political commentator David Pakman, held a more critical perspective, viewing Robertson as an influential figure with damaging effects on American society over the past half-century. In a series of life events, he faced health challenges that tested his resilience. On August 11, 2017, he was hospitalized after a fall during a horseback riding incident, resulting in minor injuries. Then, on February 2, 2018, Robertson experienced an embolic stroke at his home in Virginia Beach. Quick action from a family member and prompt medical intervention, including the administration of clot-busting medication, led to his responsive state within eighty minutes of the stroke's onset. After two days of hospitalization, he continued his recovery at home, expressing gratitude for the exceptional care he received and encouraging others to educate themselves about strokes. He returned to his hosting duties on The 700 Club on February 12, resuming his role with unwavering dedication. In June 2019, he faced another setback when he fell and broke three ribs, leading to his absence from The 700 Club for several days. Upon his return, he acknowledged the pain he endured but exemplified his resilient spirit by expressing the tenacity of "us old guys" and his appreciation for the prayers offered by viewers.
Pat Robertson Net Worth
Pat Robertson, a multi-faceted visionary, made his mark as a media mogul, religious broadcaster, political commentator, and presidential candidate. With an estimated net worth of $100 million in 2023, his fortune was a testament to his diverse ventures. From founding CBN and other successful organizations to expanding his media holdings across Africa, Asia, and the United Kingdom, Robertson demonstrated his acumen as a businessman. He ventured into financial services through a partnership with the Bank of Scotland and authored several acclaimed books. As the founder of Operation Blessing and the Christian Coalition of America, he showcased his commitment to philanthropy and conservative advocacy. Residing in a magnificent mansion sprawling across 11,000 square feet in Bath County, Virginia, Robertson enjoyed the fruits of his success. His substantial wealth derived from a thriving business career and flourishing presence in the entertainment industry, where he earned millions annually. Widely recognized as one of the world's most influential media figures, Robertson's legacy encompassed the groundbreaking Christian Broadcasting Network, the establishment of Regent University, and his bid for the 1988 Republican Party presidential nomination. Among his notable works are "The New World Order," "The End of the Age," and "Courting Disaster," which reflect his intellectual contributions and impact on society.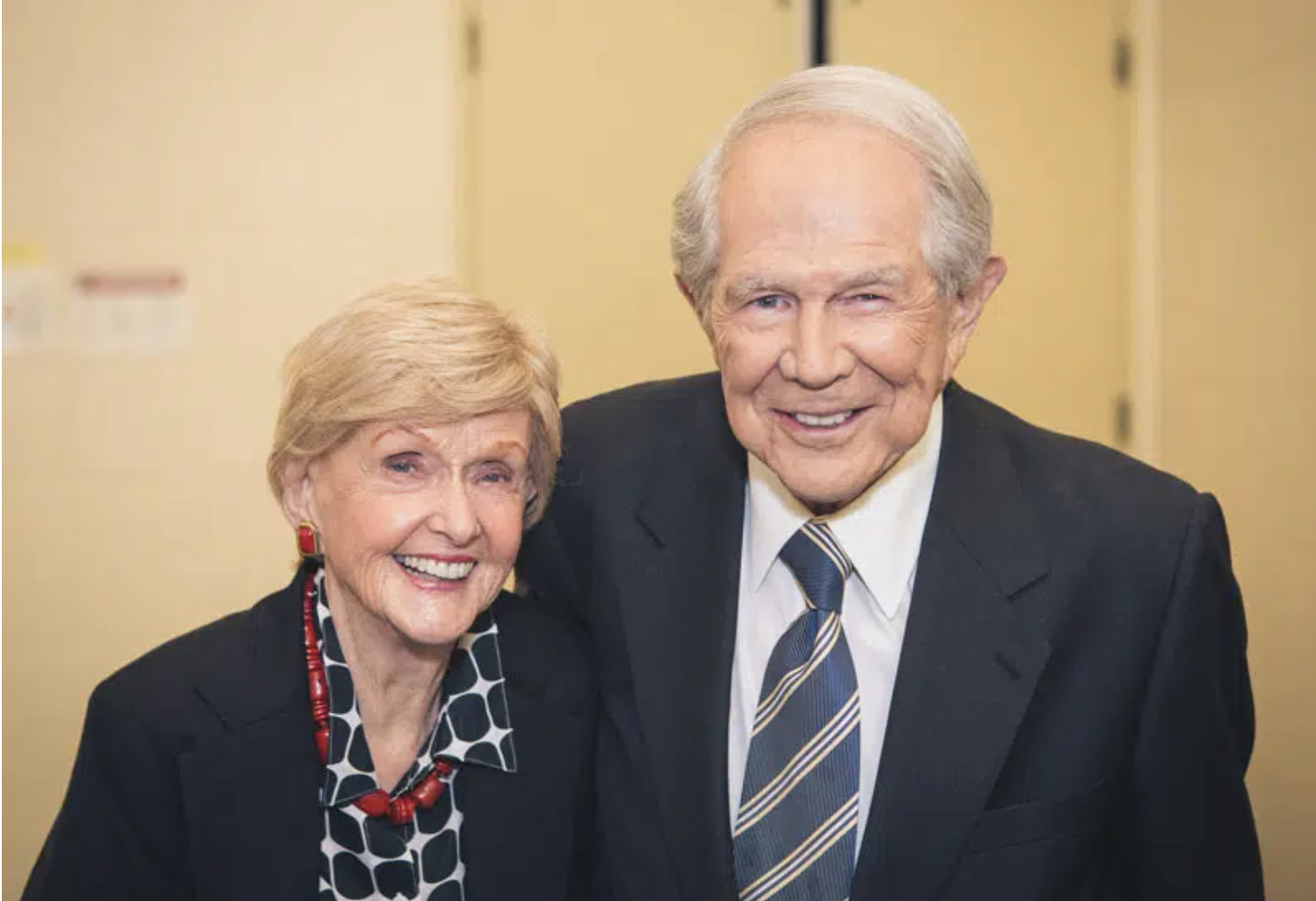 Pat Robertson Wife
Pat Robertson entered the bonds of marriage in 1954 with his wife, the remarkable Adelia "Dede" Elmer. Dede, a beauty queen and fashion model who had competed in the Miss Ohio State pageant, pursued her nursing studies at prestigious institutions like Yale University and Ohio State University. Their marital journey lasted until 2022 when Dede passed away, leaving behind a legacy of love and shared experiences. Together, they were blessed with four children who carry the names of Gordon P. Robertson, Tim Robertson, Elizabeth Faith Robertson, and Anne Carter Robertson, further enriching their family tapestry. His sexual orientation was straight.
Pat Robertson Height & Weight
Pat Robertson, a man of striking allure in his prime, possessed a captivating charm that radiated from his handsome visage. With a beaming smile that could light up a room, his glowing complexion accentuated his attractive personality. Standing at an impressive height of 1.73 meters and maintaining a slender body type with a weight of 79 kilograms, Robertson exuded an air of elegance. His distinctive features included his lustrous white hair, adding a touch of wisdom and grace to his appearance, complemented by his captivating light brown eyes that held a hint of warmth and depth.