About Phil Collins
Phil Collins is an n English drummer, singer, songwriter, multi-instrumentalist, record producer, as well as an actor. Phil is best known for being a member of the former rock band "Genesis". Some of his hit singles are "In the air tonight", "One more night", "Another Day in Paradise", and "A groovy kind of love". He has sold more than 33 million copies of records, across eight albums with over $550 million earnings worldwide making one of the best-selling artists of his generation. He began a solo career in the 1980s, initially inspired by his marital breakdown and love of soul music, releasing a series of successful albums, including Face Value (1981), No Jacket Required (1985), and ...But Seriously (1989). He became "one of the most successful pops and adult contemporary singers of the '80s and beyond". In the year 1996, he left Genesis to focus on solo work; this included writing songs for Disney's Tarzan (1999) for which he received an Oscar for Best Original Song for "You'll Be in My Heart" and then again he joined Genisis for their Turn It On Again Tour in 2007. He also released an autobiography in 2016 and completed his Not Dead Yet Tour in the year 2019.
Phil Collins is reportedly once again locked in a legal battle with his third wife Orianne Cevey, whom he divorced 12 years ago, claiming that Phil is attempting to evict his former wife after she allegedly tied the knot with a younger man behind her former spouse's back. According to the newspaper, Cevey has been accused of changing the locks on Collins' Miami mansion and refusing to leave. He was ordered to pay Cevey an eye-watering £25 million (AU$45M) when the couple divorced in 2008, after nine years of marriage. The settlement was a British record at the time. Just eight years after their widely-publicized split, the couple who share two sons Nicholas, 19, and Matthew, 15 reconciled, after the Genesis star cared for Cevey when she had surgery on a slipped disc in her neck in 2015. The former spouses have been living together in the lavish property with their teen sons ever since, although it is not known whether they were still involved romantically. It is reported that he is preparing to file an eviction notice to kick his former wife out of the property, claiming Cevey tied the knot with an American businessman in Las Vegas earlier this year, despite telling Collins she was in Nevada on business. According to the British publication, Cevey married Florida native Thomas Bates, 31, at the Graceland Wedding Chapel in Vegas on August 2.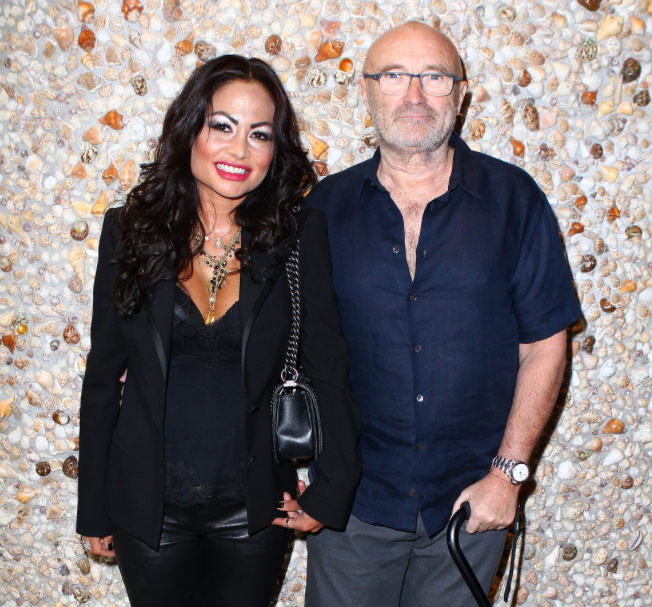 Source: @thesun.co.uk
Phil Collins is famous for being an English drummer, singer, songwriter, multi-instrumentalist, record producer, and actor. He is best known for being the drummer/ lead singer of the rock band "Genesis". He is also better known for his songs, such as Against All Odds, Two Hears, Another Day in Paradise, and In the Air Tonight. He also became known for a distinctive gated reverb drum sound on many of his recordings.
Phil Collins was born with the birth name/real name of Philip David Charles Collins on 30th January 1951, in Chiswick, Middlesex, England. His nationality is British and his ethnicity is White Caucasian. His horoscope sign is Aquarius and his religion is Christian. He was born to his parents; Greville Philip Austin Collins (father) and Winifred June Collins (mother). His father was an insurance agent while his mother was a theatrical agent. He also has two siblings. He grew up along with his older brother, Clive who is a noted cartoonist, and his sister, Carole who is a former professional ice skater. He was given a toy drum kit for Christmas when he was five, practicing which he spent hours growing up. His professional training in acting and singing began at the tender age of 14 in Barbara Speake Stage School.
Concerning his education, he attended high school at the Chiswick County School for Boys, where he started a band of his own, named "Real Thing". After that, he joined "Freehold", with which he wrote his first song, "Lying Crying Dying". In the year 1987, he received an honorary doctorate of fine arts at Fairleigh Dickinson University, followed by an honorary doctorate of music at the Berklee College of Music in 1991 and an honorary doctorate of history at the McMurry University in Abilene, Texas, in 2012. As of 2020, he celebrated his 69th birthday.
Phil Collins is a handsome man with a slim body build. He stands tall with a height of 1.68 m while his body weighs around 68 Kg. He has a fair complexion with blue eyes and bald hair. He wears glasses which perfectly suits him. He maintains his body a lot and at this age, he is very conscious of his health. Overall, he has got good health. Back then, he had several health issues. In the year 2000, he developed sudden hearing loss in his left ear, even went surgery to repair dislocated vertebrae in his upper neck in the year2009, and even alluded to feelings of depression and low self-esteem in recent years and revealed he had contemplated suicide, but he resisted for the sake of his children in 2010. He also stated that he had been sober for 3 years after he struggled with an alcohol problem following his retirement and divorce. In 2017, Collins developed a type 2 diabetic and had received treatment with a hyperbaric chamber by 2018. He then began to use a cane to assist with walking and performs on stage while sitting in a chair.
Phil Collins's Career
Phil Collins began his career by acting at 14 where his first major role arrived in 1964 as the Artful Dodger in two West End runs of the musical "Oliver!".
was an extra in the Beatles' film "A Hard Day's Night" (1964) among the screaming teenagers during the television concert sequence. This was followed by a role in "Calamity the Cow" (1967).
He also auditioned for the role of Romeo in "Romeo and Juliet" (1968) but the role went to Leonard Whiting.
In the year 1969, he performed in John Walker's backing band for a European tour.
After the tour, the four stayed together and became the rock band Hickory, which they later renamed "Flaming Youth." The band recorded one album, "Ark 2" (1969). Later, the band split after a year of the release of their album.
After that, he began his singing career as the drummer of the rock band, "Genesis", following the departures of drummer John Mayhew and guitarist Anthony Phillips in the mid-1970.
From the year 1970-1975, he played drums and percussion and sang (largely backing) vocals on Genesis albums and in their live shows.
His first album recorded with the group, "Nursery Cryme", was released in the year 1971.
He sang "More Fool Me" on their 1973 album, "Selling England by the Pound".
In the year 1974, he played drums on Brian Eno's second album, "Taking Tiger Mountain (By Strategy)".
In August 1975, after the band's lead singer, Peter Gabriel quit, he became the band's lead vocalist during the recording of their album "A Trick of the Tail". The album became a roaring success in both the US and the UK.
He then sang and played drums, vibraphone, and percussion on Hackett's first solo album, "Voyage of the Acolyte".
In a couple of years in 1977, Collins, Tony Banks, and Mike Rutherford decided to continue Genesis as a trio and released the band's 9th album, "...And Then There Were Three..." in 1978 with a popular single, "Follow You Follow Me".
In the year 1978, the band took a break during which he played drums on two albums, namely, "Grace and Danger" and "Product".
After Banks and Rutherford rejoined Collins, they worked on the Genesis' 10th album, "Duke", which was released in the year 1980.
On 13th February 1981, he released his debut solo album titled "Face Value", which became an international success, reaching number one in seven countries worldwide and number seven in the US, where it went on to sell 5 million copies.
On 18th September 1981, Genesis released "Abacab", which was the band's eleventh studio album which was followed by its 1981 supporting tour and a two-month tour in 1982 promoting the Genesis live album "Three Sides Live".
Hos second solo album, "Hello, I Must Be Going!", was released in November 1982.
In February 1984, he released "Against All Odds", the main theme for the film, "Against All Odds" which became his first solo single to top the Billboard Hot 100, earning him the Grammy Award for Best Pop Vocal Performance, Male.
After that, he released his most successful album, the Diamond-certified "No Jacket Required", in February 1985. The album topped the charts in both the US and the UK.
In October 1985, he reunited with Banks and Rutherford to record the Genesis' 13th album, "Invisible Touch".
His first film role since embarking on his music career was in the British romantic comedy drama-crime film, "Buster"(1988).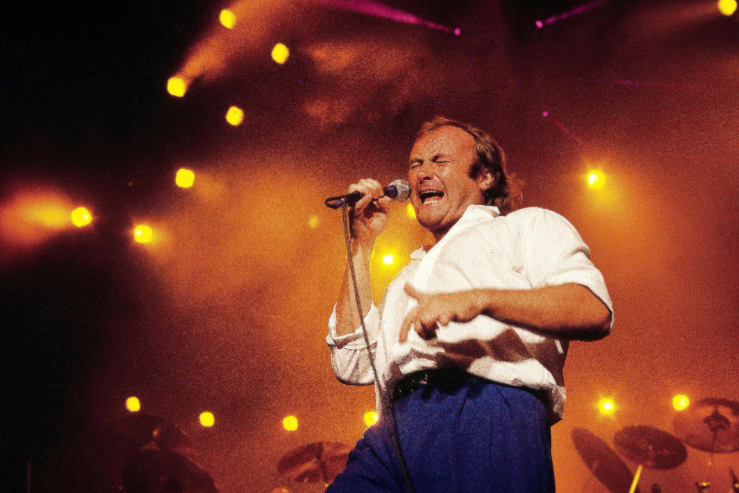 Source: @thoughtco
After that, he starred as Buster Edwards, a criminal convicted for his role in the "Great Train Robbery".
In the year 1989, he released his fifth solo album "...But Seriously" with the lead single, "Another Day in Paradise", which became the UK's best-selling album of 1990 and is among the best-selling albums in UK chart history.
His last album with Genesis was its fourteenth album, "We Can't Dance"(1991), which became the band's fifth consecutive No. 1 album in the UK and reached No. 4 in the U.S.
He quit the band in March 1996 and then he formed the Phil Collins Big Band, seating himself on the drums.
In October 1996, Collins released his sixth solo album, Dance into the Light. It reached No. 4 in the UK and No. 23 in the US.
In October 1998, he released his first compilation album, "...Hit".
He then wrote songs for Disney's "Tarzan"(1999) for which he received an Oscar for Best Original Song for "You'll Be in My Heart".
On 11th November 2002, he released his seventh solo album, "Testify".
After then, he reunited with Banks and Rutherford and announced: "Turn It On Again: The Tour" on 7th November 2006, nearly 40 years after the band first formed.
His eighth album, "Going Back" was released on 13th September 2010 which reached number one on the UK Albums Chart.
In May 2015, he signed a deal with Warner Music Group to have his solo albums remastered and reissued with previously unreleased material.
In October of that year, he announced that he was no longer retired and had started plans to tour and make a new album.
In October 2016, his autobiography "Not Dead Yet" was published.
In March 2020, Collins, Banks, and Rutherford announced they had reformed Genesis and are to undergo "The Last Domino? Tour" in Spring 2021 which will feature his son Nic on the drums.
Awards and Achievements of Phil Collins
Phil Collins has received eight Grammy Awards, six Brit Awards (winning Best British Male Artist three times), two Golden Globe Awards, one Academy Award, and a Disney Legend Award. He was awarded six Ivor Novello Awards from the British Academy of Songwriters, Composers, and Authors, including the International Achievement Award. He received a star on the Hollywood Walk of Fame in 1999 and was inducted into the Songwriters Hall of Fame in 2003 and the Rock and Roll Hall of Fame as a member of Genesis in 2010. He has also been recognized by music publications with induction into the Modern Drummer Hall of Fame in 2012, and the Classic Drummer Hall of Fame in 2013.
Phil Collins's Wife and Kids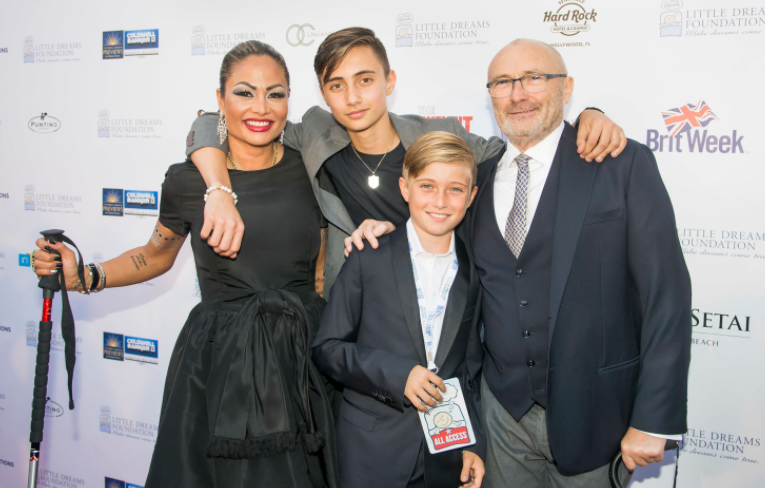 Source: @thierryisambert
Phil Collins is a married man and he has been divorced three times. Firstly, he married his beautiful wife, Canadian-born Andrea Bertorelli in 1975 in England when they both were 24 but their relationship lasted only 5 years till 1980. Before they got married, he adopted Bertorelli's daughter Joely (b. 1972). They together had a son named Simon Collins born on 14th September 1976, who is the former vocalist and drummer of the progressive rock band Sound of Contact. After the end of his first marriage, he married his second wife, Jill Tavelman in the year 1984. They together have a daughter named Lily Collins (b. March 1989) who is a popular actress, model, and actress. His wife found his having affair while touring with Genesis in the year 1992 with Lavinia Lang, a former drama school classmate. They even were engaged before but their relationship ended. After 10 years of their marriage, Collins stated that he had fallen out of love with Tavelman and had filed for divorce, which finalized in 1996 with a settlement of 17 Million Euros. He then married Orianne Cevey for the third time. He met her on a tour where Orianne was working as his translator. The duo later married in the year 1999 and have two sons, Nicholas (b. 2001) and Matthew (b. 2004). They lived in the former house of Jackie Stewart in Begnins, Switzerland. In 2006, Collins announced their intention to separate, which was followed by their divorce in 2008. They got divorced in 2008 where Collins paid 25 Million Euros to Cevey, which became the largest settlement in a British celebrity divorce. As of today, he is living in Fechy, Switzerland. He is living a single life happily without any disturbances. His sexual orientation is straight and he is not gay.
Phil Collins's Net Worth and Salary
Phil Collins is a very talented and successful drummer as well as a singer who has made a huge amount of money from his career since the 1960s. He has released numerous songs and albums till now. As of 2020, the net worth of Phil Collins is estimated to have $260 million. He made this fortune by selling more than 100 million albums worldwide as a solo artist. In 2012, he was ranked in the second position in the list of world's wealthiest drummers. He is one of the most talented drummers in the world whose contribution to the music industry can't be forgotten. Whereas the details about his exact salary are still to get unfold yet. The major source of his income is music career and the royalty that he got from the sales of his music album.