Prince Royce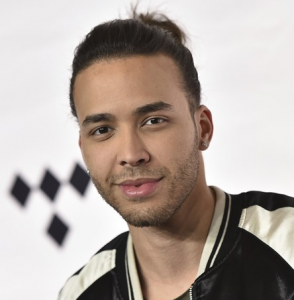 Full Name
Prince Royce
Age
31 Years Old
Nick Name
Prince Royce
Gender
Male
Famous As
Singer
Birth Date
May 11, 1989
Birth Place
New York, New York, USA
Prince Royce & Emeraude Toubia Get Married in Secret Wedding
Congratulations to the newlyweds!
The Dominican bachata crooner and Mexican-Lebanese actress have tied the knot on Friday (29th March 2019). Prince Royce officially married his princess Emeraude Toubia in a fairy tale secret wedding. The singer-songwriter and Shadowhunters star wed in an "intimate and ultra-private" wedding in the heart of Mexico. Prince Royce, whose real name is Geoffrey Royce Rojas, shared the breathtaking cover on his Instagram. "We want to share this moment with all of you, especially with our fans," the singer shares in his native Spanish. Their wedding photos are just one of the few moments that the dynamic duo has let fans take a glimpse into their ultra-private lives. Though the pair have dated for over eight years, they didn't confirm their relationship until 2016. Moreover, fans didn't even know that Prince Royce and Esmeraude were engaged until they saw the wedding photos.
Early Life, Birth Facts, Parents, Siblings, Education, Birthday, Wiki And More
Prince Royce was born on 11th May 1989, in The Bronx, a borough of New York City with the birth name of Geoffrey Royce Rojas. His nationality is American and his ethnicity is White. His mother's name is Angela Rojas and his father's name is Ramon Royce. His father drove a taxicab and his mother worked at a beauty salon. At present, his age is 29 but his age will be 30 on his upcoming birthday in May as of 2019. He has three siblings and he was born to Dominican parents. His religion is Cristian and his horoscope sign is Taurus. When he was young, he participated in a choir in the elementary school, competed in various talent shows and, at 13, began writing poetry which turned into songwriting. There is no more information regarding his education.
Body Measurements (Height, Weight, And More)
Prince Royce is a very handsome and cool singer. He has a white face. He stands 5 feet 8 inches tall. He has dark brown hair color and his eye color is brown. There is no information about his body measurement, shoe size, dress size and more. He has got a very charming smile and glowing face.
Career (Beginning-Present) of Prince Royce
Royce began making music with a partner named Jose Chusan better known as "Jino" when he was only 15.
The duo was also known as Jino and Royce, El Duo Real.
He then started making music with his longtime friend & producer Donzell Rodriguez, and Vincent Outerbridge known as "L Snipe & Vinny" when he was 16.
The duo eventually had a meeting with Atlantic Records in early 2007.
With the declination of reggaeton music, he made the ultimate decision to focus more on the bachata industry.
He met Andres Hidalgo, who after hearing his previous demo instantly became his manager at the age of 19.
Hidalgo began helping Royce work hands-on with bachata music which became the turning point for Royce, helping him to decide that pursuing a musical career is what he wanted to do.
Hidalgo later introduced Royce to Sergio George, who immediately signed Royce to his label, Top Stop Music, after listening to 3 of his demos.
He then released his eponymous debut studio album on 2nd March 2010.
The album debuted on the Billboard Latin Albums chart at 15.
The lead single from the album, "Stand by Me" (a cover of Ben E. King's 1961 song) peaked at number 1 on the US Billboard Tropical Songs chart.
The album eventually reached number 1 on the US Billboard Latin Albums chart & was certified double platinum by the Recording Industry Association of America (RIAA).
It earned him a nomination for Best Contemporary Tropical Album at the Latin Grammy Awards of 2011.
At the 2011 Premio Lo Nuestro Awards, he won 3 awards in the Tropical genre, including Male Artist of the Year, New Soloist or Group of the Year, & Song of the Year.
He was also nominated for 6 awards at the 2011 Latin Billboard Music Awards.
In addition to this, he won 3 of them: Tropical Airplay Solo Artist of the Year, Tropical Album of the Year, & Tropical Albums Solo Artist of the Year.
He also went on to collaborate with Daddy Yankee on the song "Ven Conmigo", which was included on the latter's album, Prestige.
In May 2011, he signed with Atlantic Records.
On 10th April 2012, he released his 2nd studio album, Phase II.
In 2012, he was featured as one of the People en Espanol's "Sexiest Men Alive".
His second album was later nominated for Best Tropical Fusion Album at the Latin Grammy Awards of 2012.
This made him a 3-time Latin Grammy-nominated artist.
In November 2012, Royce's label decided to release a collection of his hits thus far; titled #1's which was released on November 19, 2012, & debuted at number 3 on the Billboard Latin Albums chart. This album was later nominated for Tropical Album of the Year at the 2014 Latin Billboard Music Awards.
He then signed a record deal with Sony Music Entertainment to release his third Spanish-language studio album under Sony Music Latin & debut English recording under RCA Records.
His third album, Soy El Mismo, was released on October 8, 2013, & reached number 14 on the Billboard 200 which earned him his second nomination for Best Contemporary Tropical Album at the Latin Grammy Awards of 2014.
He was then nominated for 3 awards at the 2014 Billboard Music Awards, for Top Latin Artist, Top Latin Album, & Top Latin Song.
He released "Stuck on a Feeling" in 2014 as the first single from his fourth studio album, Double Vision.
His album; Double Vision was released on 24th July 2015.
In November 2015, he released the single "Culpa al Corazon" from his upcoming fifth studio album on January 2016.
He also embarked on a North American tour with Pitbull, titled The Bad Man Tour in July 2016.
In 2017, he was a judge in the TV show Pequenos Gigantes USA.
Net Worth, Salary, And Source of Wealth
The net worth of this famous singer is estimated to have $14 million as of 2019 but his exact salary has not been disclosed yet but there is no doubt in the mind of his follower that he is earning a considerable amount of salary from his present work. His source of income is from his singing career. He is satisfied with his earnings.
With Whom Royce Is Married? Know About His Wife, Dating History And More:
Prince Royce is a married person. He was married to actress Emeraude Toubia in 29th March 2019. Since 2011, the couple was dating. In June 2017, they engaged as well. Toubia was featured in the music video of the single "Culpa al Corazon" from Royce's fifth studio album in November 2015. As of today, the couple is very happy and they are planning to have a baby soon. His sexual orientation is straight.