James Richard Perry famed as Rick Perry is an American politician who served as the 14th United States Secretary of Energy from 2017 to 2019. He is a member of the Republican Party. Previously, he served three full terms as the 47th Governor of Texas from 2000 to 2015. On 17th October 2019, he reported to President Trump that he intended to resign as Secretary of Energy at the end of the year. He left the office on 1st December 2019.
Famous For
Being the longest-serving Governor in Texas history.
Being the Secretary of Energy under Donald Trump administration.
What is the birthplace of Rick Perry?
On 4th March 1950, Rick Perry was born in Haskell, Texas, the USA as James Richard Perry. He holds American nationality and his ethnicity is White. He was born to a father, Joseph Ray Perry, and a mother Amelia June Holt Perry. He has an older sister. He attended and graduated from Paint Creek High School in 1968. He was in the Boy Scouts (BSA), where he had earned the rank of Eagle Scout. The BSA has honored him with the Distinguished Eagle Scout Award. Later, he attended Texas A&M University. He graduated from college with a Bachelor of Science degree in animal science in 1972. He interned as a door-to-door book salesman during several summers with Southwestern Advantage until his graduation from college. His religion is Christian. As of 2019, he celebrated his 69th birthday.
How was the career of Rick Perry?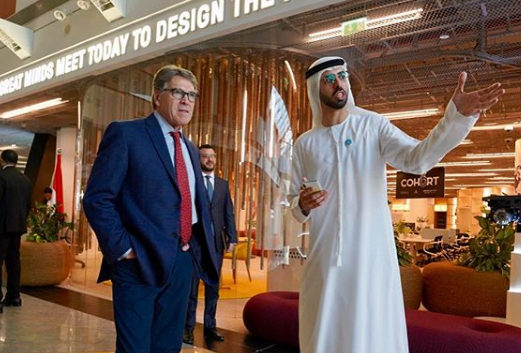 Source: @secretaryperry
Political Career
Rick Perry was elected to the Texas House of Representatives as a Democrat from District 64 in the year 1984.
He then served on the House Appropriations and Calendars committees during his three two-year terms in office.
He was also the part of the "Pit Bulls", a group of Appropriations members who sat on the lower dais in the committee room ("the pit").
Moreover, he was named one of the ten most effective members of the legislature.
He voted for a $5.7 billion tax increase proposed by Republican governor Bill Clements in the year 1987.
He announced in September 1989 that he was switching party to become a Republican.
Agriculture Commissioner

As a newly minted Republican, he challenged Jim Hightower for Agriculture Commissioner in the year 1990.
He also defeated Richard Mclver in the runoff election.
He defeated Jim Hightower in November 1990 with 49% of the vote to Hightower's 48% vote.
He was responsible for promoting the sale of Texas farm productions to other states and foreign nations as an Agriculture Commissioner.
In 1994, he was reelected Agriculture Commissioner.
Lieutenant Governor
In the year 1998, he ran for Lieutenant Governor.
He defeated Democrat John Sharp to become Texas's first Republican lieutenant governor since Reconstruction.
He took office on 19th January 1999.
Governor of Texas
George W. Bush resigned as the governor of Texas to become the President of the United States on 21st December 2000 and he assumed the office of governor in December 2000.
He won the office in his own right in the 2002 gubernatorial election receiving 58% of the vote.
He was re-elected in the 2006 gubernatorial election.
He became the first Texas governor to be elected to three four-year terms.
He also set a record for his use of the veto in the 2001 legislative session.
He rejected 82 acts, more than any other governor in any single legislative session in the history since Reconstruction.
He also formed the non-profit organization, the OneStar Foundation in the year 2003.
The foundation was formed to connect non-profits with resources and expertise to accomplish their missions and to promote volunteerism.
As a governor, he was an opponent of federal healthcare reform proposals and of the Patient Protection and Affordable Care Act.
Later, he was charged with abuse of official capacity for threatening to veto $7.5 million in funding for the Public Integrity Unit, a state public corruption prosecutors department.
He was also charged with coercion of a public servant, for seeking the resignation of Travis County District Attorney Rosemary Lehmberg, after she was convicted of drunk driving, and incarcerated.
He pleaded not guilty to both charges and was later cleared of all charged in the year 2016.
After serving three full terms as a governor, he decided not to run for re-election.
He retired in January 2015 with the 10th longest gubernatorial tenure in the US history, as well as the record of the longest-serving Texas Governor.
Presidential Campaign: 2012 and 2016

Rick Perry officially launched his presidential campaign in August 2011.
He then dropped out of the race after lagging poll numbers in South Carolina.
He officially launched his 2016 presidential race in June 2015.
He again withdrew from the race in September 2015, following poor polling after the first debate.
He ultimately endorsed Donald Trump for the presidency.
Books
He published his first book, On My Honor: Why the American Values of the Boy Scouts are Worth Fighting For in 2008.
He published his second book Fed Up! Our Fight to Save American from Washington in 2010.
Secretary of Energy
Donald Trump nominated Perry as Secretary of Energy in December 2016.
He was the designated survivor during the 2019 State of the Union.
He was one of the named dragged into the Trump-Ukraine scandal.
Trump claimed in a conference call with Congressional Republican leaders that he made a telephone call to Ukraine president Volodymyr Zelensky at Perry's urging.
On 4th October 2019, the New York Times reported that he was expected to resign as Secretary of Energy by the end of 2019, based on information from anonymous sources.
He told Trump he would resign by the end of the year on 17th October 2019.
Who is the Wife of Rick Perry?
Rick Perry is a married person. He was married to his childhood sweetheart Mary Anita Thigpen in the year 1982. The couple has two children named Griffin, and Sydney. As of today, the duo is living a happy life without any disturbances. They are enjoying their life a lot. His sexual orientation is straight and he is not gay. He is very loyal towards his wife and their relationship is going strong with the passage of time.
How much is Rick Perry's Net Worth?
Rick Perry is a very famous politician. With his political career, he has an estimated net worth of $2 million. But his exact salary is under review but there is no doubt in the mind of his followers that he is earning a considerable amount of salary from his present work. Overall, he is satisfied with his earnings at present. He is a very hardworking and sincere person towards his work.
How tall is Rick Perry?
Being at the age of 69, Rick still looks very handsome. He has a tall height of 186 cm with a balanced bodyweight of 75 Kg. His eye color is dark brown and hair color is black. His other body measurements will be added soon once we get details about it. Overall, he has got a healthy body with average body build.