About Ryan Gosling
A Canadian actor as well as a director who is best known for playing the leading role in the romantic drama, "The Notebook" is known for Ryan Gosling. His first TV show was the American variety television show, "Mickey Mouse Club" from 1993 to 1995 as himself. He appeared in just 3 episodes. He debuted on the big screen via the 1997 movie "Frankenstein and Me" for his role as Kenny. His first starring film role was as a Jewish neo-Nazi in "The Believer" (2001), and he went on to star in several independent films, including "Murder by Numbers" (2002), "The Slaughter Rule (2002)", and "The United States of Leland" (2003). He then came to more fame after he starred in several critically acclaimed films, including the financial satire "The Big Short" (2015), and the romantic musical "La La Land" (2016), for which he won the Golden Globe Award for Best Actor-Motion Picture Musical or Comedy, and received a second Oscar nomination. Further acclaim followed with the science fiction "Blade Runner 2049" (2017) and the biopic "First Man" (2018). He is a part of the band, "Dead Man's Bones". So, the band released its debut album, titled "Dead Man's Bones" in October 2009 under ANTI- Records. Gosling performs under the alias "Baby Goose".
Ryan Gosling is famous for being a Canadian actor. He is best known for working in films like Are You Afraid of the Dark? (1995), Goosebumps (1996), Breaker High (1997-1998) and Young Hercules (1998-1999), The Believer (2001), Murder by Numbers (2002), The Slaughter Rule (2002), and The United States of Leland (2003). He is also better known for his roles as Noah Calhoun in the 2004 hit movie "The Notebook" and as Dan Dunne in the film "Half Nelson" (2006).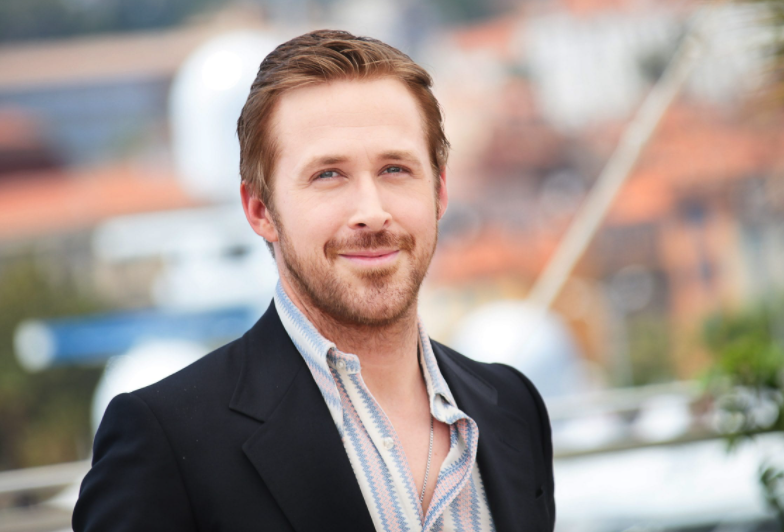 Source: @filmdaily.co
Ryan Gosling was born on 12th November 1980 in London, Ontario, Canada with the birth name/real name of Ryan Thomas Gosling. He holds Canadian nationality and his ethnicity is Mixed of French-Canadian, English, Scottish, and German. His race is White. He was born to his parents; Thomas Ray Gosling (father) and Donna Gosling (mother). Talking about his family member's occupation, his father is a traveling salesman for a paper mill, and his mother is a secretary who qualified as a high school teacher in 2011. He also has a sibling, an older sister named Mandi Gosling. His parents divorced when he was 13 years old. After that, he and his older sister Mandi lived with their mother. His Zodiac sign is Scorpio and his religion is Mormon. As of 2019, he celebrated his 39th birthday.
Concerning his education, he has moved a lot and so changed his schools. Ryan attended Gladstone Public School, Cornwall Collegiate and Vocational School in Cornwall, Ontario, and Lester B. Pearson High School in Burlington, Ontario. He was bullied in elementary school. So, he had no friends until he was 14 or 15. He once took knives to school and threw those on the students there. He was expelled from school and this led to homeschooling by her mother, who resigned from her job. While he was in high school, he was diagnosed with attention deficit hyperactivity disorder (ADHD). He dropped out of high school at the age of 17 to focus on his acting career.
Ryan Gosling is a very handsome actor with a slim body build. He stands tall at the height of 6 ft and his weight consist of 78 kg. His body measurement; chest size is 46 inches, waist size is 34 inches, and biceps size is 16 inches. He has an eye color of blue and his hair color is blonde. His shoe size 11(US). He has a strong jawline with a well-built physique. For the 2013 movie, Only God Forgives, he took the help from the trainer, Kui Puk, who made Ryan learn Muay Thai. Read his workout routine and diet plan.
Ryan Gosling's Acting Career
At the age of twelve, Ryan Gosling made his appearance in an open audition in Montreal for a revival of Disney Channel's "The Mickey Mouse Club". After his audition, he was given a two-year contract as a Mouseketeer and the show was canceled in the year 1995 after the contract ended.
Later, he appeared on a number of television shows, such as "Are You Afraid of the Dark?," "Goosebumps" and "Breaker High."
He also appeared in the Fox Kids adventure series "Young Hercules".
At the age of nineteen, he decided to move into serious acting and appeared in the football drama "Remember the Titans" as a supportive role.
He then co-starred in the psychological thriller "Murder by Numbers" with Sandra Bullock and Michael Pitt in the year 2002.
His second screen appearance of 2002 was in "The Slaughter Rule" with David Morse.
He starred in "The United States of Leland" as a teenager imprisoned for the murder of a disabled boy in the year 2003.
He rose to fame after his leading role in the commercially successful romantic drama film "The Notebook" (2004).
Source: @sbs.com.au
He appeared as a disturbed young art student in "Stay", a psychological thriller film co-starring Naomi Watts and Ewan McGregor int he year 2005.
He next starred as a drug-addicted teacher Dan Dunne in "Half Nelson" (2006).
He made his role in "Lars and the Real Girl" (2007) as an introvert who falls in love with a sex doll.
He next starred opposite Anthony Hopkins in the 2007 courtroom thriller "Fracture".
He co-starred with Michelle Williams in Derek Cianfrance's directorial debut, the marital drama "Blue Valentine" in the year 2010.
He then had major roles in the movies "Crazy, Stupid, Love" (2011), "The Nice Guys" (2016), and "La La Land" (2016).
He portrayed Sgt. Jerry Wooters, a 1940s LAPD officer in 2013's "Gangster Squad".
In 2014, he starred in the violent revenge drama "Only God Forgives".
His directorial debut Lost River competed in the Un Certain Regard section at the 2014 Cannes Film Festival.
He went on to film an appearance in Malick's "Song to Song" (2017) and also starred in "Blade Runner 2049" in the same year.
He then portrayed Neil Armstrong, the astronaut who became the first man to walk on the Moon in 1969, in Chazelle's biopic "First Man" in the year 2018, based on the book "First Man: The Life of Neil A. Armstrong".
In July 2020, he was reportedly confirmed to be starring opposite to Chris Evans in the spy action-thriller "The Gray Man", based on the novel of the same name, on Netflix, which would be directed by the Russo brothers via AGBO Films, with a budget of $200 million, with the intention of competing with James Bond.
In late May 2020, he was cast in the role of the Wolfman in Universal's reboot of "The Wolf Man" from 1941.
Beside this,
Ryan is also a musician who made a solo recording called "Put Me in the Car" available for download on the Internet in the year 2007.
His band, "Dead Man's Bones" released their self-titled debut album and toured North America in 2009.
He plays guitar, keyboard, bass guitar, and sings vocals for the band.
Additionally, he is a co-owner of Tagine, a Moroccan restaurant in Beverly Hills, California.
Ryan Gosling's Awards and Achievements
Ryan Gosling is an award-winning actor who has won four Teen Choice Awards in the year 2005 for his role in "The Notebook", including Choice Movie Breakout Performance-Male. In the year 2006, he received the Best Actor Award at the Las Palmas Film Festival for the movie, "Half Nelson". He won Golden Globe Awards for the film "La La Land" in 2017. He also won Satellite Awards for the film "Lars and the Real Girl" and "Drive".
Ryan Gosling's girlfriend, Eva Mendes
Source: @refinery29
Ryan Gosling is an unmarried man and he is still to get married. As of today, he is in a relationship. He is dating his beautiful girlfriend, Eva Mendes. She was spotted with Gosling at Disneyland during a weekend of Labor Day 2011. They were seen kissing and holding hands at the park. The couple also welcomed their first child, a daughter named Esmeralda on 12th September 2014. In April of 2016, they welcomed their second daughter, Amada Lee. The couple got engaged in October 2016. Presently, the couple is living a happy life and their bond is going strong with the passage of time. His sexual orientation is straight and he is not gay.
Everything You Should Know About Eva Mendes
Recent in the news, Eva Mendes says she'd 'Rather Be at Home' with Ryan Gosling 'Than Anywhere Else in the World'. Eva Mendes responded to a fan who said Ryan Gosling should "get you out more". Eva Mendes loves spending time with her man, Ryan Gosling! Staying at home is a breeze for Eva Mendes. Hanging out with her kids and longtime partner Ryan Gosling is exactly where she wants to be! On Sunday, Oct. 4, Eva posted an old photo of her in a black dress on the beach to Instagram. In the caption, she wrote, "Went for a run on the beach this morning," before clarifying she was totally joking. "No I didn't. This picture was taken at least 15 years ago. Haven't seen a beach this year. Haven't been on a run this year." Mendes and Gosling first met while on set for the drama The Place Beyond the Pines in 2012. The couple, who have kept their relationship notoriously private, share daughters Esmeralda Amada, 6, and Amada Lee, 4.

Previously, he has been in a number of affairs. He has dated Casey LaBow, Sandra Bullock, Rachel McAdams.
Ryan is supportive of various social causes. He has worked with PETA on a campaign to encourage KFC and McDonald's to use improved methods of chicken slaughter in their factories, and on a campaign encouraging dairy farmers to stop de-horning cows. He is a supporter of Invisible Children, Inc., a group that raises awareness about the LRA in Central Africa. He was a speaker at Campus Progress's National Conference in 2008 where he discussed Darfur.
Ryan Gosling's Net Worth 2020
A Canadian actor, Ryan Gosling has reached a great peak in the film industry. He is a well-recognized actor and he has made a huge name and fame as an actor. He has acted in numerous films and TV shows. As of 2020, the net worth of Ryan Gosling is estimated to have $70 Million. What's more, he is one of the highest-paid actors in Hollywood. His films have made over $1 billion at the Box Office. In the year 2016, he earned $7 million as a salary from "The Nice Guys". In the year 2018, he earned $6.5 million from the "First Man". Whereas, his exact present salary is yet to be disclosed. But there is no doubt in the mind of his followers that he is making a considerable amount of salary from his work. He is living a luxurious lifestyle as of today. His major source of wealth comes from an Acting career and he is satisfied with his earnings.