About Shannen Doherty
A multi-talented Shannen Doherty is an actress, producer, and television director from the USA who is famous for her roles as Jenny Wilder in "Little House on the Prairie" (1982-1983), Maggie Malene in "Girls Just Want to Have Fun" (1985), Kris Witherspoon in "Our House" (1986-1988), Heather Duke in "Heathers" (1988), Brenda Walsh in "Beverly Hills, 90210" (1990-94), "90210" (2008-2009) and again in "BH90210" (2019); and Prue Halliwell in "Charmed" (1998-2001). She created a 'bad girl' image for herself while working on the sets of 'Beverly Hills, 90210.' In the year 1982, she voiced the role of Teresa Brisby in the animated fantasy adventure drama film "The Secret of NIMH". Her first film appearance was in 1982 when she appeared in the comedy film "Night Shift" for her role as Bluebird. She appeared in 2 episodes of NBC's western drama series "Father Murphy" for her role as Drusilla Shannon in the year 1981. She was seen n*de in Playboy magazine in December 1993. She has also appeared in March 1994, and December 2003. For the 1997 TV movie, "Friends 'Til the End", she sang all the vocals. She is an animal rights activist and a registered Republican.
Recently, Shannen Doherty shares an update on her battle with stage 4 breast cancer. In the year 2020, she had publicly revealed that her breast cancer had returned and had spread. She is now sharing how she broke the news to her closest friends at a dinner at her home with her oncologist, Dr. Lawrence Piro. She said Piro explained that she would have to undergo "hormone therapy to block the estrogen fueling her cancer, plus a second targeted drug that is often effective at stabilizing metastatic disease." "I try to treasure all the small moments that most people don't really see or take for granted," she said. "I was like, 'OK, do I have good karma? Do I have bad karma? Why would I have bad karma?' I started taking stock of my life and the things I'd done, and the things I hadn't done. How I was with people," Doherty said. She has plans to write letters and leave video messages for friends and family for after her death. "It's like anybody with Stage IV faces this sort of thing, where others want to put you out to pasture," Doherty said. "I'm not ready for pasture. I've got a lot of life in me."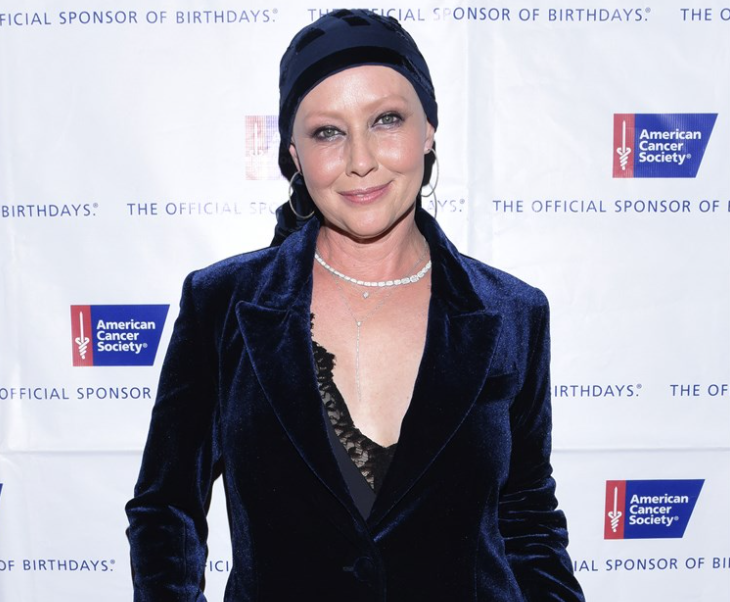 Source: @today.com
Shannen Doherty is famous for being an actress, producer, and television director. She is best-known for playing Brenda Walsh in "Beverly Hills, 90210" from 1990 to 1994 and 2008 to 2009, and also as Prue Halliwell in "Charmed" from 1998 to 2001.
On 12th April 1971, Shannen Doherty was born with the birth name/full name of Shannen Maria Doherty in Memphis, Tennessee, the USA. She holds an American nationality and her ethnicity is mixed as she is of Irish, English, French, and Scottish descent. Aries is her zodiac sign and her religion is Baptist. She was born to her parents; John Thomas Doherty Jr. (father), a mortgage consultant, and Rosa Elizabeth Doherty (mother) owned a beauty parlor. She also has a sibling, an older brother named Sean Doherty. Her family moved to Los Angeles when she was just seven as her father started a family business. She was a meritorious student during her school days. She worked very hard and scored top grades, but remained very private and interacted only with her close friends. She attended George D. Chamberlain High School in Tampa, Florida. As of 2020, she celebrated her 49th birthday.
Beautiful and gorgeous, Shannen Doherty has got a Voluptuous body build. She stands tall at the height of 5 ft 4 in or 163 cm. Her balanced weight consists of 58 Kg or 128 Pounds. Her hair color is dark brown and she has got a pair of green eye colors. Her body measurement is 37-26-36 in or 94-66-91.5 cm. She has got a gapped tooth. She wears a dress size of 8 US or 38 EU. Her bra size is 34C and her shoe size is 5.5 US. She always makes sure to eat the right food and also exercises regularly. She has worked with personal trainer Steve Moyer in the past who was also a basketball player in the past. She revealed she had been diagnosed with Crohn's disease in 1999. She was even diagnosed with breast cancer in March 2015, which had spread to her lymph nodes. In February 2016, she revealed that she was receiving anti-estrogen treatment to shrink the tumor and enable treatment by lumpectomy rather than mastectomy. She then underwent chemotherapy and radiotherapy following surgery. On 29th April 2017, she announced that her cancer was in remission. On 4th February 2020, she announced her cancer had returned a year prior, and that she now stages four.
Shannen Doherty's Acting Career
Initially, Shannen started her acting career by appearing as guest spots on TV series including "Voyagers!" and "Father Murphy" in the year 1982.
She also achieved the recurring role of Jenny Wilder on "Little House on the Prairie" in the same year and also she lent her voice to the animated film "The Secret of NIMH".
She then starred as Maggie Malene in the teen movie comedy "Girls Just Want to Have Fun" in the year 1985.
She appeared in the family drama "Our House" from 1986 till 1988as well as she appeared in "Magnum, P.I.".
After that, she rose to fame with the dark comedy "Heathers" which was released in the year 1988.
After the success of "Heathers", she came to worldwide attention with the breakout role as Brenda Walsh in the Aaron Spelling-produced TV series "Beverly Hills, 90210" in the year 1990.
She then appeared nude in Playboy magazine, first in December 1993, followed by a spread in March 1994.
Later, she played her role in several movies and TV Shows such as "Mallrats", "Jay and Silent Bob Strike Back", "Charmed", "Scare Tactics", "North Shore", "Love Inc.", "Breaking Up with Shannen Doherty", "Bo! in the USA", "Kiss Me Deadly: A Jacob Keane Assignment", "Christmas Caper", "High Chaparral".
In the year 2008, she joined the cast of the "Beverly Hills, 90210" spin-off for The CW Television Network.
She later announced to co-star alongside Dylan McDermott in the independent film "Burning Palms".
She played a lead role in the SciFi Channel adventure film "The Lost Treasure of the Grand Canyon".
Source: @cnn
It was announced on 1st March 2010 that, she would be a celebrity contestant on "Dancing with the Stars" for the tenth season.
She starred in FEARnet's animated web series "Mari-Kari", which launched on 3rd June 2010.
Additionally, she also became a spokesperson for Education Connection and appeared in an episode of The New Normal as her character Brenda Walsh from "Beverly Hills, 90210" in the year 2012.
After that, she and her former Charmed co-star Holly Marie Combs starred in their own road-trip reality show called "Off the Map with Shannen & Holly".
She joined the cast of Heather's television series in November 2016, originally set to air on Paramount Network in March 2018.
She again reprised her role as Brenda Walsh for the six-episode sequel "BH90210", which debuted 7th August 2019 on FOX.
Shannen Doherty's Awards and Achievements
Shannen Doherty is an award-winning actress. In the year 1983, she was nominated for the Young Artist Award under the Best Young Actress Guest on a Series category for her performance in "Father Murphy". She was also nominated for the Best Young Actress in a Drama Series "Little House on the Prairie". Later, she was nominated for the Best Young Actress Guest in a Television Series "Airwolf" and Best Young Actress Starring in a Television Drama Series "Our House". She won two Bravo Otto award for the Best Female TV Star for her role in "Beverly Hills, 90210" in the year 1992 and 1993. After that, she won Webby Award for Best Individual Performance (shared with Wilson Cleveland) for the TV series "Suite 7".
Ѕhаnnеn Dоhеrtу's Husband, Kurt Iswarienko
Shannen Doherty is a married woman. She is currently married to her handsome husband, Kurt Iswarienko. In November 2008, photographer Kurt Iswarienko and Shannen started dating each other. In July 2011, they got engaged. On 15th October 2011, the duo got married in Malibu, California. This was Shannen's third marriage. Without any disturbances, the couple is living a happy life and they are enjoying a lot. Her sexual orientation is straight. In November 2018, she lost her house to the Woolsey Fire.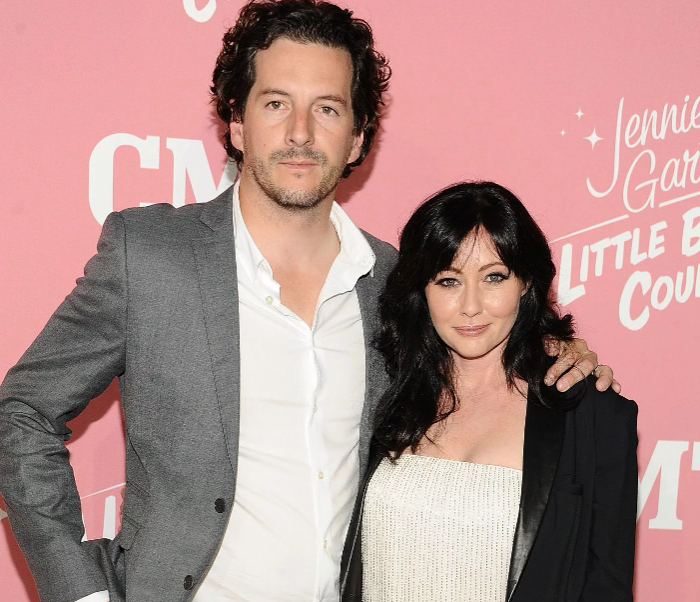 Source: @people
Previously, she was in a relationship with Jason Priestley, Vince Neil, Dean Factor, Judd Nelson. She first married her husband, Ashley Hamilton on 11th October 1993 but their marriage ended in April 1994. After that, she dated Rob Weiss, Julian McMahon, and then married Rick Salomon in the year 2002 and later separated after nine months of their marriage.
An avid animal rights activist, Doherty is a supporter of the Sea Shepherd Conservation Society, and while performing the Ice Bucket Challenge in 2014 she challenged founder Paul Watson and global supporters of the Sea Shepherd Conservation Society.
Ѕhаnnеn Dоhеrtу's Net Worth 2020
Ѕhаnnеn Dоhеrtу іѕ а grеаt and famous ТV fіlm аnd ѕеrіеѕ actress, рrоduсеr, аnd dіrесtоr who has made a vast amount of money throughout her career. She started acting at a very young age and has since worked in a number of films and television shows. Аѕ оf 2020, the net worth of Ѕhаnnеn Dоhеrtу is estimated to have $6 mіllіоn. Ѕhе mаdе hеr fоrtunе frоm thе ТV fіlmѕ аnd ѕеrіеѕ ѕhе'ѕ bееn асtіng, рrоduсіng аnd dіrесtіng. She also lіѕtеd hеr Маlіbu, Саlіfоrnіа bаѕеd hоuѕе fоr $4 mіllіоn. She is a well-established actress now. With her hard work and passion, she has reached a great height in the field of an acting career. As of 2019, she was receiving a salary of $70,000 per episode. For the cast of the Beverly Hills, 90210 spin-offs for The CW Television Network, she was reported to be earning $40,000-50,000 an episode. Besides earning from an acting career, she was seen in the Education Connection TV commercial in the year 2011. As of now, she is enjoying a luxurious lifestyle from her career earnings and she is satisfied with her earnings.