About Stacey Silva
Stacey Silva is an American TV Personality, actress and singer who is famous for appearing in movies such as Mega Man Die at the End, White T, Cyanide and Happiness Minis. Stacey along with her twin sister, Darcey Silva also founded the fashion brand named "House of Eleven". They have many celebrity clients and run a pretty successful clothing line. The twin sisters also make pop music together. She also appeared on the reality TV show, "Before the 90 Days" in the year 2017. At the end of June 2020, TLC's "90 Day Fiance" star Darcey Silva stated that she along with her sister will be getting a show. The self-titled show "Darcey & Silva" was premiered on 16th August 2020. She has more than 202K followers on her Instagram account, more than 200 followers on her Twitter account, and more than 1700 followers on her Facebook account.
Stacey Silva just revealed that a whole lot of drama is coming about on their upcoming show Darcey and Stacey which premiers on TLC August 16th. Previously, Stacey defending her husband-to-be Florian Sukaj. The Albanian fitness model has a 15 year age gap between himself and Stacey. (Stacey was 40 and Florian was 25 when they met on social media) But that isn't why her sister Darcey is suspicious of him. Stacey explained that things started off slow, but quickly gained speed after she initially met Florian online. "Florian and I met four and a half years ago on social media, He went on my page, and liked some of my pictures, and I was like, 'Wow, this guy's really good-looking.'" She would spend the next six months getting to know him online before booking a flight to visit the handsome guy in person. "He proposed fairly quickly, 10 days after we met, in our hotel room," the love-struck blonde continued. "He looked me in the eye, and he asked me to marry him. We were making love." Pictures have come up showing him in risqué pictures with an unknown woman. The pics show that they aren't wearing much clothing and can even be seen embracing and kissing each other on the cheeks. "Those are rumors," Stacey retorted. "Florian didn't do anything". Darcey insisted that she has encountered people who aren't honest and aren't sure that Florian is true to her. Stacey got upset and said that she was dead wrong.

Stacey Silva is famous for being an American actress as well as a singer. She is best known for her work on White T (2013), Mega Man Dies at the End (2012), and Cyanide & Happiness Minis (2016). She is also better known for being the twin sister of Darcey Silva.
Stacey Silva was born on 23rd September 1974 in Middletown, Connecticut, the USA. She was born to her parents; Nancy Silva (mother) and her Mike Silva (father). She also has twins siblings; a sister named Darcey Silva who is also her business partner as well as a reality star. She also has a brother whose name was Michael Silva who died in 1998. He died after a "long battle with cancer," as noted by an obituary in the Hartford Courant. In 2018, the twins fight so bad that the cops arrested them for their actions. They traveled back and forth from Los Angeles to Connecticut because of their career and business purposes. She is of American nationality and she belongs to American-White ethnicity. Her race is White. As of 2019, she celebrated her 45th birthday. Her Zodiac sign is Libra and her religion is Christian.
Source: @missk.ie
Everything To Know About Darcey Silva
Stacey Silva is a very hot and gorgeous lady with a charming personality attracting a lot of people towards her. She stands at an average height of 5 ft 1 in or 1.54 m. Her body weight consists of 68 Kg or 149 lbs. Her sexy body measures 37.5-25.5-36 in (breast-waist-hip). Stacey Silva along with her sister, Darcey Silva went on having plastic surgery with Avana Plastic Surgery based in Miami, Florida, the USA. They both spoke about undergoing the transformation which they called "Mommy Makeover". The surgery was done under the supervision of Dr. Patrick Abuzeni M.D. who is a certified cosmetic surgeon. Additionally, they also got rid of the fat body. The surgery lasted a little over seven different sessions. She has got a pair of dark brown eyes with blonde hair color. Overall, she has got a healthy body.
Stacey Silva's Career
Stacey Silva is a famous actress, singer, designer, and businesswoman who has founded the fashion brand named "House of Eleven" with her sister Darcey Silva.
She has worked on movies and in the fashion industry, released singles with twin Darcey Silva, and even tried her hand at other reality television shows.
The twin sisters also make pop music together. They released a pop single titled "Lock Your Number".
In 2010, the twin sisters filmed in the reality show named "The Twin Life".
They also launched an entertainment company named "Eleventh Entertainment". The name was chosen Eleventh because their brother, Michael was born on 11th May and died on 11th July making the number special for the women.
Through Eleventh Entertainment, Stacey and Darcey served as co-executive producers with their father, Mike Silva, on the 2013 rap comedy film White T, starring Jerod Mixon of Old School and Jamal Mixon of The Nutty Professor. Eleventh Entertainment also Produced the 2015 inspirational/religious film Sou Ties, based on the book of the same name by Tee Ashira.
Darcey and Stacey also filmed two trailers for a would-be reality show called "Darcey and Stacey: Life in the Mirror", which was meant to document their 'rise to fame'.
She also appeared on the reality TV show, "Before the 90 Days" in the year 2017.
In 2019, the twin returned to the franchise on the new spinoff, 90 Day Fiancé: Pillow Talk, where they give their opinions and commentary on all of the couples starring on 90 Day Fiancé: Happily Ever After.
At the end of June 2020, TLC's "90 Day Fiance" star Darcey Silva stated that she along with her sister will be getting a show. The self-titled show "Darcey & Silva" was premiered on 16th August 2020.
Stacey Silva's BOYFRIEND, Florian Sukaj
Moving towards the personal life of Stacey Silva, she was a married woman. Back then, she was married to a person whose identity is not available. With the relationship, she gave birth to two sons; Mateo and Parker. She has managed to keep her personal life away from the media. She is also a very secretive woman as she has not revealed anything regarding her husband's details, marital life, and more.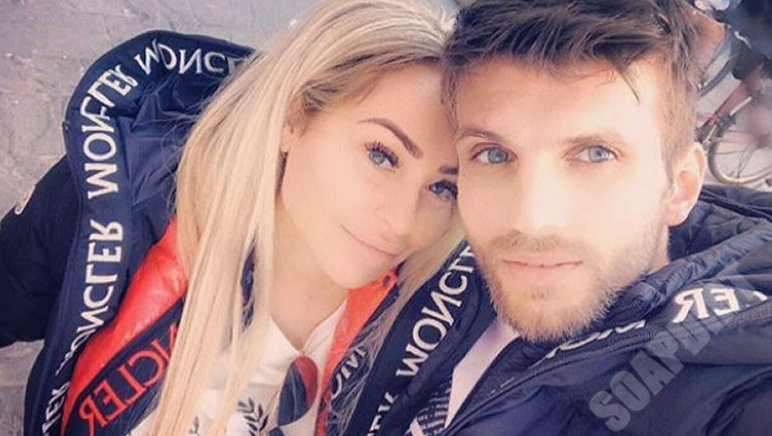 Source: @reddit
As of today, she is in a relationship. She is currently dating his boyfriend, Florian Sukaj who is a model and fitness trainer by profession. Florian has cheated Stacey any times due to which her sister Darcey is against their relationship. The couple has been together for more than five years because of which Stacey has been reportedly planning their wedding. They both have not revealed anything about how their love life blossoms. Her sister also accused the Florian of milking her sister and using her only to get a green card. Florian recently got a visa approved as of July 2020 but the interview schedule was delayed because of COVID-19. At present, the duo is living a happy life without any kind of disturbances. Her sexual orientation is straight.
Stacey Silva's Net Worth 2020
Stacey Silva is a famous reality star as well as a businesswoman. She has made a huge amount of money and fame through her profession by appearing on several TV shows. As of 2020, the net worth of Stacey Silva is under review and it is still to get unfold yet. Whereas the twin sisters together have a total net worth of $6 Million at present. There is no doubt in the mind of her followers that she is earning a considerable amount of salary from her career. She along with her twin's sister also founded their clothing line which is focused on women fashion named "House of Eleven" which launched several products such as sunglasses, hoops, necklaces, bags, and many more. Later, they launched an entertainment company named Eleventh Entertainment. Her major source of earning is from acting career in shows whereas she is also making a decent amount of money from clothing line and music career as well.