About Thandie Newton
Thandie Newton is an English actress who rose to fame after her role as 'Yvette; in "Interview with the Vampire"(1994), as Nyah Nordoff-Hall in "Mission: Impossible 2" (2000), and as Christine in an Academy Award-winning movie "Crash" (2004). She first appeared in the 1991 dramedy film "Flirting" in the role of Thandiwe Adjewa. She guest appeared in the TV series "The Word" as herself in episode #2.2 in 1991. She has also appeared in several movies such as; Linda in The Pursuit of Happyness (2006), Stella in RockNRolla (2008), Condoleezza Rice in W. (2008), Laura Wilson in 2012 (2009), and Val in Solo: A Star Wars Story (2018). She also has played the role of a sentient android, the madam Maeve Millay, in the HBO science fiction-western series, "Westworld" in the year 2016. In the year 2000, the Black Men magazine readers (by voting) had included her in the list of "10 Sexiest Women of the Year". In the year 2002, she was placed on #48 by Stuff Magazine in the "102 Sexiest Women in the World" list. She is also active in social media with more than 276k followers on her Instagram account under the name @thandienewton.
Recently, Thandie Newton thought Tom Cruise's comments would get her into trouble. She is confident that she made the right move after exposing the "insecurity" she felt while working with Tom Cruise on Mission: Impossible 2. In the past month opened up about her Hollywood experience and even detailed what it was like working with Tom Cruise on Mission: Impossible 2. In her interview with Vulture, she didn't hold back and claimed the actor was "a very dominant individual. He tries super hard to be a nice person." However, she confessed that she wasn't sure how her remarks about Tom would be perceived. "I was surprised by the appreciation I had got. I thought that I would be in trouble because that's kind of what I'm used to," she admitted. "I am not even supposed to be viable anymore. I am a Black woman, from a conventional stereotype," she explained further. "A 47-year-old black woman, I shouldn't even be able to get a role." She also said "I have nothing to lose because I can just not get hired, which is normal for people in my generation... It's not about my confessions, this is the reality of what people face".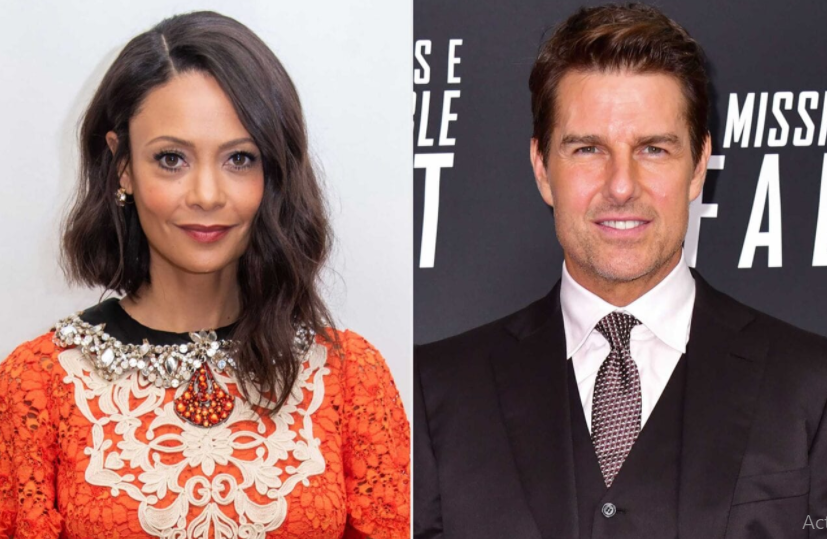 Source: @filmdaily.co
Thandie Newton is famous for being an English actress. She is better known for her role of Linda in a biographical drama film, "The Pursuit of Happyness" (2006). Additionally, she is best known for being cast in the role of Nyah Nordoff-Hall in "Mission: Impossible II" (2000).
Thandie Newton took birth with the born name/full name of Melanie Thandiwe Newton on 6th November 1972. The name Thandiwe means "beloved" in the Nguni languages, and "Thandie" is pronounced /ˈtændi/ in English. Her place of birth is in Westminster, London, England. She holds English/British nationality and her ethnicity is Mixed. Her race is Brown. She was born to her parents; Nick Newton (father) and Nyasha (mother). Regarding her parent's occupation, her father, Nick is an English laboratory technician and artist. Whereas her mother, Nyasha was a health care worker. Her mother is a Zimbabwean princess of the Shona people (according to Newton). She also has a sibling; a brother named Jamie Newton who is worked in the Camera department. When she was very young, she was in Zambia after which her family moved to England where she grew up with a vibe that she didn't fit in the all-white Catholic school. Concerning her education, she went to the Catholic School, which was run by nuns. She also studied dance from the Tring Park School for the Performing Arts but she couldn't continue due to a back injury. From 1992 to 1995, she went to the Downing College (affiliated with the University of Cambridge) to graduate with a degree in social anthropology. Her Zodiac sign is Scorpio and her religion is Buddhism. As of 2019, she celebrated her 47th birthday.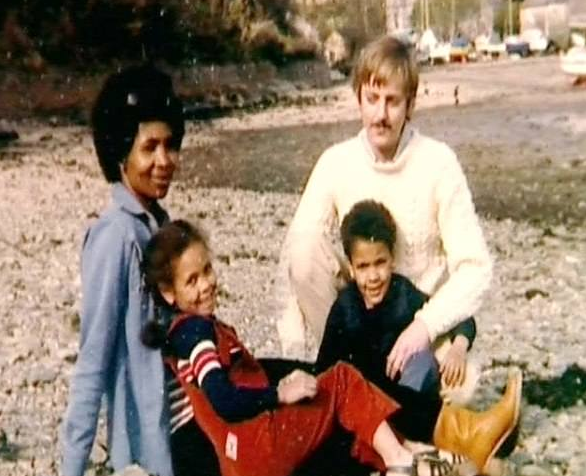 Source: @dailymail.co.uk
Thandie Newton is a dazzling and amazing actress with a perfect body build attracting a lot of people towards her. She stands tall at the height of 5 ft 3 in or 1.6 m. She maintained her body a lot and she has a weight of 50 Kg or 110 lbs. Her body build is slim. Her body measurement is 34-25-35 inches. She wears bra size is 32A and her dress size is 2 (US). She has brown skin complexion. She has a pair of brown eyes and her hair color is naturally black. Moreover, she has a mole mark below the right eye. She always had a soft spot for yoga. She practiced various forms of yoga until she found her perfect preference in Jivamukti Yoga. She is very conscious about her health.
Thandie Newton's Acting Career
Thandie Newton began her acting career by playing the role of Thandiwe Adjewa in a comedy movie, "Flirting" which was released in the year 1991. This was her debut movie.
After her film debut, she landed with the role of a faithful house slave, "Yvette" in the horror Brad Pitt/Tom Cruise film, "Interview with the Vampire" in the year 1994.
After a year, she made her role as Sally Hemings in a historical drama, "Jefferson in Paris".
She then appeared in the drama "Beloved" in the year 1998 which was based in Toni Morrison's novel.
She gained attention worldwide after her role as Nyah Nordoff-Hall opposite Tom Cruise, in an action spy film, "Mission: Impossible 2" in the year 2000.
Her next role was in the low-budget film, "It Was an Accident" as Noreen Hurlock which was written by her husband, Ol Parker.
After then, she began playing the role of Makemba "Kem" Likasu on the American television series, "ER" from the year 2003 to 2005.
In the year 2004, she also appeared in "The Chronicles of Riddick" and "Crash".
She played Chris Gardner's wife, Linda Gardner, in "The Pursuit of Happyness" and performed on radio in a pantomime version of "Cinderella" in 2006.
She co-starred with Eddie Murphy in the comedy, "Norbit" in 2007, followed by a comedy film, "Run Fatboy Run" in the year 2008.
She next portrayed US National Security Advisor-turned Secretary of State Condoleezza Rice in "W.", Oliver Stone's biography of President George W. Bush which was released on 17th October 2008.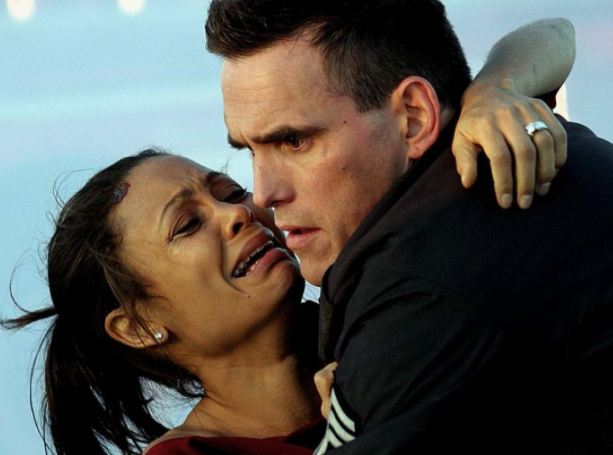 Source: @dailymotion
Not only this but also she portrayed fictional US First Daughter Laura Wilson in a disaster film, "2012" which was released on 13th November 2009.
In the year 2012, she starred alongside Tyler Perry in the romantic drama film, "Good Deeds".
After a year, she starred in the first original drama series for DirecTV's Audience Network, "Rogue".
In 2015, she starred in the US miniseries "The Slap". She also portraying Maeve Millay in the HBO sci-fi drama series, "Westworld" in the year 2016. In the year 2017, she appeared as DCI Roseanne "Roz" Huntley in a series, "Line of Duty". She served as a narrator for the documentary entitled "Bill Cosby: Fall of an American Icon" in 2017. After that, she appeared in several movies such as "Gringo", "Solo: A Star Wars Story" and "The Death and Life of John F. Donovan" as of 2018. She will be next appearing in a 2021 sci-fi drama film, "Reminiscence" written and directed by Lisa Joy (in her feature directorial debut).
Additionally,
She has also written a book titled "We Wish: Hopes and Dreams of Cornwall's Children".
Thandie Newton's Awards and Achievements
Thandie Newton is an award-winning actress who has won many awards acting in many movies. She won BAFTA Award for Best Actress in a Supporting Role, Black Reel Award for Best Ensemble, Washington D.C. Area Film Critics Association Award for Best Ensemble Cast, Broadcast Film Critics Association Award for Best Cast, Empire Award for Best Actress for the movie "Crash" in 2004. She earned a Primetime Emmy Award for Outstanding Supporting Actress in a Drama Series and two Critics Choice Awards, as well as Golden Globe Award, Saturn Award, and Screen Actors Guild Award nominations for the series "Westworld".
Thandie Newton's Husband, Ol Parker
Thandie Newton is a married woman. She married Ol Parker, who is an English writer, director, and producer with by profession. She met Ol Parker on the set of BBC drama "In Your Dreams". Where he was the scriptwriter while Newton was starring in the show. She fell for him but it took her some time to make him feel the same. Moreover, the duo has worked together in the film "It Was an Accident". After dating for a short period of time, the lovebirds got married in the year 1998. The duo is also blessed with three children; two daughters Ripley (born in 2000) and Nico(born in 2004), and one son named Booker Jombe (born in 2014). All of her three children were homebirth. The duo is enjoying their life a lot without any disturbances. There is no sign of divorce between them. They both support each other at a hard time due to which their relationship is flowing smoothly. Her sexual orientation is straight.
Source: @popsugar
Besides this, she was in a relationship with Australian film director John Duigan as well. At that time Thandie was only sixteen. The duo also dated for six years but later they split. After that, she started going out with Hollywood heartthrob Brad Pitt in 1994 after having met on the set of "Interview with the Vampire". They went out for about a year before going separate ways.
Regarding her interesting facts and personal likes, she is vegan. She was also named PETA's "Sexiest Vegan of 2014" in the UK. She also has been an activist in the field of child welfare. She replaced her near new BMW X5 with a Toyota Prius after an activist from Greenpeace stuck a sticker on her BMW stating that her car was responsible for climate change. In the year 2013, she led the One Billion Rising flash mob in London, for an end to violence, and for justice and gender equality.
Thandie Newton's Net Worth & Salary
Thandie Newton is a well-known actress who has acted in several movies and TV shows. As of 2020, the net worth of Thandie is estimated to have $12 Million. She has reached a great height in her career. Some of her notable movies are Crash, Mission: Impossible 2, The Truth About Charlie, Shade, and many more. She was getting $250,000 per episode for the TV series "Westworld" as of 2018. At present, her exact salary is to be disclosed yet. Her major source of wealth is from acting career and she is satisfied with her earnings.