An American retired television lighting director and director of photography who has received a Chicago / Midwest Emmy Award for work on the television program Made in Chicago in 1975 and was a co-recipient of two Daytime Emmy Awards for work on the television soap opera General Hospital, in 1982 and 2011 is named for Thomas Markle. Moreover, he is the father of Meghan, Duchess of Sussex, the father-in-law of Prince Harry, Duke of Sussex, and the maternal grandfather of Archie Mountbatten-Windsor. Thomas Markle Sr., has a difficult relationship with his famous daughter. He's largely stayed out of the public eye in recent months but has returned to the headlines as Harry and Meghan step back from their senior roles in the royal family. Thomas Markle admits lying to Meghan Markle, Prince Harry about Paparazzi photos. He admitted he lied to Meghan Markle and Prince Harry about the 2018 paparazzi photos he said were staged in collaboration with a photographer. He confessed in a new documentary that he's still making money off photos he staged ahead of the couple's royal wedding. Meghan has reportedly not spoken to her father, who has repeatedly attacked the duchess in the press, since the day after the royal wedding. Harry has never met him in person. The lawsuit centers around a letter that Meghan wrote to her father in August 2018, pouring our her heartbreak over his repeated criticisms of her in the tabloids. Parts of the letter were published in the Daily Mail in February 2019.
Famous For
Father of Meghan Markle (American Actress).
Won Daytime Emmy Award for his work as a Lighting Direction in "General Hospital" American TV show.
What is the birthplace of Thomas Markle?
Thomas Markle was born as Thomas Wayne Markle on 18th July 1944 in Newport, the USA. As of 2019, he celebratred his 75th birthday. He is American by nationality and he belongs to a White ethnic background. He is the son of Doris May Rita (nee Sanders; 1920-2011) and Gordon Arnold Markle (1918-1982). He has two brothers, Frederick and Michael Markle. There is no information regarding his education.
How was Thomas Markle's Career?
Thomas began working as a lighting director at WTTW-TV Channel 11 in the 1970s.
He then received a Chicago / Midwest Emmy Award for Outstanding Achievement for Individual Excellence: Non Performers for his lighting design work on the channel's Made in Chicago program in x1975.
Later, he worked on the television series General Hospital and Married... with Children.
Moreover, he was one of the 14 named co-recipients of a Daytime Emmy Award for Outstanding Achievement in Design Excellence for a Daytime Drama Series for work on General Hospital in 1982.
He shared a Daytime Emmy Award with Vincent Steib for Outstanding Achievement in Lighting Direction for a Drama Series for work on General Hospital in 2011.
He was nominated, along with two other co-nominees, for a Primetime Emmy Award in 1986 for Outstanding Lighting Direction (Electronic) for a Miniseries or a Special for the lighting design for the 58th Academy Awards.
Markle won $750,000 in the California State Lottery in 1990, but he ultimately spent all the money.
In 2016, he filed for bankruptcy over a debt of $30,000.
In 2018, he was the subject of considerable media speculation as to whether he would attend his daughter Meghan's wedding to Prince Harry, at Windsor Castle in the United Kingdom.
In June 2018, he appeared on Good Morning Britain in which he discussed his personal relationship with Meghan and his son-in-law.
In another interview with The Mail on Sunday in July 2018, Markle said that his daughter "[would] be nothing without me. I made her the Duchess she is today."
In February 2019, he published a private letter sent to him by his daughter shortly after her wedding in which she stated that he had broken her heart "into a million pieces" with his actions.
In January 2020, it was revealed that The Mail on Sunday could possibly use evidence provided by Markle against his own daughter in an ongoing legal battle between the paper and the Duchess.
The Daily Mail also named him as a potential witness who could testify against Meghan in court.
In a January 19, 2020 interview, he said that Meghan is "tossing away every young girl's dream of becoming a princess, for money", and that she and Harry are "destroying and cheapening" the royal institution, and that they are "lost souls".
He also stated that he does not expect to see Meghan Markle ever again.
Who is the Wife of Thomas Markle?
Thomas Markle is a married woman and she married student and secretary Roslyn Loveless in 1964. They had met the year before at an on-campus party at the University of Chicago. The duo is also blessed with two children named Samantha and Thomas Markle Jr. Later, the duo divorced in 1975.
After divorce, he married Doria Ragland at the Self-Realization Fellowship Temple of Paramahansa Yogananda in Hollywood, Los Angeles, on December 23, 1979, by Brother Bhaktananda. They had a daughter together in 1981, Rachel Meghan Markle (known by her middle name), who later became the Duchess of Sussex. Later, their marriage ended in 1987 or 1988 due to divorce.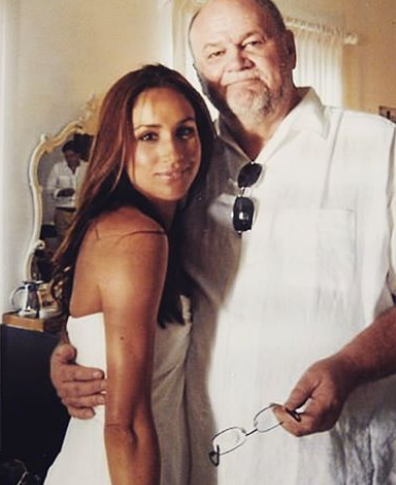 Source: @thomas_markle_official
What is the net worth of Thomas Markle?
Thomas Markle won $750,000, in 1990, in the California State Lottery. He was however caused to file for bankruptcy later due to bad investments but not before using some of the money to pay for Meghan's Catholic school tuition. He again declared bankruptcy in 2016, over $30,000. Included in the list of his debts was $850 on a Target card, $6,000 on a Citibank card, and around $20,000 on a Discover account. He collects $1,500 per month from a retirement account and another $2,700 in social security. This means for one interview, he's made more than double his entire month's income but that may have cost him his relationship with his daughter. However, his real net worth is still under review but it will be added soon once we get information about it.
How tall is Thomas Markle?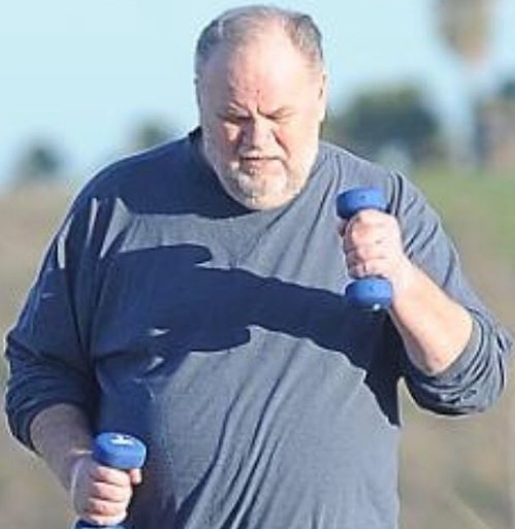 Source: @thomas_markle_official
Being at the age of 75, Thomas Markle maintains his body a lot and he still looks very handsome with the tall height of five feet seven inches. His balanced weight consists of 88 KG. His body measurements consist of 51-54-49 in. His eye color is brown and his hair color is gray white. Overall, he has got a healthy body with a charming personality.