Tia Mowry is an American actress and producer, born in Germany and brought up in America who is best known for starring in the famous television series, Sister, Sister opposite her twin sister Tamera Mowry. The Mowry twin sisters later starred in movies, Twitches, and its sequel, Twitches Too. They also starred in reality series, Tia & Tamera. Her other notable appearances include tv series like The Game, Instant Mom, and Family Reunion among others. She has also appeared in numerous films. For her contribution to the entertainment industry, she has won several awards and honors in her career.
What is Tia Mowry famous for?
She was Inducted into the Nickelodeon Kid's Choice Awards Hall of Fame with her sister Tamera Mowry in 1998.
Winner of Outstanding lead actress in a comedy series in 1999 at NAACP Images Awards.
The head coach of the Entertainment Basketball League celebrity team and recently coached at the "Battle of Sexes" game in Chicago against the sky of the WNBA.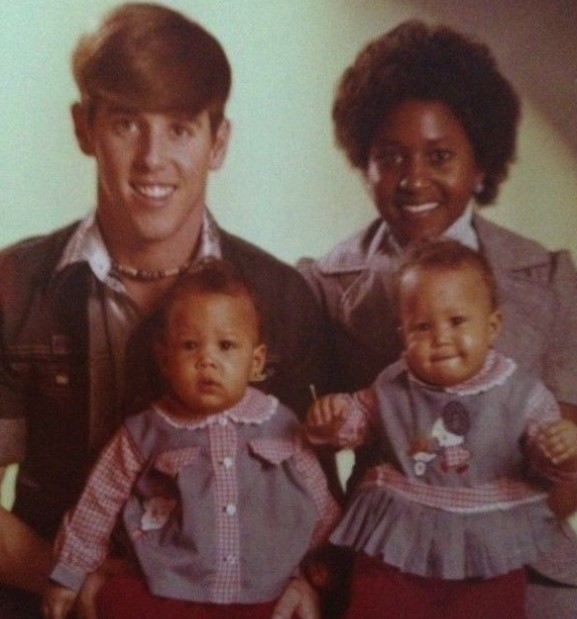 Source: @pinterest
Where is Tia Mowry From?
Tia Dashon Mowry Hardrict by her birth name. She was born on July 6, 1978, with American Nationality. She was born in Gelnhausen in West Germany. She is of mixed ethnicity with English (Irish Ancestry) and Afro-Bahamian descent. She is from English Ethnicity. Her father's name is Timothy John Mowry was a US Army and later became a custody officer/jailer with the City of Glendale Police Department when the family moved to California. Her father is of English and Irish ancestry, and her mother is of Afro-Bahamian descent. Her mother's name is Darlene Renee Mowry. She also managed her children's career when they were in the group voices and also worked as a security guard. Her parents met in high school in Miami, Florida, and joined both the US Army and reach the rank of sergeant before joining the police department in California.
Tia Mowry has three brothers and sisters. Her twin sister who is older than her of 2 min Tamera Mowry Housley and brother Tahj Mowry and Savior Mowry who played college football for the University of California, Davis.
She has attended Birmingham High School in Van Nuys, California, and then Studying at Pepperdine University, Malibu, California. - majoring in Psychology with her sister Tamera in 2001. She spent summer 2001 studying abroad at Pepperdine's Italian campus in Florence while doing majoring in psychology at Pepperdine University. She belongs to the Christian religion and she is Cancer by her zodiac sign.
Social Media Presence
She has a big fan following in her Twitter, Instagram, and Facebook accounts.
Twitter: Tia [email protected] and has 1.9M followers.
Instagram: Tia [email protected] and she has 7.6M followers.
Facebook: Tia [email protected] and has 5.7M followers.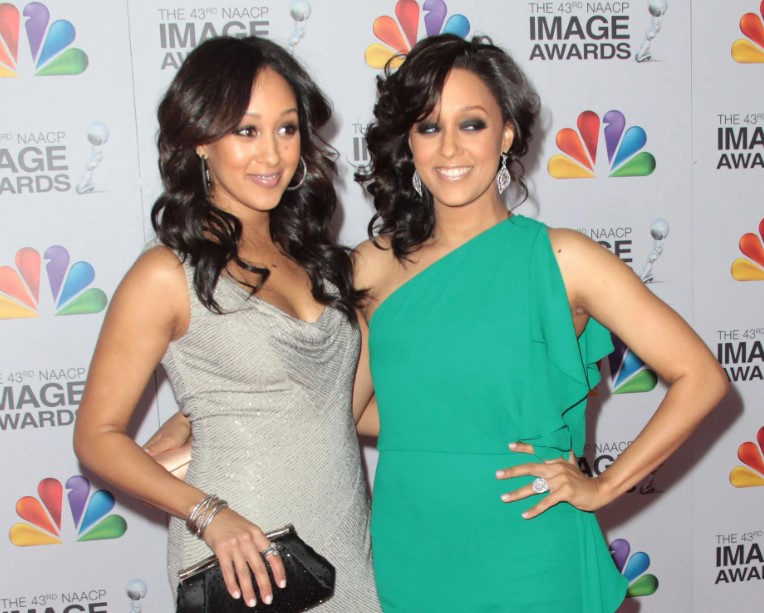 Source: @popsugar
Career
Tia Mowry and her twin sister Tamera Mowry start their career together at the age of 12 by entering pageants and talent shows, commercial and small roles while their family was stationed at Fort Hodd, Texas. They convinced their mother to move to California with them so that they could pursue acting and moved to California in 1990 permanently.
Their TV series Sister, Sister of 119 episodes where she played as the role of Tia Landry against her twin sister Tamera changed the acting career and were developed this series on the set of "Full house".The series was picked by "The WB" (An American Television Network) and ran for four years after canceled by ABC (American Broadcasting Company).
After that, they appeared in several tv series and comedy films like "The Hot Chick", "Twitches"(Disney Channel Original Movie", "Seventeen again", "Strong Medicine". She was also nominated for a Teen Choice Award and NAACP Image Awards for best actress in a comedy where she won that title and shared with her sister Tamera.
Mowry started in her cooking channel series Tia Mowry at Home where she made everything from macaroni and cheese, cake, pie, curry, chicken, potato, and various types of cocktails from 2015 to 2017. She promoted her new book Twintution on April 29, 2016, at the daytime talk show The Real. Since 2019, she had played the starring role of Cocoa McKellan in the Netflix comedy series Family Reunion. She has done plenty of acts in movies, television and radio. She has done some movies like "The Hot chick"(2002), Hollywood Horror(2005), The American Standards(2008), Baggage Clame(2013).
As in Television, she has done countless episodes in many serials like Dangerous Women(1991), Sister, Sister(1994-1999 119 episodes), Detention(1999-2000), Bratz(2005-2006 17 episodes), Instant Mom(2013-2015 65 episodes), The Game (2006,2012,2015 97 episodes), My Christmas Inn(Television film in 2018), A very vintage Christmas (Television film in 2019).
She has also provided her voice in many movies and she was also RJ (Radio Jockey) in Sway's Universe: Sway in the morning in 2015 and The Breakfast Club in 2019.
Awards and Honors
She was honored by Nickelodeon Kid's Choice award in Hall of Fame with her sister Tamera Mowry.
She has won Outstanding Lead Actress in a comedy series for Sister, Sister in NAACP Image Awards in 1999 and 2000.
She has won Favorite Television Actress for Sister, sister in Nickelodeon Kid's Choice Awards in 1995, 1996 and in 1997 and nominated for the same in 1998, 2012, 2013.
She was also nominated Choice TV Reality/Variety star female in 2012, 2013 in Teen Choice Awards.
She was also nominated for Best Performance by a young actress-tv comedy series for Sister, Sister in Young Artist Awards in 1996, 1997 and in 2001 shared all with her sister.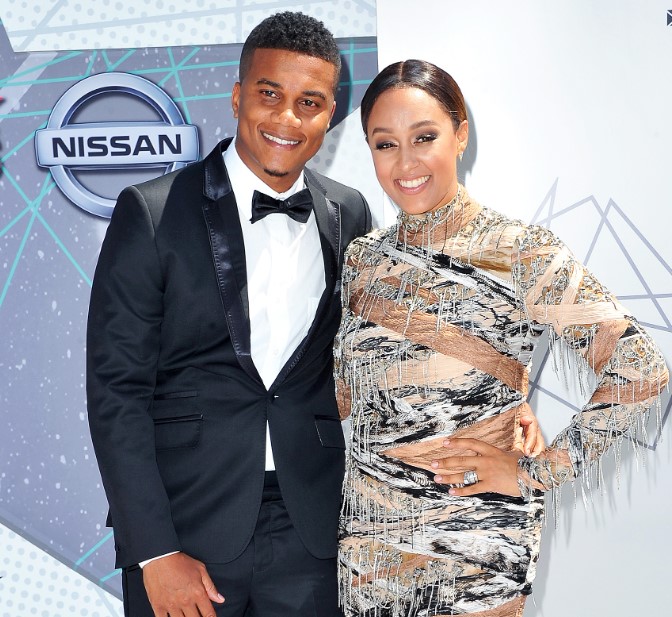 Source: @usmagazine
Who is Tia Mowry Married to?
Tia Mowry's sexual orientation is straight. She is married to her long term boyfriend of 8 years Cory Hardrict who is also an actor and producer. They first met on the set of their film "Hollywood Horror". The couple got married on April 20, 2008, in California following a 15-month-long engagement. She has two children one son named Cree Hardrict and one daughter Cairo Hardrict.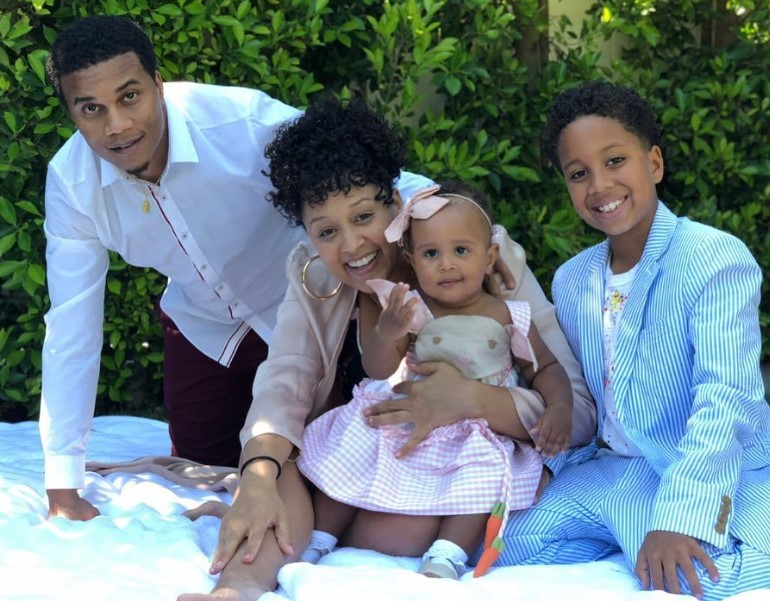 Source: @pinterest
How Tall is Tia Mowry?
She has an average body and she is 1.67cm(5ft 4inch) tall and no information is disclosed about her weight, says that he has put lots of weight after her first delivery of her baby. She has a slim body build.
He has gray color hair and natural curls and her eye color is dark brown.
How much is Tia Mowry worth?
Tia Mowry earns from her career in the entertainment industry, having appeared in several movies, TV series, and reality series. Besides acting, she also earns from her singing career. She is also an occasional basketball coach. Her other income comes from her book sales. Summing up all the fortune she accumulated, her net worth is estimated at $8 million.