Thomas Edward Patrick Brady Jr. famed as Tom Brady is a professional football quarterback who is currently playing for New England Patriots of the National Football League (NFL). He has played in nine Super Bowls, winning six of them. He is considered by many sports analysts to be the greatest quarterback of all time. He has won four Super Bowl MVP awards (Super Bowl XXXVI, XXXVIII, XLIX, and LI), the most ever by a player, as well as three NFL MVP awards (2007, 2010, 2017). Moreover, he is the oldest player to have won either award. He has also been selected to 14 Pro Bowls, which ties the NFL record for most selections. He is second all-time in career regular-season passing yards, second in career touchdown passes, first in postseason career passing yards, first in postseason career passing touchdowns, tied for fifth in career passer rating, and 14th in postseason career passer rating. Brady and the Patriots won two of the next three Super Bowls, making him the record holder for most Super Bowl wins by a player, and the oldest quarterback to win a Super Bowl, at 41.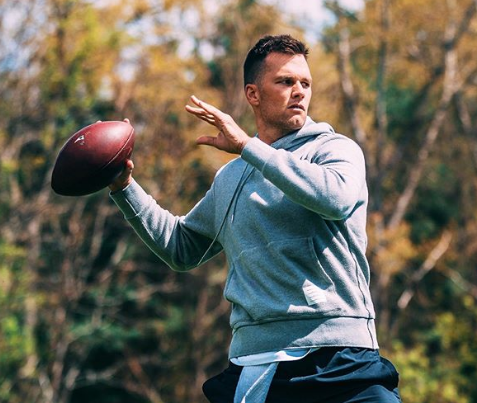 Source: @tombrady
Joe Montana gives advice to Tom Brady: Don't leave the Patriots
As Tom Brady wields a power he hasn't had in his professional career-autonomy over his next team-and weighs his future, one Hall of Fame quarterback has some advice: Stay. Former San Francisco 49ers quarterback Joe Montana, who played for the Kansas City Chiefs for the final two years of his career after being traded, addressed Brady's situation, as the longtime New England Patriots standout will venture into an offseason in which he will have the option to test free agency. Brady, 42, just completed his 20th season in the NFL, all of which have been spent with the Patriots. He completed 60.8% of his passes for 4,057 yards with 24 touchdowns against eight interceptions, and his 88.0 passer rating was his lowest mark since 2013. The Patriots started the season 8-0 but finished the year 4-4 to finish 12-4 to win the AFC East. They lost to the Tennessee Titans in the wild-card round of the playoffs, marking their earliest postseason exit in a decade. The official start of the 2020 NFL league year is March 18, which signals the beginning of free agency.
In addition to this, Tom Brady says he's 'not going anywhere' in Super Bowl commercial.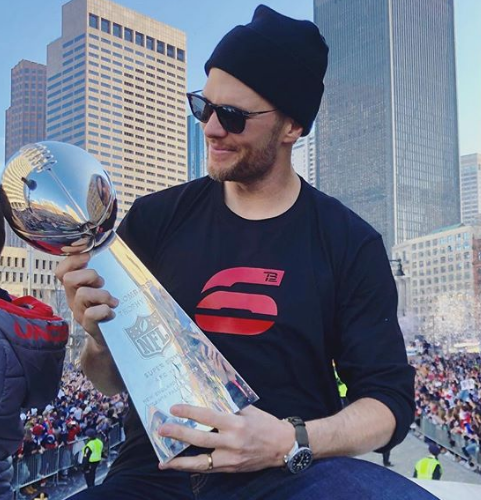 Source: @tombrady
Who are Tom Brady's Parents?
Tom Brady was born on 3rd August 1977 as Thomas Edward Patrick Brady Jr. in San Mateo, California city of U.S. He is the only son and fourth child of Tom Brady Sr. and Galynn Patricia Brady, his father, and mother. He has three older sisters, Nancy, Julie, and Maureen. His nationality is American and his ethnicity is White. His astrological sign is Leo whereas his religion is Catholic.
How old is Tom Brady?
As of 2019, Tom Brady celebrated his 42nd birthday with his friends and families. He celebrated his every birthday on 3rd August of every year.
Where did Tom Brady achieve his education?
Tom Brady attended Junipero Serra High School in San Mateo, where he graduated in 1995; the ceremony was held at St. Mary's Cathedral. He was recruited by Michigan assistant Bill Harris, and he signed to play for the University of Michigan in 1995.
How was Tom Brady's Professional Football Career?
Tom Brady began his football career from the University of Michigan from the year 1995 to 1999 as a backup quarterback and was selected by the New England Patriots in the sixth round of 2000 NFL Draft after his College.
He played by becoming a fourth-string quarterback in the year 2001.
He played against Detroit Lions and lost the game with a score of 34-9.
In the AFC Championship Game against the Pittsburgh Steelers, he injured his knee and won the game by Patriots in the season of 2001.
He was later traded to the Buffalo Bills during the offseason.
In the season of 2002, he had 294 passing yards and three touchdowns in the 30-14 victory over the Pittsburgh Steelers and later won against Buffalo Bills.
He finished the year 2002 with the score of 9-7, tied with the New York Jets and Miami Dolphins.
In the season of 2003, he led Patriots to 12 consecutive victories with a score of 2-2 against AFC East.
He led the Patriots to a 32-29 victory over the NFC champion Carolina Panthers in Super Bowl XXXVII on 1st February 2004 postseason.
In the season of 2004, he helped the Patriots set an NFL record with 21 straight wins.
In the season 2005, many players were injured and had to depend upon Tom.
He was named to his third Pro Bowl at the end of the season.
In the season of 2006, he led the Patriots to a 12-4 record and the fourth seed in the AFC playoffs.
He was named as the AFC Offensive Player of the Week five in the season of 2007 and finished this season with 4,806 passing yards with 50 touchdown passes.
Due to two different foot injuries, he could not play any game in the 2008 pre-season.
In the season of 2009, he played against Buffalo bill and threw 378 yards and two touchdowns.
He was named the AFC Offensive Player of the Week for the 13th time.
He also set NFL record against the Tennessee Titans.
He finished his 2009 season with 4,398 yards passing and 28 touchdowns.
He was also named the 2009 NFL Comeback Player of the Year.
He then signed a 4-year contract with this team with a fee of $72 million on 10th September 2010 and success to defeat against Miami Dolphins 41-14 on 4th October 2010.
He also won the MVP Award and he was also named the 2010 Associated Press NFL Offensive Player of the Year.
He started his 2011 season against Miami Dolphins with the winning score of 38-24.
In the season of 2012, he led the Patriots to a 12-4 record.
His 2014 season started against the Miami Dolphins. The Patriots lost the game with a score of 33-20 to the Miami Dolphins.
On 11th May 2015, he was suspended for 4 games by the NFL for his involvement based on "substantial and credible evidence".
He led the Patriots to a 28-21 win over the Pittsburgh Steelers in 2015 season.
He announced on his Facebook page that he would give up his Deflategate fight and accept his suspension for the first 4 regular-season games of the 2016 season.
After his suspension, he made his 2016 season debut on 9th October against Cleveland Browns.
He was announced as the cover athlete for Madden NFL 18 on 12th May 2017.
The 2017 season of Brady started against Kansas City Chiefs on 7th September.
He signed a 2-year contract extension covering the 2018 and 2019 seasons on 29th February 2016.
He started his 19th NFL season with 277 passing yards, three touchdowns, and one interception in a 27-20 victory over the Houston Texans in the season opener.
He was ranked sixth by his fellow players on the NFL Top 100 Players of 2019.
On 4th August 2019, he signed a two-year contract extension worth $70 million, covering the 2020 and 2021 seasons.
The terms of the contract will allow Brady to become a free agent after the 2019 season.
Against the 2019 Patriots salary cap Brady was the 6th highest-paid player on the team at 6.75 million dollars.
He began his 20th NFL season by completing 24 of 36 passes for 341 yards and three touchdowns in a 33-3 win over the Pittsburgh Steelers.
For the first time since 2008, the year when he tore his ACL, he was not selected to the Pro Bowl.
Who is the Wife of Tom Brady?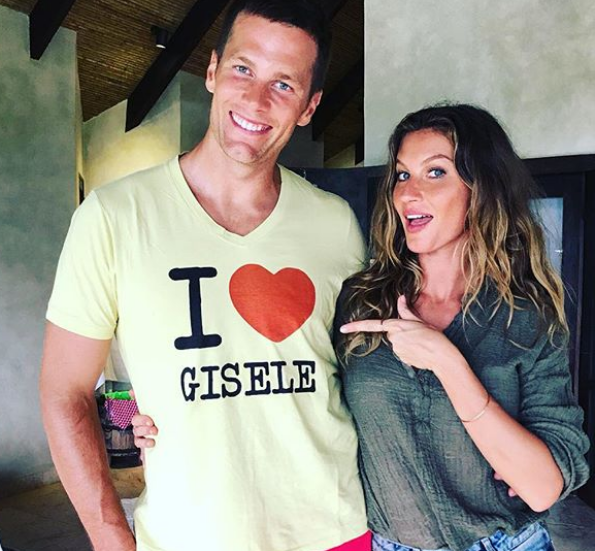 Source: @tombrady
Tom Brady married his girlfriend Gisele Bundchen on 26th February 2009 who is the Brazilian Supermodel. The duo started dating each other since December 2006. The couple is also blessed with two children named Benjamin Rein and Vivian Lake. As of now, the duo is living a happy life without any problems.
Previously, he was in a relationship with Bridget Moynahan. Later, she revealed that she was pregnant with Tom's baby on 18th February 2007. In early December 2006, their relationship ended.
What is the Net Worth of Tom Brady as of 2020?
Tom Brady is a well-known football quarterback and he has made a huge amount of money from his football career. As of 2019, his net worth is estimated to have $180 Million and he was earning a salary of $9 Million. As of 2016, his net worth was believed to have $45 Million including $8 Million endorsement amount. Recently, he signed a two-year contract extension worth $70 million, covering the 2020 and 2021 seasons. Against the 2019 Patriots salary cap Brady was the 6th highest-paid player on the team at 6.75 million dollars. His present net worth as of 2020 is under review and is still being calculated but it will be added soon. Overall, he is satisfied with his earnings.
How tall is Tom Brady?
Tom Brady is a handsome hunk with a charming character attracting a lot of people towards him. His body build is athletic and he has got a great personality. He stands at a tall height of 1.93 with a weight of 102 Kg. His other body measurements such as biceps size, chest size and more are still to get revealed yet and will be added once we get information about it. Overall, He has a balanced body with good health.