Anthony Kapel Jones famed as Van Jones is a well-known and award-winning American news commentator, author, and non-practicing attorney who is also the co-founder of several nonprofit organizations, including the Dream Corps, a "social justice accelerator" that operates three advocacy initiatives: #cut50, #Yeswecode and Green for All. In addition to this, he is also the author of "The Green Collar Economy" and "Rebuild the Dream", both ranking as New York Times bestselling books. He is a regular CNN contributor and host of "The Van Jones Show" and he has also served as President Barack Obama's Special Advisor for Green Jobs. He is president of the Dream Corps and is among activists featured in 13th, a 2016 documentary directed by Ava DuVernay about the U.S. justice system and factors that have resulted in the over-incarceration of minorities and the highest incarceration rate in the world. In the year 2010, he received the NAACP President's Award. Scroll down to read his Van Jones's full biography, family details, facts, age, net worth, career, books, birthday, race, wiki, and more.
Famous For
Being an American news commentator, author, and non-practicing attorney.
Being the co-host of CNN's political debate show, "Crossfire".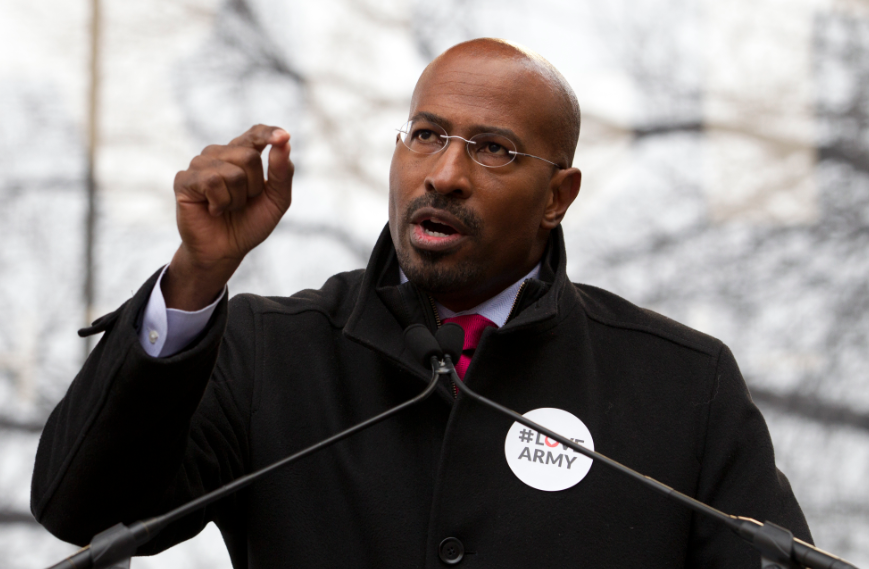 Source: @salon.com
Van Jones's Early Life
On 20th September 1968, Van Jones was born as Anthony Kapel Jones (real name/birth name). His birthplace/hometown is in Jackson, Tennessee, the United States. His nationality is American and he belongs to African-American ethnicity. He was born to a well-educated family. He was born to his parents; Willie Anthony Jones (father), who was a principal at a middle school and Loretta Jean (mother), who was a high school teacher. He was raised in the Christian Methodist Episcopal Church along with his twin sister, Angela Jones. His grandfather was a leader. As per his education, he was graduated from Jackson Central-Merry High School in 1986. He worked as an intern at the Jackson Sun, the Shreveport Times, and the Associated Press. Jones was even affiliated with the Lawyers' Committee for Civil Rights in 1992 and in 1996, Jones founded a new umbrella NGO, the Ella Baker Center for Human Rights. He then got graduated from the University of Tennessee at Martin (UT Martin) with a B.S. in communication and political science. In the year 1992, he joined Yale Law School and graduated with a J.D. degree in the year 1993. As of 2019, he celebrated his 51st birthday. Virgo is his zodiac sign and he is Christian by religion.
Van Jones's Career
In the year 1992, he was affiliated with the Lawyers' Committee for Civil Rights, which had brought him to the city as a legal observer.
He then initiated their project of Bay Area PoliceWatch, the region's only bar-certified hotline and lawyer-referral service for victims of police abuse in the year 1995.
He also founded a new umbrella NGO, the Ella Baker Center for Human Rights by 1996 where he operated out of "a closet-like office" within the space of Eva Paterson, Executive Director of the Lawyers' Committee, and used his personal computer.
In the years 1999 and 2000, he led a campaign to defeat Proposition 21, which would increase "penalties for a variety of violent crimes and required more juvenile offenders to be tried as adults."
From the year 2001 to 2003, he led an effort to block the construction of a proposed "Super-Jail for Youth" in Oakland's Alameda County.
During the 2003 California gubernatorial recall election, he served as Arianna Huffington's statewide grassroots director.
Following Hurricane Katrina in 2005, Jones along with James Rucker co-founded a Web-based grassroots organization to address Black issues, called Color of Change which main mission is to strengthen Black America's political voice.
He had begun promoting eco-capitalism and environmental justice by 2005.
In the year 2005, he and the Ella Baker Center produced the "Social Equity Track" for the United Nations' World Environment Day celebration, held that year in San Francisco.
In September 2007, he attended the Clinton Global Initiative and announced his plans to launch Green for All, a new national NGO dedicated to creating green pathways out of poverty in America.
He published his first book titled "The Green Collar Economy" in the year 2008.
Jones received the "Puffin/Nation Prize for Creative Citizenship" and World Economic Forum "Young Global Leader in the year 2008.
Later, he was appointed as Special Advisor for Green Jobs, Enterprise and Innovation at the White House Council on Environmental Quality in March 2009.
In the year 2010, he became a senior fellow at the Center for American Progress.
He also launched an advocacy project called "Rebuild The Dream" in the year 2011.
He published his second book, titled "Rebuild the Dream" which debuted at no. 16 on the New York Times Best Seller list in April 2012.
He was appointed as a co-host of a re-boot of the CNN political debate show, "Crossfire" in the year 2013.
He was also an Administrator advisor of former President Barack Obama.
In the year 2015, he also had received "NAACP President's Award", "Rainbow Push Coalition's Vanguard Award" and "David E. Glover Vanguard Award".
He then launched CNN's news documentary series, "The Messy Truth," in the year 2016.
In the year 2017, he launched studio discussion series, "The Messy Truth with Van Jones", aired on CNN.
In the year 2018, he launched "The Van Jones Show" on CNN, with Jay-Z as his first guest.
He is also the President of "The Dream Corps" which owns and operates several advocacy projects.
He also had founded "Advocates for Opioid Recovery" along with the former House Speaker, Newt Gingrich, and former Rep. Patrick J. Kennedy.
He also has received Time Magazine's "Environmental hero" and "Elle Magazine Green Awards".
He serves on the board of trustees at Demos at present.
His books include:
Jones, Van; Conrad, Ariane (2008). The Green Collar Economy. New York: HarperOne.
Jones, Van (2012). Rebuild the Dream. New York: Nation Books.
Jones, Van (2017). Beyond the Messy Truth: How We Came Apart, How We Come Together. Ballantine Books.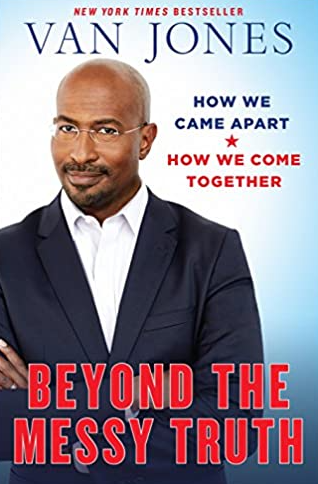 Source: @amazon.com
Awards and Achievements of Van Jones
His awards/achievements and honors include:
1996-Brick Award Now renamed as Dosomething Awards
1997–1999-Rockefeller Foundation "Next Generation Leadership" fellowship
1998-Reebok International Human Rights Award
2000-International Ashoka Fellowship
2008-Time magazine, Environmental Hero
2008-Elle magazine, Green Award
2008-One of the George Lucas Foundation's "Daring Dozen"
2008-Hunt Prime Mover Award; Hunt Alternatives Fund
2008-Campaign for America's Future "Paul Wellstone Award"
2008-Global Green USA "Community Environmental Leadership" Award
2008-San Francisco Foundation Community Leadership Award
2008-Puffin/Nation Prize for Creative Citizenship
2008-World Economic Forum "Young Global Leader"
2008-Essence magazine, 25 Most Inspiring African Americans
2009-Hubert H. Humphrey Civil Rights Award
2009-Eco-Entrepreneur Award, Institute for Entrepreneurship, Leadership & Innovation; Howard University
2009-Individual Thought Leadership, Energy & Environment Awards; Aspen Institute
2009-Time Magazine's 100 Most Influential People in the World
2010-NAACP President's Award
2010-Commonwealth Club of California-Inforum's 21st Century Visionary Award
2010-Global Exchange Human Rights Award Honoree.
2011-Ebony Magazine's Power 150
2012-Rolling Stone Magazine 12 Leaders Who Get Things Done
2013-The Root Magazine 100 Honorees
2013-Ebony Magazine's Power 100, "The Innovators"
2015-National Urban League's Toyota Clean Energy Honoree
2015-Environmental Media Association's Green Biz Global Innovator Award
2015-Rainbow Push Coalition's 2015 Vanguard Award
2015-David E. Glover Vanguard Award from the Oakland Citizens Committee for Urban Renewal (OCCUR)
2017-Webby Awards, Special Achievement Award for his "use of the Internet and social media during the 2016 election"
2019-Lumiere Award from the Advanced Imaging Society for Magic Labs' "The Messy Truth VR Experience", a virtual reality documentary
Van Jones's Wife; Jana Carter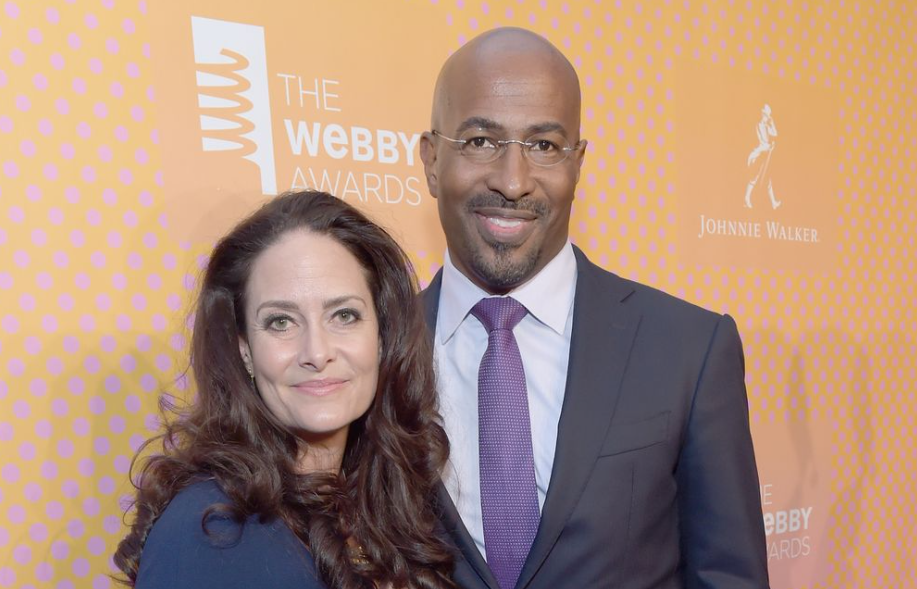 Source: @fox23.com
Regarding the marital status of Van Jones, he was a married man. He was married to his beautiful wife, Jana Carter; who is a social activist and she was also the director of the Search for Common Ground's USA Racial Healing Program. The duo married in the year 2005. They are also the proud parents of two sons/kids: Cabral Jones and Mattai Jones. After their 13 years of married life, they reached a decision to get divorced and separate their pathways. At present, he is reportedly single. He is currently focusing on his career. His sexual orientation is straight.
Van Jones's Net Worth
Van Jones is an American news commentator, author, and non-practicing attorney. He has made a huge earning through his professional career. He has managed to amass a great fortune in million dollars through his several attorney projects, shows, as well as from his books. As of June 2020, the net worth of Van Jones is estimated to be $2 million. He used to earn an average salary of $57 thousand as a news anchor on CNN. He is also a best-selling author who makes thousands of dollars by hosting live events and interviews with celebrities. Without any doubt, he is one of the most popular news commentators and motivated personalities in the United States. His exact salary at present is unknown. He is satisfied with his earnings at present.
Van Jones's Body Measurements
51-years-old, Van Jones still looks very cool and handsome with a tall height of 6 ft 1 in or 1.85 m. He is a good looking guy with glasses. He has a balanced weight of around 87 kg. He has a dark complexion with black hair and dark brown eyes. His other body details such as biceps size, chest size, waist size, and more are unknown. Overall, he has got a healthy body with an attractive personality.