Zachary LaVine famed as Zach LaVine is a professional basketball player. As of now, he is playing for the Chicago Bulls of the National Basketball Association (NBA). He was selected in the first round of the 2014 NBA draft with the 13th overall pick by the Timberwolves. He is a two-time Slam Dunk Contest champion. In 2016, he became the fourth NBA player to ever win consecutive dunk contests. Overall, he is a very talented basketball player.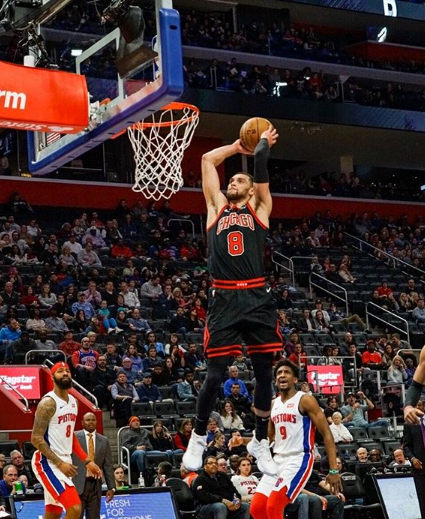 Source: @zachlavine8
Zach LaVine disappointed over losing the 3-point contest
Chicago Bulls star Zach LaVine was disappointed over losing the 3-point contest in the All-Star Weekend. "I wanted to bring that trophy home. I'm pissed. I was ready to go. Got off to hot start. What hurt me was the money ball rack," LaVine said. He needed to score at least 26 to advance to the final round. However, he only scored 23 and was eliminated.
Who are the Parents of Zach LaVine?
Zachary LaVine was born on 10th March 1995, in Renton, Washington, the USA. He was born to father Paul LaVine and mother Cheryl Johnson-LaVine. His nationality is American and he belongs to a mixed ethnic group. His star sign is Pisces. and his religion is Christian. He grew up along with his siblings, Camryn LaVine, Linda Carter, and Chandi Leishman. As of 2019, he celebrated his 24th birthday with his friends and families. He attended Bothell High School in Bothell, Washington and he played for his high school basketball team where he held an average of 28.5 points, 3.4 rebounds, and 2.5 assists per game in his School career. After high school graduation, LaVine enrolled at the University of California, Los Angeles and played for the UCLA Bruins men's basketball team.
For which team, Zach LaVine is playing for?
Zach LaVine was selected by the Minnesota Timberwolves with the 13th overall pick in the 2014 NBA draft on 26th June.
He signed his rookie scale contract with the team on 8th July 2014.
He won the slam dunk contest at the Seattle Basketball Pro-Am League while using many of the same moves he used to capture the Ballislife contest.
Over the first five games of the 2014-2015 season, he played a total of 12 minutes.
When an ankle injury sidelined starter Ricky Rubio indefinitely, he became the starting point, guard, over veteran Mo Williams.
He scored 28 points in a 120-119 win over the Los Angeles Lakers on November 28.
He became only the second teenager ever in the NBA to have at least 25 points and five assists as a reserve.
On 6th December against the San Antonio Spurs, he had 22 points and 10 assists for his first double-double.
He became just the fourth teenage player to record a 20-point, 10-assist game in the NBA.
He then won the Slam Dunk Contest during the 2015 NBA All-Star Weekend.
He became the youngest champion since an 18-year-old Kobe Bryant in 1997.
He became a crowd favorite after his first dunk, which he performed while wearing Jordan's No. 23 jersey from the movie Space Jam.
He played in 77 games, starting in 40, and averaged 10.1 points, 2.8 rebounds, and 3.6 assists, while shooting 42.2 percent overall and 34.1 percent on three-pointers in his 2014 season.
He was subsequently named to the All-NBA Rookie Second Team.
Timberwolves exercised their third-year team option on his rookie-scale contract, extending the contract through the 2016-2017 season on 21st October 2015.
On January 27, he scored 35 points against the Oklahoma City Thunder, just two points shy of his career-high.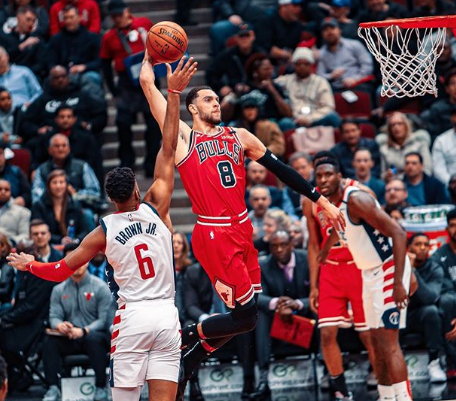 Source: @zachlavine8
During the 2016 All-Star Weekend, he scored 30 points for Team USA in the Rising Stars Challenge to capture MVP honors.
He also became the fourth player ever to win consecutive Slam Dunk Contests.
The Timberwolves exercised their fourth-year team option on LaVine's rookie scale contract, extending the contract through the 2017-2018 season on 24th October 2016.
On 23rd December, he scored a career-high 40 points and tied a career-best with seven three-pointers in a 109-105 loss against the Sacramento Kings.
On 4th February 2017, he was ruled out for the rest of the season after an MRI revealed he had a torn ACL in his left knee.
Later, he was traded, along with Kris Dunn and the rights to Lauri Markkanen (the 7th pick in the 2017 NBA draft), to the Chicago Bulls in exchange for Jimmy Butler and the rights to Justin Patton (the 16th pick in the 2017 NBA draft) on 22nd June 2017.
On 9th February, he scored a season-high 35 points in a 114-113 win over his former team the Minnesota Timberwolves.
On 6th July 2018, the restricted free agent received a four-year, $80 million offer sheet from the Sacramento Kings.
On 6th March, he scored 39 points and hit the go-ahead layup in the closing seconds to lift the Bulls to a 108-107 win over the Philadelphia 76ers.
He missed the end of the season with right leg injuries.
On 23rd November 2019, he scored a career-high 49 points, with 13 three-point field goals, including the game-winning three-pointer to defeat the Charlotte Hornets 116-115.
How much is Zach LaVine's Net Worth?
The net worth of this famous basketball star will be surely in millions as he has accumulated a huge amount of money from his basketball career. As of 2020, the net worth of Zach LaVine is estimated to have $45 Million. He is currently under a 4 year-$78,000,000 contract with the Chicago Bull. In 2018-2019, he earned a base salary of $19,500,000, while carrying a cap hit of $19,500,000 and a dead cap value of $78,000,000. He has made earnings of $29,147,298 from his entire NBA career. Moreover, his personal assets include mansion Valued 3.25 million in Chicago and a supercar. Further, the NBA Player earns a good amount of money from various sponsorships. His major source of earning is from his basketball career. Overall, he is satisfied with his earnings.
Who is Zach LaVine Dating?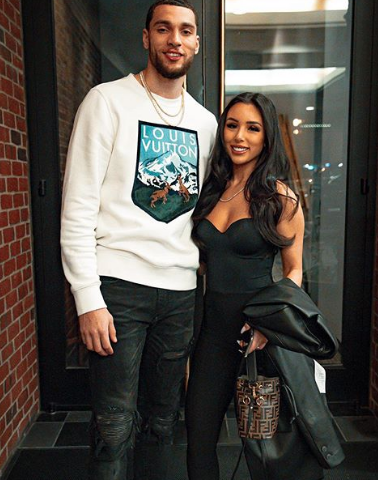 Source: @zachlavine8
Zach LaVine is not married yet but he is currently in a relationship with Hunter Mar since high school who is a sensational Instagram model. As of today, the duo is living a happy life without any disturbances. They are enjoying their life a lot. He is straight by sexual orientation.
How tall is Zach LaVine?
Zach LaVine is a very handsome person with an athletic body build. He has a tall height of 1.98 m or six feet six inches. He has also got a balanced bodyweight of 91 Kg or 200 lb matching with his height. More details about his body measurements such as waist size, hip size, chest size and more will be added soon. Overall, he has got a healthy body.