About Alvin Kamara
Alvin Mentian Kamara, professionally known as Alvin Kamara is an American football player who plays as a running back. The New Orleans Saints drafted him 67th overall in the 2017 NFL Draft. For his impressive performance in his rookie season, he was named the NFL Rookie of the Year and the NFL Offensive Rookie of the Year in 2017. He has already been named to Pro Bowl four times. He played college football at the University of Tennessee.
He is quite popular on social media and has over 1 million followers on Instagram.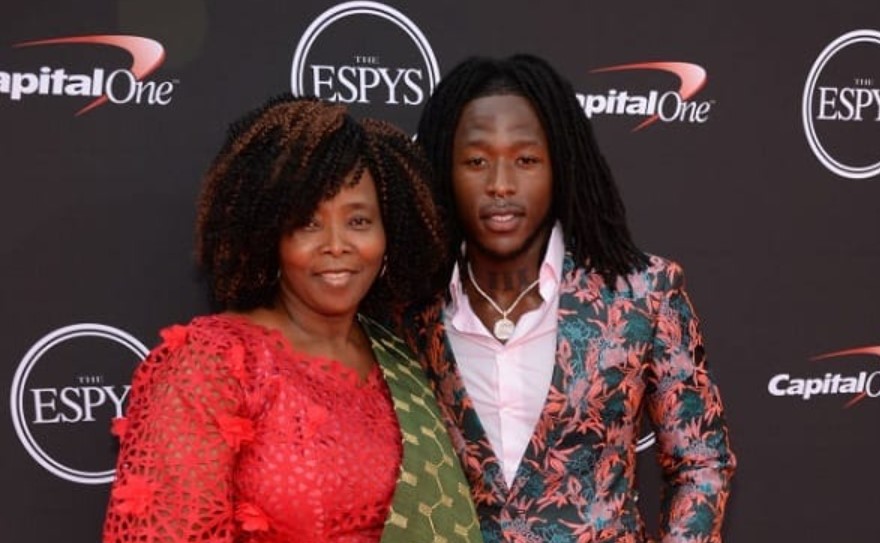 Source: @answersafrica
Alvin Kamara was born on 25 July 1995. His birth name is Alvin Mentian Kamara. His birth place is in Atlanta, Georgia in the United States. He holds an American nationality. He belongs to the African-American ethnicity and his religion is Christianity. His zodiac sign in Leo. He was born to a mother, Adama Kamara. His mother is Liberian. Information about his father is not available at present. He has an older sister named, Garmai K. Momolu.

Regarding his educational background, he attended Norcross High School, where he played on the high school football team. He rushed for 1,300 yards with 17 touchdowns as a junior. As a senior, he rushed for 2,264 yards with 26 touchdowns leading the Blue Devils to its first state championship. He also caught 22 passes for 286 yards and 5 touchdowns as well. The Atlanta Journal-Constitution named him Georgia's Mr. Football. The Georgia Sports Writers Association selected him Class 6A Player of the Year and honored him with first-team All-State honors. He was also chosen to participate in 2013 Under Armour All-America Game. He was considered the top running back prospects in the nation. He was rated the No. 1 all-purpose back in the 247Composite, the No. 5 player in Georgia, and the No. 42 players nationally in 2012. He was rated No. 6 players in Georgia by Rivals.com.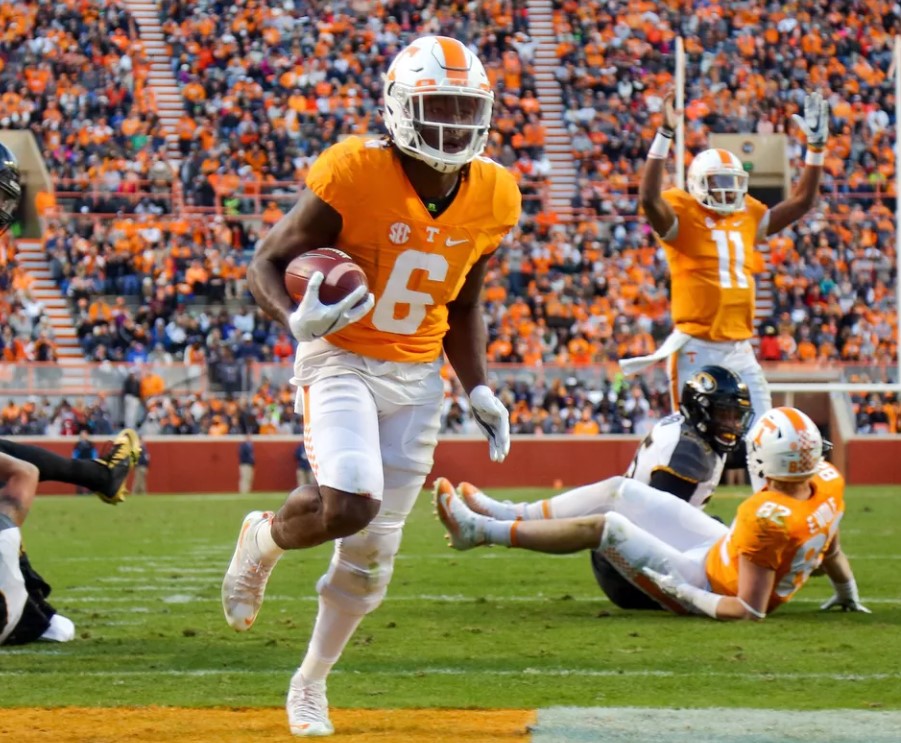 Source: @sbnation
Following high school, he attended the University of Alabama. He underwent knee surgery during the preseason and redshirted his freshman year. He was banned from practicing with the team and suspended from the college's bowl game due to his behavioral issues. He transferred to Hutchinson Community College in 2014. In nine games, Kamara ran for 1,211 yards (134.6 per game) with 18 touchdowns and led the Blue Dragons with 1,469 yards of total offense and 21 touchdowns. Following his impressive performance, he received offers from the University of Tennessee and the University of Georgia. He committed to the Tennessee Volunteers in 2015.
Kamara set a school record for rushing yards in a debut game when he rushed for 144 yards and two touchdowns in his debut game against Bowling Green on 5 September 2015. He helped the Volunteers to qualify for the Outback Bowl with a 9-4 record. He rushed for 698 yards and 7 touchdowns as a redshirt sophomore.
He rushed for 596 yards and 9 touchdowns in the 2016 season. He forgo his redshirt senior season to enter the 2017 NFL Draft.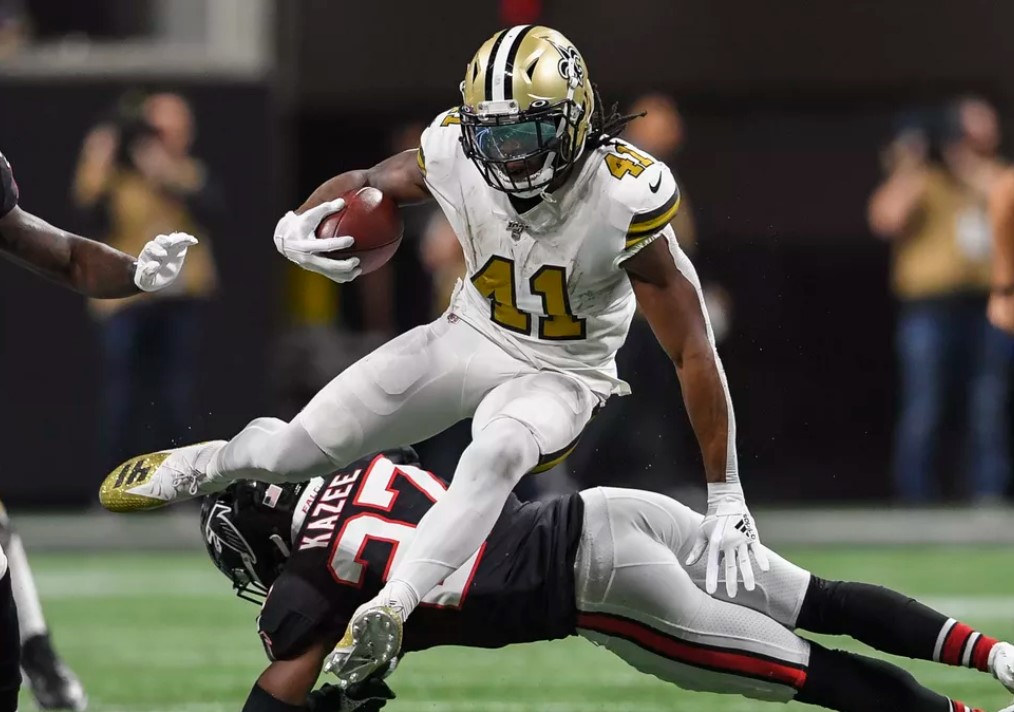 Source: @canalstreetchronicles
Alvin Kamara Career
Kamara achieved the highest Wonderlic test score of running backs participating in the NFL Combine in 2017.
He was predicted to be a second-round pick.
NFLDraftScout.com, ESPN, and NFL analyst Mike ranked him the fourth-best running back prior to the 2017 NFL Draft.
The New Orleans Saints selected him in the third round of the 2017 NFL Draft. He was drafted 67th overall in the 2017 NFL Draft.
He was the fifth running back selected in the 2017 NFL Draft.
He split backfield duties with Mark Ingram Jr. through his rookie season.
He made his NFL debut in the season opener against the Minnesota Vikings.
He scored his first professional touchdown in Week 3 against the Carolina Panthers in the 2017 season.
He became the first player since Herschel Walker in 1986 to compile 500 rushing and receiving yards in his first 11 career games. He was the first non-quarterback to average over 7.0 yards per carry through 12 weeks since the merger.
He became the fourth 600/600 rookie in NFL history after he rushed for 60 yards and two touchdowns and caught 5 passes for 66 yards in Week 13 in his rookie season.
He was named to his first Pro Bowl in his rookie season. He was also named to the NFL All-Rookie Team.
He finished his rookie season with 728 rushing yards and 8 touchdowns and 826 receiving yards and 5 touchdowns.
His 728 yards rushing and 826 yards receiving was the first 700/700 season by a Saint, third by an NFL rookie, and the 11th 700/800 season by any NFL player.
His 81 receptions on the season were first among all rookies and second in the league among running backs.
Kamara and Ingram became the first running back duo in NFL history to each have over 1,500 scrimmage yards in the same season.
Kamara and Mark Ingram became the first-ever pair of running backs from the same team to earn the honors of being named to the Pro Bowl.
His 6.07 yards per rush was the most ever by an NFL rookie among non-quarterbacks with 100+ carries. It was also the most ever by any Saint player and the third most by any NFL player.
He led the Saints to finish 11-5 and win the NFL South in the 2017 season.
The Saints lost 29-24 to the Minnesota Vikings in the Divisional Round.
He was named NFL Rookie of the Year as well as NFL Offensive Rookie of the Year.
Source: @canalstreetchronicles
He was ranked No. 20 by his fellow players on the NFL Top 100 Players of 2018.
He became the first player in NFL history to have 1,000 rushing yards and 1,000 receiving yards in his first 20 games.
He finished the 2018 season with 883 rushing yards and 14 touchdowns and 709 receiving yards and 4 touchdowns.
The Saints suffered a 26-23 controversial overtime loss to the Los Angeles in the NFC Championship.
He was ranked 14th by his fellow players on the NFL Top 100 Players of 2019.
He was named to his second Pro Bowl.
Kamara battled injuries to his ankle and knee leading to missing Weeks 7 and 8 matches in the 2019 season.
He finished the 2019 season with 797 rushing yards and 5 touchdowns and 533 receiving yards and 1 touchdown.
The Saints lost 26-20 in the NFC Wild Card Round against the Minnesota Vikings.
He was named to his third Pro Bowl.
He signed a 5-year contract extension worth $75 million with the Saints.
He finished the 2020 season with 932 rushing yards and 16 touchdowns and 756 receiving yards and 5 touchdowns.
He was named to his fourth Pro Bowl.
He is the second player in NFL history (the record tied with Ernie Nevers) to score six rushing touchdowns in a single game, the feat he achieved on 25 December 2020.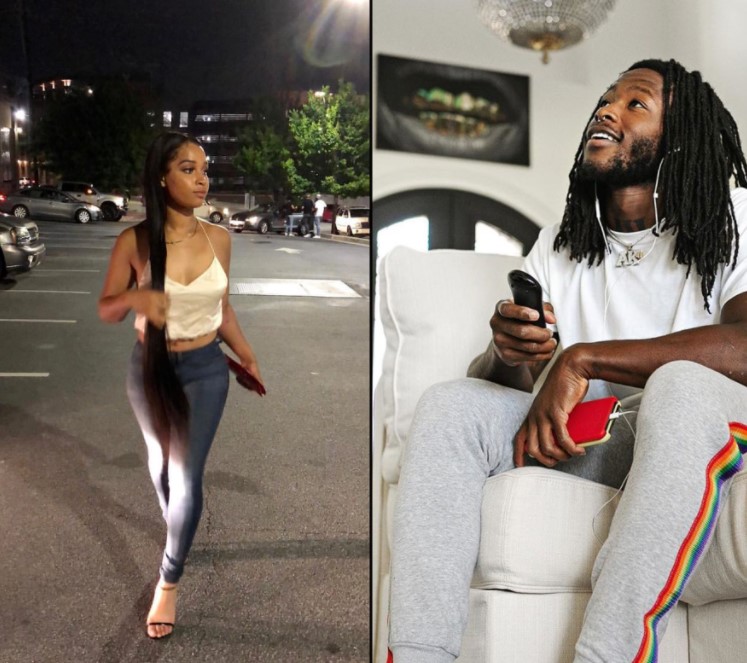 Source: @blacksportsonline
Alvin Kamara Girlfriend
NFL star Alvin Kamara is not married. He is reportedly single at present. He was previously dating New Orlean-based stripper, Just Ace. The couple broke up in 2019. More details about his relationship status and personal life will be updated soon.
Alvin Kamara Height
Alvin Kamara stands at a height of 1.78 m i.e. 5 feet and 10 inches tall. He has a body weight of 215 lbs i.e. 98 kg. He has an athletic body build. His eye color is dark brown and his hair color is black. His sexual orientation is straight.
Alvin Kamara Salary and Net Worth
Alvin Kamara earns from his career as a professional football player. He is currently playing for the NFL team, New Orleans Saints. His income comes from contracts, salaries, bonuses, and endorsements. He signed a 5-year contract extension worth $75 million with the Saints ahead of the 2020 season. The contract includes a $15,00000 million signing bonus and $33,833000 guaranteed. According to his contract, he has an annual salary of $15 million. His net worth is estimated at $4 million at present.