Amanda Gorman Biography
The 22-years-old, Amanda Gorman is a famous American poet as well as an activist from the USA. She is best known for focusing her work on issues of oppression, feminism, race, and marginalization, as well as the African diaspora. She successfully became the first person to be named National Youth Poet Laureate. Her poetry book includes "The One for Whom Food Is Not Enough" which was published in the year 2015. As Gorman notes on her website, she has two new books that she expects to release with Penguin Random House in the year 2021. She has also written a children's book called Change Sings. She explained on social media that she wants the book to serve as a "children's anthem to remind young readers that they have the power to shape the world." She is the founder and executive director of One Pen One Page, an organization providing free creative writing programs for underserved youth. At age 19, she was honored as the first National Youth Poet Laureate. She accepted the honor in a ceremony at the Gracie Mansion in New York City. Recently, she delivered the poem "The Hill We Climb" at the Inauguration of Joe Biden in the year 2021 being the youngest inaugural poet the United States ever had. n 2017, Gorman won a $10,000 grant from media company OZY as part of the OZY Genius Awards. Scroll down to get more information about her full biography, wiki, age, interesting facts, personal life, untold story & more.
Amanda Gorman has become the youngest poet ever to perform at a presidential inauguration, calling for "unity and togetherness" in her self-penned poem. She delivered her work The Hill We Climb to both the dignitaries present in Washington DC and a watching global audience. "When day comes, we ask ourselves where can we find light in this never-ending shade?" her five-minute poem began. She went on to reference the storming of the Capitol earlier this month. "We've seen a force that would shatter our nation rather than share it, would destroy our country if it meant delaying democracy," she declared. In her poem, Gorman described herself as "a skinny black girl descended from slaves and raised by a single mother [who] can dream of becoming president, only to find her self reciting for one". US broadcaster and actress Oprah Winfrey tweeted that she had "never been prouder to see another young woman rise".
Source: @cnn.com
Everything You Need To Know About Joe Biden
Amanda Gorman is famous for being a poet and activist from the USA. She is best known for delivering the poem "The Hill We Climb" at the Inauguration of Joe Biden in the year 2021.
On 7th March 1999, Amanda Gorman was born in Los Angeles, California, the USA (birthplace/hometown). She holds an American nationality and her ethnic background is mixed of African-American. Her race is black. As of 2020, she celebrated her 22nd birthday and she will next celebrate her 23rd birthday as of 2021 on 7th March. She was born to her parents; Joan Wicks, a teacher (mother), and her father. She was brought up by a single mom. She also has two siblings; a twins sister named Gabrielle and an older brother named Spencer with whom she grew up. The twins were born prematurely and their mother feared they might have physical and developmental issues because of their birth complications. Her sister is also an activist by profession. She took birth in an environment with limited TV access. Thus, she had a speech impediment as a child. She described her young self as a "weird child" who enjoyed reading and writing and was encouraged by her mother. She is Christian by religion and her Zodiac sign is Pisces. In an interview with Study Breaks magazine in 2017, she discussed how her mother's teaching career influenced her: "Having a mother as a sixth grade English teacher in an inner-city public school gave me an up-close and personal view of how literacy influences young students. I realized that education can really be a life-or-death resource. That sounds dramatic, but to kids who grow up in these neighborhoods, it's not. It's reality. School and college is a pathway to get off the streets, to break a cycle. I wrote about this for the LA Youth Poet Laureate ceremony in a poem called Neighborhood Anthem. My mother worked so hard while raising three kids to get her doctorate and master's degrees in Education. She inspires me every day to seek higher education not only for myself but for the other students around me."
Concerning her education, she went to attend New Roads, a private school in Santa Monica, for grades K–12. She received a Milken Family Foundation college scholarship being a senior and studied sociology at Harvard College and graduated with the class of 2020. There, she became the first person to be named national youth poet laureate in April 2017 being chosen from five finalists.
Beautiful and charming Amanda Gorman stands tall at the height of 5 ft 4 in with a balanced weight of 42 KG. Her eye color is brown and her hair color is also brown. Her body build is slim. She said that she has an auditory processing disorder and is hypersensitive to sound during her early years. Her other body measurements are still to get publicized yet. Overall, she has got a healthy body with a glowing face and a charming smile.
Amanda Gorman Career
Amanda Gorman's art and activism focus on issues of oppression, feminism, race, and marginalization, as well as the African diaspora.
She was inspired to become a youth delegate for the United Nations after watching a speech by Pakistani Nobel Prize laureate Malala Yousafzai in the year 2013.
In the year 2014, she was chosen as the youth poet laureate of Los Angeles.
Being an author, she published the poetry book "The One for Whom Food Is Not Enough" in the year 2015. What's more, she is also the founder of the nonprofit organization One Pen One Page, which runs a youth writing and leadership program.
She also became the first youth poet to open the literary season for the Library of Congress in the year 2017.
Additionally, she has also read her poetry on MTV. The Morgan Library and Museum even acquired her poem "In This Place" and also displayed it in the year 2018.
Moreover, she became the first author to be featured on XQ Institute's Book of the Month in the year 2017.
She has also written a tribute for black athletes for Nike and has a book deal with Viking Children's Books to write two children's picture books.
She stated in the year 2017 that she wants to run for president in the year 2036.
Back then, she made her role in an episode of the web-series "Some Good News" in May 2020 which was hosted by John Krasinski.
She has even meet Oprah Winfrey virtually and she issued a virtual commencement speech to those who could not attend physical commencements due to the COVID-19 pandemic in the United States of America.
On 20th January 2021 (Wednesday), she read her poem "The Hill We Climb" at President Joe Biden's inauguration becoming the youngest poet to read at a presidential inauguration in U.S. history. She was recommended by Jill Biden for the inauguration.
She also amended her poem's wording to address the storming of the United States Capitol.
During the week before the inauguration, she told The Washington Post book critic Ron Charles, "My hope is that my poem will represent a moment of unity for our country," and "that with my words I'll be able to speak to a new chapter and era for our nation."
In September, she will release "Change Sings," the first of two children's books. The poet says she was driven by the desire to publish a book "in which kids could see themselves represented as change-makers in history, rather than just observers."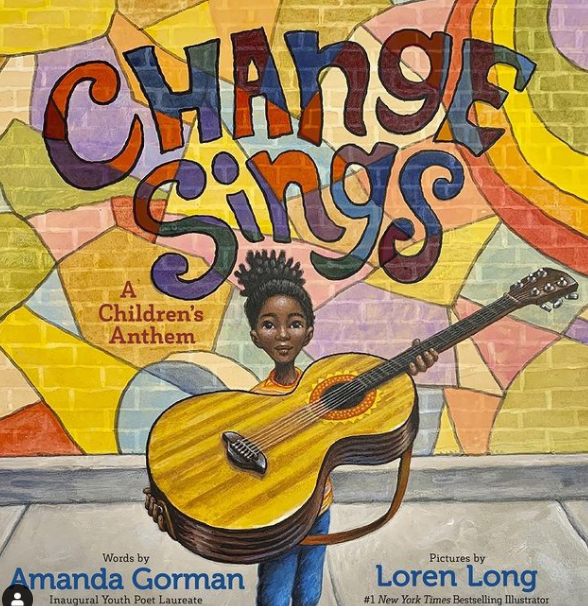 Source: @instagram.com/amandascgorman
Amanda Gorman Personal Life
Amanda Gorman is not married yet and she is still to get married. There is not much about his personal relation and boyfriend as she always maintains a distance in her personal life and media. But we know she isn't married and she has no husband. Since she is still unmarried and single there isn't any chance of her being through a divorce. More and additional information about him can be obtained from Wiki. At present, she is focusing on her career and she has no time for having affairs or being in a relationship. She is enjoying her present life happily without any disturbances. Her sexual orientation is straight.
Amanda Gorman Net Worth & Salary
Amanda Gorman is a young poet and activist who is making a cool amount of money from her work. As of 2021, the net worth of Amanda is estimated to have $1 Million - $5 Million whereas her salary is still to get unfold yet but there is no doubt in the mind of her followers that she is making a good amount of money from her work. Her major source of wealth comes from her poetry career and being an author. She is living a cool lifestyle as of today.