About Valentina Shevchenko
Valentina Shevchenko is a Kyrgyzstani-Peruvian professional MMA fighter as well as a former Muay Thai fighter. She is famous for being one of the top-rated professional mixed martial artists with roots from Peru and Kyrgyzstan. She is best known for her achievements in the various competitions which include winning over 8 Golds in IFMA (International Muay Thai Federation) Championship, winning gold in World Combat Games in 2010 and 2013, and winning World Championship in KF-1 MMA Pro in Seoul. She is also well-known for reaching #1 in the official UFC flyweight rankings in July 2018. Her native name is Валентина Шевченко whereas her nickname is 'Bullet. Her highest reach is 66.5 in or 169 cm and her stance Southpaw. Her team is Tiger Muay Thai and she is trained by Pavel Fedotov (coach). Her ranking is 2nd dan black belt and Master of Sports in Taekwondo, International Master of Sports in Muay Thai, Master of Sports in Boxing, Master of Sports in Kickboxing, Black belt, and Master of Sports in Judo. At present, she is the current UFC Women's Flyweight Champion.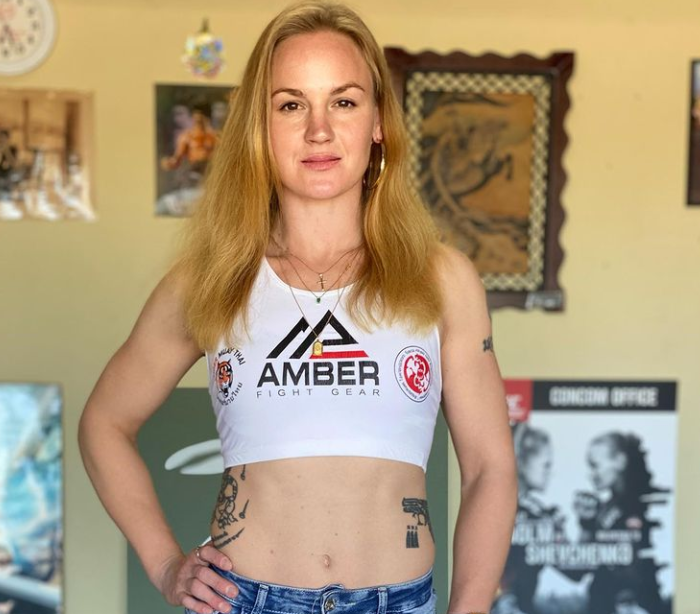 Source: @instagram.com/bulletvalentina
Valentina's kickboxing career began in 2000 when, also at age 12, she knocked out a 22-year-old opponent, earning her the moniker "Bullet" from her trainer Pavel Fedotov because of her speed in the ring. She made her MMA debut in the Kyrgyz Federation of Kulatuu event in Kyrgyzstan against Eliza Aidaralieva, winning the match by 1-0 by TKO (punches) on 21st April 2003. She made her first TV show appearance on the sports show "Into the Fire" in 2011. About her MMA records, she has played altogether 24 matches out of which she won 21 matches and lost 3 matches. In April 2019, she was awarded by Kyrgyz President Sooronbay Jeenbekov with the Dank Order. As of 23rd November 2020, she is ranked #2 in UFC women's pound-for-pound rankings. Her recent fight was with Jessica Andrade where Valentina dominated Jessica and then finished in a violent fashion with elbows on the ground. The result was a TKO victory for Shevchenko at 3 minutes, 19 seconds of the second round at UFC 261 in Jacksonville, Florida. She defended her UFC women's flyweight title for the fifth time.
Early Life and Family
Born as 'Valentina Anatolievna Shevchenko', Valentina Shevchenko took birth on 7th March 1988 in Frunze, Kirghiz SSR, Soviet Union (now Bishkek, Kyrgyzstan). She came from a mixed ethnic background as she had Soviet, and later Kyrgyzstani, citizenship. She holds Kyrgyzstani-Russian-Peruvian nationality. She gained Peruvian citizenship in 2008. Pisces by Zodiac sign, Valentina was raised in a Christian family. Thus, she follows the religion of Christian. She cut her 33rd birthday cake as of 2021.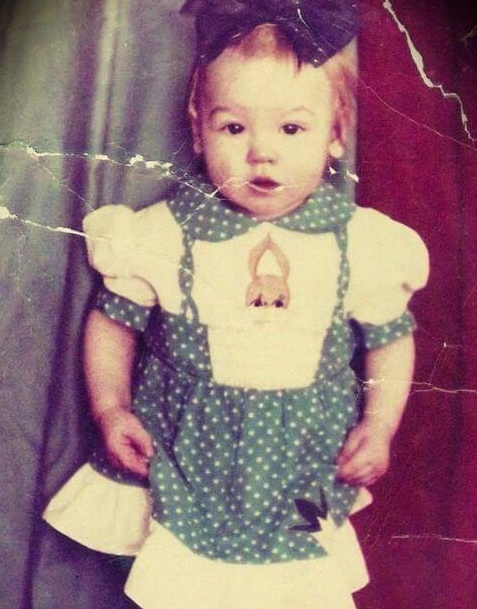 Source: @lawofthefist
Valentina was born to a Ukrainian family whereas she has described herself as being "Russian" in a Russian interview and her native language is Russian. Her mother, Elena Shevchenko is the president of Kyrgyzstan's national Muay Thai association and a former multiple-time Muay Thai champion, and her father, Anatoly Shevchenko served in the Pacific Fleet of the Soviet Navy for three years during Cold War. She grew up with her older sister, Antonina.
About his educational background, Valentina earned an undergraduate degree in Film Directing from the National Academy of Arts of the Kyrgyz Republic.
Valentina Shevchenko Personal Life
Valentina Shevchenko is still single as she is searching for the best partner/boyfriend for her. She is living a present life happily and there are no rumors about her affairs with anyone. Her sexual orientation is straight.
Valentina Shevchenko Net Worth and Salary
Professional fighter, Valentina Shevchenko is currently ranked at #2 in UFC women's pound-for-pound rankings. She collected her highest paycheck ($300,000) after brutally knocking out Jessica Eye at UFC 238. She has made over $1,689,000 in her UFC career as per sources. As of 2021, the net worth of Valentina is estimated to have $5 Million. Her major source of wealth comes from a fighting career and she is satisfied with her earnings as of today. She is also receiving a cool salary income from her work. She has either promoted or endorsed several brands, like GuardLab, Brownells, Inc, Smith & Wesson Corp, Dapper Scrappers, LUCHO Shoes, Girls with Guns Clothing, VEOSPORT.
How tall is Valentina Shevchenko?
Beautiful and charming Valentina stands tall at the perfect height of 5 ft 5 in. She has an athletic body build as she maintained her body a lot by doing frequent exercises. Her weight consists of 125 lb or 57 Kg or 8.9 st. Her hair color is blonde and she has a pair of dark brown eyes with a wide forehead. Also, she has inked a tattoo of a Glock with 3 bullets on the left side of her abdomen.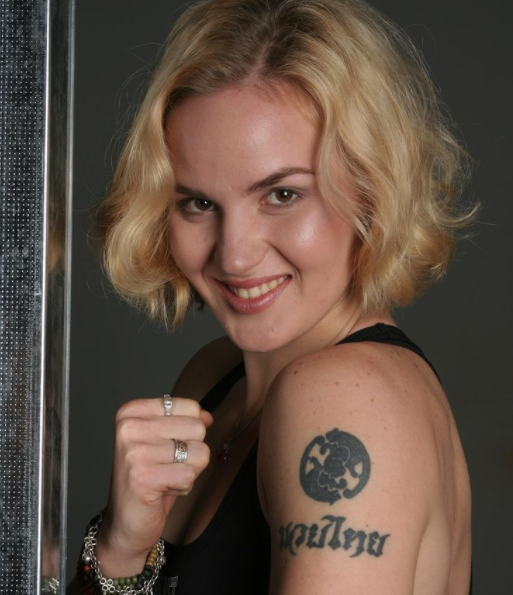 Source: @instagram.com/bulletvalentina
Awards, Achievements, Championships, and Accomplishments
Mixed martial arts
Ultimate Fighting Championship (UFC)
UFC Women's Flyweight Championship (One time, current)
Five successful title defenses
First female to Defend UFC Women's Flyweight Championships
Performance of the Night (Three times) vs. Julianna Peña, Priscila Cachoeira, and Jessica Eye
Most wins in UFC Women's Flyweight division
Most consecutive wins in UFC Women's Flyweight division
Most knockout wins in UFC Flyweight division history (three)
MMAJunkie.com
2019 June Knockout of the Month vs. Jessica Eye
CombatPress.com

2020 Female Fighter of the Year
Cageside Press
2020 Female Fighter of the Year
BT Sport
2020 Female Fighter of the Year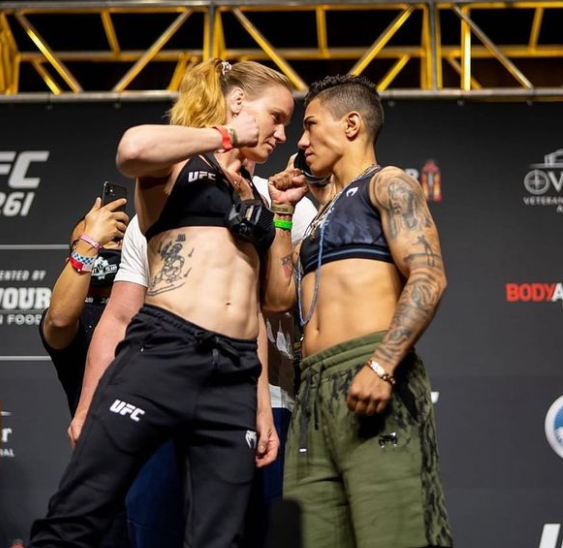 Source: @instagram.com/bulletvalentina
Kickboxing
Kunlun Fight Women's Lightweight Championship (1 Title Defense)
2014 Kunlun Fight Female -60kg Tournament Champion
2013 World K-1 Champion WKC, Peru Gold (60 kg)
2013 World K-1 Champion WKC, Mexico Gold (60 kg)
2005 World Champion KF-1 MMA Pro, Korea, Seoul Gold (57 kg)
2004 World Kickboxing Champion WAKO, Italy Gold (56 KG)
2003 World Champion KF-1 MMA Pro, Korea, Seoul Gold (55 kg)
Muay Thai
2015 I.F.M.A. Royal World cup Tournament Championship Gold (60 kg)
2014 I.F.M.A. World Championship Gold (60 kg)
2013 World Combat Games, Muay Thai Gold Medalist Gold (60 kg)
2012 WMC Muaythai Female Super Lightweight World Champion
2012 I.F.M.A. World Championship Gold (60 kg)
2011 I.F.M.A. World Championship Silver (60 kg)
2010 World Combat Games, Muay Thai Gold Medalist Gold (60 kg)
2010 I.F.M.A. World Championship Gold (63.5 kg)
2009 I.F.M.A. World Championship Gold (60 kg)
2008 I.F.M.A. World Championship Gold (57 kg)
2007 I.F.M.A. World Championship Gold (57 kg)
2006 I.F.M.A. World Championship Gold (57 kg)
2006 World Muay Thai WMF Champion, Thailand Gold (57 kg)
2003 I.F.M.A. World Championship Gold (57 kg)