Anna May Wong was an American actress, considered to be the first Chinese American Hollywood movie star as well as the first Chinese American actress to gain international recognition. During the silent film era, she acted in The Toll of the Sea (1922) and Douglas Fairbanks' The Thief of Bagdad (1924). Moreover, she became a fashion icon and had achieved international stardom in 1924. She was featured in films of the early sound era, such as Daughter of the Dragon (1931) and Daughter of Shanghai (1937) and with Marlene Dietrich in Josef von Sternberg's Shanghai Express (1932). Google Doodle celebrates Anna May Wong nearly 100 years after her first leading role.
What was Anna May Wong's Cause Of Death?
On 3rd February 1961, Anna May Wong died at the age of 56 in Santa Monica, CA, the USA due to heart attack.
Where was Anna May Wong Born?
On 3rd January 1905, Anna May Wong was born as Wong Liu Tsong on January 3, 1905, on Flower Street in Los Angeles, one block north of Chinatown, in an integrated community of Chinese, Irish, German and Japanese residents. She was the second of seven children born to Wong Sam Sing, owner of the Sam Kee Laundry, and his second wife Lee Gon Toy. Her parents were second-generation Chinese Americans; her maternal and paternal grandparents had resided in the U.S. since at least 1855. Her older sister Lew Ying (Lulu) was born in late 1902, followed by five more children. She attended public school with her older sister at first, but then when the girls became the target of racial taunts from other students, they moved to a Presbyterian Chinese school. Classes were taught in English, but Wong attended a Chinese language school afternoons and on Saturdays. She dropped out of Los Angeles High School in 1921 to pursue a full-time acting career. Her nationality was American and she was from the Mixed ethnic group. Her religion was Christian.
How was Anna May Wong Career?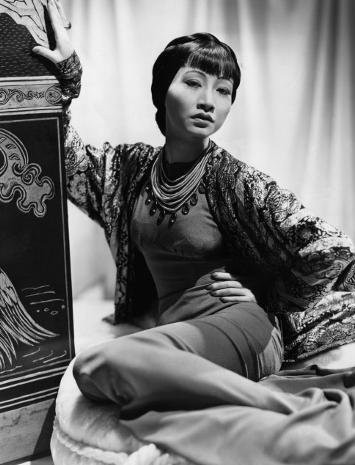 Source: @art.com
Wong worked at Hollywood's Ville de Paris department store.
Later, Metro Pictures needed 300 female extras to appear in Alla Nazimova's film The Red Lantern (1919) and her father's friend helped her land an uncredited role as an extra carrying a lantern.
She then worked steadily for the next two years as an extra in various movies, including Priscilla Dean and Colleen Moore pictures.
She dropped high school to pursue a full-time acting career.
She told Motion Picture Magazine in 1931: "I was so young when I began that I knew I still had youth if I failed, so I determined to give myself 10 years to succeed as an actress."
She received her first screen credit for Bits of Life in 1921.
She then played her first leading role, in the early Metro two-color Technicolor movie The Toll of the Sea.
She spent the next few years in supporting roles providing "exotic atmosphere", for instance playing a concubine in Tod Browning's Drifting (1923).
She was cast in a supporting role as a scheming Mongol slave in the 1924 Douglas Fairbanks picture The Thief of Bagdad when she was only 19.
Playing a stereotypical "Dragon Lady" role, her brief appearances on-screen caught the attention of audiences and critics alike.
She continued to be offered exotic supporting roles that followed the rising "vamp" stereotype in cinema.
She played indigenous native girls in two 1924 films.
She portrayed an Eskimo in The Alaskan and returned to Los Angeles to perform the part of Princess Tiger Lily in Peter Pan.
She was singled out for critical praise in a manipulative Oriental vamp role in the film Forty Winks.
In early 1925 she joined a group of serial stars on a tour of the vaudeville circuits; when the tour proved to be a failure, Wong and the rest of the group returned to Hollywood.
She starred in The Silk Bouquet. Re-titled The Dragon Horse in 1927.
In Old San Francisco (1927), directed by Alan Crosland for Warner Brothers, Wong played a "Dragon Lady", a gangster's daughter.
In Mr. Wu (1927) she played a supporting role as increasing censorship against mixed-race onscreen couples cost her the lead.
In Europe, Wong became a sensation, starring in notable films such as Schmutziges Geld (aka Song and Show Life, 1928) and Großstadtschmetterling (Pavement Butterfly).
In Vienna, she played the title role in the operetta Tschun Tschi in fluent German.
London producer Basil Dean bought the play A Circle of Chalk for her to appear in with the young Laurence Olivier, her first stage performance in the UK.
She then made her last silent film, Piccadilly, in 1929, the first of five English films in which she had a starring role.
Her first talkie was The Flame of Love (1930), which she recorded in French, English, and German.
She was offered a contract with Paramount Studios in 1930.
It led to a starring role on Broadway in On the Spot.
She accepted another stereotypical role – the title character of Fu Manchu's vengeful daughter in Daughter of the Dragon (1931).
She then appeared alongside Marlene Dietrich as a self-sacrificing courtesan in Sternberg's Shanghai Express.
In 1934, the Mayfair Mannequin Society of New York voted her "The World's best-dressed woman" and in 1938 Look magazine named her "The World's most beautiful Chinese girl".
She made her role in The Son-Daughter.
She was scheduled to play the role of a mistress to a corrupt Chinese general in Frank Capra's The Bitter Tea of General Yen (1933), but the role went instead to Toshia Mori.
She appeared in the King George Silver Jubilee program in 1935.
Her film Java Head (1934), though generally considered a minor effort, was the only film in which Wong kissed the lead male character, her white husband in the film.
After the major disappointment of losing the role in The Good Earth, she announced plans for a year-long tour of China.
To complete her contract with Paramount Pictures, she made a string of B movies in the late 1930s.
She then made her role in the Daughter of Shanghai and King of Chinatown.
Paramount also employed Wong as a tutor to other actors, such as Dorothy Lamour in her role as a Eurasian in Disputed Passage.
Between 1939 and 1942, she made few films, instead of engaging in events and appearances in support of the Chinese struggle against Japan.
She starred in Bombs over Burma (1942) and Lady from Chungking (1942), both anti-Japanese propaganda made by the poverty row studio Producers Releasing Corporation.
She returned to film with a small role in a B movie called Impact in 1949.
From August 27 to November 21, 1951, she starred in a detective series that was written specifically for her, the DuMont Television Network series The Gallery of Madame Liu-Tsong.
In 1956, she hosted one of the first U.S. documentaries on China narrated entirely by a Chinese American. Broadcast on the ABC travel series Bold Journey.
She did guest spots on television series such as Adventures in Paradise, The Barbara Stanwyck Show, and The Life and Legend of Wyatt Earp.
She received a star at 1708 Vine Street on the inauguration of the Hollywood Walk of Fame in 1960.
In 1960, Wong returned to film in Portrait in Black, starring Lana Turner.
She was scheduled to play the role of Madame Liang in the film production of Rodgers and Hammerstein's Flower Drum Song but was unable to take the role due to failing health.
On January 22, 2020, a Google Doodle celebrated Wong, commemorating the 97th anniversary of the day The Toll of the Sea went into general release.
What is the Net Worth of Anna May Wong?
The net worth of this famous actress is estimated to have $25 Million at the time of her death. Her major source of earning was from her acting career and she was satisfied with her earnings prior to her death. She was living a luxurious lifestyle before her death.
Was Anna May Wong Married?
Anna May Wong was a married woman. She was married to a wealthy Cantonese man named Art. Prior to her death, the duo was living a happy life without any disturbances. There is no information regarding how the duo met and regarding their children. But it will be added once we get information about it.
How tall was Anna May Wong?
Anna May Wong was a very beautiful woman with a charming personality attracting a lot of people towards her. She had a tall height of five feet six inches. But her other body measurements such as weight, bra-size, shoe size and more has not been revealed by any sources yet but it will be added once we get information about it. Her body build was slim.