Azealia Amanda Banks shortly named as Azealia Banks and also known as Miss Bank$ is an American rapper, singer, songwriter, record producer, as well as an actress. In the year 2011, her single "212" went viral and entered several international charts. Banks subsequently signed with Interscope and Polydor Records. She released her debut studio album "Broke with Expensive Taste" in January 2014 via Interscope and Polydor Records. The album consists of 16 singles including "Yung Rapunxel", and "ATM Jam", which were released in 2013. Her debut film was a 2005 musical comedy film "The American Ruling Class" for her role as Empire Falls singer and dancer. She has released two mixtapes (Fantasea in 2012 and Slay-Z in 2016), one studio album (Broke with Expensive Taste in 2014), and one extended play (1991 in 2012). Scroll down to get more information about her full biography, family details, birthday, wiki, net worth, religion, career, facts, height, and many more.
Famous For
Being a famous rapper, singer, songwriter, record producer, as well as an actress.
For her singles like "212", "Yung Rapunxel" and "ATM Jam", released in 2011, and 2013.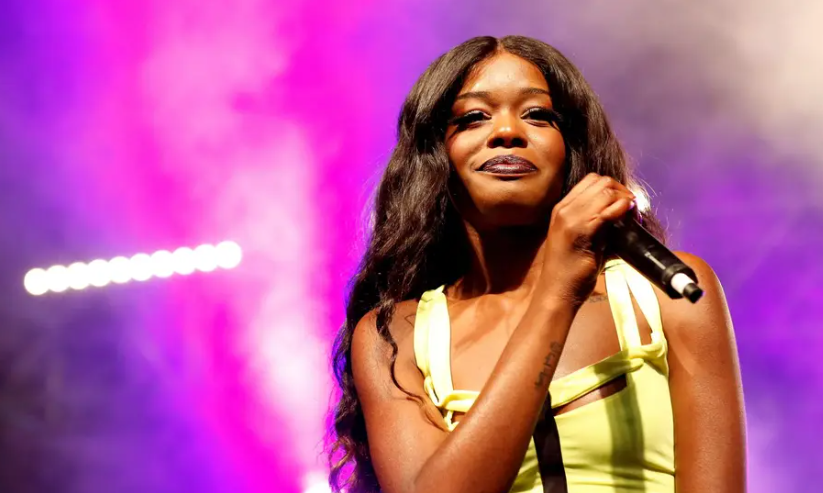 Source: @independent.co.uk
Early Life of Azealia Banks
Azealia Banks was born on 31st May 1991 with the birth name/real name of Azealia Amanda Banks. Her birthplace/hometown is in New York, City, the USA. Her nationality is American and her ethnicity is Afro-American. Her race is Black. She had a very painful childhood as her mother turned bitter after the death of her father. She was raised by a single mother along with her older sisters. Her father died shortly after her birth due to pancreatic cancer. Due to the rising violence of her mother, she was forced to leave her home at fourteen and moved in with her sister. After that, she began her career in singing. As per her education, she had attended LaGuardia High School of Performing Arts in Manhattan to train herself in performing arts. She has not finished her high schooling till now. Instead of thought of fulfilling her dream of becoming a rapper, and singer. Regarding her siblings, she has two older sisters. Her birth sign is Gemini and she is non-religious regarding her religion. As of 2020, she celebrated her 28th birthday.
Career of Azealia Banks
At a young age, she became interested in musical theater, dancing, acting and singing and at the age of sixteen, she starred in a production of the comedy-noir musical "City of Angels" and was found by an agent who sent her to auditions for TBS, Nickelodeon, and "Law & Order", all without success.
Later, she decided to end her career in acting and she began writing rap and R&B songs as a creative outlet.
She launched her first recording "Gimme a Chance" under the name Miss Bank$ onto YouTube on 9th November 2008.
Her self-produced single "Seventeen" attracted the interest of XL Records.
After that, she signed a contract with XL Recordings and appeared in Major Lazer's "Can't Stop Now". Due to the idea conflict, she left the label.
After departing from the label, she left her moniker "Miss Bank$" and she relocated to Montreal where she recorded two singles "Slow Hands" and "L8R". She made the song viral via YouTube.
"212" was her next single which gave her recognition among music lovers. It was released officially on December 6, 2011, as the lead single from her EP 1991.
The track attained European moderate chart success, peaking at #14 in the Netherlands, #12 in the United Kingdom, and #7 in Ireland.
She began working on her debut studio album along with producer Paul Epworth.
On 16th January 2012, she released the single "NEEDSUMLUV (SXLND)" via the internet.
Her next rack "Bambi" was chosen as a soundtrack for a fashion show in Paris "Mugler".
Releasing Fantasea mixtape and 1991 EP, her debut album titled "Broke with Expensive Taste" was postponed for 3 years, being launched in November 2014.
On 31st December 2012, her promotional track "BBD" which is set to appear on her debut album was released.
In August 2013, she announced that sequel of her first mixtape Fantases, called "Fantasea II: The Second Wave" would soon hit the market.
In July 2014, her new track "Heavy Metal and Reflective" on her own recording label "Azealia Banks Records".
On 22nd September, her next single "Chasing Time" was released.
She launched her debut album on 6th November.
In the year 2012, she went on a tour "Fantasea Tour" and as of 2014, she organized: "Broke With Expensive Taste".
In the year 2016, she took to Twitter to express her endorsement of Donald Trump's 2016 presidential campaign, clarifying that she had no hope for America.
On 31st January 2018, she announced that she had signed a $1 million record deal with Entertainment One and released "Movin On Up" on March 9.
"Fantasea II: The Second Wave was released on 6th April 2018 and the official music video for the single was released on 24th May 2018.
In November, she announced on her Instagram account that she would release the Christmas-themed EP Icy Colors Change on December 7.
The project was released on December 19 after several delays, with a promotional single, "What Are You Doing New Year's Eve?", released on December 13.
She then announced that she would release her other studio album, Business & Pleasure ahead of Fantasea II: The Second Wave.
She said that Fantasea II would be released in the summer of 2019.
In May 2019, she announced that she had been working on a project in Russia called "Yung Rapunxel: Pt. II" as a follow-up mixtape to her debut single off "Broke with Expensive Taste" called "Yung Rapunxel" and was released on 11th September 2019 through SoundCloud.
She released "Count Contessa and Pyrex Princess" on various streaming platforms on 16th December 2019.
Throughout the first quarter of 2020, she debuted her podcast Cheapy's Two Cents, and released multiple singles, including "Slow Hands", an Interpol cover previously uploaded in 2012, as well as "Salchichon", featuring ONYX, and "-800-Nu-Checks".
She also released multiple tracks exclusively on her SoundCloud, such as "Diamond Nova", which previously stood as the B-Side to her 2013 single "ATM Jam", featuring and produced by Pharrell, as well as a Spanglish single, "Nirvana".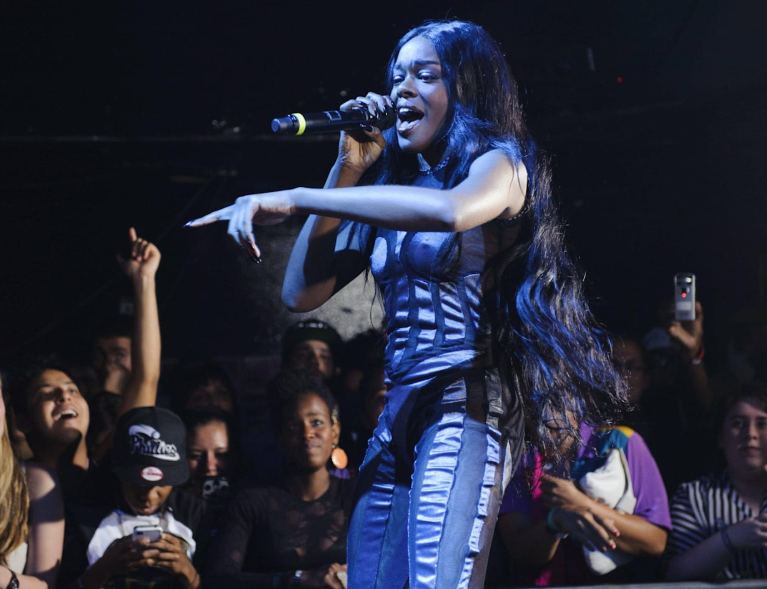 Source: @redbull.com
Awards and Achievements of Azealia Banks
Azealia Banks is a very talented singer and she has accumulated many awards. Her passion and hard work has been honored with numerous accolades and awards. She іѕ а wіnnеr оf thе Рhіlір Наll Rаdаr Аwаrd оrgаnіzеd bу NМЕ Аwаrdѕ іn 2012. Ѕhе аlѕо еаrnеd Веѕt Ѕіnglе іn thе ѕаmе уеаr frоm Urbаn Мuѕіс Аwаrdѕ. Іn 2015, Ваnkѕ аgаіn gоt а Моntvіllе Мuѕіс Vіdео Аwаrd. Ѕhе hаѕ bееn nоmіnаtеd fоr dіffеrеnt аwаrdѕ thrоughоut hеr lіfе аѕ а muѕісіаn аnd аn аrtіѕt.
Personal Life of Azealia Banks
Azealia Banks is not married yet and she is still to get married. Regarding her sexual orientation, Banks revealed that she is a bisexual due to which her personal life is gaining lots of attention from her fans as well as media. She has expressed dissatisfaction with society's labeling of others based on sexual orientation. In an interview with The New York Times, Banks stated, "I'm not trying to be, like, the bisexual, lesbian rapper. I don't live on other people's terms." Previously, she has dated Lil Internet, and David Holmes (former MTV VJ). At present, there is no information regarding her boyfriend. She is focusing on her career as of now.
Net Worth of Azealia Banks
Azealia Banks is an American rapper, singer, songwriter, record producer, and actress. She has accumulated a huge amount of money from her singing career. Her major source of wealth is from her singing career through record sales, concerts, albums, and others. She has been a stage performer and video shooter for her shows, which she sells. She is also a producer and makes much money through the activities. She has collected the net worth of $3 Million as of 2020 whereas her exact salary is still to get unfolded. At present, she is satisfied with her earnings. Information about her assets (house and cars) is unknown. She had also modeled for Alexander Wang and she has endorsed MAC's lipstick "Yung Rapunxel" of dark and eggplant color.
Body Measurements of Azealia Banks
Azealia Banks is a very hot and sexy lady. She has got a very glowing face with a charming personality attracting a lot of people towards her. Her body build is slim. She has got a tall height of 5 ft 7 in or 170 cm. Her body weight consists of 56 KG or 123.5 Pounds. Her body measurement is 32-24-34 in or 81-61-87 cm (breast-waist-hip). Her dress size is 5 US. Her shoe size is unknown. Overall, she has got a healthy body. She is naturally thin and has a lean body. She has not revealed her daily workout routine and diet plan.