Sheynnis Palacios is a renowned Nicaraguan model and beauty pageant titleholder. She gained global acclaim by securing the prestigious title of Miss Universe 2023. Paving the way for history, Palacios, having previously been crowned Miss Nicaragua 2023, became the first Nicaraguan to clinch the Miss Universe crown. Her journey in the pageant world included a notable stint as Miss World Nicaragua 2020, where she emerged victorious, and later, as a contestant in Miss World 2021, achieving a commendable Top 40 placement.
Family and Nationality
Born on May 31, 2000, in Managua, Nicaragua, Sheynnis Palacios, whose full name is Sheynnis Alondra Palacios Cornejo, proudly holds Nicaraguan nationality. She identifies with a Mixed ethnicity. As of 2023, she celebrated her 23rd birthday. About her family, Raquel Cornejo is her mother, and Palacios often shares glimpses of her family, including her mother, siblings, and grandmother, through pictures on various social media platforms.
For her education, Sheynnis attended the Universidad Centroamericana, where she dedicated herself to the field of mass communication while concurrently showcasing her athletic prowess as a varsity volleyball player for the university.
Modeling Career
Sheynnis Palacios made her pageantry debut in 2016, clinching the title of Miss Teen Nicaragua 2016 and subsequently representing her nation in the Teen Universe 2017 pageant in Managua, Nicaragua, achieving a commendable Top 10 placement.
In 2020, she secured the coveted Miss World Nicaragua 2020 crown, representing the capital, Managua.
However, due to the COVID-19 pandemic, both the Miss World 2020 and 2021 Pageants were canceled.
Undeterred, Palacios, in 2022, participated in the 70th edition of the Miss World pageant held in San Juan, Puerto Rico, reaching the Top 40.
Unfortunately, she did not proceed further, and the ultimate victor was Karolina Bielawska from Poland.
In the subsequent Reinado Internacional del Café 2022 competition, Palacios faced a setback as she tested positive for COVID-19, mirroring similar challenges for representatives from the Philippines, Puerto Rico, and the Dominican Republic.
Subsequently, representatives from Cuba, Hong Kong, and Guatemala withdrew from the competition, highlighting the widespread impact of the pandemic on the pageant circuit.
Crowned as Miss Nicaragua 2023 on August 5, 2023, Palacios secured the honor of representing her nation at the prestigious Miss Universe competition.
Stepping onto the global stage, she made history by not only becoming the fifth Nicaraguan delegate to reach the semifinals but also by clinching the coveted Miss Universe 2023 title.
In this groundbreaking achievement, Palacios etched her name in history as the first Nicaraguan to be crowned Miss Universe, and notably, the second woman from Central America to achieve this distinction since Justine Pasek of Panama in 2002.
Palacios holds the unique position of being the first Central American to win the Miss Universe title outright, as Pasek inherited the crown after the original titleholder was dethroned.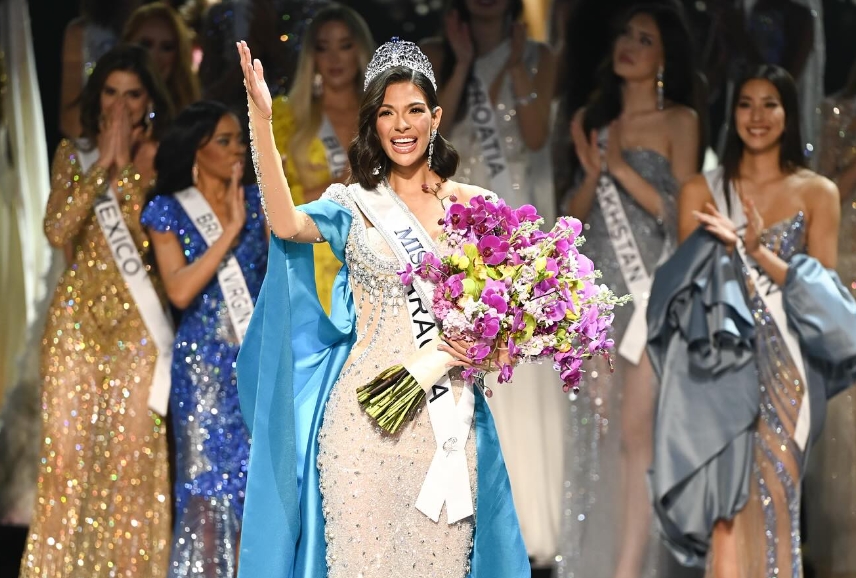 Net Worth and Salary
Sheynnis Palacios, a prominent model and accomplished beauty pageant titleholder, has a net worth exceeding $5 million as of 2023. Her professional endeavors contribute to an impressive annual salary in the thousands of dollars. Palacios has solidified her financial standing through a successful career trajectory, notably winning the titles of Miss World Nicaragua 2020 and Miss Nicaragua 2023, as well as achieving a Top 40 placement in Miss World 2021 and ultimately winning the coveted Miss Universe 2023 crown. While her primary source of wealth stems from her modeling career, Palacios maintains a modest lifestyle.
Dating & Boyfriend
As of now, Sheynnis Palacios remains unmarried, yet her heart finds companionship in a relationship with her boyfriend, Hanny Javier Falcón. The couple is savoring the joys of their current chapter in life, relishing each moment together. The bond between Palacios and Falcón is evidently strong, and they are contemplating taking their relationship to the next level, indicating a shared vision for the future.
Body Measurements
Sheynnis Palacios, a model and beauty pageant titleholder, stands at the perfect height of 180 cm (5 ft 11 in). With a weight of around 58 kg (127 lbs), Palacios maintains a balanced and graceful physique. She has a slim body type. Her eyes, a captivating shade of brown, complement her overall charm, while her black hair adds an extra layer of sophistication to her aesthetic. Sheynnis has a healthy body and she is very conscious about her food intake.