Brantley Keith Gilbert famed as Brantley Gilbert is an American country singer, songwriter as well as record producer. He was originally signed to Colt Ford's label, Average Joes Entertainment, where he released Modern Day Prodigal Son and Halfway to Heaven. He is currently signed to the Valory division of Big Machine Records where he has released four studios albums-a deluxe edition of Halfway to Heaven, Just as I Am, The Devil Don't Sleep, Fire & Brimstone, and 11 country chart entries, four of which have gone to number one. Moreover, he is the ACM New Male Artist Award 2013 winner. His songs such as You Don't Know Her Like I Do and Country Must Be Country Wide gave him recognition. He also co-wrote and originally recorded Jason Aldean's singles "My Kinda Party" and "Dirt Road Anthem." Overall, he is a very talented person. Brantley Gilbert announced that in an effort to support local American farmers, he's partnering with the Farmer Veteran Coalition to purchase a selection of locally sourced food for his catering at each concert stop. For the tour, Gilbert's tour catering partner, Taste Event will work with local farmers at each of the 25+ stops on the tour to locally sourced meats, dairy and produce. The farmers who furnish the food will be invited to dine with the tour, meet Gilbert and stay for the show. He is also teaming up with Musically Fed, a non-profit that distributes excess food each night to organizations tackling hunger in each market. His latest tour "Fire't UP" kicked off on January 23rd with a pair of shows in Canada. It's currently slated to hit 32 cities in the US and feature special guests Chase Rice, Dylan Scott, and Brandon Lay.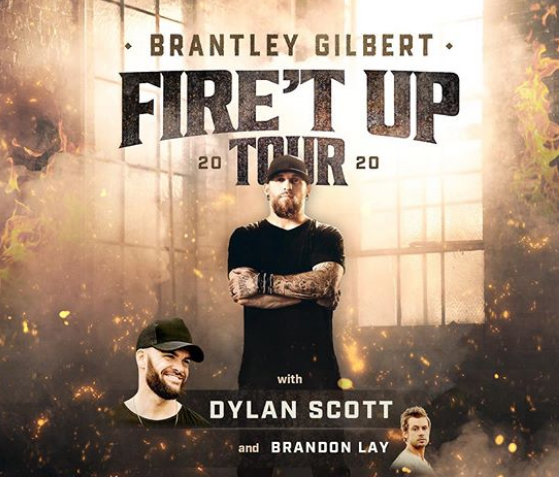 Source: @brantleygilbert
Famous For
Being a professional singer.
Being the ACM New Male Artist Award 2013 winner.
Who are the Parents of Brantley Gilbert?
Brantley Gilbert was born on 20th January 1985 as Brantley Keith Gilbert in Jefferson, Georgia, the USA to his parents Becky Gilbert and Keith Gilbert. He has got a sibling named Kolby Gilbert. He started singing and writing songs since the early age of 13. His nationality is American and his ethnicity is White. His religion is Christian. About his education, he studied at Georgia College and State University in order to be a marriage and relationship counselor. He met with a big accident at the early age of 19 due to which he lost most of his memories. This resulted at the end of his academic career. After that, he decided to pursue a music career. He also played baseball and football in high school. As of 2020, he celebrated his 35th birthday with his parents.
How was Brantley Gilbert Career?
Firstly, Brantley Gilbert went to Nashville and got signed to Warner Chappell Publishing where he continued to perform at local venues.
He then released his debut album, Modern Day Prodigal Son under independent label Average Joes Entertainment on 27th October 2009.
After that, he released another album titled Halfway to Heaven with the same label on 16th March 2010.
Later, he signed with a division of Big Machine Records-Valory Music Co., in the year 2011 and re-released Halfway to Heaven with the addition of new recordings and tracks.
It's first two singles-Country Must be Country Wide and You Don't Know Her Like I Do be at No. 1 on the Hot Country Songs chart.
Kick It in the Sticks and More Than Miles followed by ranking at No. 34 and No. 7 on Country Airplay.
Later on, he won the ACM New Male Artist Award in the year 2013.
He then released his second album, Just As I Am under Valory Music Co., on 19th May 2014, which was certified as US Platinum Edition with the sales of more than 1 million.
Its lead single, Bottoms Up also peaked the charts.
The songs-My Kinda Party and Dirty Road Anthem, which were originally included on his first and second album, were released on Jason Aldean's album-My Kinda Party in the year 2010.
He has also accompanied other artists on several tours since 2011 till this date.
In addition to this, he won iHeartRadio Music Awards in 2015 and was nominated for the category of Top Country Artist/Album in Billboard Music Awards in the same year but didn't get a chance to win the awards.
He released "The Weekend" as the leadoff single to his fourth album The Devil Don't Sleep, which also includes "The Ones That Like Me."
In December 2018, he released a duet with Lindsay Ell, "What Happens in a Small Town", as the leadoff single to his upcoming fifth studio album.
He has since announced the album's title as Fire & Brimstone.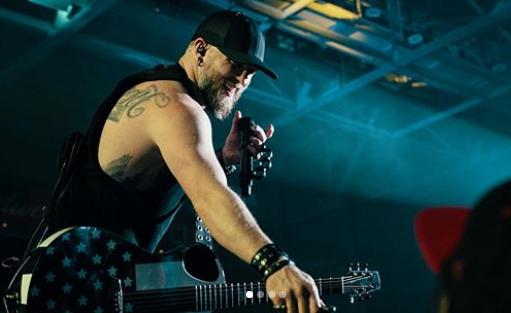 Source: @brantleygilbert
What is the Net Worth of Brantley Gilbert?
The net worth of this famous singer is believed to have $15 million due to his hit albums and songs. There is no exact information about his salary but there is no doubt in the mind of his followers that he is earning a considerable amount of earning from his career. His major source of earning is from his singing career. He is satisfied with his earnings as of now.
Who is the wife of Brantley Gilbert?
Brantley Gilbert is a married person. Firstly, he dated country music singer and actress Jana Kramer from September 2012 and got engaged on 20th January 2013. But, the relationship didn't seem to work for them so they split in August 2013. In June 2015, he got married to a schoolteacher, Amber Cochran, who had inspired him to write his singles "You Don't Know Her Like I Do", "More Than Miles", etc. On November 11, 2017, Gilbert and his wife welcomed son Barrett Hardy-Clay Gilbert. On September 9, 2019, they welcomed their second child, a daughter named Braylen Hendrix Gilbert. His sexual orientation is straight. He is living a happy life with his wife and children.
Source: @brantleygilbert
How tall is Brantley Gilbert?
Brantley Gilbert is a very cool looking and handsome hunk with a nice attitude. He has got a tall height of 1.83 m. He has light brown hair and green eyes with a white complexion. He has several tattoos embedded in his body. He has got a balanced weight of 80 Kg. His other body measurements will be updated soon. Overall, he has got a healthy body.