Brenden Aaronson is an American professional footballer. He is best known for his position as an attacking midfielder or winger. He is famous for currently playing with his current team, Union Berlin (Bundesliga Club), having joined on loan from EFL Championship team Leeds United. He's also a key figure in the United States national team. His career took a significant turn in May 2022 when he made a high-profile move to Leeds United from Red Bull Salzburg in a remarkable transfer valued at $30.2 million (£24.7 million), ranking him as the second most expensive American soccer player ever. Aaronson's journey has included stints with Bethlehem Steel FC, Philadelphia Union, and Red Bull Salzburg. Following Leeds' Premier League relegation, he embarked on a loan spell with Union Berlin for the 2023–24 season. Internationally, he played a prominent role, featuring in all three group-stage matches during the 2022 FIFA World Cup.
Brenden Aaronson Family Details
Born on October 22, 2000, in Medford, New Jersey, USA, Brenden Aaronson holds American nationality. He is of American-White ethnicity. He celebrated his 22nd birthday in 2022. About his family, he is the son of Rusty Aaronson and Janell Aaronson. Moreover, he has a brother, Paxten and sister, Jaden, with Paxten being a player for the Philadelphia Union. For his education, he spent a year at Shawnee High School before joining the Philadelphia Union's YSC Academy, where he combined soccer development with high school studies. During his time at the YSC Academy, Aaronson also played for the Union's youth teams before committing to Indiana University and signing an amateur contract with Bethlehem Steel FC.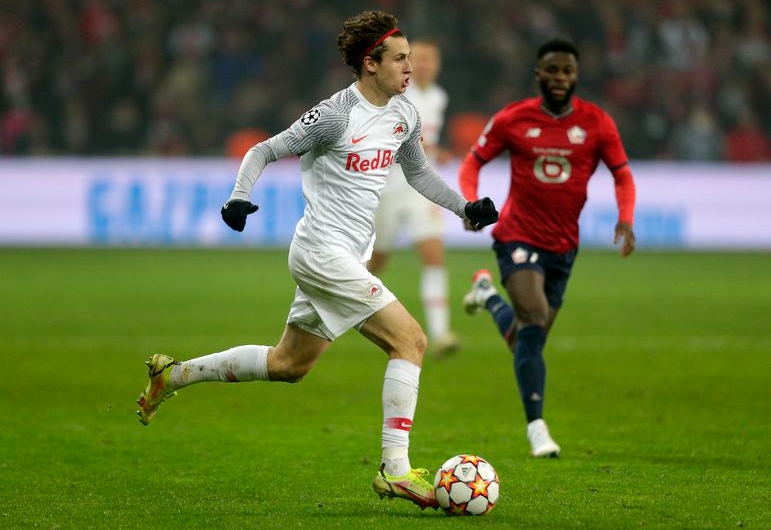 Brenden Aaronson Football Career
Bethlehem Steel
Aaronson began his professional journey with Bethlehem Steel FC in 2017, having emerged from the Philadelphia Union Academy.
He marked his first start for Steel FC on September 30, 2017, in a draw against Tampa Bay Rowdies.
During his time with the team, he made 21 appearances and netted his maiden goal against Atlanta United 2.
Philadelphia Union
In September 2018, it was revealed that Aaronson would join the Philadelphia Union at the start of the 2019 season.
He made an impactful MLS debut on March 17, 2019, scoring his first professional goal and helping Philadelphia secure a tie against Atlanta United.
He ended his rookie season as the runner-up for the 2019 MLS Rookie of the Year, tallying three goals and two assists in over 1,640 minutes played, and he was the youngest player among the finalists.
In 2020, he had a breakout season with 31 appearances, 4 goals, and earned numerous accolades, including a spot in the 2020 MLS Best XI.
His contributions also helped the Union claim their first trophy, the 2020 Supporters' Shield, as they finished the season with the best league record.
Red Bull Salzburg
On October 16, 2020, it was confirmed that Aaronson would make a move to Red Bull Salzburg in January 2021, following the conclusion of the MLS season.
The transfer fee, although undisclosed officially, was reported to be the highest ever paid for an American homegrown player from MLS, with reports suggesting an upfront fee of US$6 million and potential incentives of US$3 million.
He made his debut for Salzburg on January 25, 2021, coming on as a substitute in a 2–0 victory over Rheindorf Altach.
His success continued as he helped Salzburg clinch the Austrian Cup on May 1, scoring the second goal in a 3–0 victory over LASK, securing his first silverware with the club and marking his fifth goal in all competitions since joining from Philadelphia in January.
Leeds United
Leeds United signed Aaronson on a five-year contract starting from July 1, 2022, for a reported £24.7 million, as announced on May 26, 2022.
He debuted in the Premier League on August 6, in Leeds' 2-1 home win against Wolverhampton Wanderers.
He scored his first Premier League goal on August 21, capitalizing on a Chelsea goalkeeper's error in a 3-0 home win, marking Leeds' first victory over Chelsea in two decades.
Union Berlin (loan)
On July 9, 2023, following Leeds' relegation from the Premier League, he joined Bundesliga side Union Berlin on loan for the 2023–24 season.
International Career
After an impressive rookie season, Aaronson earned his first call-up to the United States men's national soccer team in October 2019 for CONCACAF Nations League matches against Cuba and Canada, although he didn't play in either match.
He received a second call-up in January 2020 and made his full debut in a 1-0 win against Costa Rica.
In December 2020, he scored his first senior international goal during a 6-0 victory over El Salvador.
He was also part of the 26-man squad for the 2022 FIFA World Cup, playing in all three group-stage matches.
Brenden Aaronson Awards and Achievements
Philadelphia Union
Red Bull Salzburg
Austrian Bundesliga: 2020–21, 2021–22
Austrian Cup: 2020–21, 2021–22
United States
CONCACAF Nations League: 2019–20, 2022–23
Individual
MLS is Back Tournament Best XI: 2020
MLS Best XI: 2020
Brenden Aaronson Salary
Brenden Aaronson, a talented professional soccer player, has a net worth estimated to range between $1 million and $5 million in 2023. With a remarkable market value of €25 million as of June 20th, 2023, he solidified his stature in the sport. Notably, he secured a lucrative 5-year contract worth £11,700,000 with Leeds United F.C., entailing an annual average salary of £2,340,000. As of 2023, Aaronson is set to earn a base salary and carry a cap hit of £2,340,000. His main source of welath comes from football career. He doesn't really want to collect fancy cars or big mansions. He already has his own house and car. Lately, he's been showing his support for Nike on his Instagram a few times, and he's also talked about Adidas on social media before. He's living a cool lifestyle at the moment.
Brenden Aaronson Girlfriend
Brenden Aaronson has found love in his beautiful girlfriend, Milana D'Ambra. Milana is a talented soccer player and Washington Township High School alumna. Their relationship began in 2018 when they were introduced by a mutual friend. Despite the challenges of a long-distance relationship, their bond has only deepened over the years. Together, the couple is enjoying their present life a lot without any disturbances.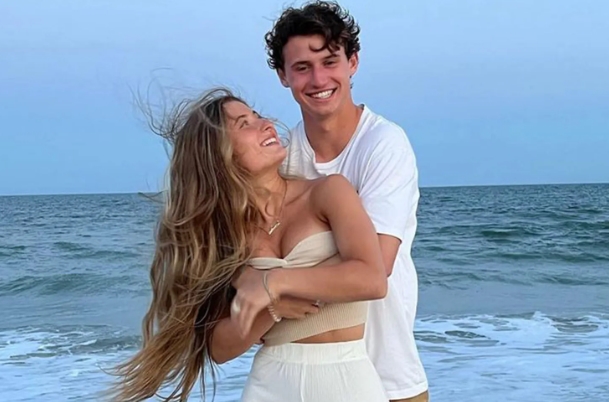 Brenden Aaronson Hair Color
Brenden Aaronson is a handsome young footballer. He stands at a height of 5 feet 10 inches (178 cm). His body type is athletic and he has a bodyweight of 150 lbs or 68 KG. With his curly black hair and warm brown eyes, he exudes a healthy and vigorous aura, a testament to his dedicated exercise regimen that keeps his body in peak condition. He is very conscious about his food intake and he has got a healthy body.