About Chris Cornell
An American singer, songwriter, and musician, Chris Cornell was well recognized as the lead vocalist and rhythm guitarist for the rock bands Soundgarden and Audioslave, the group known for songs like "Black Hole Sun" and "Rusty Cage," who was also a successful solo artist and the frontman for Audioslave. He worked as a seafood wholesaler and assistant chef at Ray's Boathouse before striking it big as a musician. He performed "You Know My Name" for the 2006 James Bond film "Casino Royale". Moreover, he also established himself as a solo artist and released a number of tracks, albums, and extended plays such as "Euphoria Mourning", "Carry On", "Higher Truth", "Scream", "The Roads We Choose - A Retrospective". He was considered one of the key figures of the 1990s grunge movement and was well known for his extensive catalog as a songwriter, his nearly four-octave vocal range, and his powerful vocal belting technique. Sadly, we lost such a versatile singer on 18th May 2017 at the age of 52. As recent news, Cornell's iconic "Superunknown" guitar is up for auction.
Death of Chris Cornell

Chris Cornell struggled with depression for most of his life. He was found dead in his Detroit hotel room in the early hours of 18th May 2017, after performing at a Soundgarden concert an hour earlier at the Fox Theatre. His death was ruled a suicide by hanging. He was found unconscious by his bodyguard in the bathroom of his hotel room, 1136, at the MGM Grand in Detroit, Michigan. He was lying on the floor with an exercise band around his neck and blood in his mouth. Cornell was pronounced dead by a doctor at 1:30 a.m., at the age of 52. The medical examiner confirmed that the cause of death was hanging and the manner of death was ruled as suicide, adding that Cornell's injuries were all "consistent with hanging, partially suspended by the resistance exercise band," and that "drugs did not contribute" to the cause of death. His body was cremated on 23rd May 2017 though his funeral took place on 26th May 2017, at the Hollywood Forever Cemetery in Los Angeles. The movie "American Satan", released in October 2017, paid tribute to Cornell and other artists who have died since production on the movie began with a music video featuring the band portrayed in the film, "The Relentless", playing a cover of Neil Young's song "Hey Hey, My My". Following his death, the sales and streams of Cornell's discography grew by more than 550% from the week prior to his death. Two months after Cornell's death, on 20th July 2017, the day on what would have been Cornell's 53rd birthday, Chester Bennington, the lead vocalist of Linkin Park, also died by hanging himself. Bennington had been a close friend of Cornell's; the two had performed together on some occasions and Bennington was the godfather to Cornell's son, Christopher.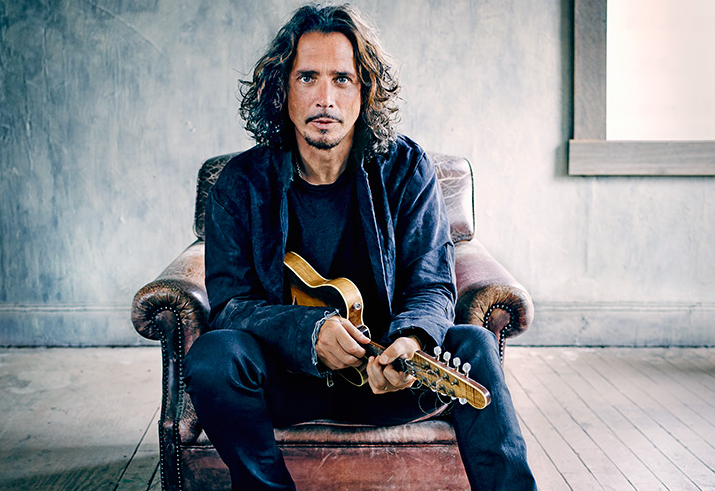 Source: @au.rollingstone.com
Memorial and tributes
The Seattle Mariners held a pregame tribute to Cornell prior to their game against the Chicago White Sox on 19th May with a moment of silence and videoboard tribute to Cornell.
Norah Jones performed a solo piano cover of "Black Hole Sun" at Detroit's Fox Theatre, the theatre Chris last performed in on 23rd May 2017.
Seattle-based singer Shawn Smith announced a single in tribute to Cornell in August 2017, "The Way You Made Your Garden Grow", set to be released on his first solo vinyl album. Smith said in a statement: "Written and recorded in loving tribute to the glorious Chris Cornell, who left us the day before this session. We will never stop singing your songs. Goodbye for now, Chris... Love Never Dies."
As well, on 16th January 2019, a five-hour tribute concert to Cornell named "I Am The Highway" was held at The Forum in Los Angeles and featured Foo Fighters, Metallica, Melvins, as well as members of Soundgarden, Audioslave, and Temple of the Dog performing Cornell's songs alongside artists such as Fiona Apple, Jerry Cantrell, William DuVall, Miguel, Nikka Costa, Adam Levine, Jesse Carmichael, Jack Black, and many others.
Cornell's eldest daughter, Lily Cornell Silver launched an IGTV interview series on Instagram titled "Mind Wide Open" in honor of her father's 56th birthday on 20th July 2020.
Famous For

Being an American singer, songwriter, and musician.
For being lead vocalist and rhythm guitarist for the rock bands Soundgarden and Audioslave.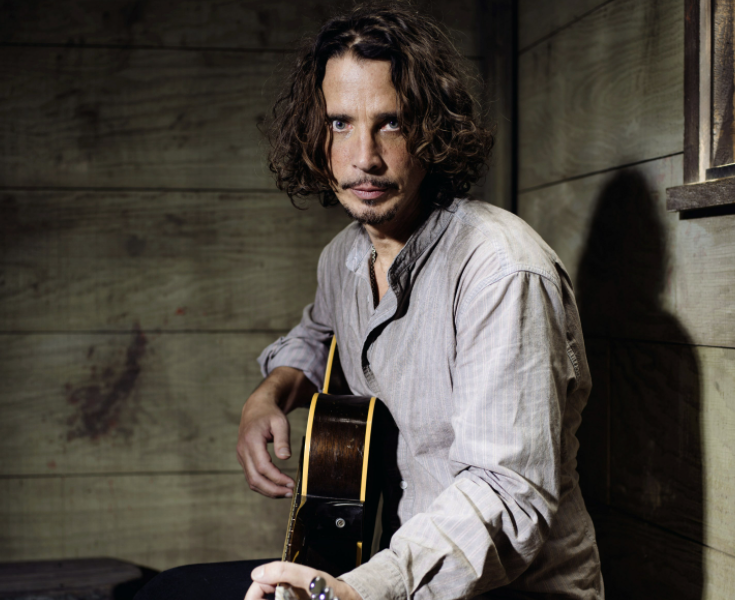 Source: @apnews
Early Life of Chris Cornell

On 20th July 1964, Chris Cornell took birth with the real name or full name of Christopher John Boyle in Seattle, Washington, U.S., where he was raised. He held an American nationality and mixed ethnicity. Analogously, he was from Christianity religion and his race was white. He used to happily celebrate his birthday on 20th July of every year and he lastly celebrated his 52nd birthday. His star sign was Cancer. His parents are Edward F. Boyle (father), a pharmacist of Irish Catholic descent, and Karen Cornell (mother), an accountant of Jewish background and self-proclaimed psychic. After his parents' divorce when he was a teenager, he and his siblings adopted their mother's maiden name, Cornell, as their surname. His siblings are Patrick Boyle (Older Brother), Peter Boyle (Older Brother), Katy Boyle (Younger Sister), Suzy Boyle (Younger Sister), Maggie Boyle (Younger Sister). He attended Christ the King, a Catholic elementary school, where he performed for the first time in front of a crowd, singing the 1960s anti-war song "One Tin Soldier" and later attended Shorewood High School.
Career of Chris Cornell

Soundgarden

Chris Cornell jumps off his singing career by forming a rock band Soundgarden in 1984 though the band's first recordings were three songs that appeared on a compilation for C/Z Records called "Deep Six" as the band signed to Sub Pop, releasing the "Screaming Life" EP in 1987 and the Fopp EP in 1988.
Though the band was being courted by major labels, they signed to independent label SST Records in 1988 to release their debut album, "Ultramega OK".
The band released their second effort and their first album for a major label, "Louder Than Love" in 1989.
Similarly, the band has launched numerous albums like "Badmotorfinger", "Superunknown", "Down on the Upside", "Louder Than Love", "King Animal" and many others whereas Soundgarden made their first television appearance since their reunion on the second episode of Conan O'Brien's show on TBS, "Conan", on 9th November 2010.
Solo Career

Chris Cornell began working on material for a solo album, titled "Euphoria Morning", which was released on 21st September 1999 though a promotional CD for his solo album, "Carry On", was released in March 2007, titled "The Roads We Choose - A Retrospective".
Then, he released his second solo album, "Carry On" on 5th June 2007 as well as worked with producer Timbaland on his studio album "Scream", which was released on 10th March 2009.
Cornell released "Songbook" in November 2011 which was his first live album as a solo artist however his last studio album, "Higher Truth", was released on 18th September 2015.
Audioslave

Audioslave, a rock supergroup which was formed after Zack de la Rocha left Rage Against the Machine as producer and friend Rick Rubin suggested that they contact Cornell and released debut album, "Audioslave" in November 2002.
Audioslave's second album, "Out of Exile", was released in May 2005 and debuted at number one on the U.S. charts and became the first American rock group to perform a concert in Cuba, playing in front of an audience of 70,000.
After then, the band released their third album, titled "Revelations", in September 2006 whereas Cornell officially announced his departure from Audioslave on 15th February 2007, stating that "Due to irresolvable personality conflicts as well as musical differences, I am permanently leaving the band Audioslave. I wish the other three members nothing but the best in all of their future endeavors."
Temple of the Dog

Cornell was also a member of the satirical Western swing band Center for Disease Control Boys from 1986 to 1987 as well as appeared as a surprise guest during a 2003 Pearl Jam show at the Santa Barbara Bowl.
He also joined members of Pearl Jam for a Temple of the Dog live reunion at the two-day PJ20 Festival at Alpine Valley, Wisconsin in September 2011.
Alice Mudgarden
Cornell contributed vocals on the Alice in Chains song "Right Turn", from the 1992 EP "Sap", although the band given credit for this song is Alice Mudgarden though the song was also featured in the 2001 film "Black Hawk Down".
M.A.C.C.

Cornell and three other former members of Temple of the Dog (McCready, Ament, Cameron, Cornell), played under the name M.A.C.C. in 1992, recording the song "Hey Baby" for the 1993 album, "Stone Free: A Tribute to Jimi Hendrix".s
Collaborations and Soundtrack Contributions

Chris worked as a co-producer and backing vocalist on the Screaming Trees' 1991 album, "Uncle Anesthesia" as he co-wrote the song "The Message" for the album "Cuatro" by the metal band Flotsam and Jetsam in 1992.
He has contributed vocals on Alice Cooper's "Stolen Prayer" and "Unholy War" from the 1994 album, "The Last Temptation" and also collaborated with Eleven on a rendition of the song, "Ave Maria", for the Christmas compilation album, "A Very Special Christmas 3" in 1997.
He co-wrote (with Brian Howes) David Cook's first post-"American Idol" album single, "Light On", released in 2008 and contributed vocals on the song, "Mister Dirt" in 2009, from the album, "Good.Night.Melody", by Joshua David Lewis.
As well, he co-wrote a song with a fan named Rory de la Rosa in 2009, who had lost his six-year-old daughter to cancer in 2008, and he was diagnosed with the same illness shortly afterward.
He sang one song (which he co-wrote) on "Slash", Slash's solo record released in April 2010 as well as appears on the Carlos Santana album "Guitar Heaven: The Greatest Guitar Classics of All Time, where".
Analogously, he contributed his first solo song "Seasons", and Soundgarden's "Birth Ritual" to the Singles soundtrack in 1992, also contributed the song "Sunshower" to the soundtrack of the 1998 film "Great Expectations".
He released "The Keeper", an original song written for the Marc Forster-directed 2011 film "Machine Gun Preacher" in August 2011, withhal he has contributed his several soundtracks like "Live to Rise", "Misery Chain", "Stay With Me Baby", "Drive My Car", "The Promise" and many others.
Moreover, he made a cameo in the 1992 Seattle-based film "Singles" as he also became a restaurateur with the opening of his restaurant, Black Calavados, in Paris, and was also the owner of the music publishing company "You Make Me Sick I Make Music".
Recently, his daughter Lily Cornell Silver makes a Live musical debut. Among the all-star lineup of performers was Chris Cornell's eldest daughter, Lily Cornell Silver, who made her live musical debut with an AIC cover. During the stream, Cornell Silver was introduced by her mother, Susan Silver.
"The band and I have seen the world together, celebrated many successes, and mourned too many losses including two of the original members of this band, Layne Staley and Mike Starr," Silver recounted. "After the 2004 tsunami hit Southeast Asia, the three remaining members came back together for a benefit to help the survivors. Their performance reignited their passion and purpose to be Alice in Chains," she continued. "In 2005, they invited William DuVall into the band and they toured tirelessly for the next three years while new music of reclamation and healing brewed inside them."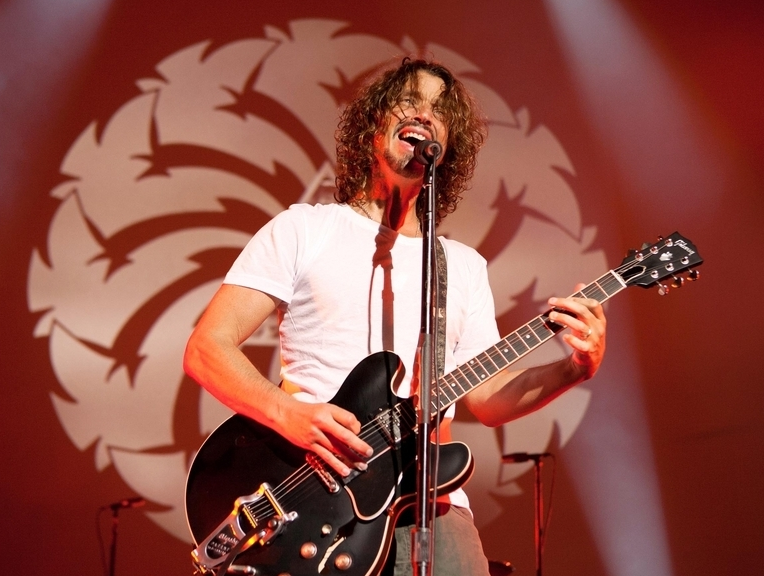 Source: @vermilioncountyfirst
Friendships with Andrew Wood and Eddie Vedder
Cornell was a close friend of late singer Andrew Wood, who was his roommate in Seattle. Cornell and Wood recorded the song "Island of Summer" while living together, which was written by Cornell and is the only existing recording of the two of them singing together. The song was released in 2011 in the album "Melodies & Dreams", a solo album from Andrew Wood featuring unreleased songs he recorded throughout his life.
As well, he was good friends with Pearl Jam frontman Eddie Vedder. Cornell was one of the first people that Vedder met outside his Pearl Jam bandmates after moving to Seattle in 1990. The two were neighbors for a while and had shared vocal duties in Temple of The Dog. Soundgarden manager Susan Silver recalled in the 2009 book "Grunge Is Dead: The Oral History of Seattle Rock Music" the moment in 1990 that Cornell walked Vedder onstage at the second show performed by Pearl Jam (then named Mookie Blaylock) in Seattle.

Depression and substance abuse

Cornell struggled with depression and had multiple addictions (mostly alcohol and prescription drugs), which he was able to manage from roughly 1980 until 1997 when Soundgarden broke up and his first marriage was failing. At that point, he turned to OxyContin and other substances. He said about that period; "I went through a serious crisis with depression where I didn't eat a whole meal every day. I was just kind of shutting down. I eventually found that the only way out of that was to change virtually everything in my life. That was a very frightening thing to do, but it was worthwhile."
He had access to alcohol, marijuana, LSD, psilocybin mushrooms, and prescription drugs at the age of 12; he used them daily by 13, stopped for a year, but relapsed at age 15 for another year until he turned to music. In a 2006 interview, Cornell revealed that at the age of 14, he had a bad PCP experience and later suffered from panic disorder and agoraphobia.
Awards and Achievements of Chris Cornell
Clio Awards for Alternative Music Video
Grammy Awards for Best Metal Performance
MTV Video Music Awards for MTV Video Music Award for Best Rock Video
MusiCares MAP Fund for Stevie Ray Vaughan Award
Northwest Area Music Awards for Best Male Vocalist
World Soundtrack Awards for Best Original Song Written Directly for a Film
Personal Life of Chris Cornell

Reflecting on Chris Cornell's personal life, he was a married guy. He was married to the manager of Alice in Chains, Soundgarden and Screaming Trees, Susan Silver in 1990. The couple has a daughter, Lillian Jean, born on 28th June 2000. The paired relationship was not expectational, they got divorced in 2004. Then, he tied the knot with Vicky Karayiannis, a Paris-based American publicist of Greek heritage. The couple had a daughter together, Toni, in September 2004, and a son, Christopher Nicholas, in December 2005. Their relationship was outstanding but it did not long-lasted because Chris passed away on 18th May 2017. Furthermore, talking bout his sexual orientation, he was straight.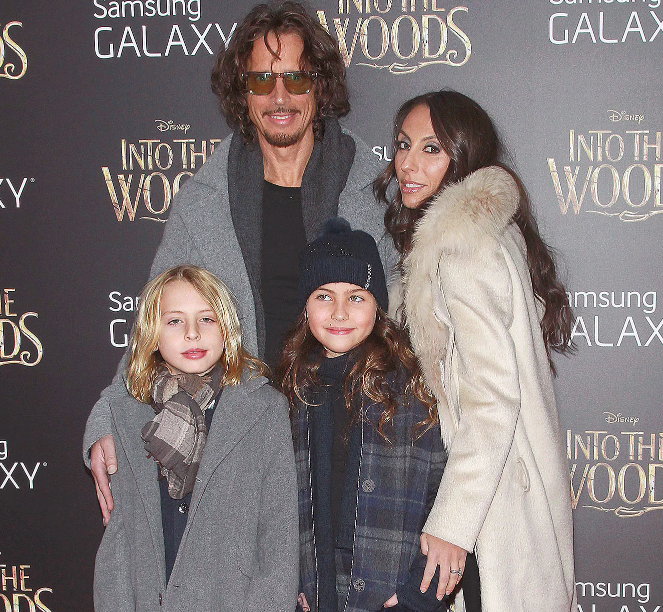 Source: @people
Net Worth of Chris Cornell

Moving towards Chris Cornell's net worth, he had a worth of around $60 million as of now whereas he also earned a handsome amount of salary too which was also in millions of dollars per year. He established himself an identity like many people, he was also superbly ambitious and continues to work even harder to reach his set objectives. In addition, his major source of income was from his singing career though he was doing great at music and he was also satisfied with his profession. He had not done any endorsement work.
Body Measurement of Chris Cornell

Chris Cornell was a handsome and adaptable singer who stood at a tall height of 6 ft 2½ in or 189 cm with a balanced weight of 75 kg or 165.5 lbs. His four-octave vocal range and sported a goatee attracted a lot of people towards him. He got unconventional good looks and raw appeal about him. Reasons for his amazing personality could be his roots. Graceful guy, Chris had blue eyes and dark brown hair as his body build type was average.