Christopher Adam Daughtry famed as Chris Daughtry is an American singer as well as an actor who is famous as the lead vocalist and rhythm guitarist for the rock band Daughtry and as the fourth-place contestant on the fifth season of American Idol. He was given a record deal by RCA Records after Idol and then he formed a band called Daughtry. Their self-titled debut album became the fastest-selling debut rock album in Nielsen SoundScan history, selling more than one million copies after five weeks of release. In its ninth week of release, Daughtry reached number one on the Billboard chart. Chris Daughtry is now the third most successful American Idol contestant in terms of record sales. Thirteen years ago, he went home in fourth place on American Idol. "I'm just not good at winnings***," Daughtry chuckles. "That's my destiny. I'm a very solid runner-up. I'm so good at being the runner-up." After the Masked Singer finale, Chris "The Rottweiler" Daughtry is actually in great spirits. There is no shame in Daughtry's Masked Singer game. However, he does admit, "The only thing that I think is going to bug me the most is I'm going to hear 'You should've won!' for another 10 years. That's what I've been hearing ever since Idol, and now I'm going to hear it again." The Rottweiler is Chris Daughtry, lead singer in the band Daughtry. As a group the 16 contestants on "The Masked Singer" have taken home 10 Grammy wins from 42 nominations. The Masked Singer Season 2 may have just ended, but Fox is already claiming that Season 3, which premieres Feb. 2 right after the Super Bowl, will have "the biggest celebrities yet."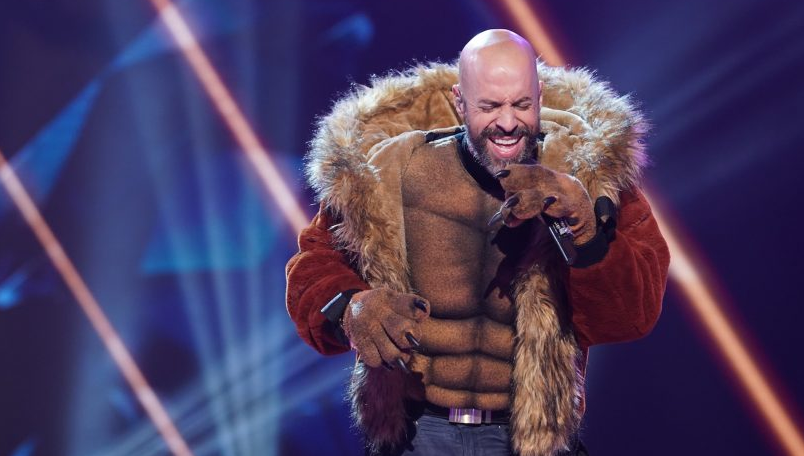 Source: @tvinsider.com
Famous For
For his powerful vocal belting technique and wide vocal range.
Being the lead vocalist and rhythm guitarist for the rock band Daughtry.
Who are the Parents and Siblings of Chris Daughtry?
Chris Daughtry was born as Christopher Adam Daughtry on 26th December 1979 to Sandra and James Daughtry, his parents in North Carolina, the USA. He also has a brother, Kenneth. He is American by nationality and his ethnicity is White. He started taking singing seriously at the age of sixteen and took guitar lessons from guitarist Matt Jagger, at Stacy's Music store in Charlottesville, and Mark Ebert from Laurinburg, North Carolina. He performed with rock bands during his time in high school at local venues, opening for his future bandmate Brian Craddock's band My Dog Lucy and Matt Jagger. During high school, he appeared in two stage productions: The Wiz and Peter Pan. He is Christian by religion. As of 2018, he celebrated his 39th birthday with his friends.
How was the Singing Career of Chris Daughtry?
With the name of Cadence, his high school band went where he sang lead vocals and played rhythm guitar.
The band produced one album, All Eyes on You (1999), a rare piece that can sometimes be found on eBay.
Later, he sang lead vocals and played rhythm guitar for rock bands in Burlington such as Absent Element.
The band Absent Element consisted of Daughtry on lead vocals and guitar, Mark Perry on lead guitar, Scott Crawford on drums and Ryan Andrews on bass.
Moreover, the band released Uprooted in 2005.
He also auditioned for the CBS singing contest Rock Star: INXS in 2005 but he did not make the cut for the live performances.
He auditioned for American Idol in Denver, Colorado, with The Box Tops' "The Letter".
He passed the audition by a split decision: approved by Paula Abdul and Randy Jackson, disapproved by Simon Cowell.
He eventually made it to the Top 24.
His March 21 performance caused controversy when he sang a minor-key rendition of Johnny Cash's "I Walk the Line".
He was in the final four on May 10, 2006, and found himself in the bottom two with Katharine McPhee.
He performed the song "Mystery" with the band Live on 24th May 2006 during the Season Five finale.
He traveled the talk show circuit, which has become commonplace for non-winners as American Idol progressed through the years after leaving American Idol.
In addition to this, he also made appearances on The Tonight Show, Total Request Live, and The Today Show, Live with Regis and Kelly and The Ellen DeGeneres Show, in which he performed "Wanted Dead or Alive".
His cover of "Wanted Dead or Alive" charted at number 43 on the Billboard Hot 100 on 10th July 2006.
The first single off Daughtry, "It's Not Over", was released November 21, 2006.
He also performed during the Final Four round of the 2007 NCAA Men's Division I Basketball Tournament in March 2007.
He performed an acoustic version of "Suspicious Minds" and on 18th November 2007, the band was the winner of multiple awards at the "2007 American Music Awards" (ABC Television).
He performed "No Surprise", the debut single for their forthcoming album, on American Idol on 6th May 2009.
He performed an acoustic cover of Lady Gaga's "Poker Face" on 2nd July 2009.
He kicked off a tour with Lifehouse and Cavo on August 2, 2009, in Orlando, Florida.
He has written and recorded a song for the soundtrack to the video game Batman: Arkham City.
He posted a new song "Renegade" on his official website on 15th September 2011.
He announced that the new album will be titled Break the Spell on 27th September 2011.
He announced they were working on their fourth studio album on 17th January 2013.
The first single to Daughtry's fourth album is called "Waiting for Superman".
He announced on their website that the new album was titled Baptized on 17th September 2013.
He released their album titled "It's Not Over...The Hits So Far" on 2nd February 2016.
He released their album titled "Cage to Rattle" on 27th July 2018.
In 2019, he played for the "Home" roster during the NBA All-Star Celebrity Game at the Bojangles' Coliseum in Charlotte, North Carolina.
Who is the Wife of Chris Daughtry?
Chris Daughtry is a married person. He was married to Deanna on 11th November 2000. He has four children: Hannah, and Griffin, from his wife's previous marriage, and twins, Adalynn Rose, and Noah James. They live in Oak Ridge, North Carolina. As of today, the duo is living a happy life without any disturbances and there is also no sign of divorce between them. They are enjoying their life a lot.
What is the net worth of Chris Daughtry?
The net worth of this famous singer will be surely in millions. He has accumulated a huge amount of money from his singing career which is his major source of income. He has a net worth of $10 million dollars. He gained his popularity as the fourth-place finalist on the fifth season of American Idol. A few months after the show, he released his debut album and earned him a Grammy nomination. His exact salary is under review and will be added soon once we get information about it. Overall, he is satisfied with his earnings.
How tall is Chris Daughtry?
Chris Daughtry is a very handsome singer with a slim body build. He has got a very charming smile and glowing face attracting a lot of people towards him. He has a tall height of five feet seven inches with a balanced weight of 83 Kg. His eye color is brown and his hair color is bald. His waist size is 31 in and bust size is 42 in. His other body measurements will be added once we get information about it. Overall, he has got a healthy body.