A reality TV candidate, businesswoman, hairdresser and model who made herself known at the start of 2014 in season 3 of Marseillais: Les Marseillais a Rio is named for Jessica Thivenin. In 2017, she was elected the rising reality star of the year, being the most followed reality TV candidate on the social network Instagram (4.1m) with Nabilla (4.1m), and also the best paid in placement of products. She has participated in other shows such as Ch'tis vs les Marseillais. Previously, she has also worked as a hairdresser and model. Scroll down to know more about her biography, facts, parents, age, birthday, husband, children and more.
Famous For
Being a famous TV personality.
For her role in Marseillais.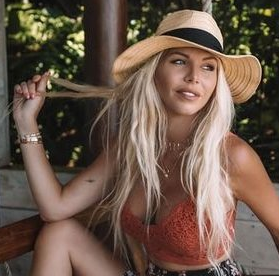 Source: @twitter.com
Early Life of Jessica Thivenin
Jessica Thivenin was born on 26th December 1989 in France. As of 2019, she celebrated her 30th birthday. Her birth sign is Capricorn and her ethnicity is White. Her nationality is French and her religion is Christian. She grew up with her mom, Colette Thivenin, a housewife, and her dad, Christian Thivenin, a former high-voltage line worker. She has two younger brothers, Logan (born April 8, 1993) and Bradley (born January 23, 1999). She had an older brother, named Steven, who died at the age of eighteen months - due to an accident, shortly before the birth of Jessica. There is no further information about her childhood. After obtaining a CAP Hairstyle, Jessica becomes a hairdresser but is also a model in her spare time.
Career of Jessica Thivenin
At the start of 2013, casters came into contact with her, and asked her to pass the casting for the second season of the Marseillais: Les Marseillais a Cancun.
She hesitates because she was in a relationship at the time, but finally she accepts but is unfortunately not retained.
After that, she meets Julien Tanti , emblematic character of the Marseillais , with whom she will be in a relationship in August 2013.
Julien and the W9 team then offer to join the show.
She accepts and flies away in January 2014 for Rio de Janeiro, to join her boyfriend, who has been filming the adventure for ten days already.
As soon as she arrived, candidates announced that Julien had cheated on her with another candidate, Merylie.
In April 2014, less than two months after the shooting of the Marseillais in Rio, she joined the filming of the first season of the Ch'tis VS les Marseillais.
In January 2015, she flew to Koh Samui, in Thailand, to shoot Les Marseillais in Thailand, while she has been in a relationship for a short time with a young man, nicknamed Piou, who is not part of the middle of the TV.
In this adventure, she gets very close to Stephanie Durant , who very quickly becomes her pillar in the adventure, as well as her best friend in life.
In June 2015, she flew to Palma de Mallorca to shoot the second season of Ch'tis vs Marseillais : Les Ch'tis VS les Marseillais: La Revanche.
In January 2016, she left, single, in Cap Town in South Africa to shoot season 5 of the Marseillais.
In early June 2016, Jessica flew to Palma de Mallorca with the Marseillais and the Ch'tis, as well as other reality TV candidates to shoot The Marseillais and the Ch'tis VS the Rest of the World.
She also opens her own hairdressing and beauty salon in Arles with her best friend, Julie Cadiere, who is called J&J Beauty.
On Saturday November 12, 2016, Jessica leaves for Buenos Aires, Argentina, to shoot season 6 of the Marseillais.
Filming ended on December 17, and the show airs on W9 from February 27 to May 19, 2017.
On 15th February 2017, blogger Jeremstar announces that Jessica and Nikola have signed a contract with W9 to participate in season 2 of Moundir and Les Apprentis Aventuriers.
In March 2017, Public magazine revealed that Jessica is the 2017 rising reality TV candidate, as well as the most followed on social networks with more than 2 million subscribers on Instagram and more than 800,000 subscribers on Snapchat, and the best paid with a salary of 24,000 euros per month, ahead of Nabilla.
On Monday, March 6, 2017, Jessica made her first TV set in the Cyril Hanouna show on C8: "Touche pas a mon poste"
At the end of May, she became the new face of the clothing brand Blooshop.
On Sunday June 11, Jessica flies to Marbella in Spain to shoot Les Marseillais vs le Reste du Monde.
On Friday, November 3, Jessica flies to Australia to shoot season 7 of the Marseillais.
On June 17, 2018, Jessica flew to Spain to shoot La Revanche des Marseillais vs le Reste du Monde.
In February 2019, she released her autobiography, entitled C'est tout moi , in which she tells her story, but she also reveals that she was the victim of domestic violence with several different men when she was younger.
While she had to participate in the next season of Marseillais vs the Rest of the World, Jessica announces on social networks on 12th June 2019, that she cannot go there because she must remain lying down until the end of her pregnancy otherwise she risks giving a miscarriage.
She gives birth to her son, Maylone Garcia, on 7th October 2019 and decides to stop filming for an indefinite period due to her son's health problems.
Personal Life of Jessica Thivenin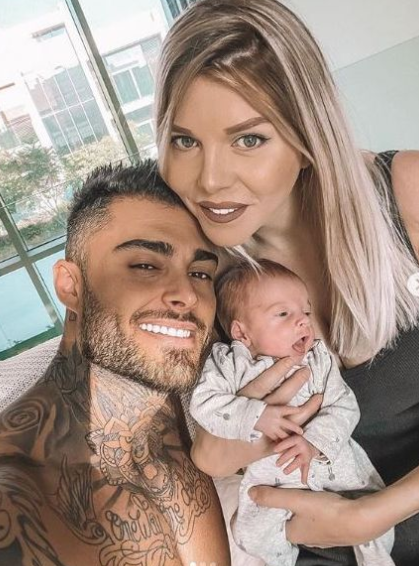 Source: @vaaju.com
Jessica Thivenin is a married person. She meets Julien Tanti in July 2013, during a nightclub evening in Arles. Jessica states that they stayed friends for a month before finally dating in August. Following the infidelity of Julien on the set of Marseillais in Rio, the couple separates. They even got engaged in February and returned to France in March more in love than ever. In April, they finally separate in Marrakech, on the set of Ch'tis vs Marseillais. Jessica claims in a few interviews that Julien had again cheated on him between Rio and Marrakech and that is why she left him in Marrakech. In the fall of 2014, Jessica became a couple with a young man nicknamed Piou. She does not display her relationship with him and claims that she was single during the shooting of the Marseillais in Thailand in January 2015. Piou was already in a relationship at that time, and took Jessica for her "sex toy". They briefly separated in November. She met Nikola Lozina on the set of the Marseillais and Ch'tis vs the Rest of the World in Palma de Mallorca in June 2016. They end up getting together on June 17, after a week of shooting. Between November and December, the couple tears apart. It was also revealed that Nikola allegedly cheated on Jessica during a nightclub party in Paris over the Christmas weekend. After that, she appears on Snapchat very close to Thibault Kuro Garcia. They then go on vacation together and are very accomplices on social networks. They pair up on May 25 but decide to keep their relationship a secret for the time being. On June 8, Jeremstar unveils on his blog a video of Jessica and Thibault kissing in a nightclub, confirming that they are in a relationship. They get engaged in early December 2018 in New York, then get married during the Christmas holidays in Dubai. On April 20, 2019, they announce on Instagram that they are expecting their first child, and find themselves bedridden at 4 months of pregnancy. On October 7, 2019, she gives birth in Dubai to a baby boy, named Maylone Garcia. The duo is living a happy life as of now.
Net Worth of Jessica Thivenin
The net worth of this famous TV personality will be surely in millions as she has been recognized by the world. As of 2020, her net worth is estimated to have between $1 Million-$5 Million. Her exact salary is still under review but it will be added once we get information about it. There is no information regarding her mansion, cars, wealth and more.
Body Measurements of Jessica Thivenin
Jessica Thivenin is a very hot and sexy lady with a charming personality. She has got a perfect height matching with her body weight. She has a tall height of 5 ft 9 in or 1.75 m with a weight of 63 Kg. Her body measurements include: breast size is 33 in, waist size is 24 in and hips size is 33 in. Her eye color is blue and her hair color is blonde. Overall, she has got a healthy body.