An American actor, as well as a singer, is named Jared Joseph Leto which is his real name. He started his career with a television appearance in 1990 and rose to face after his role in the TV Series "My So-Called Life (1994). He then made his film debut in How to Make an American Quilt in 1995. He then appeared in Lonely Hearts, Mr. Nobody, Chapter 27, Suicide Squad, Blade Runner and more. His performance as a transgender woman in Dallas Buyers Club (2013) earned him an Academy Award, a Golden Globe Award, and a Screen Actors Guild Award for Best Supporting Actor. He is the lead vocalist, multi-instrumentalist and main songwriter for Thirty Seconds to Mars, a band he formed in 1998 in Los Angeles, California, with his older brother Shannon Leto. Their debut album, 30 Seconds to Mars (2002), was released to positive reviews, but only to limited commercial success. Overall, he is a very talented actor.
Jared Leto Was Clueless About Coronavirus
Jared Leto was in twelve days in the desert due to which he was clueless about the coronavirus. He has just known about the coronavirus after being isolated in the desert for almost two weeks.
Famous For
For working with the band Thirty Seconds to Mars and releasing songs like "Buddha for Mary", "Where the Streets Have No Name", and others.
Being fame after appearing in the television series My So-Called Life from 1994 to 1995 in 19 episodes.
Early Life of Jared Leto
On 26th December 1971, Jared Leto was born in Bossier City, Louisiana, the USA. His nationality is American and his ethnicity is White. He is Christian by religion. As of 2019, he celebrated his 48th birthday. He has a sibling, a brother named Shannon Leto. He was born to Constance Leto, his mother but his father's name is under review. His parents divorced when he was a child. His father remarried and committed suicide when he was only 8. He has two younger half-brothers from his father's second marriage.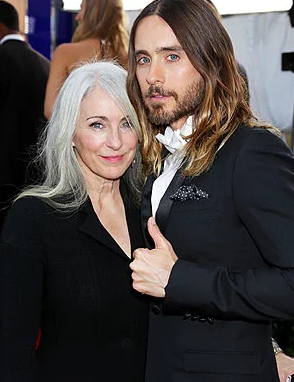 Source: @people.com
As per his education, he dropped out 10th grade and then he attended Emerson Preparatory School and then enrolled at the University of the Arts. He then attended the Corcoran School of the Arts and Design, a part of George Washington University.
Career of Jared Leto
Jared Leto began his career in the year 1992 by moving to LA to pursue his career in directing.
His first break came in the year 1994 in the teen drama "My So-Called Life".
He made his television film debut in Cool and the Crazy and landed his very first film in How to Make an American Quilt.
After that, he starred in The Last of the High Kings in 1996.
In 1997, he got a supporting role in Switchback and Prefontaine.
He then starred in horror movie Urban Legend and he made his role also in The Thin Red Line.
For the movie The Thin Red Line, he received multiple awards and nominations including seven Academy Award nominations. Moreover, he also shared a Satellite Award.
He then formed the rock band Thirty Seconds to Mars in the year 1998 in LA with his brother Shannon and signed to Immortal Records.
He also played a gay high school teacher in 1999.
He had a supporting role in the drama "Girl, Interrupted" and then portrayed in Fight Club.
In 2000, he appeared in American Psycho and also starred in Requiem for a Dream.
He next appeared in the film Highway.
On 27th August 2002, his band released the debut album"30 Seconds to Mars".
In 2002, he returned to acting with the thriller movie Panic Room and then Alexander, Lord of War.
The band's second album is "A Beautiful Lie" which was released on 30th August 2005.
He then appeared in Lonely Hearts in 2006.
He next directed a short film for "From Yesterday" and then appeared in "The Last Emperor" in 1987,
After that, he starred in Chapter 27 in 2017.
His next short film was "A Beautiful Lie" in 2008.
For the third studio album, the band signed with EMI and released their album "This Is War" in December 2009.
He then made his role in the science-fiction drama Mr. Nobody in 2009.
His next short film include Kings and Queens, Closer to the Edge.
The band entered the Guinness World Records for most live shows during a single album cycle with 300 shows.
His next project was "Hurricane" in 2010 and made his next directorial debut with the documentary film "Artifact" in 2012.
Thirty Seconds to Mars released their fourth album Love, Lust, Faith, and Dreams.
He described the concept of his next short film, Do or Die in 2013.
He returned to action in the drama Dallas Buyers Club in the same year 2013.
In 2014, he premiered the documentary series "Into the Wild".
It was confirmed that he would play the role of the Joker in Suicide Squad in 2016.
It was announced in 2016 that he would appear in the film "The Outsider" in 2018.
Thirty Seconds to Mars signed to Interscope Records.
He was cast in the 2017 film Blade Runner 2049.
After that, he appeared in 2036: Nexus Dawn.
His band confirmed "America" as the title of their fifth album which was released on 6th April 2018.
Personal Life of Jared Leto
Jared Leto firstly dated Kristi McDaniel in 1999. He then dated Cameron Diaz with whom she engaged in the year 2002 but the engagement was called off in March 2003 and their relationship came to end. He then dated Corina Taylor, Ruby Aldridge, Katharina Damm, Valery Kaufman and many more. Singer Halsey and Jared were rumored to have grown close during the 2016 Coachella Music Festival in April 2016. Jared Leto reps his rock band at lunch with girlfriend Valery Kaufman and mother Constance in LA. Oscar-winner Jared Leto escorted his two leading ladies - Russian girlfriend Valery Kaufman and his Cajun mother Constance - to lunch at Joan's on Third in Los Angeles on Monday. As of now, the duo is living a happy life without any disturbances. His sexual orientation is straight.
Net Worth of Jared Leto
The net worth of this successful actor, as well as the singer's net worth, will be surely in millions. His net worth is estimated to have $90 Million as of 2020 whereas his exact salary has not been revealed yet but it will be added once we get information about it. His source of income is from his acting career and singing career. As of now, he is satisfied with his earnings.
Body Measurements of Jared Leto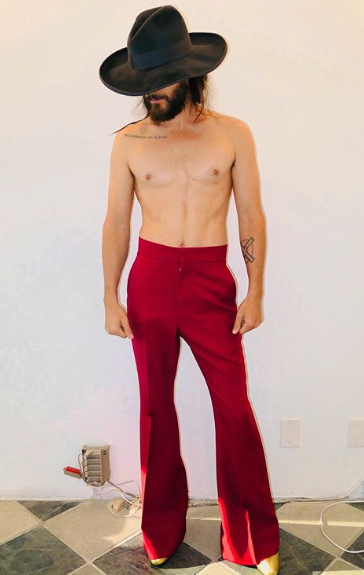 Source: @jaredleto
Jared Leto's body build is slim with a tall height of five feet nine inches or 175 cm. His weight consists of 69 KG. His hair color is light brown and his eye color is blue. His chest size is 43 in, arms size is 14 in and his waist size is 32 in. His shoe size is 11 US.