Courtney Alexis Stodden famed as Courtney Stodden is an American Reality Television Personality, Model, Social Media Sensation, Singer, as well as a Songwriter. She is famous for being the ex-wife of an actor, Doug Hutchison whom she married in the year 2011. Their relationship drew controversy and criticism, as Stodden was 16 when they married 50-year-old Hutchison which led to them appearing in the reality television shows such as "Couples Therapy" (2012) and "Celebrity Big Brother" (2013), and they later went on to appear on the show "Reality Ex-Wives" (2015), "The Mother/Daughter Experiment" (2016), "Celebs Go Dating" (2017), and "Courtney" (2020).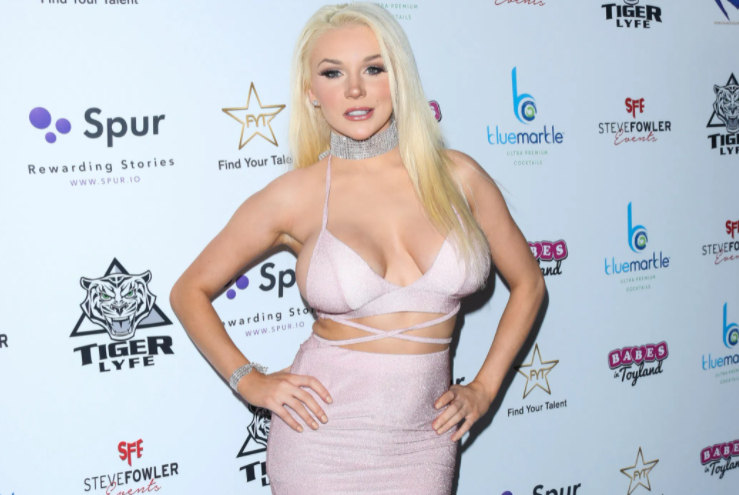 Source: @pagesix
Initially, Courtney Stodden started her career as a model. Later in October 2009, she competed as Miss Ocean Shores Teen USA in the 2010 Miss Washington Teen USA pageant but she did not win the title. In the year 2010, she released the original songs Car Candy, Crazy, Don't Put It on Me, Hurting People, and We Are America. On 19th August 2015, Rich Kid Mafia (RKM), a Los Angeles-based entertainment company whose primary services include artist management, digital marketing, and music production, signed her to an exclusive international management and development deal. In the year 2018, She announced that she was recording an extended play, which she likened to Lil Peep meets Lana Del Rey. In the year 2019, she signed a deal with FNL Network to star in a self-titled reality show created by director Rocco Leo Gaglioti. What's more, she is also a national spokesperson for PETA, the animal rights activist organization. Recently, Courtney Stodden says they have accepted Chrissy Teigen's apology for bullying them on social media when Stodden was a teen but is disputing that Teigen tried to reach out to them privately. After social media started weighing in on it, Teigen took to Twitter to apologize. "I'm mortified and sad at who I used to be. I was an insecure, attention-seeking troll," Teigen tweeted. "I am ashamed and completely embarrassed at my behavior but that is nothing compared to how I made Courtney feel." Stodden responded on their verified Instagram account, writing, "I accept her apology and forgive her. But the truth remains the same, I have never heard from her or her camp in private."
Early Life
Courtney Stodden was born with the real name of Courtney Alexis Stodden on 29th August 1994 in Tacoma, Washington, USA. She holds American nationality and she belongs to American-White ethnic background. As per her birth date, her Zodiac sign is Virgo. By religion, she has faith in Christianity. Courtney's present age is 26 celebrating her birthday as of 2020.
About her parents, Courtney is the daughter of her father, Alex John Stodden, and her mother, Krista Kay Keller. She also has two sisters named Ashley and Brittany. They were raised in Ocean Shores, Washington; hometown. She describes her childhood as beautiful and fun, stating that she was extremely spoiled, in a good way. From a very young age, her passion has been singing and writing her music.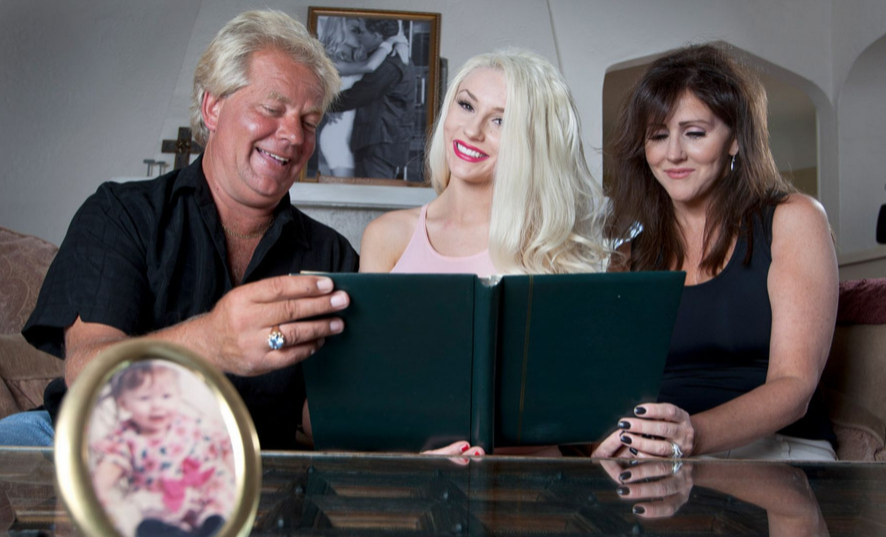 Source: @mirror.co.uk
Concerning her education, Courtney said to Radar Online that they were bullied and abused over their mature looks from age 12 when they were in the sixth grade until their mother pulled them out of school at 16. Later, she was homeschooled through an online private Christian academy.
Personal Life
Courtney Stodden was a married woman. Firstly, she married her husband, Doug Hutchison in Las Vegas, Nevada on 20th May 2011. By profession, Doug is an actor. Stodden was the third wife of Doug Hutchinson. Their relationship drew controversy and criticism, as Stodden was 16 when they married 50-year-old Hutchison, who has been labeled a "pedophile" and "predator". After two and a half years of their married life, the couple split in 2013. She later told Fox News that their 34-year age gap was a primary contributing factor for their divorce. In August 2014, the couple announced that they had reconciled, with plans to renew their wedding vows later that year. It was announced on 17th May 2016 that they were expecting their first child. In mid-July, around three months into her pregnancy, she announced she had suffered a miscarriage. Later in January 2017, it was reported that Stodden and Hutchison had separated, but they were still living together. In March 2018, she filed for divorce and did not request spousal support. As of 2020, their divorce was finalized. As of today, she is living a single life. Her sexual orientation is straight.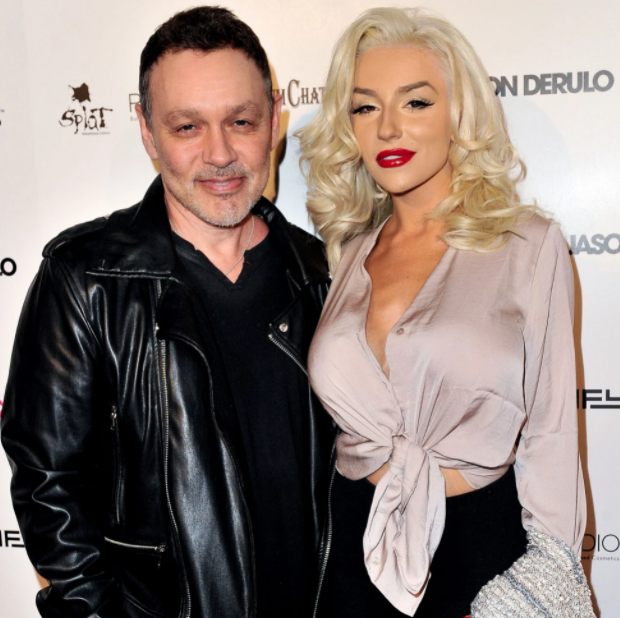 Source: @people
Net Worth
Multi-talented Courtney Stodden is a reality television personality, model, singer as well as a songwriter who has made a huge fortune from her career. As of 2021, the net worth of Courtney is estimated to have $1 Million. Whereas her exact salary is still to get unfold yet. Her major source of wealth comes from the entertainment industry and she is living a lavish lifestyle from her earnings.
Body Measurements
Courtney Stodden is a very beautiful woman with the perfect height of 5 feet 3 inches. Her body weight consists of around 48 Kg. She has a pair of blue eyes and her hair color is blonde. Overall, she has got a healthy body with an average body build. She is vegetarian. In June 2013, Stodden had breast augmentation surgery to increase their breast size from a size C to a size DD. In April 2021, Stodden came out as non-binary and declared that they now use singular pronouns.
Television Shows / Series
2012 - "Couples Therapy", "Lifechangers", "The Donny Clay Show with Courtney Stodden"
2013 - "Tosh.0", "Celebrity Big Brother"
2013-2015 - "Big Brother's Bit on the Side"
2014 - "POP, Fashion & Sport", "Hollywood Hillbillies"
2015 - "Reality Ex-Wives"
2016 - "The Mother/Daughter Experiment: Celebrity Edition", "Million Dollar Matchmaker"
2017 - "Celebs Go Dating", "Dr. Phil", "Gown and Out of Beverley Hills"
2019 - "Courtney"
Filmography
2016 - "Love Addict"
2019 - "Verotika"
Music videos
2010 - "Car Candy", "Don't Put It On Me"
2012 - "Reality"
2016 - "Mistletoe Bikini"
2017 - "Glass of Wine" (Us Weekly exclusive)
2018 - "For You" (credited as Ember)
Discography
Singles
"Car Candy" (2010)
"Don't Put It On Me" (2010)
"Reality" (2012)
"Asphalt" (2016)
"Mistletoe Bikini" (2016)
"Orange Juice and Pink Pills" (2018)
"Sixteen" (2018) (credited as Ember)
"Me Too" (2018) (credited as Ember)
"Pink Flamingo" (2018) (credited as Ember)
"For You" (2018) (credited as Ember)
"Daddy Issues" (2018)
"Hot 'n Juicy" (2019)
"Freak Alert" (2019)
"Side Effects" (2020)
Albums

2018 - "Off the Record" (credited as Ember)