Dan Levy Biography
Daniel Joseph Levy, a Canadian actor, writer, director, and producer is professionally known as Dan Levy. He is best recognized for his role as David on the popular sitcom "Schitt's Creek". He wrote and produced every episode of the series. He started his career as a co-host on "MTV Live". He has also co-hosted "The Great Canadian Baking Show". He became the first person to win a Primetime Emmy Award in all four major disciplines in a single year for producing, writing, directing, and acting in the final season of "Schitt's Creek". Dan made his theatrical film debut as James in the romantic comedy film, "Admission" in 2013. Moreover, he is also known for being the son of Canadian actor and comedian Eugene Levy most commonly recognized outside Canada for starring in all the 8 American Pie films. Scroll down to read Dan's Full Biography, Personal Life, Family Life, Parents, Sexuality, Gender, Interesting Facts, Wiki, Age, Net Worth, & more.
Famous For

Being a Canadian actor, writer, director, and producer.
For his role as David on the popular sitcom "Schitt's Creek".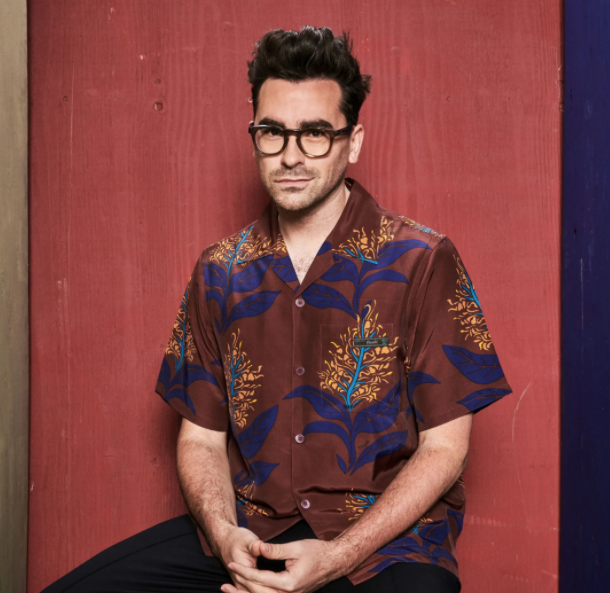 Source: @vogue
Dan Levy Early Life

Dan Levy was born on 9th August 1983 in Toronto, Ontario, Canada. His real name or full name is Daniel Joseph Levy and his star sign is Leo. He is of Canadian nationality and he belongs to mixed ethnicity. As his father is Jewish and his mother is Protestant; he had a bar mitzvah and his family celebrates both Christmas as well as Hanukkah. He celebrates his every birthday on the 9th August of every year & he has celebrated his 37th birthday as of 2020. His race is white. Levy is the son of Deborah Divine (mother) and Canadian actor Eugene Levy (father). He is the older brother of actress Sarah Levy, who plays waitress Twyla Sands in "Schitt's Creek", in which Levy and his father also star. Levy attended high school at North Toronto Collegiate Institute and later pursued film production at York University and Ryerson University.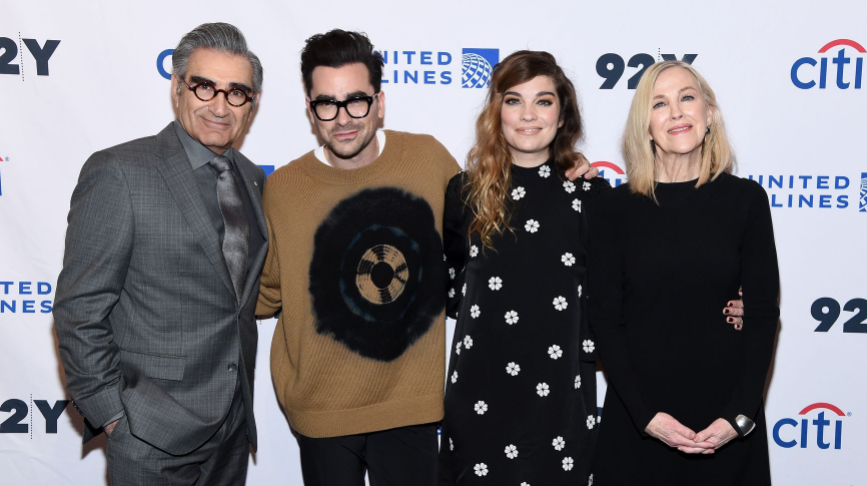 Source: @huffingtonpost.ca
Dan Levy Career

Dan Levy jumps off his career on the now-defunct MTV Canada flagship series "MTV Live" as one of the original seven co-hosts after which he gained prominence as co-host of MTV Canada's "The After Show" and its various incarnations, such as "The Hills: The After Show" and "The City: Live After Show".
He then wrote, produced, and starred in his own Christmas Special for MTV, "Daniel Levy's Holi-Do's & Don'ts"; as well as he co-hosted the MTV Movie Awards Red Carpet, the "X-Factor" pre-show.
He was seen in a four-episode story arc of the Canadian TV series "Degrassi: The Next Generation", which premiered as a TV movie called "Degrassi Goes Hollywood", and also he starred in the 2012 thriller "Cyberstalker" and in the 2013 comedy-drama film "Admission".
Later, Dan formed Not a Real Company Productions (with his father Eugene Levy and principals Andrew Barnsley and Fred Levy) in 2016, whereas their project was a television pilot with CBC, which resulted in "Schitt's Creek".
It was announced in July 2017 that Levy would host "The Great Canadian Baking Show" which had its premiere 1st of November on CBC.
As well, he was the keynote speaker at The Infatuation's annual food festival, EEEEEATSCON in May 2019 and, it was also announced in the following year that Levy had signed a three-year deal with ABC Studios to produce and develop scripted content.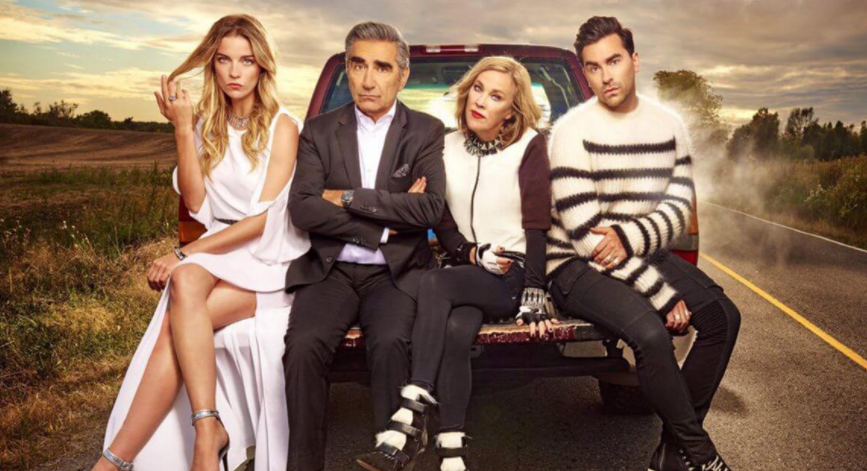 Source: @redbrick.me
He and his father Eugene Levy were guest hosts of "The Ellen DeGeneres Show" in January 2020 whereas "Schitt's Creek" was also nominated for 15 Primetime Emmy Awards for its final season in July 2020.
Levy enrolled in and began to promote the 12-week self-paced Massive Open Online Course (MOOC), "Indigenous Canada", hosted by Dr. Tracy Bear and Dr. Paul Gareau of the University of Alberta in August 2020.
Besides, he appeared in the HBO television film "Coastal Elites" in September 2020, however, the project was shot remotely and focused on the lives of five individuals navigating the COVID-19 pandemic.
Moreover, he can also be seen in the role of John in "Happiest Season" in 2020 and as himself in "Saturday Night Live" in 2021.
Dan Levy Awards and Achievements

Canadian Screen Awards for Best Writing in a Comedy Program or Series
ACTRA Awards for Members' Choice Series Ensemble
Canadian Screen Awards for Best Comedy Series
MTV Movie & TV Awards for MTV Movie Award for Best Comedic Performance
GLAAD Media Awards for Outstanding Comedy Series
Primetime Emmy Awards for Outstanding Directing for a Comedy Series, "Happy Ending"
Dan Levy Personal Life

Dan Levy is not married yet. Levy previously avoided labeling his sexual orientation publicly, though in a 2015 interview with Flare he was called "a member of the LGBT community." Levy said in a 2020 interview with Andy Cohen that he is gay and has been out since he was 18. David has been in a steady relationship with Patrick and at the end of Season 5, the couple gets engaged. In real life, Reid is also engaged since he proposed to his girlfriend in January 2019. As for Levy, it appears that this creator, showrunner, and actor is currently single or just not in any public relationship. Additionally, Dan splits his time between Toronto and Los Angeles, though he has said that London is his "favorite city," after having lived there in 2005. He lives with his dog, Redmond.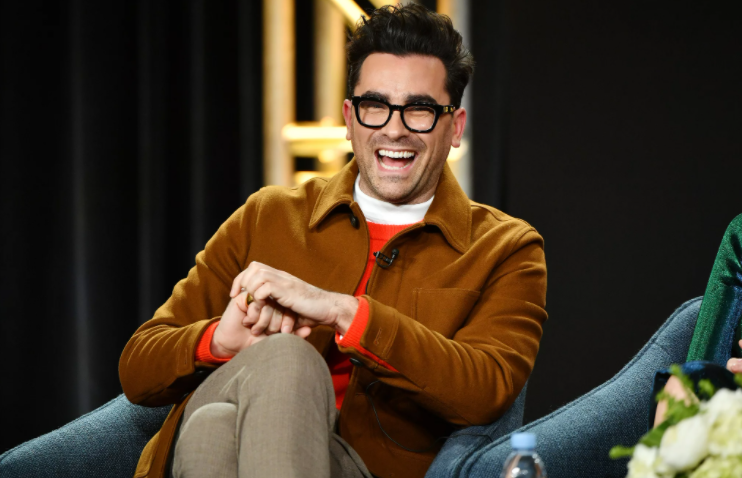 Source: @popsugar
Furthermore, Levy's mom recently delivers a message to his childhood bullies ahead of his "SNL" hosting debut.
"This goes out to the bully punks at Camp WTF who made life miserable for a certain cabin-mate back in the summer of '96 - just because he was different. Well, after all these years I have just 7 words to say to you: "Live from New York, it's Saturday Night!" @danjlevy," she tweeted on Saturday, along with a red heart emoji.
"Today I regret every single second of worry back in the uninformed 80's-wondering how the world was going to treat my brilliant little boy who loved to twirl. Little did I know that he was going to kick that old world's ass to the curb and create a brand new one. @danjlevy," she wrote.
"This. Love you, mom," Levy, who starred in Hulu's hit film Happiest Season, wrote in response.
"I was a complete mess. It completely killed me. I was teetering on the brink of being OK," Levy told. "It was the last day. I was feeling a lot of emotions, I was trying to keep them in check. And then my mom tweeted that and I read it and completely fell apart. Had just a solid cry," the Canadian star recalled. "It's been a lot of years, which I don't think are a bad thing, but it was heavy."
Dan Levy Net Worth

Concerning Dan Levy's net worth, he earns a worth of around $14 million as of 2021. He received a salary of 4 million pounds up from 3 million pounds in 2017-2018 plus a deferred bonus of 3 million pounds for the new 61,000-seat stadium being completed last year. Dan's main source of income is from his acting, writing, directing, and producing career. He has also served as the brand ambassador for The Hudson's Bay Company (2011) and he did an online and print ad campaign for Nordstrom in 2018 and has also endorsed McCafe bagels (2018) from where he gains a considerable amount of money.
Dan Levy Body Measurement

The height of handsome and adaptable actor, writer, producer as well as director, Dan Levy is around 5 ft 11 in or 180.5 cm whereas his body weight is around 71 kg or 156.5 lbs. While living in Toronto, Levy used to work with a personal trainer at Totum Fitness on Yonge Street to maintain a lean and toned build. In his mid-thirties, the actor continued to stay fit after relocating to Los Angles. Dan has an average body build and he looks fit as well healthy from his outer appearance. He has black hair and brown eyes.