About Darius Rucker
An American singer and songwriter, Darius Rucker is best recognized as the lead singer of "Hootie & The Blowfish" rock band who reinvented himself as a solo country singer in 2008. He has won Grammy awards for his work in both rock and country music genres. As a solo artist, He is best known for his hit "Wagon Wheel" off his album, True Believers. At one point in his childhood, nineteen members of his family were living under one three-bedroom roof. He helped form "Hootie & The Blowfish" in 1986. He released an R&B album titled "Back to then" in 2002 which peaked at 127th position on the US Billboard 200. After nearly a decade, he released the single "Wagon Wheel" which was also a huge success, becoming one of the best works of his career. It topped several charts and also won him the Grammy Award for "Best Country Solo Performance". Recently, Katy Perry recruited Darius Rucker for an intimate performance of "Only Love" at the 2020 American Music Awards on Sunday.
Famous For

Being an American singer and songwriter.
For being the lead singer of "Hootie & The Blowfish" rock band.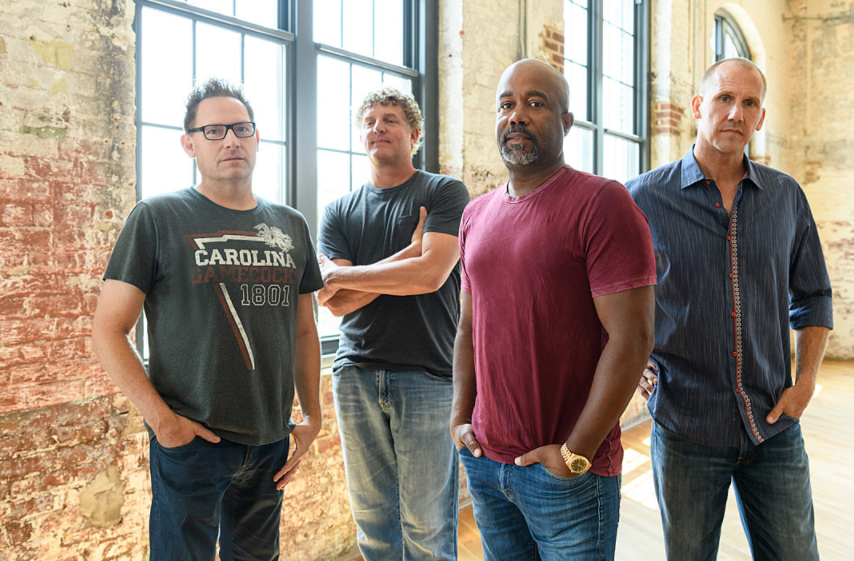 Source: @tasteofcountry
Early Life of Darius Rucker

On 13th May 1966, Darius Rucker took birth with the real name or full name of Darius Carlos Rucker in Charleston, South Carolina, U.S. (hometown). He holds an American nationality and African-American ethnicity. Analogously, He is from Christianity religion and his race is black. He happily celebrates his birthday on 13th May of every year and he had celebrated his 54th birthday as of 2020 though as his birthdate, his star sign is Taurus. His father is a member of a gospel band called "The Traveling Echoes" though his single mother, Carolyn, a nurse at the Medical University of South Carolina, raised him with his three sisters and two brothers. His mother passed away in 1992 due to a heart attack. According to Rucker, his father was never around, and Rucker saw him only before church on Sundays. Additionally, his sister, L'Corine, recalled that singing was always his dream. He was educated at the University of South Carolina.
Career of Darius Rucker

Hootie & the Blowfish Career
Darius Rucker commenced his singing career being the lead singer of "Hootie & the Blowfish" which he formed in 1986 where he recorded six studio albums such as "Cracked Rear View" - 1994, "Fairweather Johnson" - 1996, "Musical Chairs" - 1998, "Scattered, Smothered & Covered" - 2000, "Hootie & the Blowfish and Looking for Lucky" - 2005, also charting within the top 40 of the Billboard Hot 100 six times.
He made a voice cameo in an episode of the sitcom "Friends" and joined "Nanci Griffith" on the song "Gulf Coast Highway" for his1997 album "Blue Roses" from the Moons, also sang backing vocals on Radney Foster's 1999 album "See What You Want to See".
The band's sixth studio album "Imperfect Circle" was released on 1st November 2019.
Solo career
Darius made his solo R&B debut album, "The Return of Mongo Slade", for Atlantic Records in 2001 which was never released by the label because of contractual changes, so released the album as "Back to then" in July 2002.
As well, he starred on a pop-star edition of the quiz show Who Wants to Be a Millionaire? in July 2001 and lent his voice to the track "God"s Reasons" written by Dean Dinning and Joel A. Miller for the film "The Still Life" in 2006.
After then, he signed to Capitol Records Nashville as the beginning of a career in country music in the early of 2008 though his first solo single, "Don't Think I Don't Think About It" debuted at No. 51 on tHe Billboard Hot Country Songs charts for the week of 3rd May 2008 and also made his Grand Ole Opry debut in July of the following year.
His album, "Learn to Live" was certified gold by tHe Recording Industry Association of America (RIAA) on 6th February 2009, and received a platinum certification on 7th August 2009.
Then, he launched his second country album, "Charleston, SC 1966", on 12th October 2010 whereas he was invited to join the Grand Ole Opry on 2nd October 2012.
Also, he has sung the national anthem at the NBA finals on 16th June 2013 and launched a new single titled "Homegrown Honey" to country radio and to digital retailers on 25th August 2014.
It was announced on 15th September 2014 that Rucker had completed his first Christmas album and that it would be released on 27th October 2014 though he makes an appearance on Sister Hazel's new album, Lighter in tHe Dark".
Similarly, he has released several albums and singles such as, "If I Told You", "Take Me Home, Country Roads", "On the Road Again", "For the First Time", "When Was the Last Time" and many otHers.
He starred as a mentor on the seventeenth season of "The Voice" for "Team Blake".
Furthermore, as a piece of fresh news, Katy Perry recruited Darius Rucker for an intimate performance of "Only Love" at the 2020 American Music Awards on Sunday.
Earlier this month, Rucker joined Reba McEntire to host the 54th CMA Awards. He recently joined Rosanne Cash, Peter Frampton, Mark Knopfler, Rick Wakeman, Richard Thompson, and more for a cover of Ben E. King's "Stand By Me," a charity single for Help Musicians.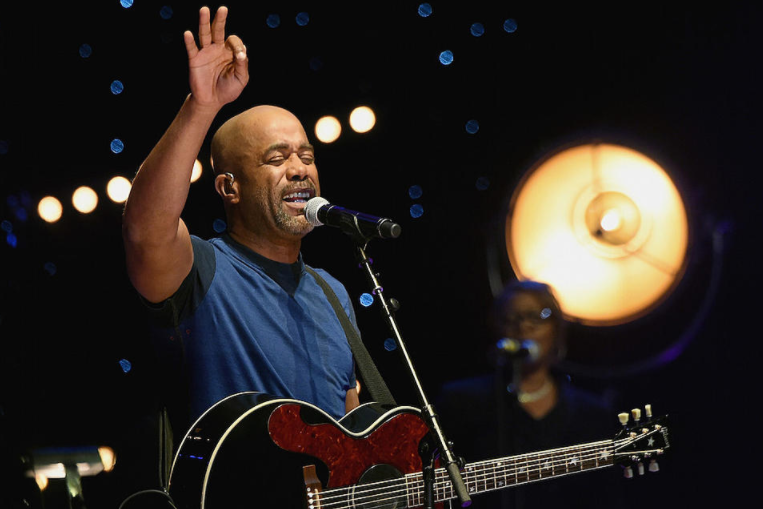 Source: @theboot
Awards and Achievements of Darius Rucker

Grammy Awards for Best Pop Performance by a Duo or Group with Vocal
British Country Music Association Awards for International Album of the Year
Academy of Country Music Awards for Gary Haber Lifting Lives Award
Personal Life of Darius Rucker

Reflecting on Darius Rucker's personal life, he is a married guy. He was married to Beth Leonard in 2000 whom he first met Beth when his band reached the height of musical popularity and he was working for VH1 in New York City. Rucker claimed he knew he would marry Beth on their very first date. The couple has given birth to a daughter, Daniella Rose, and a son, Jack. He has also his first child, Carolyn Pearl Phillips from his previous relationship. But, the three-time Grammy winner is separating from his wife Beth Leonard after 20 years of marriage. The "Hootie & the Blowfish" frontman announced the amicable split Saturday in a statement posted to Instagram, along with a photo of himself and Leonard at tHe 2017 CMA Awards. The 54-year-old took a page from Gwyneth Paltrow's book, writing: "Beth and I would like to share that after much reflection we have made the decision to consciously uncouple." "Beth and I would like to share that after much reflection we have made tHe decision to consciously uncouple," the country singer wrote, borrowing a phrase that was first popularized by Gwyneth Paltrow and Chris Martin when they divorced. "We remain close friends and parenting partners and continue to be each otHer's biggest cheerleaders." Furthermore, talking about his sexual orientation, he is straight.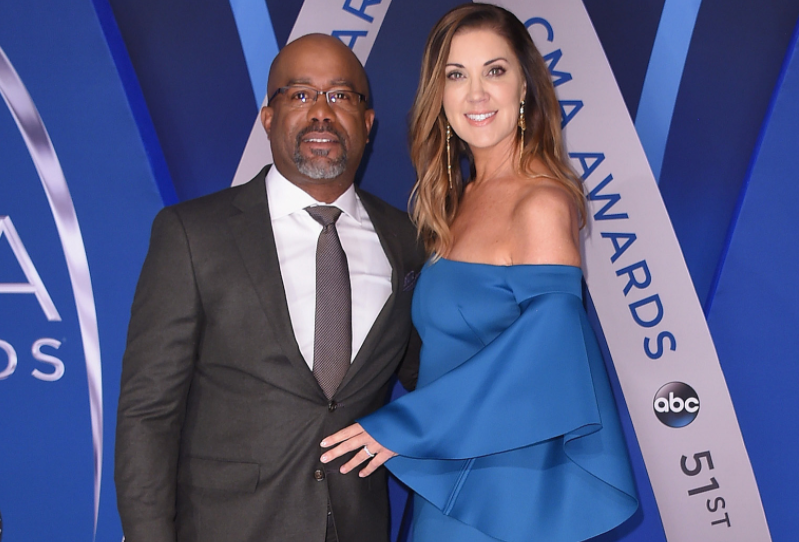 Source: @theboot
Net Worth of Darius Rucker

Moving towards Darius Rucker's net worth, he has a worth of $12 million as of 2020 whereas he has also a handsome amount of salary which is also in millions of dollars per year. He has earned a fine amount of money from his career though his major source of income is from a singing career as he is happy and satisfied with his profession. He is sincere in his work. But, he is doing all his hard works in order to build a secure financial status for himself his family. He was also named brand ambassador of "PGA Golf Tour" (February 2019) and "PXG Golf Equipment" (November 2019).
Body Measurement of Darius Rucker

Darius Rucker is a handsome and versatile singer who stands at a perfect height of 5 ft 10 in or 178 cm whereas his body weight is around 75 kg or 165.5 lbs. He has maintained his shape over the years with regular exercise it seems. Blessed with great height and physique, he still carries the aura to rock the shirtless avatar. He has made some loyal fans and admirers over the years. He has bald hair and dark brown eyes color though his body build type is average and his body measurement is 32-26-32 inches.