About Edward Norton
An American actor and filmmaker, Edward Norton is well recognized for playing Mike Shiner in the "Birdman or (The Unexpected Virtue of Ignorance)" (2014). Edward received an Academy Award for Best Supporting Actor for his role in the 1996 film "Primal Fear" and earned Academy Award nominations for his roles in "American History X" and "Birdman". He also played starring roles in the films "Fight Club", "25th Hour", "The Illusionist" and "The Score". He made his directorial debut in 2000 with the film "Keeping the Faith". In 2000 and 2013, Edward voiced the role of Devon Bradley and Reverend Elijah Hooper in Fox's animated sitcom "The Simpsons" in 2 episodes. He made his professional debut at the age of eight in the musical Annie Get Your Gun at his hometown's Toby's Dinner Theatre. Previously, he worked not-for-profit as a representative for his grandfather's company Enterprise Community Partners in Osaka, Japan. He has received numerous awards and nominations, including a Golden Globe Award and three Academy Award nominations. As recent news, Norton knows a thing or two about playing poker and is using that knowledge to call what he sees as Donald Trump's bluff.
Famous For

Being an American actor and filmmaker.
For playing Mike Shiner in the "Birdman or (The Unexpected Virtue of Ignorance)" (2014).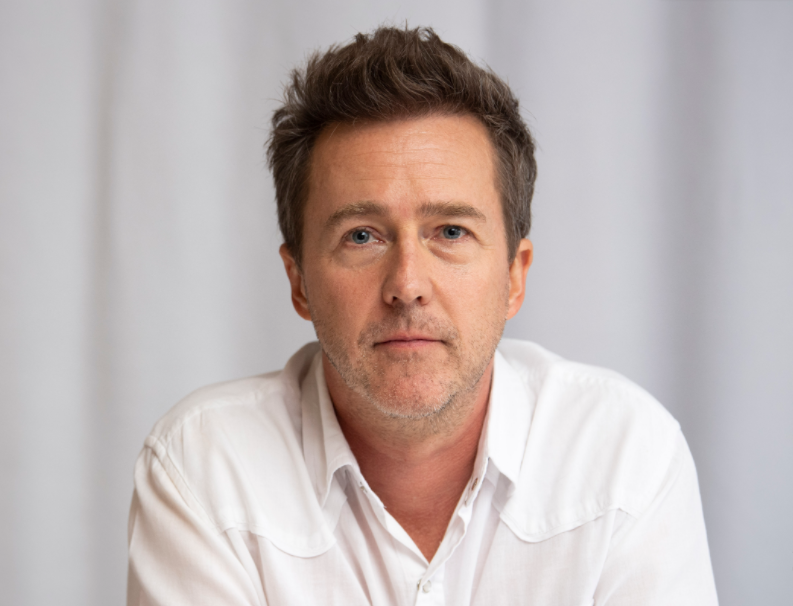 Source: @goldenglobes
Early Life of Edward Norton

Edward Norton took birth on 18th August 1969 with the real name or full name of Edward Harrison Norton in Boston, Massachusetts, U.S. whereas he was raised in Columbia, Maryland. He holds an American nationality and mixed ethnicity. Edward has English, Irish, German, and Scots-Irish (Northern Irish) ancestry. Analogously, he is from the Episcopalian religion and his race is white. He happily celebrates his birthday on 18th August of every year and he had celebrated his 51st birthday as of 2020 though as his birthdate, his star sign is Leo. His father, Edward Mower Norton Jr., served in Vietnam as a Marine lieutenant before becoming an environmental lawyer and conservation advocate working in Asia and a federal prosecutor in the Carter administration whereas his mother, Lydia Robinson "Robin" Rouse, was an English teacher who died of a brain tumor in 1997. In 1987, Edward graduated from Wilde Lake High School in Columbia. Further, he went to Yale University and studied History. In 1991, Norton graduated with his Bachelor of Arts degree. He has a sister named Molly Norton and also a brother, Jim Norton.
Career of Edward Norton

Edward Norton jumps off his acting career by writing scripts for plays at the Signature Theatre Company and starred in Off-Broadway theater whereas his performance in Brian Friel's "Lovers" brought him to the attention of playwright Edward Albee, whose one-act plays Norton enjoyed and was also introduced to the executives of the noir drama "Primal Fear" in 1996.
Norton starred in two other films released in 1996; he played Holden Spence in the musical "Everyone Says I Love You" and lawyer Alan Isaacman in the biographical drama "The People vs. Larry Flynt".
After then, he starred in "Rounders" in 1998 as well as appeared in "Chicago Reader" and "American History X" in the following year.
Norton made his directorial debut with the romantic comedy "Keeping the Faith", starring as a priest named Brian Finn in 2000.
After then, he starred as Jack Teller in 2001's heist film "The Score" whereas he starred in four films released in 2002 such as "Death to Smoochy", "Frida", "Red Dragon" also co-produced and featured in "25th Hour".
Then, he was seen in 2005's epic historical film "Kingdom of Heaven" as Baldwin IV though he also starred as the lead role in the neo-western film "Down in the Valley" (2005).
Norton had two major film roles in 2006, starring as Eisenheim the magician in "The Illusionist" and bacteriologist Walter Fane in "The Painted Veil".
As well, he appeared in two documentaries in 2007: "Brando" whereas his next film role was in the big-budget superhero film "The Incredible Hulk", released in 2008.
He starred as Ray Tierney in the crime drama "Pride and Glory" (2008) and produced the documentary "By the People: The Election of Barack Obama" in 2009.
Similarly, he has stared as lead film roles in 2012, as scoutmaster Randy Ward in charge of finding his missing camper in the coming-of-age film "Moonrise Kingdom" and in the action thriller "The Bourne Legacy" as well as produced the comedy-drama "Thanks for Sharing" in the following year.
Also, he has won two Academy Awards for the film "The Grand Budapest Hotel" and "Birdman or (The Unexpected Virtue of Ignorance)".
Besides acting, Norton announced in February 2014 that he would direct Motherless "Brooklyn" though he has also voice-acting roles in the animated features "Sausage Party" (2016) and "The Guardian Brothers".
Then, he starred in the 2016 drama "Collateral Beauty" as Whit Yardsham and worked with director Anderson for the 2018 stop motion film "Isle of Dogs", in which he voiced Rex, a member of a pack of five dogs.
Besides, he launched an online fundraising platform called Crowdrise in May 2010 as well as played soccer (football) for Soccer Aid in May 2012; the event raised over 4.9 million pounds for UNICEF to assist children worldwide.
He has also served as a member of the board of trustees of Enterprise Community Partners, a non-profit developer of affordable housing founded by his grandparents, since 1998.
Furthermore, as a piece of fresh news, Norton knows a thing or two about playing poker and is using that knowledge to call what he sees as Donald Trump's bluff. "Call. His. Bluff," Norton tweeted.
"Faith in the strength of our sacred institutions & founding principles is severely stretched...but they will hold. They will," he concluded. "He's leaving, gracelessly & in infamy. But if we trade for it, give him some brokered settlement, we'll be vulnerable to his return. We can't flinch.
"I'm no political pundit but I grew up with a dad who was a federal prosecutor & he taught me a lot & I've also sat a fair amount of poker with serious players & I'll say this: I do not think Trump is trying to 'make his base happy' or 'laying the groundwork for his own network,' or that 'chaos is what he loves," Norton said in series of tweets Friday morning. "The core of it is that he knows he's in deep, multi-dimensional legal jeopardy & this defines his every action," he continued in the thread.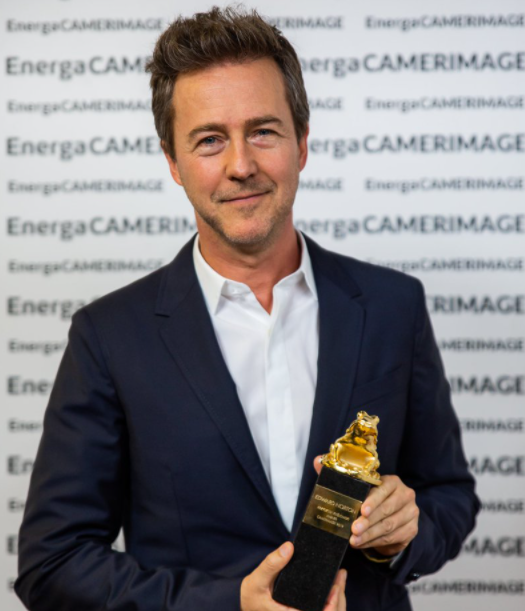 Source: @twitter
Awards and Achievements of Edward Norton
Golden Globe Awards for Best Supporting Actor - Motion Picture
Screen Actors Guild Awards for Outstanding Performance by a Cast in a Motion Picture
Boston Society of Film Critics for Best Supporting Actor
Critics' Choice Movie Awards for Best Acting Ensemble
Satellite Awards for Best Actor
Personal Life of Edward Norton

Reflecting on Edward Norton's personal life, he is a married guy. He was married to Canadian film producer Shauna Robertson after dating for six years in 2012. Previously, he has also dated many other ladies but his relationship with them was not successful. The actor has remained loyal to his wife and we are unaware of his previous ex relationships. They both seem extremely happy in their domestic life and their relationship status is exceptional till now and hopes it will remain as same in the future too. Edwards is not only an actor but he is also a father too. He has a son named Atlas who was born in 2013. Furthermore, talking about his sexual orientation, he is straight.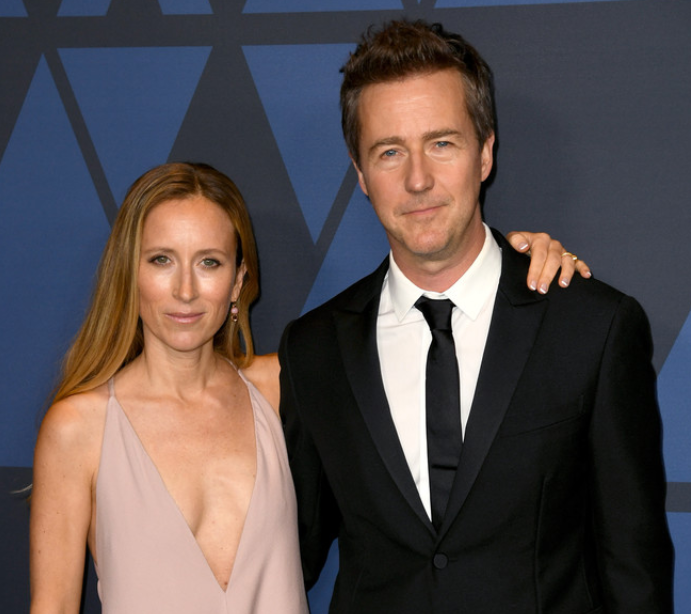 Source: @zimbio
Net Worth of Edward Norton

Edward Norton is an American actor and producer who has a net worth of $300 million dollars as of 2020 whereas he has also a handsome amount of salary which is also in millions of dollars per year. He has also earned a small fortune outside of acting, arguably more than from acting salary, thanks to extremely wise (and early) technology investments. He was seen in print ads for PRADA designer phone and was seen in PSA for The ONE Campaign though he has also endorsed Verizon from where he earns a handsome amount of money. In addition, his main source of income is from his acting career.
Body Measurement of Edward Norton

Edward Norton is one of the versatile and handsome actors who stands at a tall height of 6 ft or 183 cm whereas his body weight is around 79 kg or 174 pounds. To play Derek Vinyard in the "American History X" (1998) film, he underwent a circuit workout, which he performed three times a week targeting his full body. It was aimed to increase his muscular growth. He has dark brown hair and blue eyes though his body build type is average and his body measurement is 40-14.5-35 inches. He often plays characters with dual personalities which have attracted a lot of people toward him.